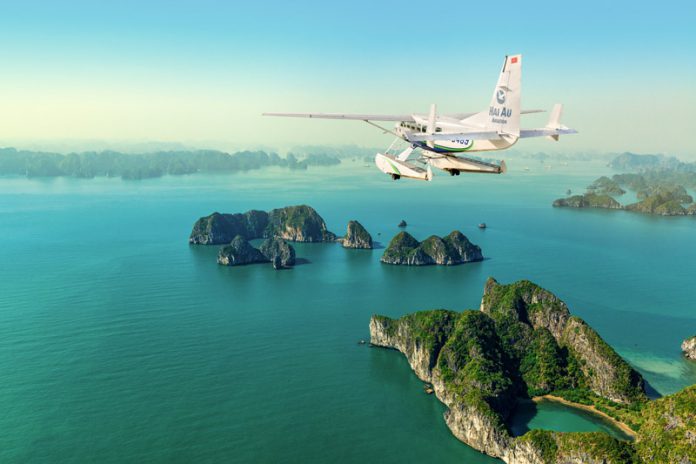 A UNESCO World Heritage Site, beautiful Halong Bay is one of Vietnam's most popular tourist attractions, famous for its thousands of limestone islets of all different shapes and sizes rising up from the bay's emerald waters.
Without a doubt, Halong Bay should be on every traveler's bucket list who enjoys gorgeous natural seascapes. Navigating a Halong Bay trip usually involves two steps: Firstly, deciding how to travel from Hanoi to Halong Bay, and secondly, choosing from between hundreds of boats that ply the waters of Halong Bay on day, overnight and multi-day cruises.
This article aims to provide information on all the different means of transportation from Hanoi to Halong Bay.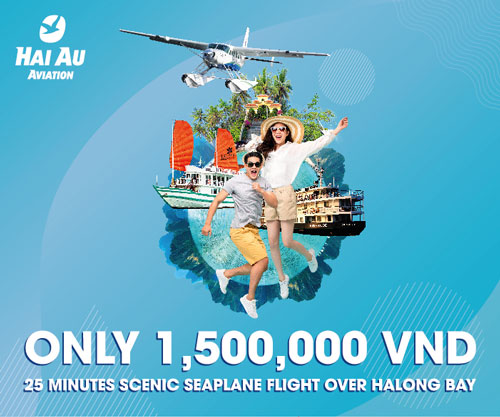 Seaplane from Hanoi to Halong Bay: Fast, convenient, with bonus bird's eye views
There was a time when air transport was something only the rich could afford. Now, that option is accessible to practically everyone.
While there are no large commercial flights between Hanoi and Halong, there is the option of scheduled and charter seaplane flights.
Seaplane: Stunning close-up views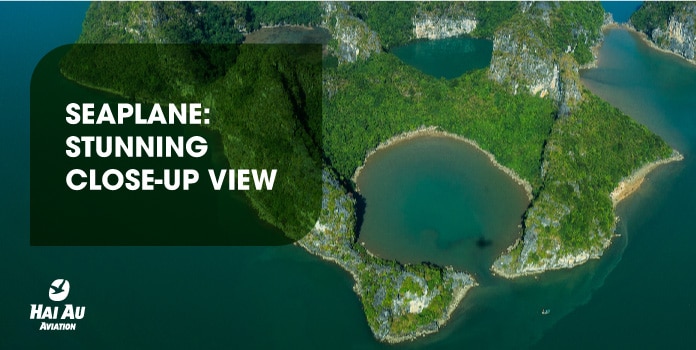 Hanoi to Halong Bay
Why fly from Hanoi to Halong?
The first seaplane service in Vietnam was introduced by Hai Au Aviation in 2014 with three Cessna Grand Caravan 208B – EX amphibian airplanes.
The company's aim is to offer local and international passengers the most incredible views of some of Vietnam's most stunning heritage sights.
Professional tourism provider
Hai Au Aviation provides scheduled and chartered flights just like any other commercial airline. There is a dedicated Hai Au Aviation seaplane check-in counter at Hanoi's Noi Bai Airport.
In Halong – the current main destination of Hai Au Aviation – there is also a conveniently located check-in counter, waiting lounge and departure lounge in the Tuan Chau Marina, gateway to Halong Bay.

It should also be noted that the company has strict safety rules and meets all requirements issued by the civil aviation authority. Hai Au Aviation should be considered as one of the most credible service providers in Vietnam's tourism sector.
With some other forms of transportation in Vietnam, the language barrier may be a challenge to contend with. Not so with Hai Au Aviation, as the company's representatives speak fluent English, including staff and ground service crew.
A dedicated and well-trained crew are always on hand to assist with any travel issues. In the air, experienced foreign captains and Vietnamese co-pilots are tasked with ensuring your safety and giving passengers the best chance of experiencing magnificent views.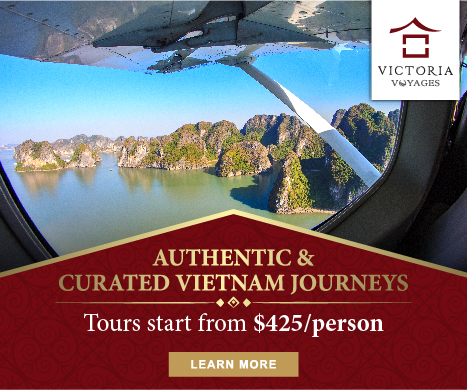 Once-in-a-lifetime experience
While Hai Au's impeccable service record and top-tier customer service are commendable, most passengers choose to travel from Hanoi to Halong Bay by seaplane as well as take a scenic flight over Halong Bay for the incredible flying experience.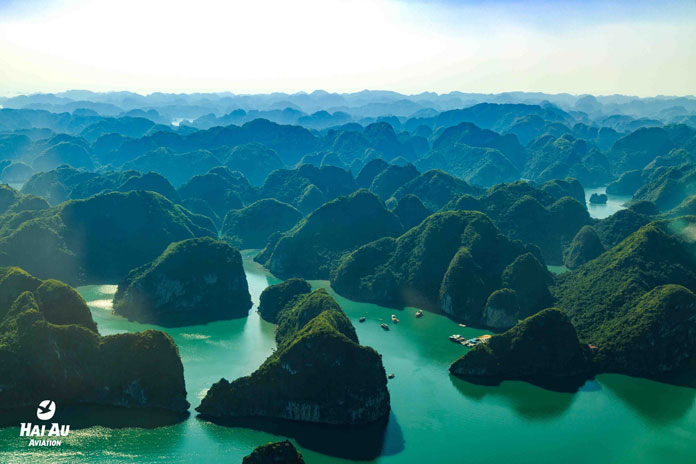 Thanks to their small size and ease of maneuverability, Hai Au Aviation's seaplanes are able to fly close to Halong Bay's gorgeous limestone islands for incredible, sweeping views which are completely different from the views enjoyed aboard a cruise at sea level.
All digital devices, including mobile phones, are allowed on board, so you are free to capture the breath-taking views you're sure to enjoy.
In addition, complimentary Wi-Fi is available in addition to 4G Internet that you may already have access to on your device to enable you to share and upload your photos and videos in real-time.
Another feature that seaplane travelers find thrilling is the water landings and take offs. Hai Au Aviation seaplanes are equipped with two floats, making them amphibious, and the feeling of picking up speed to take off from the water's surface, or gently gliding down onto the water is truly unforgettable.
Another benefit of traveling by seaplane is that it cuts down significantly on travel time. The flight time between Hanoi and Halong Bay is just 45 minutes, excellent for those looking to maximize their time to see the sights rather than spent traveling, and also makes visiting Halong on a day trip possible without being exhausting.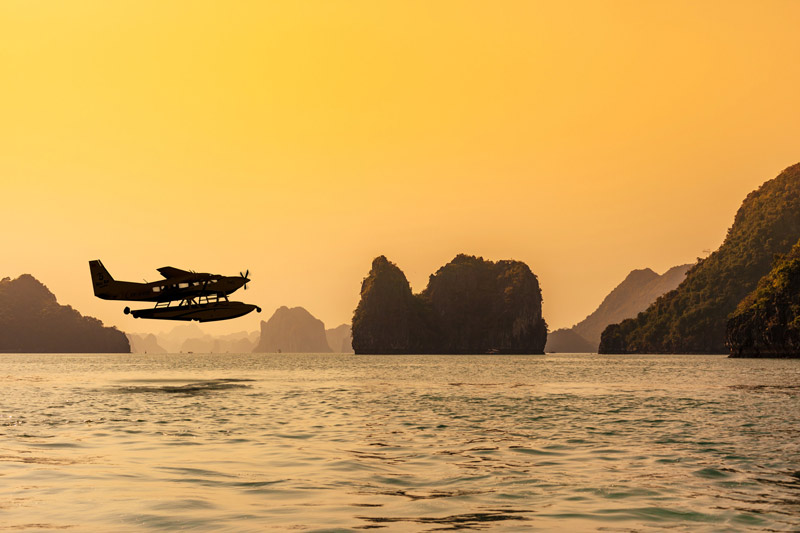 What kinds of tours are available?
Scheduled flights from Hanoi to Halong Bay
Scheduled flights depart from Hanoi's Noi Bai Airport and arrive at Tuan Chau Marina, also the starting point for most Halong Bay cruises. Hai Au Aviation's seaplanes have a capacity of 12 passengers who are each allowed 7kg of luggage.
The journey lasts 45 minutes with the option to enjoy an additional 15 minutes of a scenic flight over Halong Bay for a beautiful overview of the islands.
The price for a one-way ticket varies from US$ 175-385 depending on the season and the time of day. These rates are still more affordable than a helicopter ride. Guests can save money with a round–trip ticket which starts at just US$ 350.
Scenic flights in Halong Bay
Even if not flying to Halong Bay from Hanoi, travelers can still take advantage of the scenic flight only for incredible views and a completely different perspective on the islands.
The scenic flight over Halong Bay lasts 25 minutes At just from US$ 99 per person, this option is ideal for those looking for truly unique travel experiences while staying on a budget.
From comments received by passengers, the scenic flight is very much value-for-money as it checks off a bucket list experience for most.
Charter flights from Hanoi to Halong Bay
With charter flights, you can go anywhere, whenever and with whomever you want. However, be prepared for the cost of this premium service which can go into the thousands of US dollars.
However, for those where money is no object, it truly is the pinnacle of convenience in travel.
How to book a flight from Hanoi to Halong Bay?
There are several ways to book a seaplane flight. You can call the Hai Au Aviation hotline directly at (+84) 962 069 689 for more information or you can book your ticket through tourism agencies
It's also possible to book through the website or facebook page of Hai Au Aviation. The process is quick and simple, and there are clear-cut and reasonable delay and cancellation policies.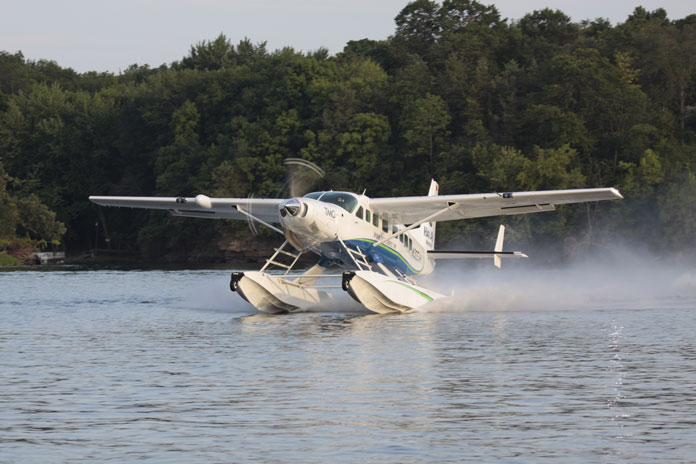 Helicopter: Time-saving trip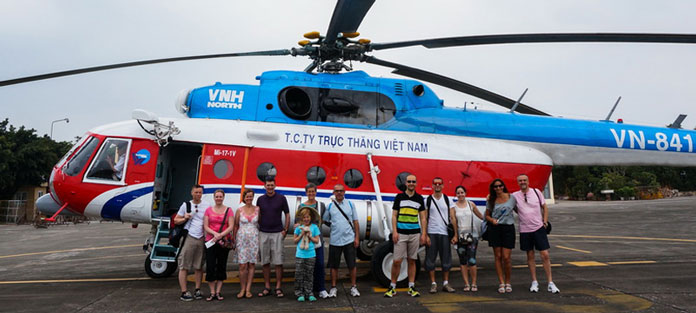 Why should you travel by helicopter?
The helicopter used to travel between Hanoi and Halong Bay is the EC 155 B1 manufactured by Airbus Helicopter. While still a very exclusive option, helicopter flights are becoming more popular.
The flight between Hanoi and Halong Bay by helicopter takes about 45 minutes, allowing travelers to save time compared to road travel. Over Halong Bay, scenic helicopter flights usually last about 8 minutes, offering spectacular views from a height of 120-500 meters.
It is also possible to combine a scenic helicopter ride with a road transfer or to purchase a helicopter flight separately from a tour agency.
Join-in helicopter flights can also be purchased as part of a packaged tour, thereby avoiding the prohibitively high costs of hiring a helicopter for a private flight.
Where do helicopter flights from Hanoi depart from?
Your helicopter flight will usually depart at around 9 a.m. from Gia Lam Airport which is a small airfield owned by the military. The helicopter has 12 seats and can carry a maximum load of 4,800 kg.
This means each flight is limited to just a small group of people. The price for the trip from Hanoi to Halong is US$ 440/person, Halong to Hanoi is US$ 390/person and the round-trip option is US$770/person.
What are the disadvantages of a helicopter flight?
While the experience of flying on a helicopter is amazing to some people, it can be quite terrifying to others.
Some people are uncomfortable with the small confines of the helicopter while others are frightened by the movements of the aircraft which can be felt much more vividly than with a larger aircraft.Helicopter rides are not recommended for people with a heart condition or for people with a fear of heights.
The prohibitive cost of a helicopter flight is also a deterrent for many, as are the inherent dangers of flying in a helicopter as opposed to an airplane.
While the helicopter can accommodate up to 12 passengers, there's usually also a minimum number of passengers required. This number is typically 6 passengers.
So even for those willing to pay the higher cost of a helicopter flight, there's always a chance of disappointment if the minimum number of passengers is not met.
Helicopter or Seaplane: Pros and cons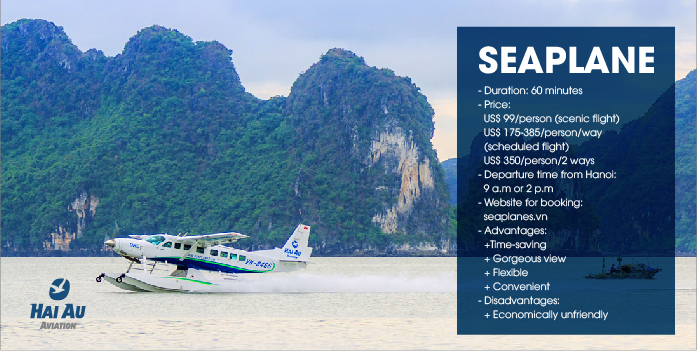 Vehicle
Helicopter
Seaplane
Price
One-way flight: US$ 390-440/person
Round trip: US$ 770/person

Scenic flight: US$ 99/person
One way: US$ 175-385/person
Round trip: From US$ 350


Number of seat
12
12
Length of flight
45 minutes (includes 8 minutes for sightseeing)
60 minutes (includes 15 minutes for sightseeing)
Pros
+ Nice view
+ Short journey

+ Short journey
+ Gorgeous view
+ Professional staff and international pilots
+ Cool landing and taking off
+ Safe

Cons
High price (from US$ 390)
Need at least 6 people

High price (From US$ 175)
Need at least 3 people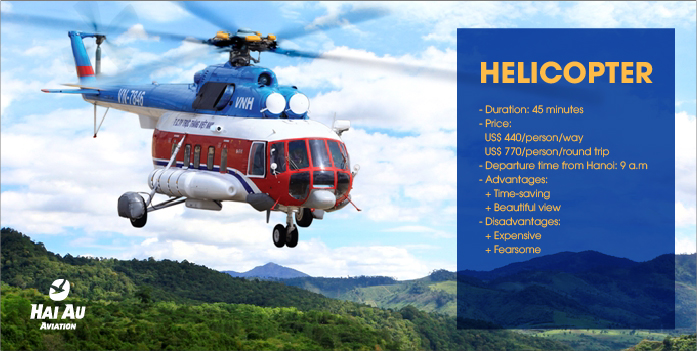 Hanoi to Halong Bay: Popular & inexpensive land transport
Halong Bay is located in the northeast of Vietnam, right in the heart of the Gulf of Tonkin. It belongs to Quang Ninh Province. Halong Bay is conveniently located about 180 km away from the capital of Hanoi, making it an excellent add-on to a Northern Vietnam itinerary.
With its charming beauty, Halong Bay has long been a popular tourist attraction for local Vietnamese. After being inscribed by UNESCO as a World Heritage Site, Halong Bay became globally well-known and an international tourism hot spot.
Consequently, tourism development is considered a priority for provincial authorities. To accommodate the increasing number of tourists traveling from Hanoi to Halong Bay, roads have been upgraded in recent years, making the journey by land transport much shorter and more comfortable.
This, coupled with the comparatively low cost, makes land transport a popular choice. However, there are several different options when it comes to land transportation between Hanoi and Halong Bay, each with its own pros and cons.
Local bus: Ideal for eager backpackers
What are the advantages of the local bus?
Local coach (or bus) travel remains one of the most popular and convenient means of transport around the world. Its relatively cheap price makes it an even more attractive option.
Traveling by local coach or bus typically involves less hassle than driving yourself and is a good way to get a closer look at how local Vietnamese people travel. You can also enjoy landscape views along the way.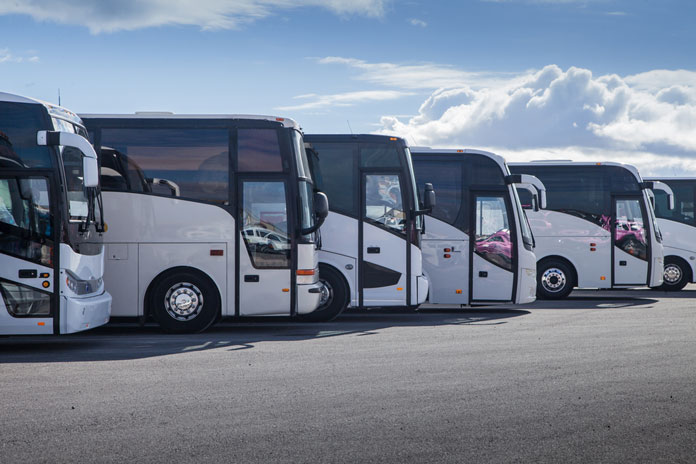 Local coach is one of the most popular and convenient means of travel (source: Shutterstock)
Between Hanoi and Halong Bay, the most common coach / bus route is Hanoi – Hai Duong – Hai Phong – Bai Chay (Halong). Thanks to the of the 4 to 5 hours as previous.
The price for a one-way ticket can vary from US$ depending on coach's quality and size. For coaches travelling via the new expressway, the ticket price can be higher as the toll fee is also higher.
Another good thing about the local coach is that there is no weekend surcharge. The earliest coach departs at 6 a.m and the latest is at 8 p.m.
Between all the different providers, there is usually a coach leaving every 1-2 hours. The first coach coming back to Hanoi leaves at about 12 p.m. and the last one is at about 9:30 pm.
How to book a local bus ticket from Hanoi to Halong Bay?
The process of buying a ticket from Hanoi to Halong Bay is not overly complicated. Go to the website vexere.com, enter your departure and arrival city and your desired day of departure and you will find a fully detailed schedule of the day from all providers.
Don't let the wide range of choices overwhelm you. Take time to research the quality of the coach as well as the coach provider's credibility and reputation.
A useful tip is reading the reviews of previous travelers and looking at the satisfaction ratings for each provider. Look for providers with active licenses in local coach stations. Once you find a suitable coach, you can call them to make a reservation.
You can also book through the website. Alternatively, you can buy your ticket directly at their offices or at local coach stations. Booking in advance, especially during holiday or other peak travel periods, will ensure a smooth, hassle-free journey.
Some Bus Providers
Name
Phone number
Address
Dai Phat Coach


(+84) 983 472 299


Giap Bat Station, Km6 Giai Phong Str, Hoang Mai Dist, Hanoi


Duc Phuc Coach


(+84) 979 065 168
(+84) 912 474 408


Tien Lang New Bridge, Ba Dinh Dist, Hanoi
Kumho Viet Thanh


1900 7075


20 Pham Hung Str, Tu Liem Dist, Hanoi


Phuc Xuyen Coach


(02) 033 663 366
(02) 033 556 677
(+84) 912 069 739



Group 7, Region 1, Yen Thanh Ward, Uong Bi, Quang Ninh


Xuan Truong Coach


(+84) 912 767 688
Van Don Dist, Quang Ninh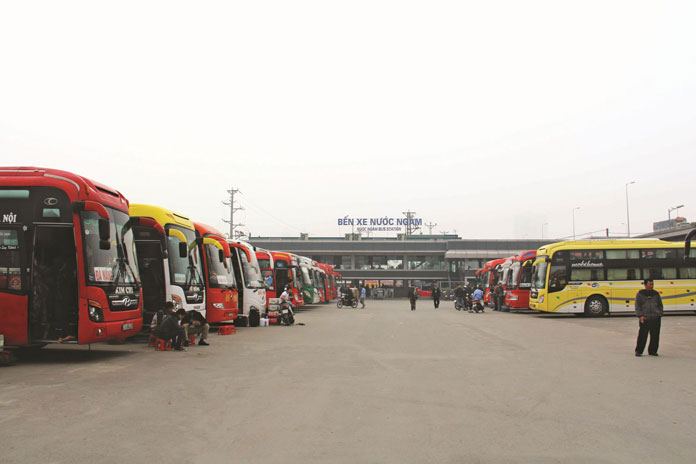 Nuoc Ngam Station – one of the 4 biggest local coach stations in Hanoi (Source: NDH.vn)
Local Bus Stations
| Name | Phone number | Address |
| --- | --- | --- |
| My Dinh Station | (024) 376 855 49 | 20 Pham Hung Str, My Dinh Ward, Nam Tu Niem Dist, Hanoi |
| Nuoc Ngam Station | (024) 386 121 58 | Km8, Giai Phong Str, Hoang Liet Ward, Hoang Mai Dist, Hanoi |
| Giap Bat Station | (024) 386 414 67 | Km6, Giai Phong Str, Hoang Liet Ward, Hoang Mai Dist, Hanoi |
| Yen Nghia Station | (024) 335 712 85 | Highway 6, Yen Nghia Ward, Ha Dong Dist, Hanoi |
| Gia Lam Station | (02) 438 271 529 | No.9, Ngo Gia Kham Str, Long Bien Dist, Hanoi |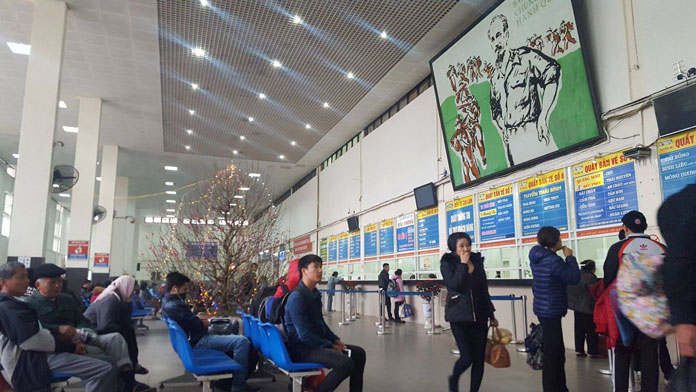 Passengers are buying coach tickets at Gia Lam Station (Source: Shutterstock.com)
Disadvantages of local bus travel from Hanoi to Halong Bay
In spite of all the advantages mentioned above, local coach service may not be  completely ideal for travel from Hanoi to Halong Bay. The coach mainly serves local people. So it will be likely that the salespeople and the drivers will not be able to speak English.
The language barrier may lead to difficulties in communication, especially if you experience a travel issue, such as a delay or a missed stop. Also, local buses leave from bus stations, and not from Hanoi's Old Quarter, making it a less convenient option.
The added complexity of taking a local coach makes it a less favorable choice if you're planning on visiting Halong Bay on a day trip.
Early departure times from Hanoi as well as Halong Bay means your trip may be rushed. Even if you're willing to wait for the last coach, it can lead to a very tiring day.
Another issue is the possibility of last-minute cancellation of the local bus, as is known to happen. On holiday, just thinking of that possibility is enough to strip away any enjoyment from the day.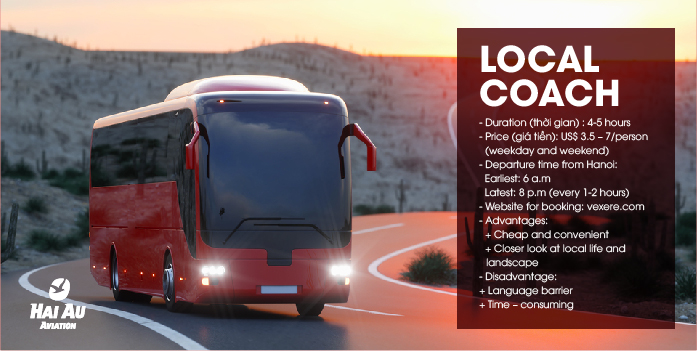 Information of local bus travel from Hanoi to Halong Bay (Source: Shutterstock.com)
Shuttle Bus: Convenient and straightforward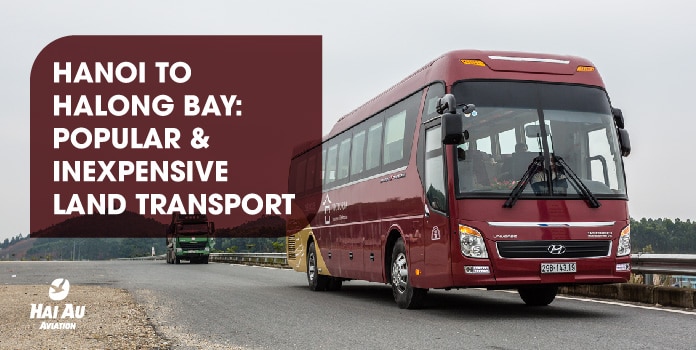 What's good about the shuttle bus?
The shuttle bus, also known as the tourist bus, provides a comfortable and convenient means of travel for its main customers, foreign tourists.
Shuttle buses are usually smaller and of higher quality than local public buses, including Ford Transits and Limousine Buses which have from 9 to 16 seats.
Additionally, the shuttle bus doesn't stop along the way to pick up more passengers, but travels straight to Halong Bay, with a short break of about 15 – 30 minutes halfway through the journey for passengers to use the restroom. Therefore, shuttle buses take less time to travel from Hanoi to Halong Bay than going by local bus, about 2-2
Shuttle buses also tend to have more services and amenities compared to local buses, including Wi-Fi and bottled water. More importantly, there likely won't be a severe language barrier. The drivers normally have enough English to communicate with you to answer basic questions and to resolve basic travel problems.
However, the cost for this improved service will definitely be higher than the local bus. The cost is typically about US$ 10-20 for a one-way ticket/person. The departure time is usually at 7:30 a.m or 8:30 a.m or earlier depending on the provider's schedule.
High-quality interior of a limousine mini bus to Halong Bay (Source: thuexelimousines.com)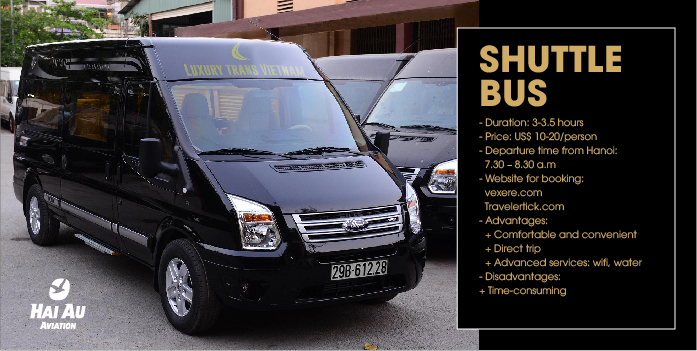 Information of shuttle bus to travel from Hanoi to Halong Bay
Where to catch the shuttle bus from Hanoi to Halong Bay?
As mentioned above, shuttle buses mainly serve foreign customers. Therefore, instead of departing from local bus stations, shuttle buses will usually pick up passengers from the Old Quarter – the center for foreigners in Hanoi.
However, some shuttle buses can also be found at local coach stations. Some other buses offer hotel pick-up service. Please note that pick-up time is usually 30-60 minutes prior to scheduled departure time.
Similar to the coach, you can find contact information for shuttle bus providers on vexere.com or travelertick.com and book through the website or call them to book. A more convenient way for passengers staying  in the Old Quarter is going straight to the tourist bus agencies.
Normally, agencies offering tourist bus services also provide various tours in Halong Bay. Unless you want to book directly with a cruise company, these agencies are a convenient way to package your land travel together with a cruise.
Shuttle Bus Information
Shuttle Bus Providers
Phone number
Address
Hoang Long VIP Bus
1900 969 681
1900 7075

Quang Ninh: No.312, Group 2, Region 5, Ha Tu Ward, Halong Dist, Quang Ninh

Hanoi:
Hanoi Office: Yen Nghia Station, Ha Dong Dist, Hanoi
Old Quarter Office: No.42, Ma May Dist, Hoan Kiem Dist, Hanoi

Minh Anh Limousine
(+84) 977 719 666
Quang Ninh: Group 5, Region Tan Lan 3, Cam Thuy Ward, Cam Pha Dist, Quang Ninh

Hanoi: Alley 11 Duy Tan Str, Cau Giay Dist, Hanoi

Ha Vy Limousine
(+84) 969 255 255
Quang Ninh: Group 6, Region 8, Hong Hai Ward, Halong Dist, Quang Ninh

Hanoi: Cau Giay Park, Cau Giay Dist, Hanoi

Cua Ong Limousine
1900 565 685
(+84) 983 227 788
(+84) 898 257 788

Quang Ninh: Cua Ong Ward, Cam Pha, Quang Ninh

Hanoi: 72A Nguyen Trai Str, Thanh Xuan Dist, Hanoi

Van Don Xanh
(020) 033 991 991
(+84) 964 240 240
(+84) 981 755 198

Quang Ninh: Tailgate Cai Rong Market, Cai Rong Town, Van Don Ward, Quang Ninh.

Hanoi: Cau Giay Dist, Hanoi

What are the drawbacks of taking the shuttle bus?
If you're on a short trip or a day trip, you may want to weigh your options. Although compared to the local coach, the journey by shuttle bus is shorter and has much better services, it still takes up quite a bit of time and there's no guarantee that the ride won't encounter any issues along the way.
In addition, the shuttle bus usually departs at around 8 a.m which may not be early enough for you to maximize your time in Halong Bay.
From Hanoi to Halong Bay: How to choose suitable transportation
With all the different transportation options, it may be confusing which one is best suited to your needs. Each means of transportation has its own pros and cons. Answering the questions below will help you choose the right type of transportation for your travel from Hanoi to Halong Bay.
When are you traveling?
The season and weather are among the factors that you should consider in what kind of transport to choose. As Halong Bay is in the North of Vietnam, it enjoys all four seasons.
The weather in each season is obviously different. You can read more about the best time to travel Halong to help you make an informed decision.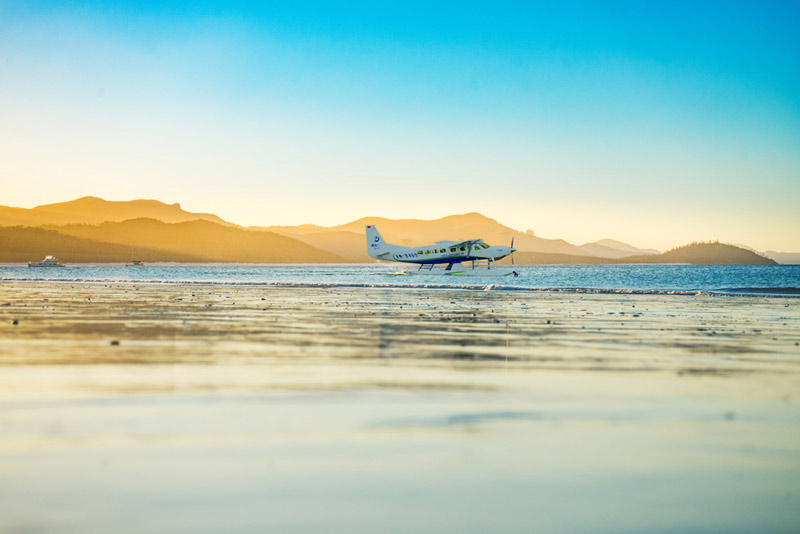 What is your budget?
For many, money is an important factor to consider, especially since traveling to Halong Bay will certainly involve additional expenses once you arrive.
With a limited budget, the local bus will likely be the best options.
For those with slightly more to spend, a tourist bus or even a private car / taxi are good choices. However, the fastest, most comfortable way to travel, not to mention the amazing views you will encounter along the way, is still by  helicopter or seaplane.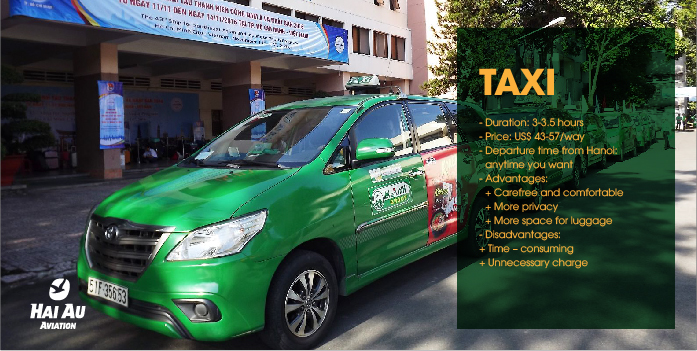 Information of taxi to travel to Halong Bay
Who are you traveling with?
Who you go with will play a part in deciding which vehicle to choose . The size of your traveling group also has an effect on how you travel. The smaller the group is, the easier it is to find a suitable means to travel from Hanoi to Halong Bay.
If you are traveling alone or with only 2 to 3 other people, the group has more flexibility when it comes to transportation options.
However, bigger groups of 10 or more people won't fit in a taxi or a 9-seater minivan. The more people you have traveling with you, the more you'll also need to think about everyone's financial and physical needs.
If anyone in the group is prone to car sickness, it might not be advisable to travel by local bus, tourist bus or taxi.
Traveling by motorbike requires everyone to be able to drive or at least be comfortable sitting behind the driver over long distances. There is also the higher risk of road accidents that come with driving a motorbike.
How much luggage do you have?
Initially, the question of luggage may not seem to be a very important one, especially if you're only bringing a small bag with you.
Those traveling light can opt for the seaplane or other chartered flight as they come with the strictest of weight restrictions.
However, when you have 2 or more big bags, your luggage will become an inconvenience when it comes to traveling by motorbike, coach or tourist bus.
For those with a lot of luggage, a private car or taxi is likely the best option.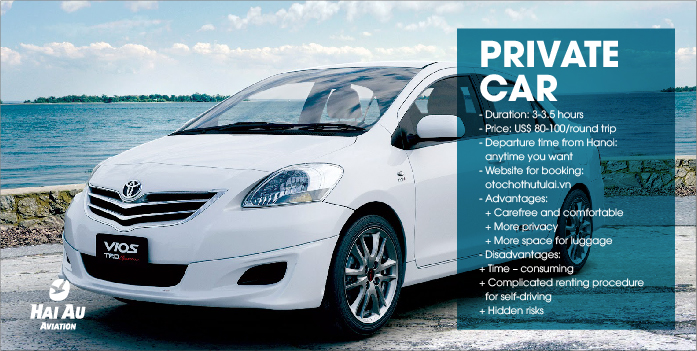 Which tour of Halong Bay are you taking?
Which tour and activities you choose to do in Halong Bay may also affect your decision on how to travel from Hanoi to Halong Bay (Source: Emeraude Cruises)
Most travelers leave Hanoi early enough to take a Halong Bay cruise just before noon. If that is what you are planning, it would be inadvisable to travel by motorbike or train because of the inherent delays as well as the need to transfer to the marina.
Traveling by tourist or shuttle bus or by seaplane are your best options as you are dropped off right at the marina.
The shuttle buses and seaplane service also cooperate closely with all of the top cruises, resulting in a seamless drop-off or transfer service to where your boat is docked.
Booking your Hanoi to Halong Bay road transport together with your Halong Bay cruise can also save money on the entire package.
Find more detailed information of tours in Halong to help you make the best decision.
Make the most of your trip!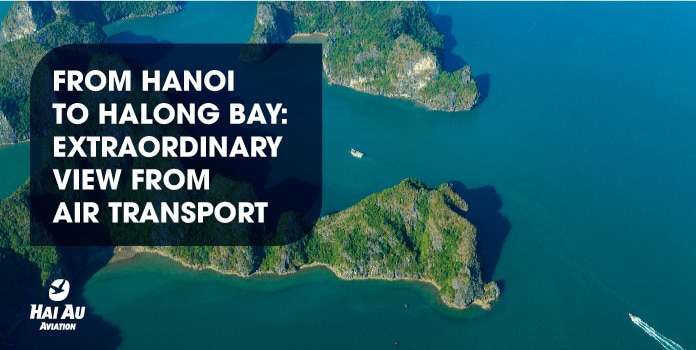 You deserve great views like this of Halong Bay (Source: Shutterstock.com)
There are many factors contributing to the success of a trip, and transportation is one of them. With so many types of transport available, it has never been easier to travel from Hanoi to Halong Bay.
However, careful consideration of which type of transportation to take can go far in helping you make the most of your Halong Bay holiday.
So think carefully about your choice of transport. And no matter what you choose, you deserve incredible views of one of the most beautiful places on Earth!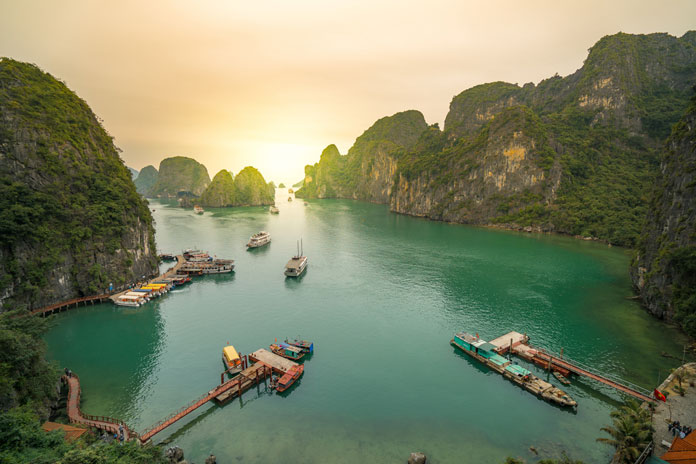 Information updated by January 1th, 2021