CHOOSE THE BEST
HALONG BAY WEATHER TO VISIT ONE OF THE MOST SPECTACULAR SITES OF THIS COUNTRY?
There are many things to take into consideration when choosing your travels throughout the year. For some people, vacation time makes a huge difference, from making deals with coworkers to finagling the right days off to balancing children's school schedules.
Other people would rather focus on Mother Nature's cycle of weather patterns. If you love the cold, winter month is the best Halong Bay weather whereas swimming and sunshine demand a summer trip. The rest still prefer to focus on the cost or avoid periods of the highest tourism. Halong Bay is no exception to the rule. When visiting this beautiful piece of Southeast Asia, one must think about the best Halong Bay weather to travel, the optimal months, and the ideal time to experience.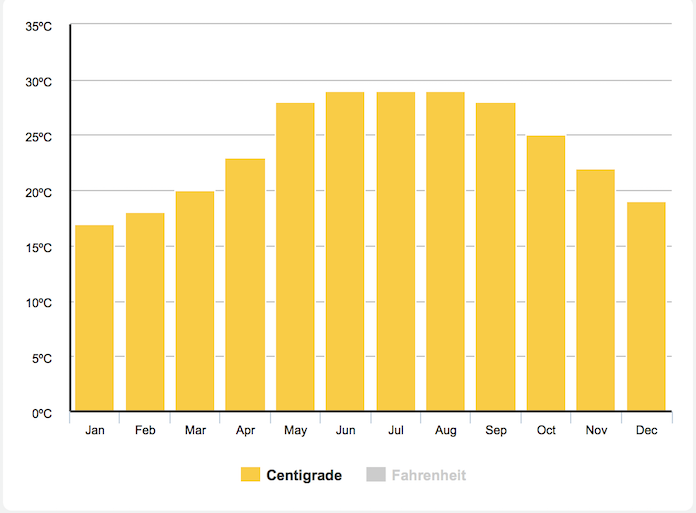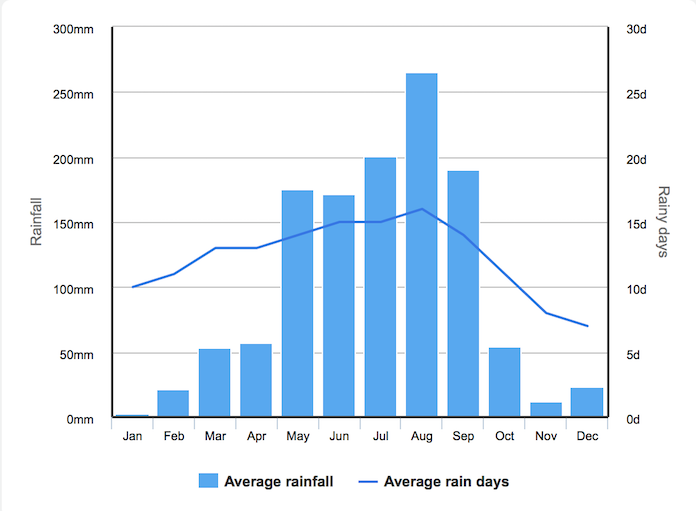 Spring in Halong Bay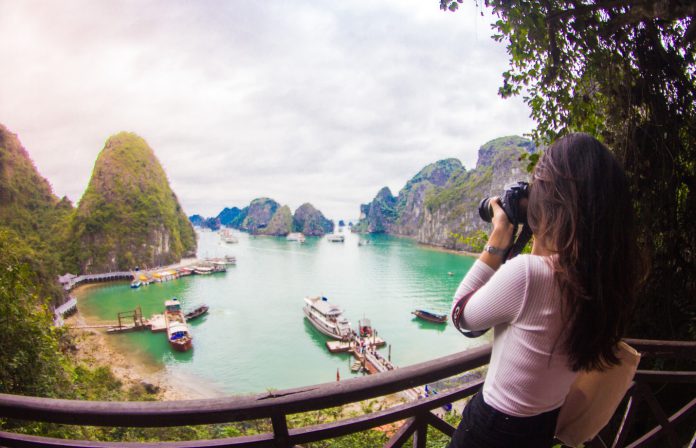 With an area of 5,000 square kilometres, scattered all around with more than 1,900 magnificent islands and limestone pillars, Halong Bay is known for its splendid beauty and one of the world's best natural marvel of all time as well as a long-standing spot in the "bucket" travel list of many travelers. Take your time to participate in our traditional Tet Holiday in springtime. Tourists used to stay in Hanoi or Saigon city to celebrate this wonderful time of the year with the locals. However, tourists started noticing spring is the best Halong Bay weather and enjoy the peaceful atmosphere. Imagine launching a new year by enjoying the bird's eye view, then spend a day cruising on the emerald sea of Halong Bay. As one of the UNESCO World Heritage sites, this beautiful city offers tourists a unique seascape.
The overall Halong Bay weather in spring
Spring is the wettest season of the year, comes with continuously drizzling and misty sky. While the humidity is the best condition for trees and flowers to grow, most tourists find it's difficult to keep their clothes dry and clean during these days. However, people still in love with spring in Halong and its mysterious cloudy weather. A tourist once said:
I came to the Halong Bay on the first spring rain of the year. In this magnificent place, right here, in the middle of nature, suddenly I realized how small and finite people are. Between the vastness of the earth and sky, the picture full of rain and majestic scenery, human appears just like a small dot of the talented painter …
January – February: Vietnamese traditional new year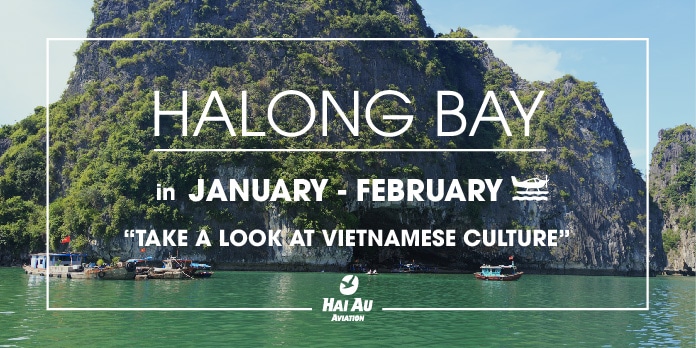 The most important celebration in Vietnamese culture is Tet, based on the Vietnamese Calendar. During this time of the year, people usually go back to their hometown to take part in the family reunions, makes it the best Halong Bay weather for international tourists to visit. The holiday lasts up to 10 days, people spend time cleaning or cooking special holiday food. If your vacation is held on Tet, don't be surprised if your favorite restaurant is closed.
At this special time of the year, you can have the chance to take a look at Vietnamese culture. Visit Halong market or Vincom shopping center Halong to see how the locals prepare for Tet. Come to a local's house, you will be given lucky money and different traditional cuisines. Enjoy every simple and tranquil moment on Tet, the best time to Halong. Especially, prices can be higher during this time of the year. You should check it twice before making any decision with the reservation team.
Halong Bay weather in January - February
Drizzle is the signature of Spring weather, which makes the street quite dirty. In this case, avoid wearing white is a must. The temperature will drop to about 15 Celsius degrees. So don't forget to bring your umbrella, comfort shoes and some hoodies in your luggage.
March: Time to take a look at traditional festivals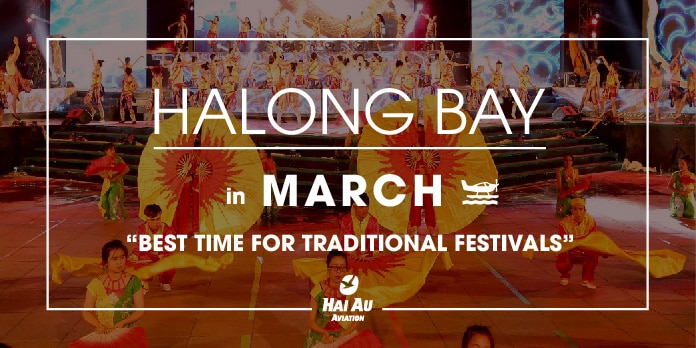 After a week of relaxing with family, it is now time for Vietnamese people to go out and join some festivals. You are lucky if arrive in Halong Bay on March because of traditional events. One of the most interesting activity is Cherry Blossom Festival, which will only last for a few days. Tourists can come to Halong Square from 17th to 21st March, to be a part of this exciting festival. Come to Halong Square to be a part of this exciting festival. There's variety of flower types from different countries which only bloom during new year time such as cherry or golden apricot blossom. At night, join the traditional instrument concert performed by Japanese and Vietnamese artists to learn more about the cultures from both countries.
If you are the type of person who's looking for a peaceful moment, cruising on the emerald area is a must-try for you. On March, the sky will be hazy in the morning, make it hard to observe the UNESCO World Heritage site. On the bright side, there are not many tourists, so you can have quality time for yourself. While the temperature is too cold for water activities, you can still have fun in Halong. Book a scenic seaplane flight at noontime when the sun is bright enough. Enjoy the water taking off and admire magnificent Halong Bay from above. The 25-minute scenic flight with spectacular nature underneath will be the highlight of your trip.
Halong Bay weather in March
The temperature will be warmer in March, from 19 to around 22 Celsius degrees. However, as the number of rainy days increases, humidity levels will also rise. Sunshine only lasts for few hours at noon time, therefore, take advantage to enjoy seaplane flight over the bay.
April: Best Halong Bay weather for an independent vacation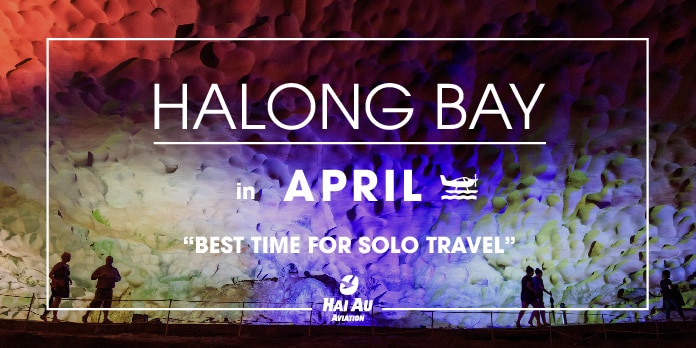 April is one of the best time of the year to visit Halong. The amazing Halong Bay weather in April will make you fall in love by the lovely atmosphere. Saying goodbye to spring by booking a trip to Halong Bay. During this time of the year, students are busy prepare for the upcoming exams, adults are back to work. Thus, April is the best time to go to Halong Bay by yourself… TiTov island is one of the must-see places you don't wanna miss. This destination is not only famous for the shallow white sandy beach at the front but also the view from the top. Visit Titov in the evening and you can enjoy the peaceful beach alone. Take the amazing chance to relax your mind and escape from the busy life. Pack your stuff and ready for a solo travel to Halong bay.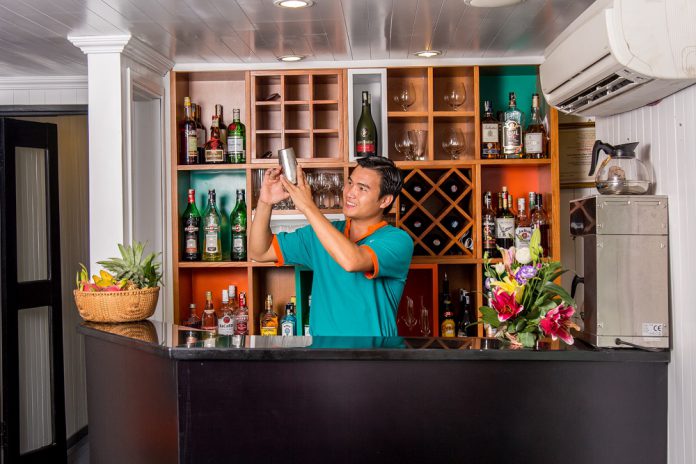 To the majority, water activities such as canoeing, kayaking and cruising are suitable. Want to challenge yourself? Go for a dive to observe the beautiful creatures and magical sea in Halong Bay. The sky is clear enough to enjoy every angle of this wonderful place. With more than 1,900 magnificent islands, Halong Bay offers you a picturesque nature to immerse yourself. Imagine booking a ticket to see the breath-taking scenery from the luxury seaplane. Then, take a closer look at some of the most signature destinations like Sung Sot, Titov or Luon Cave on a 2-day-1-night cruise.
Halong Bay weather in April
As April is a transition period from spring to summer, the Halong Bay weather reflects this transition. The temperature, in the beginning, is lower and continuously rise up to maximum 23 Celsius degrees as summer comes. As the day light times starts to lengthen and humidity decreases to 60%, tourists will enjoy taking part in outdoor activities.
Suitable activities to join during spring time
There is a wide range of spring activities for tourists to take part in during their stay in Halong. Whether you travel alone, with your lover or friends, Halong Bay will offer you the most exciting activities. Do some research to find out what types of celebration will be held in Halong. Recent years, Cherry Blossom Festival is an interesting activity that you should be a part of. To have an in-depth look into Vietnamese culture, visit some of famous temples in Halong Bay such as Ba Vang. Long Tien or Cua Ong. Take a deep breath, release all your stress and enjoy the peaceful moments. If the weather is too cold for being outside, exploring Quang Ninh Museum on Tran Quoc Nghien street can be a great choice for you.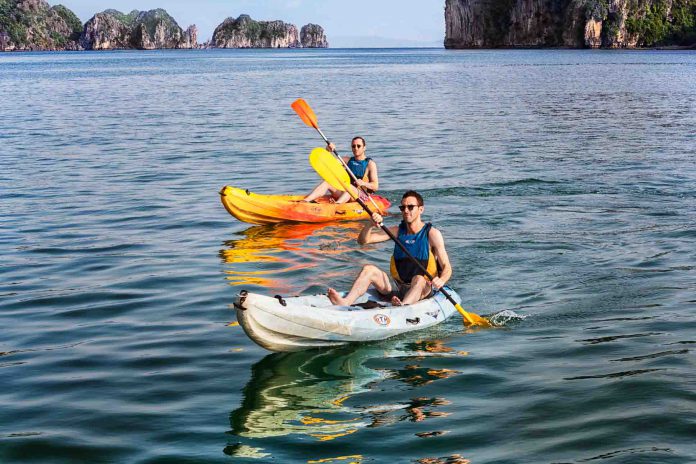 With 30,000 VND/ person, your party can not only learn about the natural history of Vietnam  but also the world. At noontime, when the sun goes up and shines bright, book a last-minute scenic seaplane flight to have the once-in-a-lifetime experience on the bay. As the one and only sightseeing service, flying with seaplanes is most recommended activities when visiting Halong Bay. In case prefer to spend more time on seaplanes, you can even book a scheduled flight from Hanoi to Halong and vice versa. Don't forget to bring your fancy clothes to take part in Halong Carnival. This is one of the biggest festival, held every year on 28th April at 8:00 PM at Sunworld Halong Park.
Summer: Halong Bay weather for Vietnamese tourists
While Spring is the best Halong Bay weather for independent travelers who are looking for something cultural and peaceful, summer is time for people who are youthful. As the high demand to relax, summer is the highest season of domestic tourism in Halong Bay. Normally, not every international traveler want to cope with the huge volume of native tourism. However, the beginning of summer is considered the best Halong Bay weather.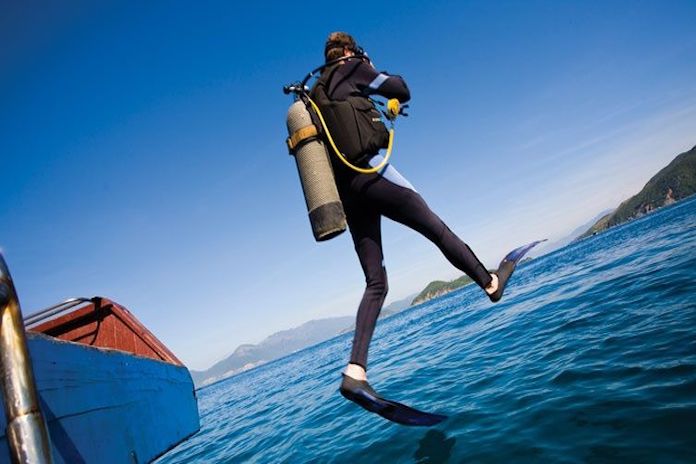 The overall Halong Bay weather in summer
The temperature around 30oC, suitable for almost every activity in Halong Bay. From water sports to outdoor activities, imagine yourself sunbathe on the top deck of a luxury cruise or the white sandy beach of Cat Ba Island, Halong Bay. Until the middle of summer, the temperature can reach to 38oC, makes traveling to crowded places uncomfortable. Lots of famous destinations such as TiTop Island, Sung Sot Cave or Bai Tho mountain are overload. During this time, Vietnamese tourists can take advantage of summer vacation to spend time with family. Trying to escape the tropical heat before their children go back to school.
May: Suitable time to enjoy Halong Bay from the top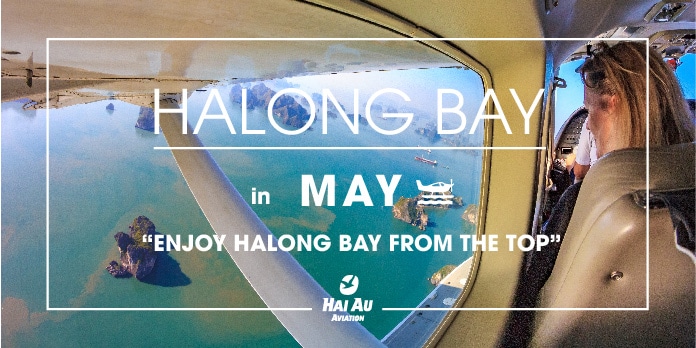 May is considered the best month to travel Halong for international tourists due to several factors. First, traveling in May prevent visitors from the intense tourism flows because children are not out of school yet. Book your trip and you can still take the advantage of this month before the school break starts. Especially, since the Halong Bay weather during this month is fantastic, in the clear sky and moderate temperature, flying with Hai Au Aviation seaplanes is on your bucket list. Under the sunlight, feel like a bird flying around the bay and enjoy a good sightseeing tour with your party.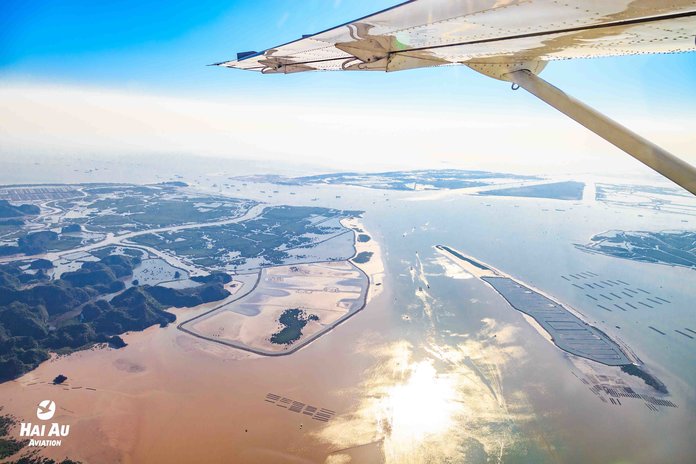 Only with Hai Au Aviation, you can enjoy fabulous aerial views over the countryside and be amazed by the thrill of water landing/ taking-off at the end/ the beginning of the flight. Surrounded by the sea, Halong Bay this month is cool and pleasant makes it easier for outdoor activities such as cycling, kayaking, fishing or trying the local's street food. At night time, you and your friends can also have fun on one of the funkiest bars in town. Meet new friends who have different nationalities and tell them about your unique seaplane journey.
Halong Bay weather in May
Weather in May is fantastic, even though it marks the start of summer heat. The temperature will be around 27.5 Celsius degrees cool enough to enjoy every "thing to do" in Halong Bay. Especially, with 8 hours of sunshine every day, travelers will have lots of time to photograph in Halong.
June to July: The months of avoiding the tropical heat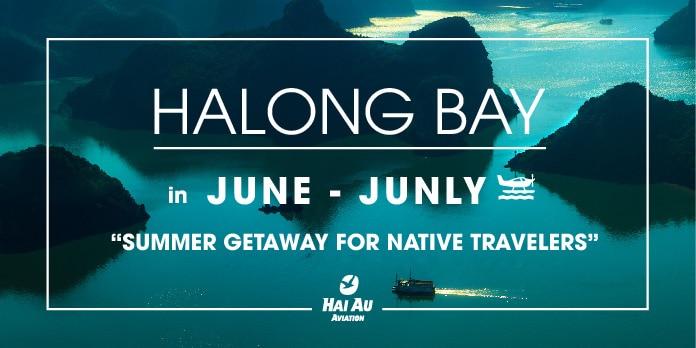 Tropical summer not only makes tourists uncomfortable but also the natives. Therefore, Vietnamese people always have their summer vacation held on the beach or mountainous areas. From June to July, the majestic Halong Bay will be crowded by the intense tourism flow. As the result, service price will be charged higher than usual.
Declared by the UNESCO as the World Heritage Site in 1994, bring a digital camera otherwise you will regret not having some magnificent pictures here. Don't forget to enjoy Sun World Halong Complex, where you can find yourself flying through the ocean by the cable car. Otherwise, booking an overnight tour staying on a boat, having a sauna on board and relaxing on the top deck, soaking all the sun can be a great choice. Halong Bay is beautiful itself, no matter when your holiday is held.
Halong Bay weather in June - July
Even though the stickiness and high temperature (maximum 35 Celsius degrees) will prevent tourists from spending time outdoors, you can still feel the summer breeze on the beach, Don't forget to have your sunglasses, sun cream in the luggage to avoid getting sunburnt. For all those negativities, the blue sky and breathtaking scenery still make this the best Halong Bay weather for Vietnamese tourists. As tropical summer usually rains more than other seasons, keep yourself dry.
August: A last-minute summer break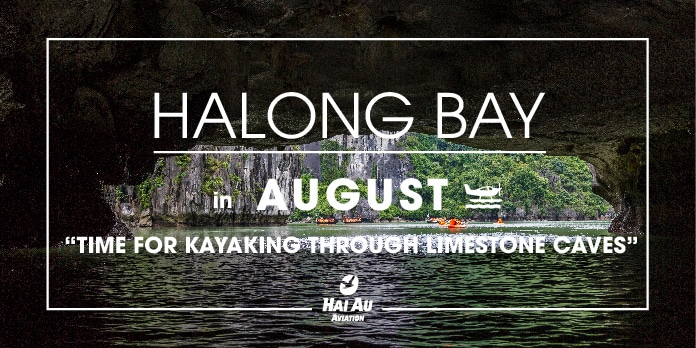 Saying goodbye to your summer vacation by booking a last-minute trip to Halong Bay. As August is the last month of tropical heat and the month before rainy season, this is another best Halong Bay weather to relax on the beautiful beach.
Enjoy your sunset glow on the white sandy beach or Bai Chay bridge, the two ideal places to enjoy your picturesque scenery. Thousands of islands look like floating jewels in the middle of the ocean, bring new experiences to your last-minute summer vacation. Kayaking through limestone caves is an awesome outdoor activity you should not miss. The size of caverns and column formation is impressive. The artificial colored lighting even makes the cave more majestic than ever.
Halong Bay weather in August
As this is the month before rainy season, there are chances of raining during your trip. However, this does not affect any activities but even makes your experience funnier. In early August, the Halong Bay weather will be better as the temperature is around 25 – 30 Celsius degrees with the average humidity is approximately 75%, you can still participate in usual outdoor activities. In the late August, there is slightly chance of storms, tourists should stay update to weather forecast.
Suitable activities to join during summer time 
As the beginning of summer is the best time to go to Halong and take part in outdoor activities. Interesting ones will be included in your cruise package such as kayaking, visiting floating village or sunbathing. If lucky, your companies will take you to some peaceful destinations, give you the best experience without the noise of the intense tourism flow. Don't forget to enjoy Halong like anyone else by booking a seaplane flight to admire majestic Halong from different angles.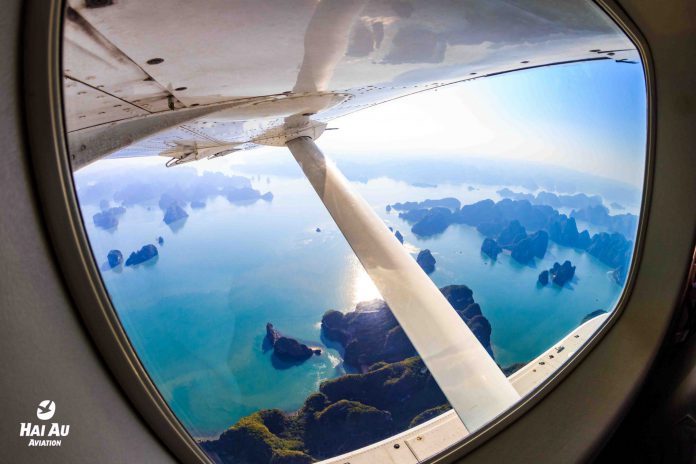 Ranked at No.13 in the "Things to do in Halong" list, flying with seaplanes is one of the must-try activities when coming to Halong or Hanoi. This will definitely, become the highlight of your trip. Planning to spend more time and try more outdoors activities in Halong? Visiting Sun World Park will also worth a visit with the Amusement park, Theme Park and the iconic symbol, Ferris Wheel. In the middle of summer, when the temperature is higher and somewhat uncomfortable, being indoor is an ideal option. Buy a ticket at Quang Ninh Museum and get ready to be amazed. Ranked at no. 28 out of 54 things to do in Halong, Quang Ninh Museum has numerous exhibits displaying, from all species of animals to an exposition of the coal mine. Shopping at Vincom Shopping Center or Bai Chay Center is also another choice of relaxing.
Autumn: Domestic tourism's low season
Fall is the time for schools to start, therefore, the number of domestic tourists will decrease. Looking for a romantic and peaceful place to spend your honeymoon? Halong Bay weather in Autumn will not let you down. Taking your wedding photo album right on the top deck of the top 10 luxury cruises in Halong 2017. Then, have a sauna and relax on the white sandy beach. Those who enjoy adventurous trips, Halong Bay weather in early September will be the best time to travel Halong and challenge yourself.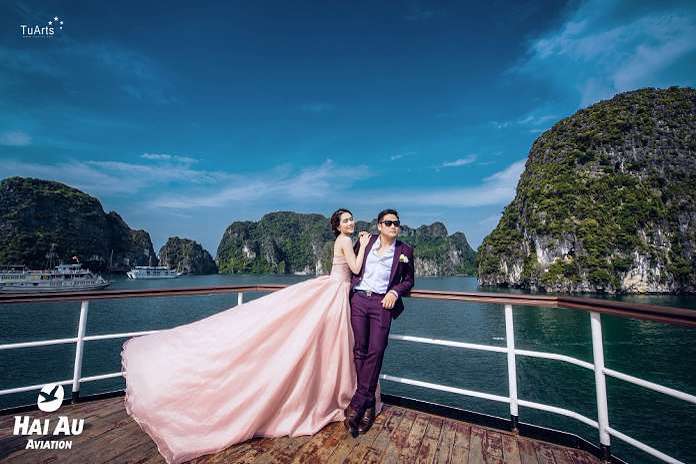 The overall Halong Bay weather in autumn
The overall Halong Bay weather will be cooler and plants become dormant. Leaves start to turn into red then fall. It is common to the street full of romantic trees' leaves falling down, the perfect background for a couple on their honeymoon. In the mist of autumn, enjoy your 2D1N cruise in Halong next to your fiancé. The temperature changes gradually throughout the day, cool in the morning/ night time and hot at noon. The beginning of autumn, September, is the rainy month and typhoons happen quite common. Usually, prevent tourists from all exciting activities, however, best time for adventurous tours. Have your email checked and update weather forecast before making any bookings. From October, Halong Bay weather starts to change, makes this the most romantic month for couples.
September: Dare to have an adventurous holiday with tropical storm?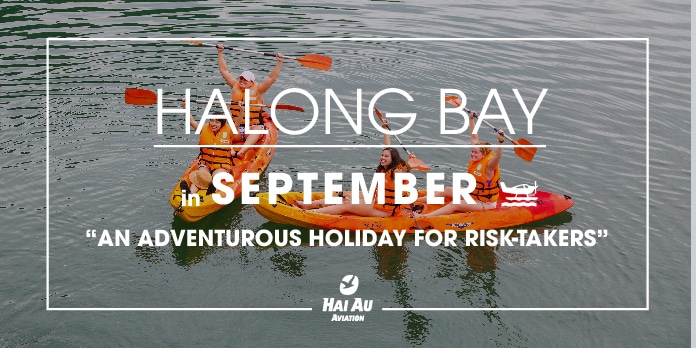 Typhoons happen more frequently in September than the other months, around 2-3 times within a month. Therefore, you may have to postpone your trip to Halong Bay. If you enjoy rock climbing, skydiving, then flying with seaplanes in rainy weather will be another unique experience to challenge yourself.
Halong Bay weather in September
Due to the effect of climate change, this month will rain a lot, few times a week and can cause flood situation sometimes. To some adventurous tourists, trekking to Bai Tho mountain on stormy days is their cup of tea. The average temperature is 28 Celsius degrees, rainday fall is around 14 days.
October: Travel Halong and enjoy autumn's romantic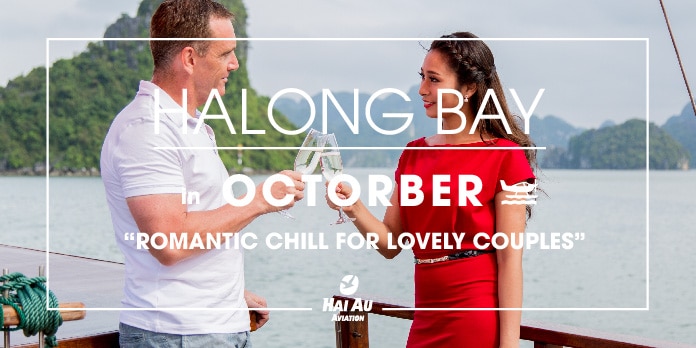 Because it is the high season for international tourism, there will still be an influx of explorers wandering the sea. As the volume and competition for flights, hotels, and events will capitalize on this season, this will be the absolutely most expensive time for inbound tourists. Additionally, you won't be able to interact with the same amount of locals. However, it is still difficult to have that solo selfie you so desperately wanted if other tourists from around the globe are all doing the same.
Autumn is the best time to travel Halong for couples. Imagine holding hands on the top deck and watching the sunset together. Cruising in the middle of the emerald sea or riding a bike through the peaceful city. If you two are looking for something special to highlight your trip, having the once-in-a-lifetime experience with seaplanes is always the best choice. Book your tickets and ready to drunk in love because this is the best time to go to Halong for couples.
Halong Bay weather in October
As this is the end of autumn, so when the sun sets, the air can produce a brisk though still incredibly romantic chill. The average temperature is 25 Celsius degrees, makes it suitable for tourists to discover floating villages or kayak. Humidity level is fairly high, however, this will not affect your journey in Halong Bay.
Suitable activities to join during

autumn
As the weather is pleasant and much cooler than summer, tourists enjoy being outdoors and taking part in different activities. Overnight cruise package always include kayaking, diving or swimming in Halong Bay, make sure not to miss those activities. As the clear sky is excellent for photography in Halong, couples can have Halong Bay to become their wedding photo's background. Look into each other eyes and enjoy your honeymoon on the top deck, under the sunset glow. Last but not least, don't forget to ride the Ferris wheel of Sun World Halong Park at night. Enjoy the beautiful sky as it is about time of full moon festival. Having a romantic dinner with a glass of wine on the rooftop will become an unforgettable night in Halong.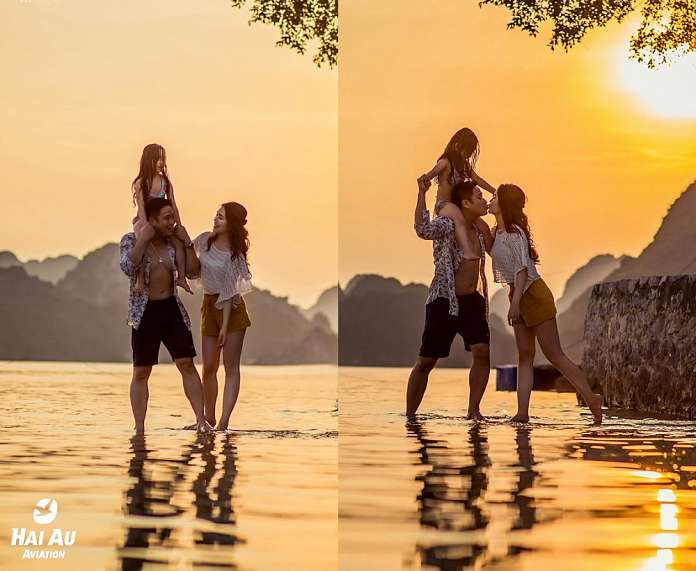 Winter: High season for inbound tourism
Booking a trip to the beach is the only solution to get away from winter blue hits. Head to the UNESCO World Heritage site for a different kind of adventure. Immersing yourself by the picturesque sunset and sunrise of Halong Bay with the mystery background. Wake up early and enjoy a Tai Chi lesson on the top deck or roll yourself in a rug and enjoy your breakfast in bed. Regardless of the weather, Halong Bay is a major tourist draw makes the number of tourists increase in every minute.
The overall Halong Bay weather in winter
The wet season has passed, the air is drier, there is no risk of a typhoon and the sun still continues to shine. While the temperatures still circle 20oC, it is a great change for tourists coming from 0 degrees or below. Drizzling rain and cloudy weather are forecasted, suitable for tourists who prefer quietness and mystery.
November: The month of Day-to-Day Life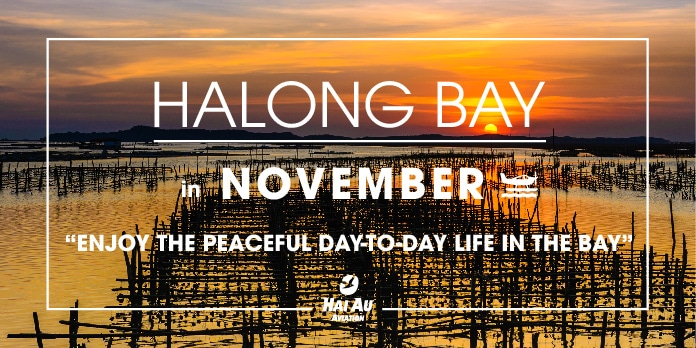 During the crowded winter months, locals are less interested in vacation time and much more focused on work and school. As the result, Halong Bay is much less populated by the natives. This crowded be great for a domestic traveler who would like to experience an area of Vietnam without the intense flow of native travelers.
While domestic tourism may be down, inbound tourism is at its peak. So if you are wishing for a calm, less populated experience, this is probably not the best time to go to Halong. Prices will also not be much lower than summer months due to the soaring number of internationals taking advantage of this time.
Halong Bay weather in November
The temperature throughout November will be around 22 Celsius degrees in the daytime and drop down to 18 Celsius degrees at night. Also, the humidity will circle around 79%, helps travelers to enjoy Halong Bay without feeling dry.
December – January: The months of wintry escape for travelers
In total opposition to the patterns of domestic travel, inbound tourism to Halong Bay spikes high during the winter months, most specifically in December and January. Travelers who are looking for warmer weather are perfectly placed to have an adventure in Halong Bay. The lines are less packed with domestic tourism since the summer season is over. You may even find a luxurious spot at the beach to observe the magical bay. The combination of the wonderful weather and minimal lines allows you to see the real charm of Halong Bay. It is a truly enchanting and romantic atmosphere to prance around in. On the other hand, swimming in the sea is not easy depending on how cool the weather becomes.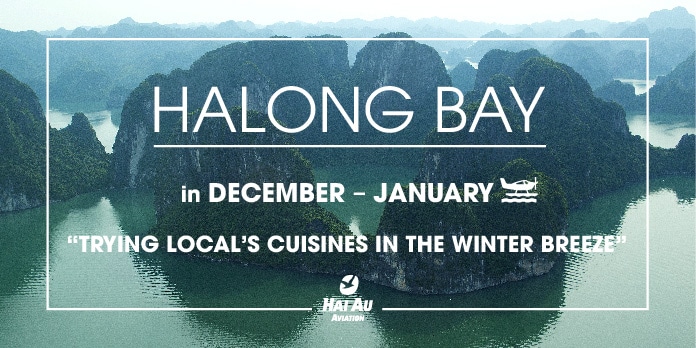 Landing in Hanoi for a few days of city life provides an excellent transition to enjoying a lovely weekend on the shores of Halong Bay. Traveling by seaplane through the clouds during this time of year is nothing short of exquisite. You can charter a flight to/ from Hanoi, then connect with a cruise. Nothing great as combining two of the most stunning ways of seeing the sites together. Travelers from colder climates will have no problem lounging around the landscape and passage of Vietnam.
Halong Bay weather in December - January
As winter has truly arrived in Halong Bay, the temperature will be around 15 Celsius degrees, so don't forget to bring your jacket. Chance of raining will decrease, makes number of rainfall days drops to only 7 days in December. Good news for those who love to hit the beach, the weather and sea temperature at noon time are great to relax.
Suitable activities to join during winter time
As the temperature drops to 10oC without raining, tourists enjoy being outdoors at noon time to soak in the sunshine. You will feel like being in the middle of the cloud, enjoy your lunch in the mysterious foggy weather. Even though the weather is too cold to swim, you can still visit floating villages and kayaking. With any luck, you choose to fly with Hai Au Aviation, note that the best time to go to Halong Bay by seaplanes is in the afternoon.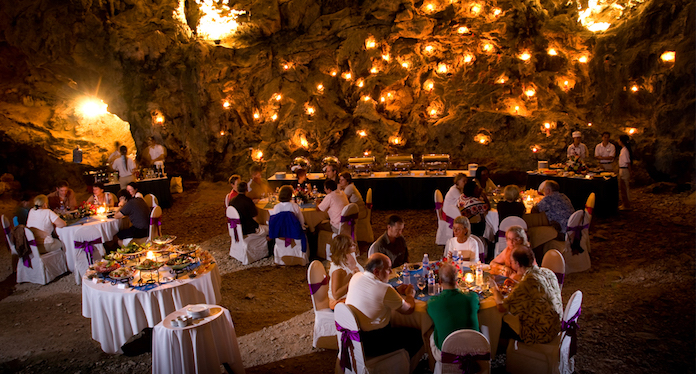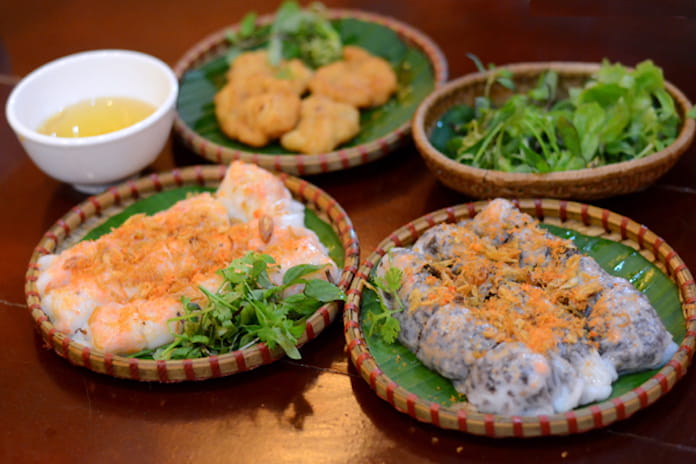 However, if saving time is all that matters, flying with seaplanes is the best choice for you. Some tourists may consider summer is the best Halong Bay weather. However, the misty sky adds more adventure to your vacation. In this cold weather, the best activities you cannot miss is trying local's cuisines such as barbecue, seafood noodles or banh cuon. Let's experience Halong Bay like a local. Although water activities are avoided in this time, cruising on the emerald sea is still preferred. Worry about the misty sky will prevent you from admiring Halong? You will have to change your mind when cruising on the most luxury boat. Floating in the middle of the foggy sea, which gives you a fairytale-like feeling.
Our advice: Take the benefits of balance
The high and low seasons for both domestic and inbound tourism are opposites. Most populated times to visit Halong Bay are consistently in the summer, from July to August and winter months, from November to December.
However, we consider spring and fall months are the best Halong Bay weather. Therefore, take advantage of various deals and unique opportunities.
The weather is usually mild and dry, depending on the month. Avoiding extreme weather conditions such as typhoons makes it the best time to go to Halong.
The prices for both domestic and inbound voyagers will remain low since these two seasons lie between the highest periods of tourism throughout the year.
The climate of late spring may increase but still has the primary benefits of the winter months. In addition, there are some amazing festivals to attend such as Tet, making spring the best time to go to Halong. Fireworks and music, costumes and parades on the streets, celebrating family and hopes for the future. Even though you have to look for which business will be open or closed, this is the best time to go to Halong to see more of Vietnamese culture. Late spring doesn't offer you as many events. Also, the temperature starts to have more of the extreme summer weather conditions. But still, allow for a far less crowded experience than other months.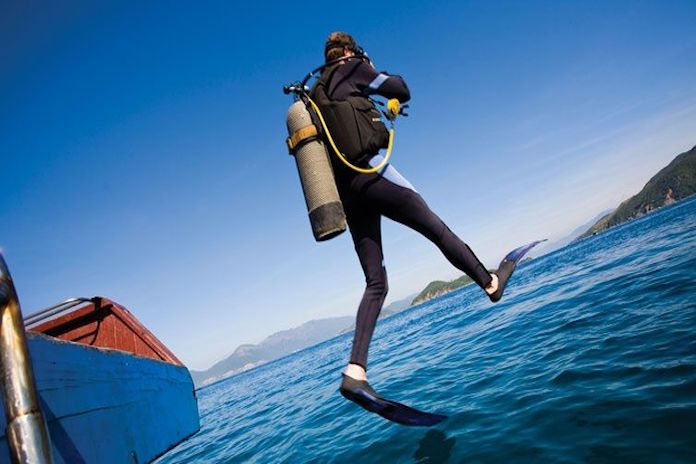 Autumn can provide the same luxuries as the high inbound tourism season, but without as many tourists on the streets. You can examine the floating villages of local culture without worrying that they are off on holiday. Witness the changing seasons from above as a seaplane lends a bird's-eye view of the flora and fauna below. The natural vegetation and brilliant wildlife are never more astonishing than when flying with the clouds care of Hai Au Aviation.
"No matter which time of year you choose, Halong Bay is always ready to showcase its qualities at their very best."
Hai Au Aviation