The aviation market is thriving with names such as Vietnam Airline, Vietjet Air and Jetstar. As a result, Hai Au Aviation, with its unique seaplane ride, is lesser known in the general airline sector. Here are 10 exceptional aspects of Hai Au Aviation that you might not know:
BOTH BY LAND AND BY SEA
Seaplanes are multi-purpose aircraft with both wheels and floats fitted under the fuselage. This allows the seaplane to land on airport runways as well as sea, rivers, and lakes. Visitors landing in Halong will land directly in the water. The plane will glide like yachts cruising through Halong Bay and slowly climb ashore at the seaplane landing area in Tuan Chau Marina
SKIM THE HORIZON AT 2000M
Seaplanes are small aircrafts that usually operate at altitudes below 2000m and above 150m. Usually, experienced pilots will bring the seaplane down to the lowest altitude, allowing passengers to see the beauty of famous attractions from above. The seaplane can swerve through the rocks or fly over the water to create the most unexpected experiences.
SAY HELLO TO THE PILOT
Each seaplane has 14 seats, including 12 seats for passengers and 2 seats for pilots (Captain and first officer). With two consecutive compartments, passengers will be able to watch the pilot launch the seaplane, take off, and land as well as surf on the water.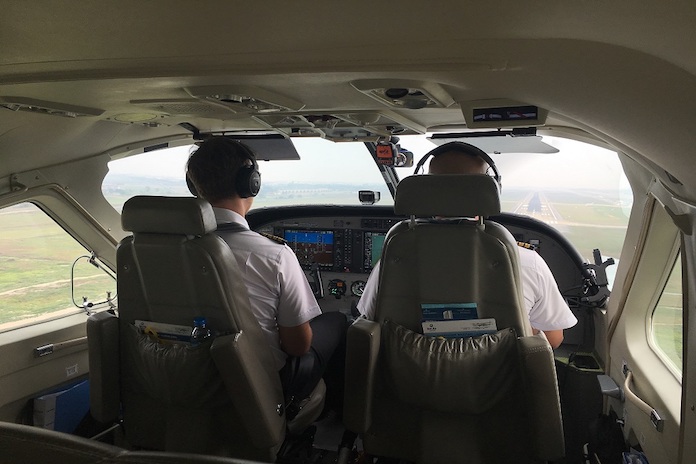 PILOT/ TOUR GUIDE COMBO
Due to its unique design, the aircraft allows pilots to communicate directly with passengers. Throughout the flight, passengers will be told about the places that the seaplane is flying over, such as Hạ Long City, Tí Tửng Island, Vung Viêng Fish Village, Pearl Farm, Soi Sim Island, Yên Ngựa Island, Dragon's Eye, Hòn Gai Commune, Bài Thơ Mountain, Hòn Lư Hương, Cock fighting, and Tuần Châu Harbor.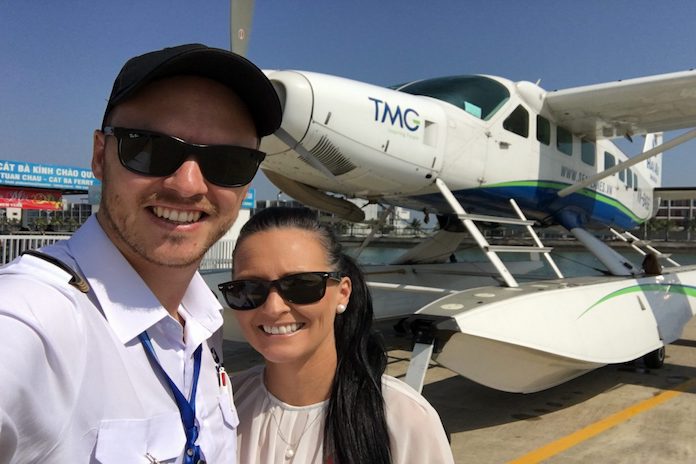 RECORD THE SCENERY
Not only does the company not prohibit the use of digital devices, it encourages passengers to capture unique moments throughout your trip. Don't forget to bring your camera along, as the seaplane will help you witness the natural wonders of Vietnam firsthand. Passengers can use mechanical cameras, video cameras, or even mobile phone  cameras to document extremely vivid views offered by the high-end aircraft.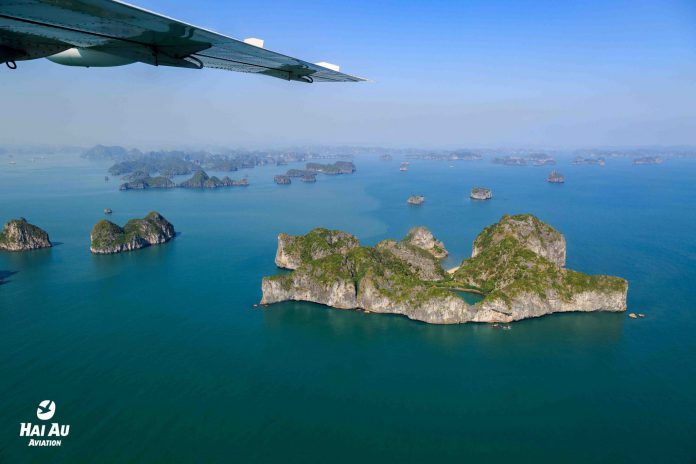 STAY CONNECTED FROM ABOVE
With conventional airlines, you will be asked not to use, or even to turn off cell phones to ensure flight safety. With Hai Au Seaplanes, you can comfortably use your 4G phone to get in touch with friends and partners. You can access the internet and post your experiences directly to social networks or livestream. Seaplanes operate signaling waves that are different from commercial aircrafts. Flying at low altitudes allows you to use cell phones as you like.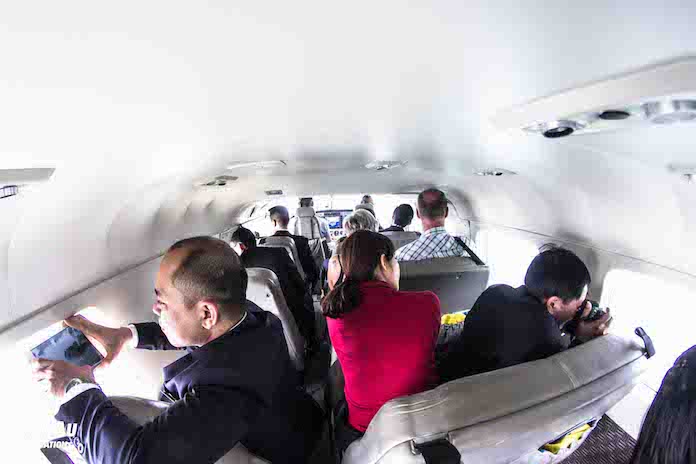 FLY IN SAFETY AND COMFORT
Equipped with modern positioning radar, seaplanes prioritise navigation skills and operate the aircraft with visual reference to the ground by visually avoiding obstructions and other aircraft (VFR – Visual Flight Rules). The aircraft will be more flexible and will be able to fly lower or surf the water, avoiding other objects around. An experienced team of pilots will assure a safe and unique experience for travelers.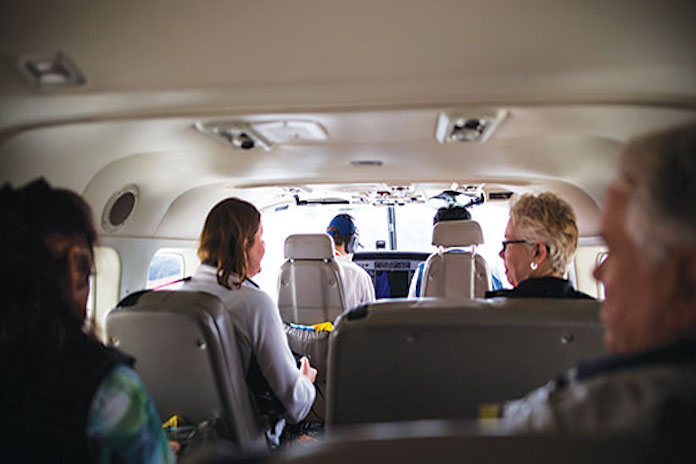 12 IS NEVER A CROWD
With a small and flexible structure, each seaplane allows up to 12 passengers per flight. Hai Au Airlines always operates with specific regulations and guidelines to ensure absolute safety for each flight.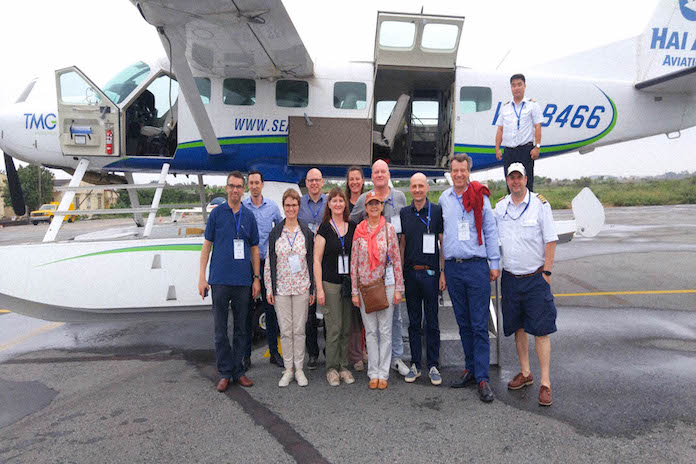 LONG RUNWAY LIKE GENERAL AVIATION IS NOT NECESSARY
With seaplane, the runway does not need to be too long. Seaplanes are able to take off under 1000m. Therefore, at Tuan Chau Marina, the aircraft can easily take off from the surface of the water. You can experience the seaplane speeds up and takes off water in just 60 seconds.
SOAR LIKE THE STARS
With unique and high-quality services, it is easy to see why many tourists choose seaplanes for their Vietnam travel. Over the past two years, a large number of high-end tourists have experienced seaplane service from Hai Au Aviation.
Many famous people in Vietnam and all over the world, such as Angelina Jolie & Brad Pitt, entrepreneurs, CEOs of famous fashion houses in the country and internationally, the royal family of Lebanon, Morocco, French Director Guillaume Gallienne, MC Phan Anh, Vietnamese actor Minh Tiep, have chosen seaplane flights.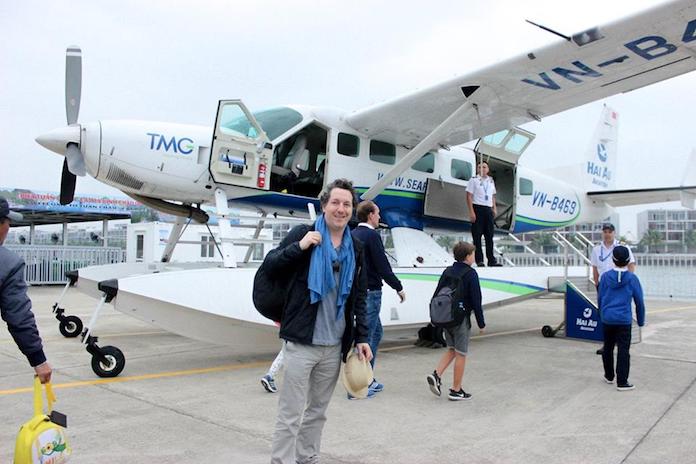 [adrotate group="1″]