Halong Bay, recognized as UNESCO World Heritage Site, is one of the most favorite tourist attractions in Vietnam. It is famous for thousands of limestone islets with different shape raising up from the immensely blue water.
Visiting this beautiful site must be on the bucket list of almost every traveler to Vietnam. One of their biggest concerns to be known is how to travel from Hanoi to Halong Bay. Therefore, for anyone who is still confused about which means of transports to choose, this article will give you all information that you need.
Hanoi to Halong Bay: Popular & inexpensive land transport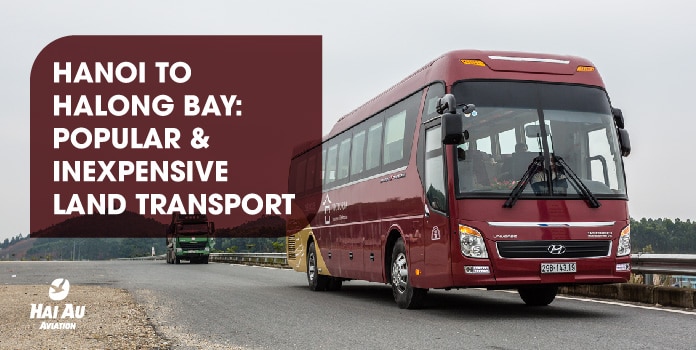 Halong Bay is located in the northeast of Vietnam, right at the heart of the Gulf of Tonkin. It belongs to Quang Ninh province. Halong Bay is about 180 km away from the capital of Hanoi. This is neither too far nor too short distance.
With its charming beauty, Halong Bay has been a popular tourist attraction with local people for a long time. After the recognition of UNESCO, Halong Bay became globally well-known and an international tourism hot spot.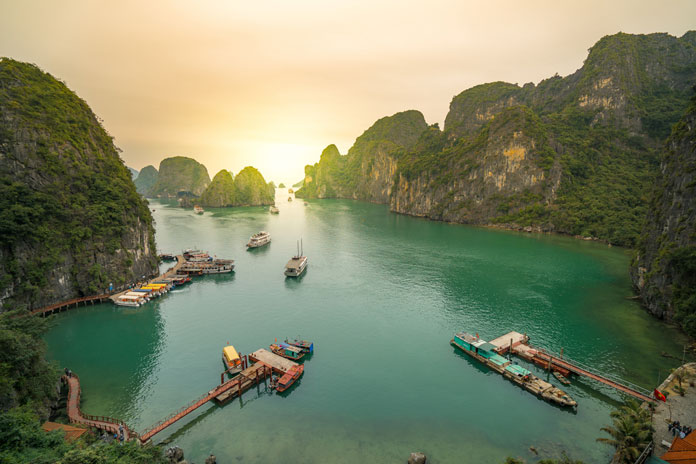 The magnificent beauty of Halong Bay (source: Shutterstock.com)
Consequently, tourism development is considered as one of the provincial priorities. To meet the increasing number of tourists' demands to travel from Hanoi to Halong Bay, the traffic has been upgraded in the recent years. It makes the journey by land transport much shorter and more comfortable.
This is the reason why tourists choose these vehicles beside the fact that they are popular and inexpensive. However, they are not the same. Each means of transport will give you its own typical experience which you can find out below.
Local coach: for eager backpackers
What are advantages of the local coach?
In all countries, coach along with public transports are the most popular and convenient ways to move from place to place. Another reason for it to become everyone's favorite transportation is its cheap price.
A coach can make your trip much more comfortable and simpler. Especially if you're not a good map reader yet an eager traveler, a coach is really helpful. Traveling by coach will provide you a closer look at the life of local Vietnamese and all beautiful landscapes on the way.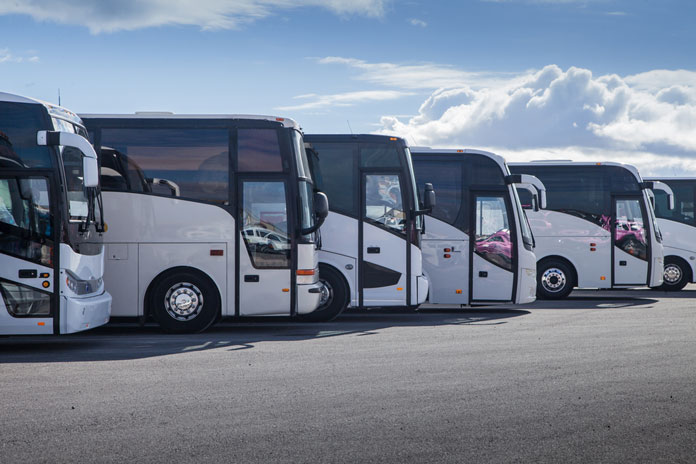 The common route of all coaches is Hanoi – Hai Duong – Hai Phong – Bai Chay (Halong). Thanks to the upgraded traffic infrastructure, the journey is just about 4 to 5 hours long. The price for one way ticket can vary from US$ 3.5-7 depending on coach's quality and size.
Another good thing about the coach is that you don't get any surcharge on the weekend. The earliest coach departs at 6 a.m and the latest is at 8 p.m. There is a coach leaving every 1-2 hours due to various providers' schedule. The first coach coming back to Hanoi starts at about 12 p.m and the last one is at about 9.30 pm.
How to book a ticket from Hanoi to Halong Bay?
The process to buy a ticket from Hanoi to Halong Bay is not too complicated. The first thing to do is choosing your departing date. After a few clicks on the website vexere.com , you will get a fully detailed schedule of the day from all providers.
The wide range of choice might overwhelm you. You should take time to consider the quality of the coach as well as the coach provider's credibility.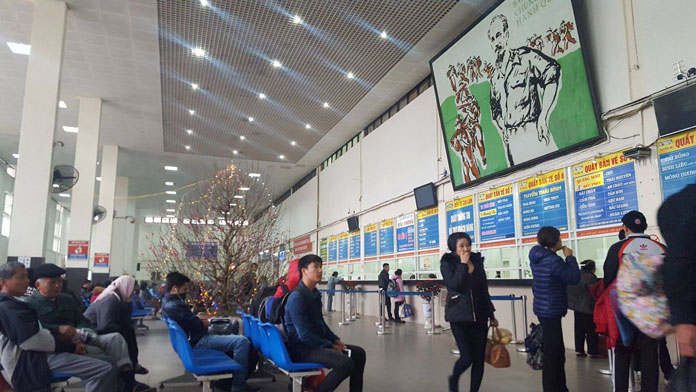 A useful tip for you is reading the reviews of previous travelers and seeing provider's popularity. Especially, you can have more trust in the providers having active licenses in local coach stations. Once you find out the suitable coach, you just need to pick up your phone, call them and make a reservation.
You can also book through the website. Otherwise, you can directly go to their offices or local coach stations and buy the ticket. Booking in advance will ensure you a smooth journey and lessen the trouble.
Some Coach Providers Information
Name
Phone number
Address
Dai Phat Coach


(+84) 983 472 299


Giap Bat Station, Km6 Giai Phong Str, Hoang Mai Dist, Hanoi


Duc Phuc Coach


(+84) 979 065 168
(+84) 912 474 408


Tien Lang New Bridge, Ba Dinh Dist, Hanoi
Kumho Viet Thanh


1900 7075


20 Pham Hung Str, Tu Liem Dist, Hanoi


Phuc Xuyen Coach


(02) 033 663 366
(02) 033 556 677
(+84) 912 069 739



Group 7, Region 1, Yen Thanh Ward, Uong Bi, Quang Ninh


Xuan Truong Coach


(+84) 912 767 688
Van Don Dist, Quang Ninh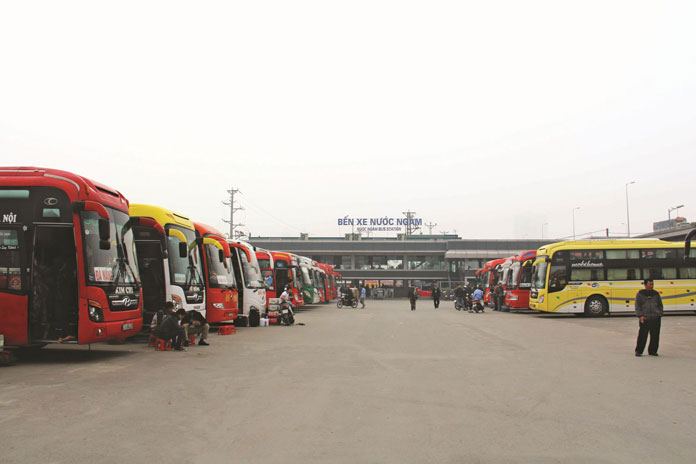 Local Coach Station List
| Name | Phone number | Address |
| --- | --- | --- |
| My Dinh Station | (024) 376 855 49 | 20 Pham Hung Str, My Dinh Ward, Nam Tu Niem Dist, Hanoi |
| Nuoc Ngam Station | (024) 386 121 58 | Km8, Giai Phong Str, Hoang Liet Ward, Hoang Mai Dist, Hanoi |
| Giap Bat Station | (024) 386 414 67 | Km6, Giai Phong Str, Hoang Liet Ward, Hoang Mai Dist, Hanoi |
| Yen Nghia Station | (024) 335 712 85 | Highway 6, Yen Nghia Ward, Ha Dong Dist, Hanoi |
| Gia Lam Station | (02) 438 271 529 | No.9, Ngo Gia Kham Str, Long Bien Dist, Hanoi |
Why not to choose the coach to travel from Hanoi to Halong Bay?
In spite of all advantages mentioned above, the coach is not a completely ideal transport to travel from Hanoi to Halong Bay. The coach mainly serves local people. Consequently, most of the time, neither the salesman/saleswoman nor drivers can speak English.
The language barrier will create a lot of difficulties in communicating and understanding. This will lead to big troubles if there's any delay or you miss your stop. The fact that the coach is not available at the Old Quarter, where most of the foreign tourists live, makes it much less convenient.
Furthermore, the coach is quite unsuitable with a day trip. As you have to depart for and leave the bay early, you will always be in a hurry. Even if you are willing to wait for the latest coach, the fact that you're out of energy will make your trip less perfect.
Furthermore, who can guarantee the providers won't cancel that coach at last minute? Spending a half day just for moving back and forth won't ensure you a perfect journey either.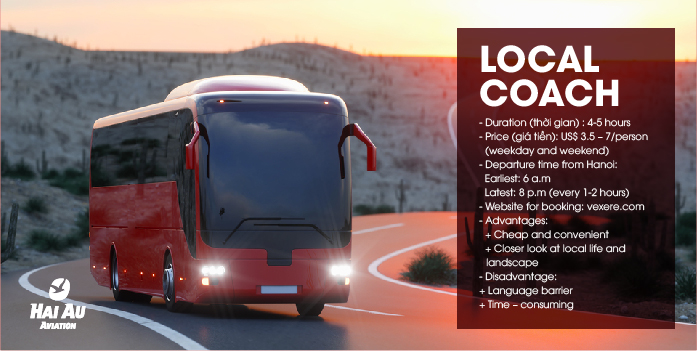 Shuttle Bus: Convenient and straightforward
What's so good about shuttle bus?
The shuttle bus is also known as the tourist bus. As the main customers of the shuttle bus are foreign tourists, it offers more comfort and convenience for them. It is usually small high-quality bus including Ford Transit, Limousine Bus which have from 9 to 16 seats.
Simultaneously, it doesn't stop at the middle of the way to catch more customers but runs straight to Halong Bay. There is just a small break which is about 15 minutes for the passengers to go to the toilet. Therefore, it will take less time to travel from Hanoi to Halong Bay than going by coach, about 3 – 3.5 hours.
Furthermore, it also includes some advanced services such as wifi, water on the bus. Especially, there won't be a severe language barrier. The drivers normally have enough English to communicate with you and solve some of your problems.
However, the cost for the better service will definitely higher. You will have to pay about US$ 10-20 for a one-way ticket/person. The departure time is usually at 7.30 a.m or 8.30 a.m or earlier depending on providers' schedule.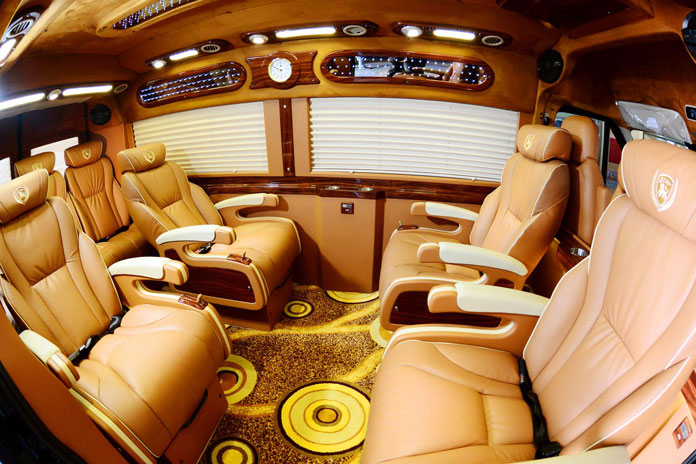 Where to catch the shuttle bus from Hanoi to Halong Bay?
As mentioned above, the shuttle bus mainly serves foreign customers. Therefore, instead of departing from the local stations, the shuttle bus will mostly pick up the passengers from the Old Quarter – the center for foreigners in Hanoi.
However, some shuttle buses can also be found in the local coach stations. Some other buses offer hotel picking up service. One thing to notice that the picking up time is usually a half to one hour before the departure time.
Similar to the coach, you can also find the bus providers' contacts on vexere.com or travelertick.com and book through the website or call them to book. A more convenient way for customers having accommodation in the Old Quarter is going straight to the tourist bus agencies.
Normally, the agencies offering the tourist bus also provides different kind of tours in Halong Bay. If you're not really good at making a plan and follow your schedule, this is pretty advantageous for you.
Some Shuttle Buses Information
Shuttle Bus Providers
Phone number
Address
Hoang Long VIP Bus
1900 969 681
1900 7075

Quang Ninh: No.312, Group 2, Region 5, Ha Tu Ward, Halong Dist, Quang Ninh

Hanoi:
Hanoi Office: Yen Nghia Station, Ha Dong Dist, Hanoi
Old Quarter Office: No.42, Ma May Dist, Hoan Kiem Dist, Hanoi

Minh Anh Limousine
(+84) 977 719 666
Quang Ninh: Group 5, Region Tan Lan 3, Cam Thuy Ward, Cam Pha Dist, Quang Ninh

Hanoi: Alley 11 Duy Tan Str, Cau Giay Dist, Hanoi

Ha Vy Limousine
(+84) 969 255 255
Quang Ninh: Group 6, Region 8, Hong Hai Ward, Halong Dist, Quang Ninh

Hanoi: Cau Giay Park, Cau Giay Dist, Hanoi

Cua Ong Limousine
1900 565 685
(+84) 983 227 788
(+84) 898 257 788

Quang Ninh: Cua Ong Ward, Cam Pha, Quang Ninh

Hanoi: 72A Nguyen Trai Str, Thanh Xuan Dist, Hanoi

Van Don Xanh
(020) 033 991 991
(+84) 964 240 240
(+84) 981 755 198

Quang Ninh: Tailgate Cai Rong Market, Cai Rong Town, Van Don Ward, Quang Ninh.

Hanoi: Cau Giay Dist, Hanoi

Is there any hesitation for the shuttle bus?
It should be a "yes" for anyone having short or one day trip. Although compared to the local coach, the journey by shuttle bus is shorter and has much better services. Nevertheless, it will still take much of your time. You can't be 100 percent sure there will be no incident on the way which can ruin your whole journey.
In addition, the shuttle bus usually departs at about 8 a.m which is not early enough for you to have more time in Halong Bay. Hence, if you want to thoroughly enjoy the beauty of this heritage, the tourist bus is not ideal either.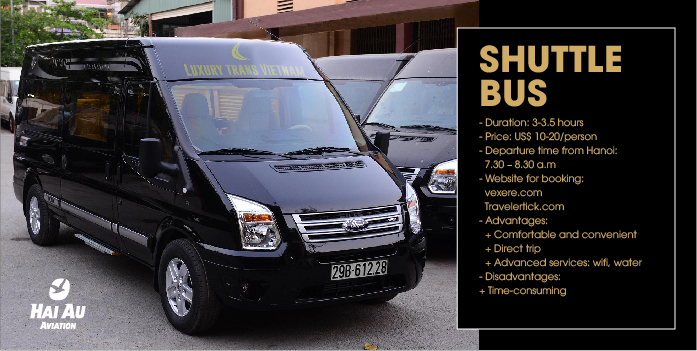 Private car/taxi: Carefree and Painless
Who to take private car/taxi to Halong Bay?
If the local coach and shuttle bus can't satisfy you, private car/taxi can be your choice to travel from Hanoi to Halong Bay. While private car/taxi is not really economical and also takes as much time as the local coach and shuttle bus, it will give you a carefree direct journey and more space of privacy in return.
It suits with flexible travelers who don't like to follow any rules or schedules. This is also a good choice for a small group of friends or family. There is enough space for a lot of luggage, especially if you want to make a BBQ on the beach.
In addition, everyone can sit nice and close to each other to have a chit chat or lean on each other sleeping. The private car/taxi is also ideal for a businessman who wants to work on the way without being disturbed.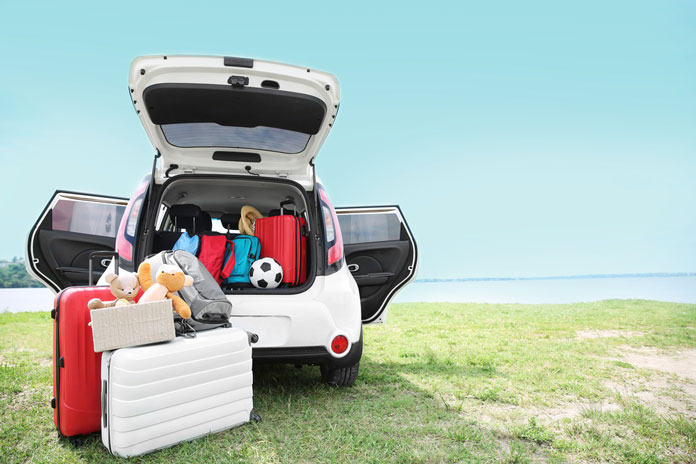 How to get a private car/taxi from Hanoi?
Taxi from Hanoi to Halong Bay
There should be no difficulty getting a taxi to travel from Hanoi to Halong Bay. You can call to the taxi brands which are familiar and credible to you to book one. Normally, the price will be measured by the electricity meter.
However, you can deal with the driver an all-in journey to have a better price. The price can vary from US$43-57 per way depending on the size of the taxi and if you want to share or not.
You also can call some taxi brands in Halong to check whether they have any taxi heading back to Halong. If you're lucky, you can go there with half price or even less.
Taxi Brand List
| Name | Area | Phone Number |
| --- | --- | --- |
| Mai Linh | Quang Ninh | (203) 3 628 628 |
| Hong Gai | Quang Ninh | (203) 3 848 484 |
| Ha Long | Quang Ninh | (203) 3 626 262 |
| Thanh Hung | Quang Ninh | (203) 3 659 659 |
| Thinh Hung | Quang Ninh | (203) 3 616 161 |
| Sao Mai | Quang Ninh | (203) 3 822 822 |
| Dong Bac | Quang Ninh | (203) 3 828 282 |
| Van Loc | Quang Ninh | (203) 3 646 646 |
| Minh Anh | Quang Ninh | (203) 3 858 585 |
| Bai Chay | Quang Ninh | (203) 3 646 464 |
| Dai Loi | Quang Ninh | (203) 3 640 640 |
| Hoa Anh Đao | Quang Ninh | (203) 3 656 565 |
| Ba sao | Hanoi | (024) 3 232 232 |
| Thanh Nga | Hanoi | (024) 38 215 215 |
| Van Xuan | Hanoi | (024) 38 222 888 |
| Song Nhue | Hanoi | (024) 63 252 525 |
| Huong Lua | Hanoi | (024) 38 262 626 |
| Vic group | Hanoi | (024) 38 585 858 |
| Thanh Cong | Hanoi | (024) 32 575 757 |
| Sao Ha Noi | Hanoi | (024) 62 535 353 |
| Morning | Hanoi | (024) 3 625 252 |
| ABC | Hanoi | (024) 37 191 919 |
| My Dinh | Hanoi | (024) 38 333 888 |
| Thang Long | Hanoi | (024) 36 282 828 |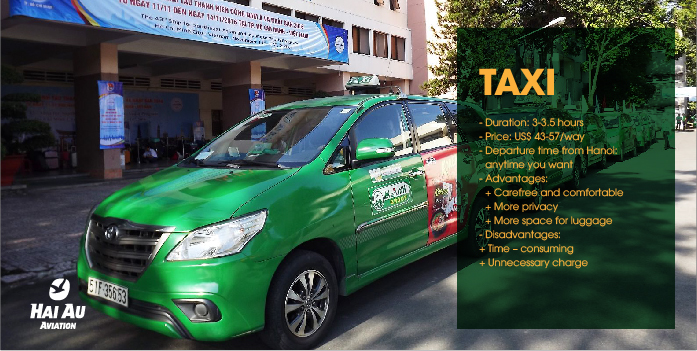 Private car from Hanoi to Halong Bay
Private car with driver
The same thing can be done if you want to hire a private car with driver. There are a lot of agencies or individuals providing this service promoting themselves on the internet.
You can check out the Hanoi transfer service or Golden Holiday Travel to book and get the updated price. The driver normally can speak English. You don't have to worry about the miscommunication too much.
They may make your journey less boring if you travel alone or give you a lot of interesting facts along the way. The experienced drivers can be helpful in giving you recommendations of accommodations or services to take.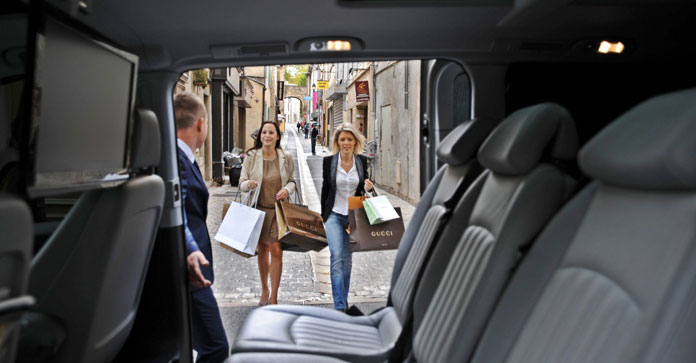 The price for the private car to travel from Hanoi to Halong Bay is in such a wide range. There are many factors affecting the price of this journey. A few to mention are the size, the brand and status of the car, if it's one way or round trip, waiting surcharge, etc.
The average price is about US$ 80-100 for the round trip including parking fee, tolls, petrol, driver. To get the best service, you'd better ask your friends or other travelers having had experience with the private car. This will guarantee that you won't hire a fake one that can harm or rob you.
Private car without driver
The private car without driver can be a choice for you but it's not highly recommended. The process to hire a car is too complicated. You have to have the B1 driving license, original identity card, original household and a bike with registration certificate (or cash instead).
The price varies from US$ 25-65 per day and can be higher on the weekend and holidays. There are a lot of choices for you which are available at otochothuetulai.vn
It's illegal for you to drive a car or motorbike in Vietnam if you don't have Vietnamese driving license. The International Driver's Permits are not recognized.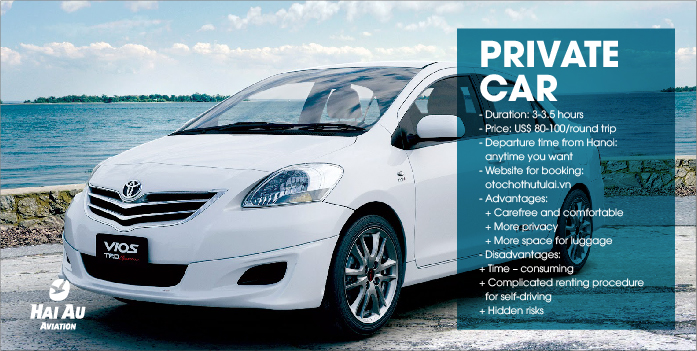 Why not to

choose private car/taxi to travel from Hanoi to Halong?
Taxi and private car share the same disadvantage with the coach and bus which is the long trip. Other than that, there are also some hidden risks. The taxi drivers may take a longer route to charge you more for example. Some other more serious ones lie at the private car without a driver.
You will need to check the car and all the terms in the contract carefully because some unclear trapping terms can cost you a great amount of money. You might be charged more for damaging the car, not knowing the traffic rules.
The worst scenario is you getting lost and messing up your journey. However, if you have experience, enough budget and a detailed plan for it, driving by your own also promises so much fun.
Motorbike: Advanturous journey to Halong Bay
What are advantages of the motorbike?
Although motorbike is not convenient for the long journey, yet to the eager travelers who want an adventure and explore, it is such a great means of transport. With a motorcycle, you can be completely flexible and active with your schedule. The total time to travel from Hanoi to Halong Bay by motorbike is about 3.5 – 4 hours.
However, you can stop wherever you want, spend time studying local lives. You can challenge yourself with non-stop driving and feel the air blowing through your hair. The price of the gasoline is fairly cheap that you don't mind going the round way to see more and learn more.
Especially when you get to Halong Bay, the feeling of achieving something will definitely satisfy you. If you don't own a bike, it's still possible to hire one. The process of renting a motorbike is much simpler than a car.
How to rent a motorbike?
It's not hard to find a bike renting store. A lot of them are available in the Old Quarter and West Lake area. Most of the owners can speak English fluently, so you can communicate with them easily. Once you go to the shop, you can ask to try the bike that you like. They will also give you some suggestions of which one is suitable with your driving experience and aim.
There are many kinds of bike available which are Honda Win, Honda Wave, Airblade and even more powerful motorbike. After having chosen the one will accompany you, the last step of the process is giving the owner the photocopy of your passport, the deposit, and the renting fee.
Some owners may ask you for the original passport. However, it's recommended to try to make a deal with them. The deposit and the renting fee is US$ 250-400 and US$ 4-20/day respectively.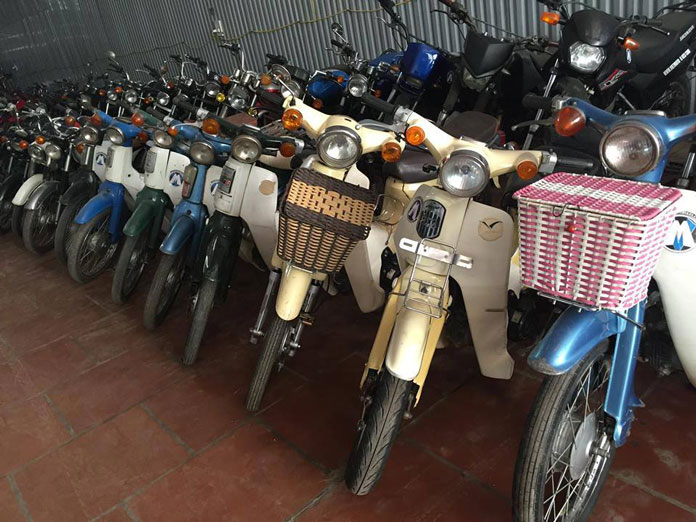 Some motorbike rental shops
| Name | Phone number | Address |
| --- | --- | --- |
| Vietmotors | (+84) 1666 478 888 | No 55, Trinh Cong Son Str, Tay Ho Dist, Hanoi |
| James Hanoi Motorbike | (+84) 915 010 817 | No 289 Ngoc Thuy Str, Long Bien Dist, Hanoi |
| Phung Motorbike | (+84) 965 936 677 | No 13 Ngo Huyen Str, Hoan Kiem Dist, Hanoi |
| Hanoi motorbike rental and sales | (+84) 983 182 368 | No 14, Hang Chinh Str, Hoan Kiem Dist, Hanoi |
Some routes from Hanoi to Halong Bay
| Route | Hanoi – Bac Ninh – Halong | Hanoi – Hai Duong – Halong | Hanoi – Hai Duong – Hai Phong – Halong |
| --- | --- | --- | --- |
| Distance | 155 km | 170 km | 160 km |
| Estimate Duration | About 3 hours driving | About 4 hours driving | About 3.5 hours driving |
| Detailed Guide | From Hanoi center follow the road No.5 10km to Sai Dong T-junction, then follow road No.1 23 km to Bac Ninh area, after that follow road no.18 122 km through Pha Lai – Chi Linh – Dong Trieu – Uong Bi – Ha Long. | From Hanoi center, drive to Nam Sach Town, Hai Duong city then turn to highway no.183, follow the route Sao Do – Dong Trieu – Uong Bi – Ha Long | From Hanoi, drive through Hai Duong to Quan Toan, Hai Phong then turn to highway no.10 connected with highway no.18A in Uong Bi, Halong |
What are disadvantages of the motorbike?
There are actually many disadvantages of driving a motorbike. With the distance of 180km, it requires you to have good health and driving skill. Otherwise, you will easily get tired and have no energy left for other activities. A bigger obstacle for you is when your bike breaks down.
If you're in the middle of the highway, the chance that you can find a store to fix it is almost zero. Another disadvantage could be the weather, especially when it rains heavily. It's challenging to drive under the rain, followed by the chance of an accident.
Therefore, using a motorbike to travel from Hanoi to Halong Bay could be really dangerous for people having no experience. Easily getting lost is also one of the disadvantages. The messy, chaotic traffic can confuse you and lead you in the wrong direction.
If you still insist on driving with the motorbike, you should have the best preparation to minimize the troubles. It's recommended to have a good quality helmet, legs and arms protection. You also need a map or preferably a phone connected to the internet to check the route. You'd better go in a group to get the support from your friends.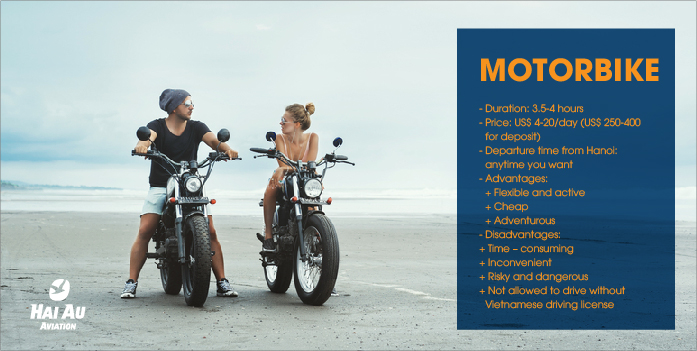 Train: Traditional and vintage
Why to choose train to travel from Hanoi to Halong?
The train is last land transport on the list as well as the oldest one. Unlike other noisy, rushing vehicles, the train will give you the feeling of being brought back to the old days. A lot of people love the sound of the train whistle and the moment it slowly departs from the station.
It also offers you a lovely view and the chance to blend in with local people. Getting to Halong Bay by train completely suits the dreamy souls and people who love to learn the culture. Especially, it's pretty safe to go by train.
There is just one train departing per day. The journey is about 5-7 hours long. You can choose to depart from Yen Vien Station. The average price is approximately US$4.5 depending on whether you choose a hard seat or soft seat. The departure time is at about 5 a.m.
You can also depart from Gia Lam Station with Halong Express. The price for foreign tourist is US$15/one-way ticket (single tourist) and US$10/one-way ticket (group tourist).
How to book a train ticket to Halong?
With anyone wanting to depart from Yen Vien Station, you just need to check out the website dailyvetauhoa.com for the information and go straight to the station, call the number 1900 1224 or 0978 198 489 to book a ticket. The tourists choosing to travel from Hanoi to Halong Bay with Halong Express from Gia Lam can call the number (024) 9 059 059 or (+84) 944 916 916 to book.
What are drawbacks of taking train from Hanoi?
The train is the least popular among all land transports. It can be explained by long travel and expensive price compared to other vehicles. As it's not really preferable, the schedule consequently is inconsistent.
You may not find a train available on the day you want to go. If you do, there could be a last-minute cancellation. The train is not inconvenient that it stops at the Halong Station. This means it doesn't take you to either the city center or the harbor.
Therefore, you will have to get a taxi which will add a little more to the time and expenses. If you just have one day for the trip, the train is definitely not a good choice.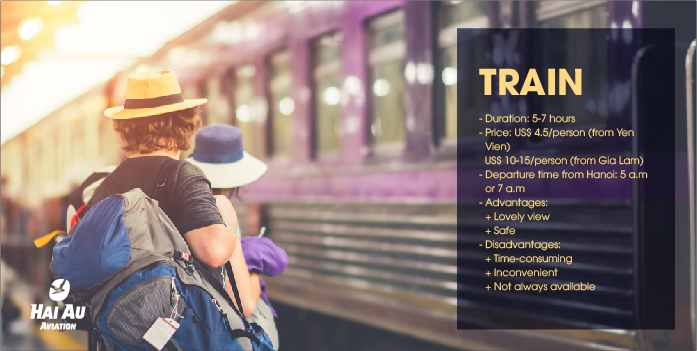 From Hanoi to Halong Bay: Extraordinary view from air transport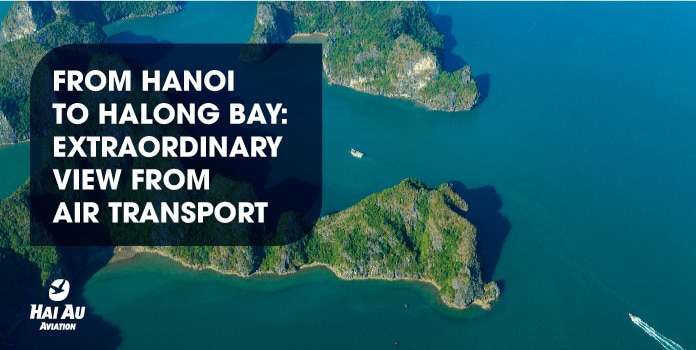 We just go through the most popular and inexpensive land transportation to travel from Hanoi to Halong Bay. They are economical and pretty suitable for most travelers. They offer the tourists comfortable trips and beautiful landscapes. It's hard for us to ignore the benefit of these means of transport.
However, it can be better! The limit budget makes us temporarily satisfied with the ordinary experience. Do you want something extraordinary? Have you ever thought of yourself experiencing more gorgeous and incredible view? How can you find them? You don't have to doubt too much because they exist! They are air transports.
People used to think about air transports as something that only millionaire can afford. Nowadays, air transports are for everyone.
Helicopter: Time-saving trip
Why is helicopter worth trying?
The first one to mention is the helicopter. It's the EC 155 B1 manufactured by Airbus Helicopter. Although it is not familiar as a transport, the service which it offers is being used more and more. The helicopter will bring you the adventurous and thrilling experience from the height of 300-500 meters and 120-150 meters in 8 sightseeing minutes. You may feel like a Holywood movie star and enjoy the lovely view from the sky at the same time.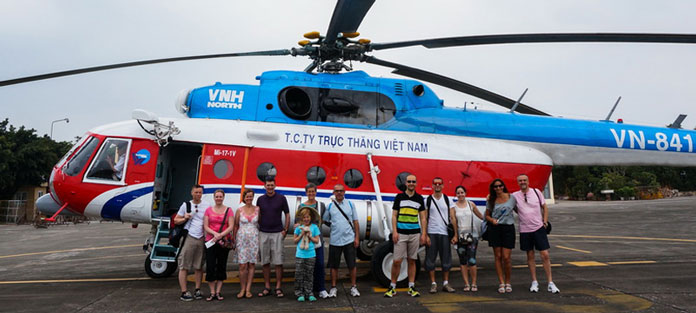 Furthermore, it just takes you about 45 minutes to travel from Hanoi to Halong Bay. This will save you a lot of time comparing to other vehicles. Especially, many helicopter rides have cooperated with tours in Halong Bay with the role of tour's transportation.
Therefore, it even becomes more convenient for you if you want a lump sum tour. It's also much cheaper than hiring a private helicopter which can cost you thousands of dollar.
Where to get the flight from Hanoi?
Your flight will depart from Gia Lam Airport which is a small airfield owned by the military at about 9 a.m. The helicopter has 12 seats and can carry maximum 4800 kg. This means just a small group of people is accepted to travel. The price for the trip from Hanoi to Halong is US$ 440/person, Halong to Hanoi is US$ 390/person and US$770/person for the round trip.
What are downsides of the helicopter?
While the experience with the helicopter is awesome to some people, it can be really fearsome to others. The small size of the helicopter can create insecurity. You can feel the movements of the aircraft obviously which is scary at some parts. It's definitely unsuitable with people having heart disease or height fear.
Furthermore, it is not economically friendly at all. That's why the helicopter cannot become a popular choice. The potential dangers of flight also create more hesitation for the passengers.
You also need to notice that the helicopter only flies with at least 6 people. Therefore, with the high price, it's not always available due to the insufficient number of passengers.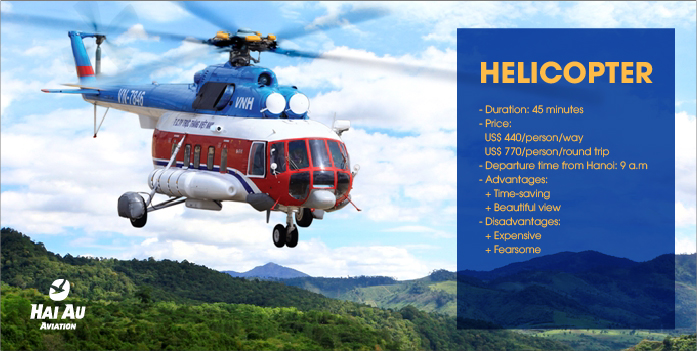 Seaplane: Stunning close-up view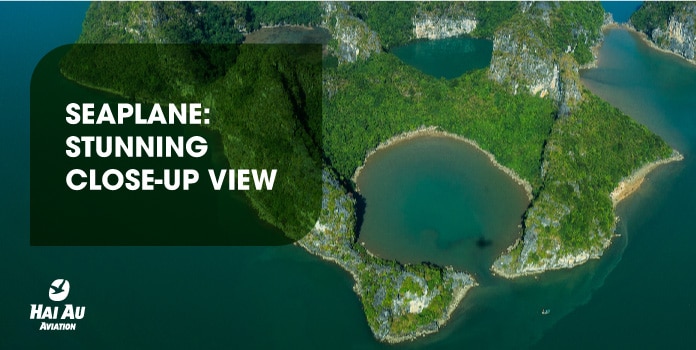 Why to choose seaplane to travel from Hanoi to Halong?
Traveling with seaplane has become familiar in other countries for a long time. In 2014, the first seaplane service was finally brought to Vietnam by Hai Au Aviation with three Cessna Grand Caravan 208B – EX amphibian aircrafts. The aim of the company is to offer the most incredible view of all Vietnam's heritages and sightseeing to the local and international tourists.
Professional tourism provider
Different from the helicopter, Hai Au Aviation provides the flying service just like any other airlines. There is a seaplane check-in counter at Noi Bai Airport. In Halong – the current main destination of Hai Au Aviation, the check-in counter, waiting lounge and departure lounge are also set up to bring the convenience to the customers.
Besides, the company also strictly follows the safety rules and meets all the demands from civil aviation authority. Hai Au Aviation can be considered as one of the most credible service providers in Vietnam tourism.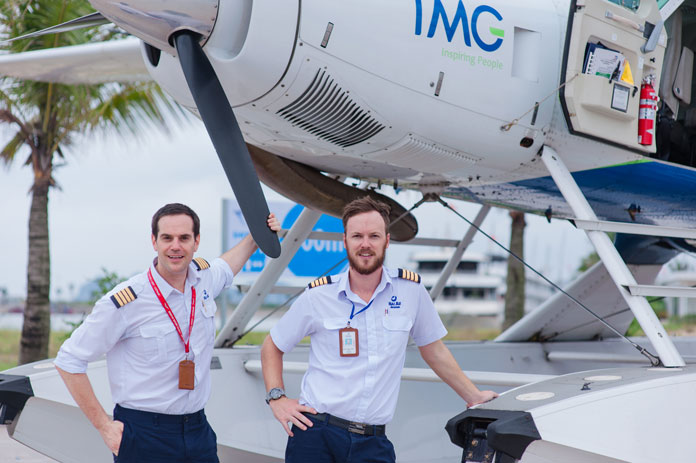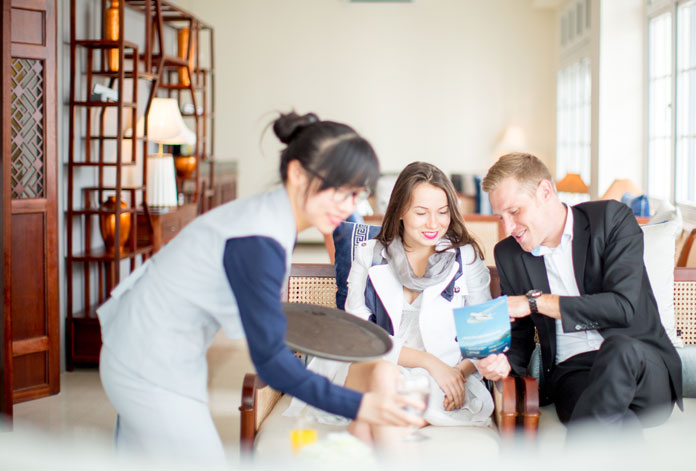 With some other vehicles, you may worry about the language barrier which can create troubles for your journey. Hai Au Aviation guarantees a smooth journey providing fluent English speaking staff and ground service crew.
Any problems happening to you will be quickly solved by the dedicate and well-trained crew. Furthermore, the experienced foreign captains and Vietnamese co-pilots will ensure your safety and give you the magnificent view.
Once-in-a-lifetime experience
Other than the great credibility and support from the company, the incredible experience from the sky is the main reason for tourists' decision to travel from Hanoi to Halong Bay by seaplane.
With its small size, the seaplane easily gets close and between gorgeous limestone pillars reaching up from the water. You will have the close-up view from above which is completely different from the one you get from the cruise.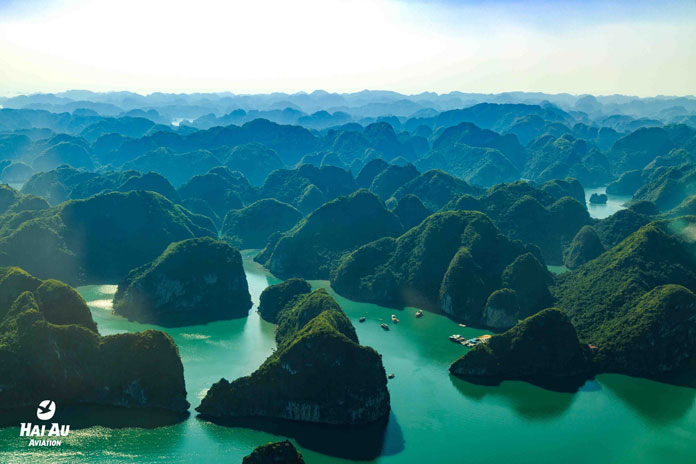 It's totally fine if you want to bring home some pictures of this breath-taking view, because all digital devices are allowed, including mobile phones. In addition, you can also use the 4G internet to immediately share those pictures with your friends.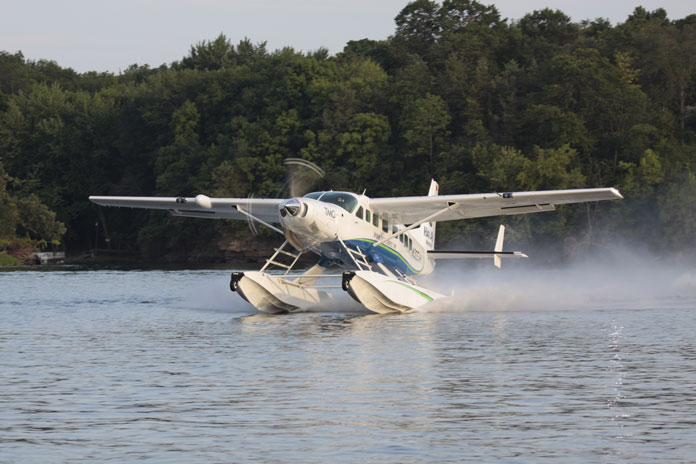 One more surprise that the seaplanes give to you is the cool landing to or taking off from the water. The seaplane is equipped with two floats which make the seaplane much more flexible. The moments the seaplanes speeding up or down on the water surface and splash water onto the window will bring out lots of fun. The last benefit from the seaplane is the short traveling. It just takes you 60 minutes to travel from Hanoi to Halong Bay. It's suitable for anyone who wants to save traveling time and have one day trip.
What kinds of tour are available?
Scheduled flight from Hanoi to Halong Bay
The scheduled flights will depart from Noi Bai Airport – Hanoi and arrive at Tuan Chau Harbor, which is convenient for tourists wanting to take a cruise tour after that. The seaplane's capacity is 12 people along with 7kg hand luggage.
The journey is 60-minute-long including 15 minutes flying around Halong Bay so the tourists can enjoy the beauty of this heritage. The price for one-way ticket varies from US$ 175-385 depending on the season and the time of the day. However, it's still cheaper compared to the helicopter. You can take more advantage taking round trip which is just US$ 350.
Scenic flight in Halong Bay
The scenic flight is for people who get to Halong Bay by other transports but still want to enjoy the incredible view. The flight includes 25 minutes flying around Halong Bay. This one is more economical than the scheduled flight. It just costs you US$ 99 per person. The experience that you get will definitely worth the money and a try.
Charter flight from Hanoi to Halong Bay
With the charter flight, you can go to anywhere with whoever and whenever you want. The price for the premium service can go up to thousands of US dollar. However, if you are wealthy enough, the flight will definitely satisfy you.
How to book a flight from Hanoi to Halong Bay?
There are several ways to book a flight with the seaplane. You can directly call the hotline of the company (+84) 962 069 689 to get suggestions or book through tourism agencies. It's also possible for you to book through the website or facebook page Hai Au Aviation. The process is quick and simple with the good delay or cancellation policies.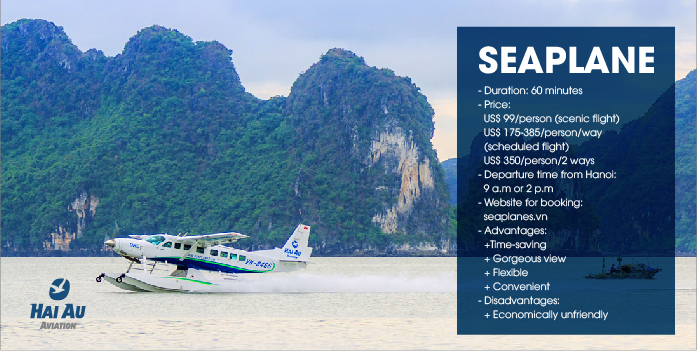 Helicopter or seaplane: Pros and cons?
Vehicle
Helicopter
Seaplane
Price
One-way flight: US$ 390-440/person
Round trip: US$ 770/person

Scenic flight: US$ 99/person
One way: US$ 175-385/person
Round trip: From US$ 350


Number of seat
12
12
Length of flight
45 minutes (includes 8 minutes for sightseeing)
60 minutes (includes 15 minutes for sightseeing)
Pros
+ Nice view
+ Short journey

+ Short journey
+ Gorgeous view
+ Professional staff and international pilots
+ Cool landing and taking off
+ Safe

Cons
High price (from US$ 390)
Need at least 6 people

High price (From US$ 175)
Need at least 3 people

From Hanoi to Halong Bay: How to choose a suitable transportation
Among various transportation available, it might confuse you to find out the suitable one. Not figuring out the main criteria for the transport that you want will consume you a lot of time to decide. Moreover, it can lead to wrong decisions which could ruin your whole journey.
Then how to choose a proper one while every transport has its own pros and cons. Answering the questions below and you will definitely be able to choose the right one to travel from Hanoi to Halong Bay. Otherwise, our suggestions could be helpful for you.
In which season do you have your trip?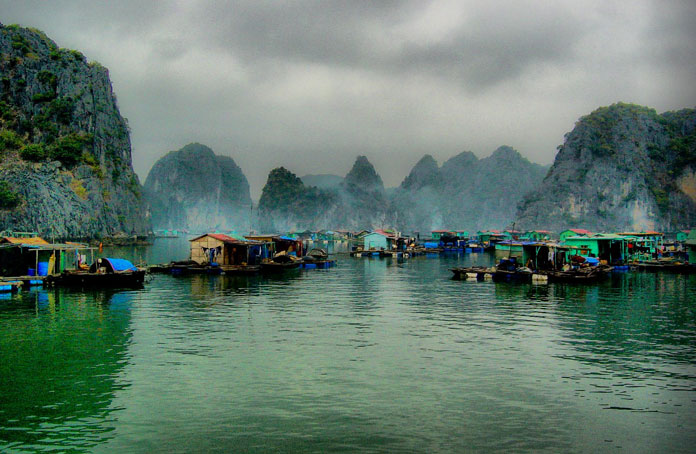 Season and weather are among the factors affecting what transport to choose. As Halong Bay is in the North part of Vietnam, it has all four seasons. The weather in each season is obviously different.
That's why you need to consider carefully what is the disadvantage of the season and choose the vehicle which can help you to avoid them. For example, in the summer, all transports seem to be possible.
However, the summer in the north of Vietnam is so hot that can burn you. Therefore, traveling to Halong Bay by motorbike under the 50-degree sun heat is definitely not a good choice. You can read more information about the best time to travel Halong to make the wisest decision or change your schedule.
What is your budget?
We can't deny that money is the main and decisive factor. The budget will narrow down our range of choice. Therefore, you should pay a lot of attention to your budget to balance the expenses for the whole journey.
You should not sacrifice the backup money for the transportation because anything could happen. If you have the little budget, the suitable transports for you are the local coach, motorbike or train.
You can choose the tourist bus or private car/taxi with the higher budget. Finally, if you have a decent amount of money and love to spend it in the right place, helicopter or seaplane are definitely the choices for you.
Who do you go with?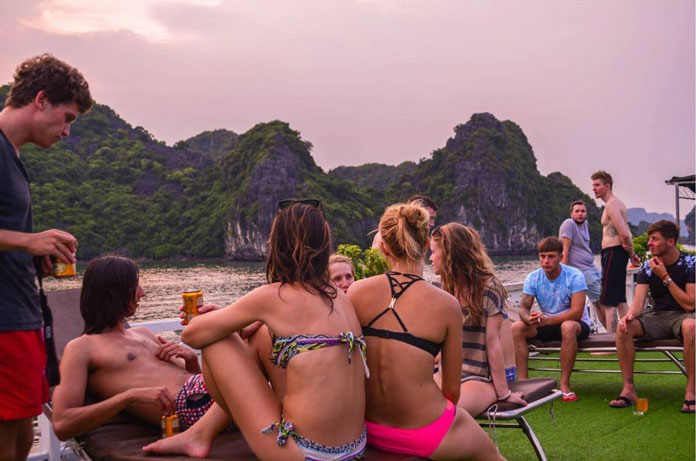 The size of the traveling group also has an effect on the decision. The smaller the group is, the easier it is to find out a suitable transport to travel from Hanoi to Halong Bay. If you go alone or having 2 to 3 people accompanying you, the group can be flexible with all the transports.
However, the bigger group which has more than 10 people won't absolutely fit a taxi or a tourist bus. In addition, once you decide to go with a group, you need to consider the financial and physical status of everyone.
If one of you is car sick, the local coach, tourist bus or taxi can't be the choice. Traveling by bike requires everyone to be able to drive. Driving constantly in such a long distance can easily lead to the accidents.
How much luggage do you bring along?
It seems to be not a really important factor. However, it could be the reason for you to give up some choices to travel from Hanoi to Halong Bay. A small bag for short trip will let you fit in any vehicles.
However, when you have more than 2 big bags, it's already become inconvenient for the motorbike, coach or tourist bus. It's more ideal for the taxi/private car or seaplane and helicopter. What about when you have a long vacation and have a lot of belonging? no transport could be better than the taxi/private car or the seaplane with a charter flight.
Which tour do you want to take in Halong Bay?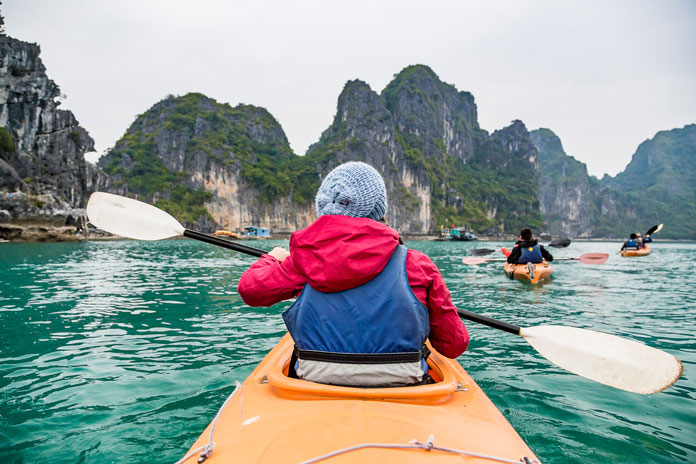 The rest schedule of your journey influences a lot on what to decide. You need to arrange the vehicle which can make the most convenience for the whole trip. If you have a one-day trip and want to have a cruise tour, traveling by train or by bike are not recommended. A tip for you is to choose the tourist bus and seaplane.
Their cooperation with high-quality cruises in Halong Bay will give you a convenient and carefree all-in tour in which you will get the best services. Furthermore, booking these combined tours can save you some money. The detailed information of tours in Halong will help you to make the best decision.
Brief summary of all vehicles
Duration
Price


Departure time
Convenience & comfort
Advantages
Disadvantages
Coach
4-5 hrs
US$ 3.5 – 7/person
Earliest: 6 a.m
Latest: 8 p.m


6/10
+ Cheap and convenient
+ Closer look at local life and landscape


+ Language barrier
+ Time – consuming


Tourist bus
3-3.5 hrs
US$ 10-20/person
7.30 – 8.30 a.m


7/10
+ Comfortable and convenient
+ Direct trip
+ Advanced services: wifi, water


+ Time-consuming


Taxi/private car
3-3.5 hrs
US$ 43-57/way
Any time you want
8/10
+ Carefree and comfortable
+ More privacy
+ More space for luggage


+ Time – consuming
+ Unnecessary charge


Motorbike
3.5-4 hrs
US$ 4-20/day
Any time you want
5/10
+ Flexible and active
+ Cheap
+ Adventurous


+ Time – consuming
+ Inconvenient
+ Risky and dangerous
+ Not allowed to drive without Vietnamese driving license


Train
5-7 hrs
US$ 4.5/person (from Yen Vien)

US$ 10-15/person (from Gia Lam)
5 a.m or 7 a.m
5.5/10
+ Lovely view
+ Safe


+ Time-consuming
+ Inconvenient
+ Not always available


Helicopter
45 mins
US$ 440/person/way

US$ 770/person/round trip
9 a.m
9/10
+ Time-saving
+ Beautiful view


High price (from US$ 390)
Need at least 6 people
Seaplane
60 mins
US$ 99/person (scenic flight)

US$ 175-385/person/way (scheduled flight)
9 a.m or 2 p.m
9/10
+Time-saving
+ Gorgeous view
+ Flexible
+ Convenient


High price (From US$ 175)
Need at least 3 people
Make the most of your trip!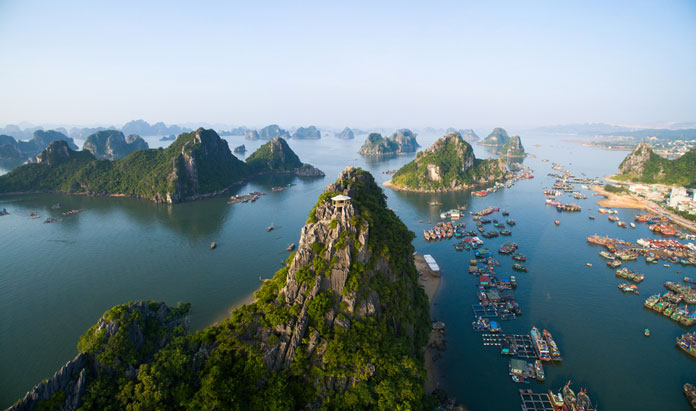 There are many things contributing to the success of a trip and transportation is one of them. With various means of transport, it has never been easier to travel from Hanoi to Halong Bay. However, careful consideration over the vehicle can help you to enjoy it most.
Be a wise traveler and make a wise choice. No matter what you choose, you deserve an incredible view!
Information updated by September 5th, 2018