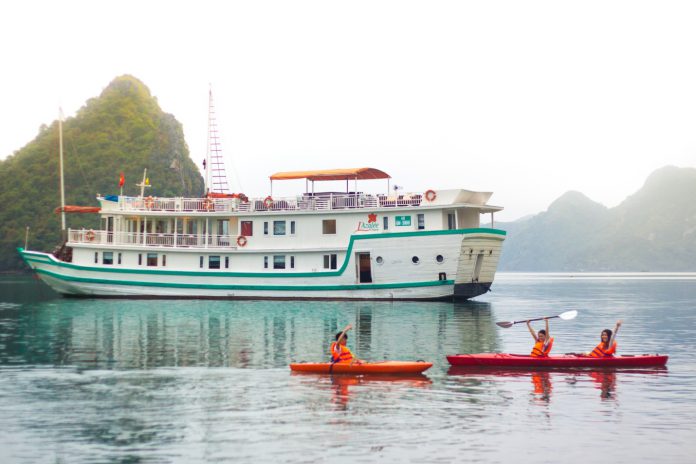 Halong Bay, Vietnam is filled with a variety of activities, from caving to kayaking to cruising. One of the best ways to see the sights is a cruise through the emerald seas surrounding the distinctive karsts sprinkled throughout the bay.
While there are infinite companies and deals for cruises around Halong, two of the most popular options are a day cruise or an overnight tour. There are benefits to both, depending on time and resources. Here are some of the differences between day trip and overnight Halong Bay cruises.
Overnight Halong Bay Cruise Opportunities
The most important benefit of an overnight cruise option is time. For those with a few days to play around with, overnight cruises provide a wonderful opportunity to see more of the sights and sounds around Halong Bay.
You will get more onboard services like cooking classes and tai chi lessons. You will also be able to visit more of the astonishing parts of Halong Bay and beyond. This means more time for things like sunbathing and other water sports.
And of course, a luxury night in a quality cabin. As you walk around the boat deck at sunset, you will be able to take stunning photos, have romantic moments or meet some new and interesting fellow travelers.
Seaplane & Overnight L'Azalee Deluxe Cruise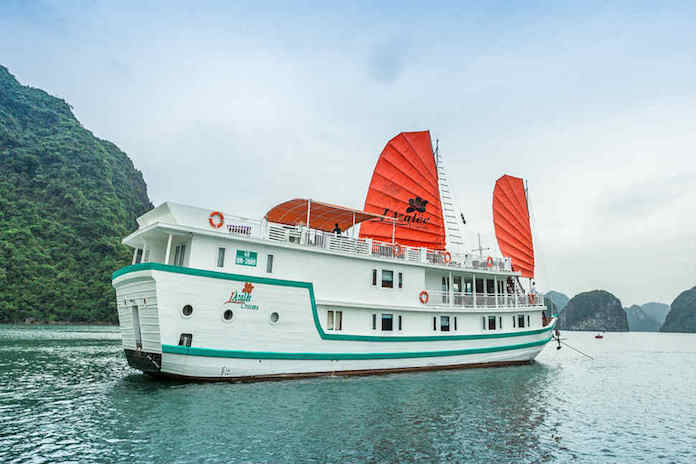 Hai Au Aviation offers two cruise options which are great examples of overnight service. Both include a seaplane experience of some sort. With one option, The Best way form hanoi to halong bay that you get to fly over the beautiful bay for a 25-minute seaplane scenic flight. The other option includes a seaplane transfer from Halong Bay back to Hanoi as part of the tour. Either way, you get to have a magnificent trip through the sky and see the charms of the bay from above.
Cruising Day One
In terms of the cruise aspect of the package, the L'Azalee combination allows you two days worth of time to explore. The first day begins with lunch onboard the vessel "Spirit of the Bay". You will then cruise through the waters of Halong Bay to Cat Ba Island. You will visit a local Pearl Farm in the Lom Bo Canal area and have time for kayaking or swimming before anchoring for the evening. A night of dinner, games and squid fishing awaits.
Cruising Day Two
After a tranquil night sleeping soundly out at sea, you will wake up to a stunning sunrise glimmering off the surf. Day two begins with tai chi instruction before breakfast, followed by a tour through the Sung Sot Cave. Here, you will have even more time to adventure through the cave and spend some additional time kayaking. It's an amazing way to get a taste of Halong Bay without feeling like you are rushed. You will be able to see parts of the bay only accessible by boat but still have time to relax in the spectacular scenery.
There are also many good overnight tours in Halong options so that you could easily pick up the most suitable one for your trips.
2D1N Flight & Emeraude Cruise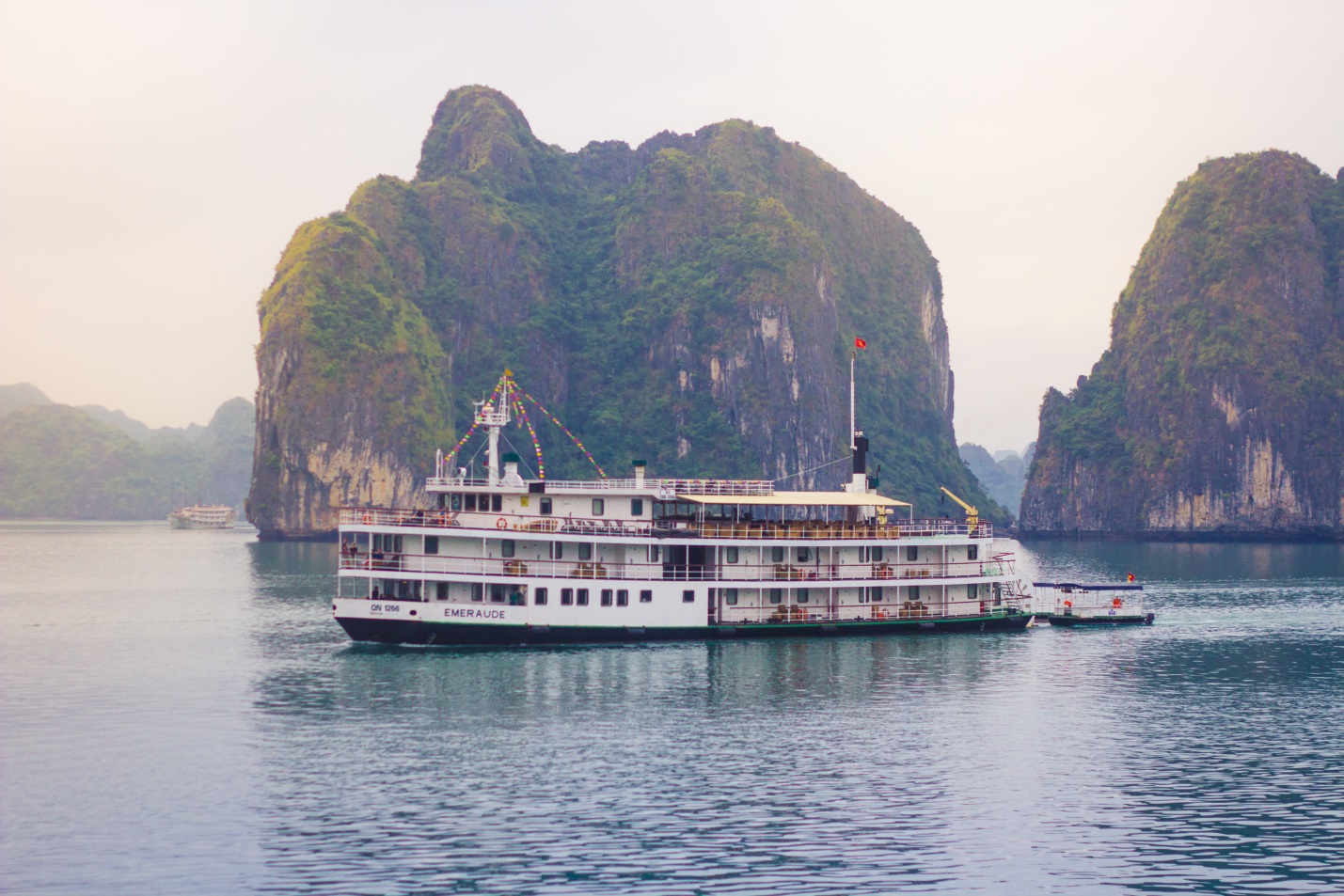 Another great overnight example is the seaplane flight combined with Emeraude Cruise. With this package, you once again have the choice of transfer or scenic tour with Hai Au Aviation's seaplane service. However, there is a few difference to consider when choosing which itinerary will best suit your needs.
Cruising Day One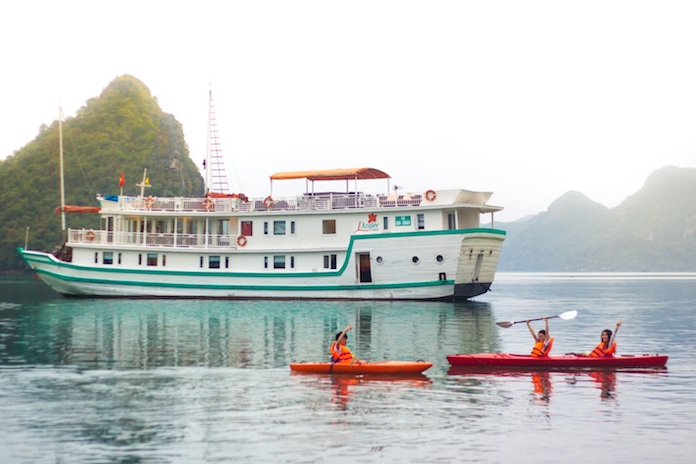 Once you have landed in Halong Bay, an Hai Au buggy will pick you up and bring you to the Emeraude café to check in to your cruise. After your departure, you will have a Vietnamese buffet lunch on board the ship. In the afternoon, you will be treated to a guided tour on Sung Sot Grotto and go to Ti Top Island for some swimming or hiking.
Emeraude is known for their Vietnamese spring roll cooking class in the evening, followed by dinner, and a choice of evening activities such as squid fishing or viewing the film "Indochine."
Cruising Day Two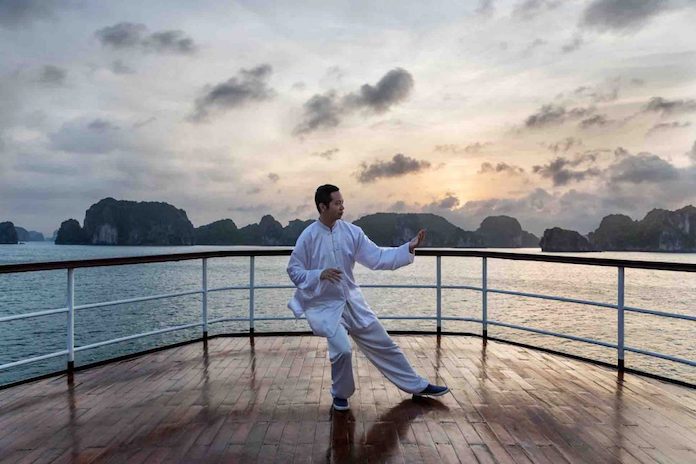 On day two you will also have the option to wake up bright and early for a tai chi session and a nice sunshiny continental breakfast on the deck. You will then have the opportunity to either visit the Pearl Farm or suit up for some adventurous kayaking. After a lovely brunch on board, you will cruise back to Halong Bay and make your way back to Hanoi.
[adrotate group="4″]
One Day Whirlwinds
For those travelers with limited time in Vietnam, a one-day cruise poses its own unique advantages. You will still get a sampling of the sights and sounds but on a much swifter schedule. The downside of a one-day cruise is that you won't be able to delve into the local culture as completely.
You also won't be able to drink in the beauty as the sun rises and falls on the horizon. The benefit, however, is that you will still get a chance to see what Halong Bay is like out on the sea and have plenty of time for fun and photo opps. If you are on a strict time restraint than a one-day cruise is an optimal way to fit Halong Bay into your itinerary.

Seaplane & One Day L'Azalee Deluxe Cruise
Once again, Hai Au Aviation offers a combo deal with seaplane service and L'Azalee deluxe cruise. You will still have the option to choose between a 25-minute scenic flight or a seaplane transfer back to Hanoi. In this case, a seaplane is even more beneficial because it cuts transfer time to and from Hanoi down by less than half. Instead of spending 4-hours each way by car or shuttle bus, a seaplane will get you back to your hotel speedily and safely.
Day Cruise Deluxe
After embarking on your terrific tour, you will get to have lunch while the anchor is dropped around Tung Lam Island Bay. You will be able to see many notable landmarks such as Thumb Island, Cock Fighting Island, Incense Island, Ba Hang Floating village and Dog Island as you glide through the sparkling sea.
Finally, you will get the opportunity to visit Thien Cung Cave before heading back to port. While you won't get to engage in water sports and activities with this option, you will get to see a wide variety of local spots. It's a picture perfect glance into the life and soul of Halong Bay: some time at sea, an adventure in a cave, and some local cuisine.
Final Comparison
For those with time to spare, an overnight Halong Bay cruise offers one of the most exciting ways to get out there onto the sea and truly experience Halong Bay from within. Combined with a seaplane flight, you will see the best of Halong Bay both from above and below. However, anyone visiting this area of Vietnam is advised to spend at least a day in Halong Bay.
For those who have limited time, the day tour is an ideal antidote. You will get to see some hot spots of the area and walk away with the beauty of the bay in your thoughts. Whichever option you choose, a cruise through Halong Bay (hopefully accompanied by a seaplane experience) is one of the best ways to truly enjoy this area of Vietnam.