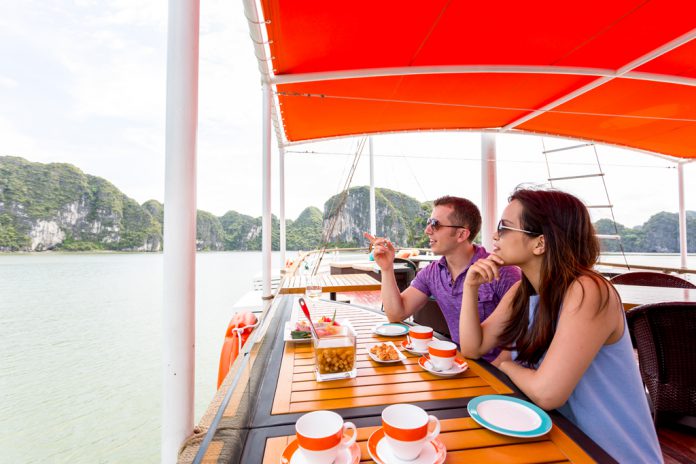 Cruises are one of the best-selling tourist attractions in Halong Bay, Vietnam. Since the bay is a veritable utopia of marine life and natural phenomena, cruising through the islands in a junk boat or paddling around in a kayak are some of the best ways of seeing the sights.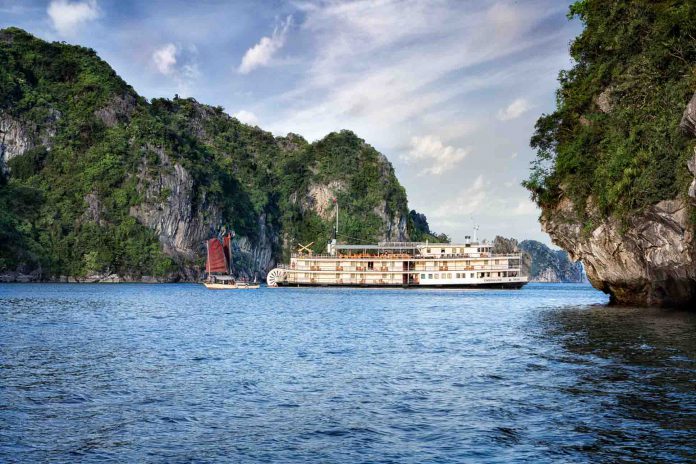 There are so many ways to decide which cruise to take that many people find themselves overwhelmed by the sheer avalanche of options. Instead of panicking, make a list of your needs and expectations.
One of the first ways to narrow down your choices is to consider the price. There are full day to multiple day cruises available but most people agree that the longer the cruise, the more bang for your buck.
So, are you looking for a top deal?
Are you on a budget?
Are you treating yourself to a real splurge?
From low-cost to mid-range to high-end, Halong Bay Cruise prices are as diverse as their offerings.
Keep in mind that cruise prices vary depending on day and season so the prices listed are an average deal. We will compare some of the top 2-day tour price deals to see what works best for every price range.
TOP BUDGET CRUISES
L'Azalée Overnight Cruise from $145.00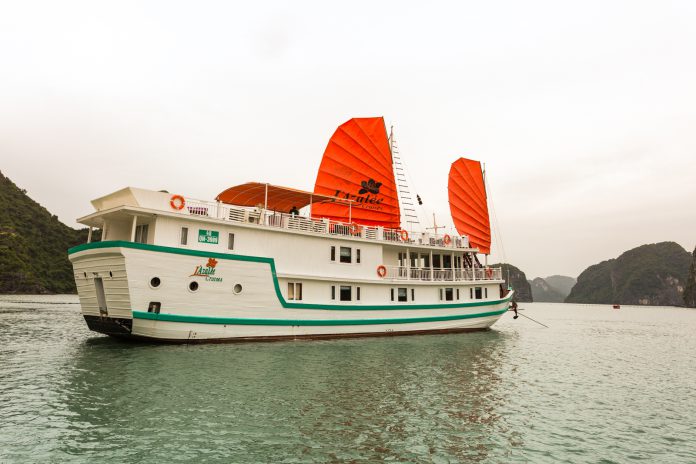 L'Azalée Cruise offers a comfortable overnight journey through the karsts and caves, highlighting the Pearl Farm located in the Lom Bo Canal area. You will get a chance to explore Sung Sot "Surprise" Cave for one hour and go kayaking through the Dau Trau islet area as well.
Hai Au Aviation offers a combination deal, adjoining one-way transportation in their state-of-the-art seaplanes with an overnight cruise through L'Azalée. Most tours provide two-way transportation by car or shuttle bus so you'll be able to engage in the delights of the Vietnamese countryside but only during a 4-hour drive.
By choosing to ride in a spectacular seaplane, you will get a rare opportunity to see more of Southeast Asia and Halong Bay from above. It's a fast, fascinating way to get to the bay or back. Whether you start or end your journey with a seaplane, this is a quite a deluxe deal.
Cristina Diamond – Day Cruise from $65.00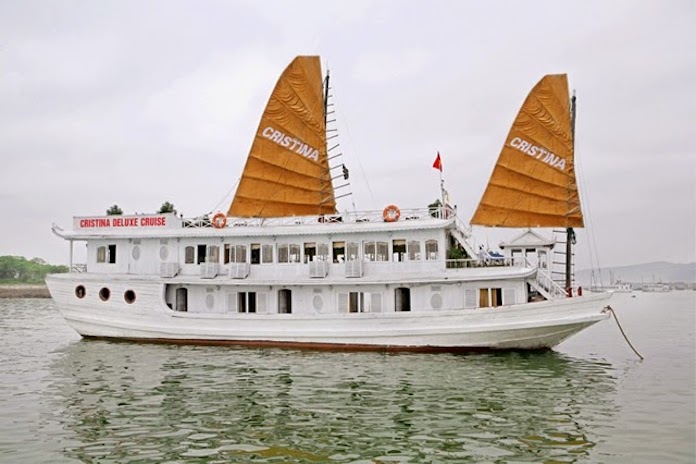 For the big spenders out there, Cristina Cruise is a budget option at a slightly more moderate rate. The cabins are accented in crimson and private balconies are the norm.
The food is still considered top-notch and the customer service pristine. You will explore Vung Vieng Fishing Village and sunbathe at Ban Chan Beach.
At night you can engage in a variety of onboard activities from board games to squid fishing to karaoke. Cooking and tai chi classes are included in the cost, as well as a fruit carving demonstration. This cruise will provide you with the same itinerary as any luxury cruise but with a slight on the expenses.
Halong 2 – Day Party Cruise from $109.00
One of the least expensive cruises in Halong Bay is the Halong Party Cruise. The highlight of the tour is a sunset party held on the deck and continuing on for hours. This tour is generally marketed toward the young, the single, or the backpackers who'd like to meet new people and maybe party a little hard.
Feature
You will still get to see all the traditional sights, but with the added bonus of a party spirit filling the decks.
You will go cruising through the islets and kayaking in the Frog Pond area.
Food is included, though, like most tours, beverages are not.
The cabins may not be quite as decadent as some, but the price is certainly right.
If you're in the mood for a wild night out, there isn't a better experience than to drink and dance from sunset until sunrise while cruising through the seas of Halong Bay.
Glory Legend 2 – Day Cruise from $109.00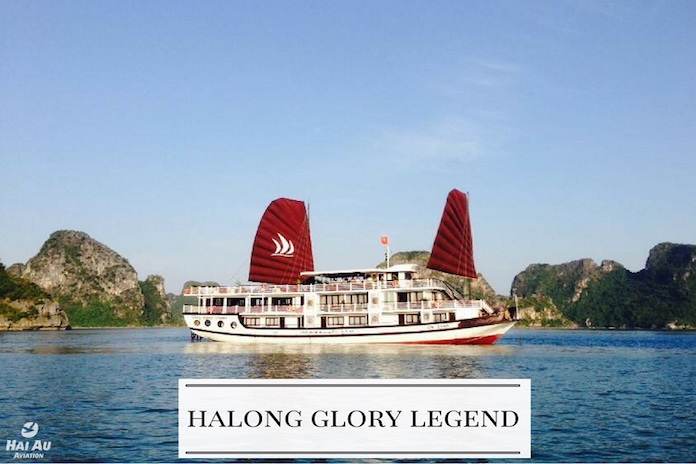 At the low price of $109, Glory Legend 2-day Cruise is a real steal for your cruise through Halong Bay. Transportation includes a shuttle bus to and from Halong City and all meals are included.
You will get to explore Titop Island, choosing to climb to the top or swim in the seas below. Titop provides magnificent views of the surrounding land.
Sung Sot Cave, one of the most famous limestone grottoes in Halong Bay, is also on your itinerary. Cabins include options for families, sea views, or private balconies, though of course, the price will vary depending on size and occupancy.
This tour also offers a complimentary welcome drink as part of its deal. You will see the top sights of Halong Bay while you cruise through the emerald waters and listen to the junk sails flying over head. This tour is not the most glamorous or unique of the bunch, but it is a great value for the trip.
Poseidon Sail 2 – Day Cruise from $109.00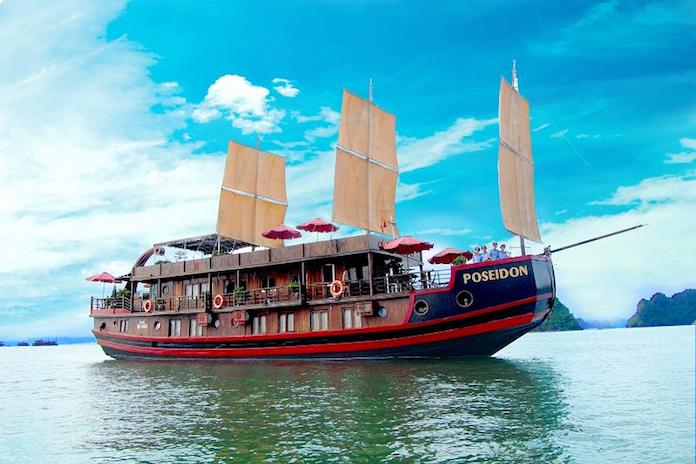 Poseidon Sail Cruise is another one of the most affordable tour lines around. Their 2-day tour starts at the low price of $109.00 and includes the same sights and sounds as most of the other cruise lines.
You will be offered a welcome soft drink as you board the adorable wooden junk boat. It will then cruise you past such majestic attractions as the Fighting Cock islet, Incense Urn islet, Toad, Dog and Dragon islets just to name a few. You will get to go to Ti Top island and enjoy the stunning view from the top.
Poseidon Cruise also boasts a cuttlefish contest in which you may be able to enjoy some fresh cuttlefish in addition to other onboard activities. Single rooms are noted to be available at even cheaper rates, though the golden trimmed cabins look cozy enough.
Flamingo 2 – Day Cruise from $121.00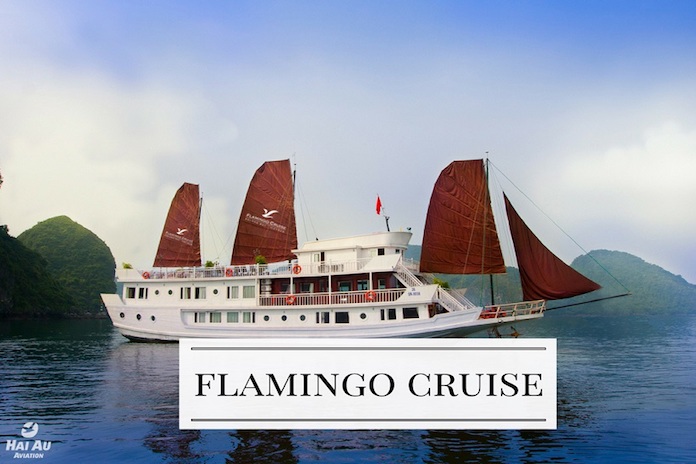 Another budget option is Flamingo Cruise, which likes to connect their rare bird name with good luck and happiness. As always, meals are included and you will have the opportunity to visit many amazing sights such as Hoa Cuong Floating Village, Soi Sim Beach, and Coconut Tree Island.
This cruise also stops at Titov beach with time for kayaking and swimming. You can witness some Vietnamese cooking and learn how to make fresh/ fried spring rolls and mix fish sauce.
In the evening, you can have fruit and wine at the Sunset Party or go squid fishing with the staff. Cabins are decked out in white and cerulean blue, making you feel like you are apart of the bright seascape.
Calypso 2 – Day Cruise from $129.00
Finally, Calypso 2-Day Cruise generally prices in at the lower end of the spectrum. Calypso prides itself on flexibility and a taste for adventure. You will see the Bai Tu Long region and swim in Ban Chan beach.
While most beverages are an extra charge, you will also be offered a welcome drink upon arrival as well as free cocktails to cool down on the deck before or after you take a rejuvenating swim while the sun sets.
The traditional cooking class will entertain as you munch on fresh fruit. With Tai Chi and the Thien Canh Son Cave to look forward to the next day, there is no end to the activities available. This is an excellent cruise for people hankering after a little excitement at a reasonable rate.
TOP MID – RANGE CRUISES
LaFairy Sails 2 – Day Cruise from $154.00
Moving along to mid-range options, LaFairy Sails is a really great cruise line, offering spacious rooms and sprawling decks.
They pride themselves on creating a unique experience in an intimate environment. You will be treated to a welcome drink upon arrival and have all meals included.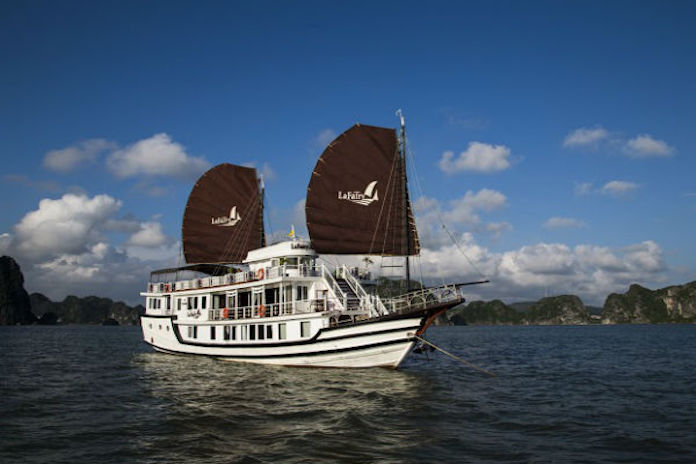 This cruise sails through Bai Tu Long Bay and hits up Titov Island. Swimming, kayaking and climbing are all at your disposal. In addition to the usual perks like a cooking demonstration and Tai chi class, you will also be able to listen to live traditional Vietnamese music on deck in the evening.
What better soundtrack to enjoy before dinner and squid fishing. It's an extra little look into the local culture of Halong Bay.
Signature 2 – Day Cruise from $143.00
Usually considered one of the more luxurious cruise lines, Signature Cruise still offers a good top-of-the-line option for an excellent deal.
Their cabins are spacious and light colored with wonderful views of the sea. In addition to the Bai Tu Long Bay-focused itinerary, this cruise markets their Vietnamese cooking and Tai Chi classes offered free of charge.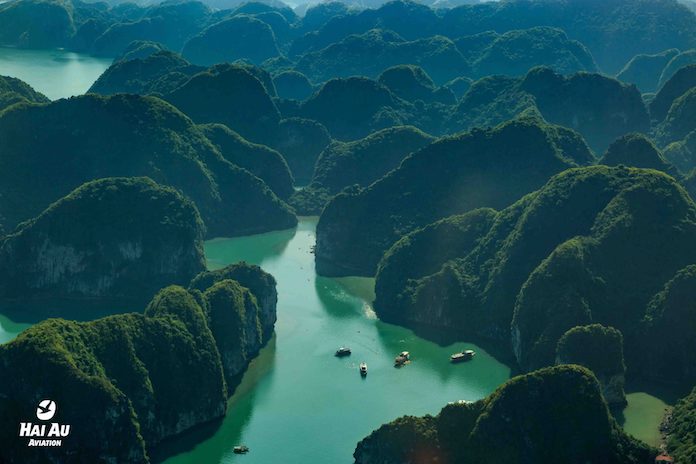 After a day of activities both on and off the boat, gaze out under the stars while you relax on the deck of this glamorous ship.
Though it's a little pricier than some of the other deluxe deals, you get a few juicy options the others don't share while maintaining the typicals sights and sounds of Halong Bay.
Ginger 2 – Day Cruise from $175.00
If you want to harken back to the Roaring Twenties, Ginger Cruise prides itself on its 1920s Indochina styled design. This tour will bring you to the Tien Ong Cave and Cua Van fishing village.
You can spend your evening having an onboard message, dancing on the deck, or squid fishing in the night. You can begin your second day with a Tai Chi session followed by an afternoon swimming or kayaking at Titop Beach.
This cruise includes a welcome cocktail, meals and various onboard activities. Ginger Cruise is a wonderful mid-range cruising experience.
Red Dragon 2 – Day Cruise from $190.00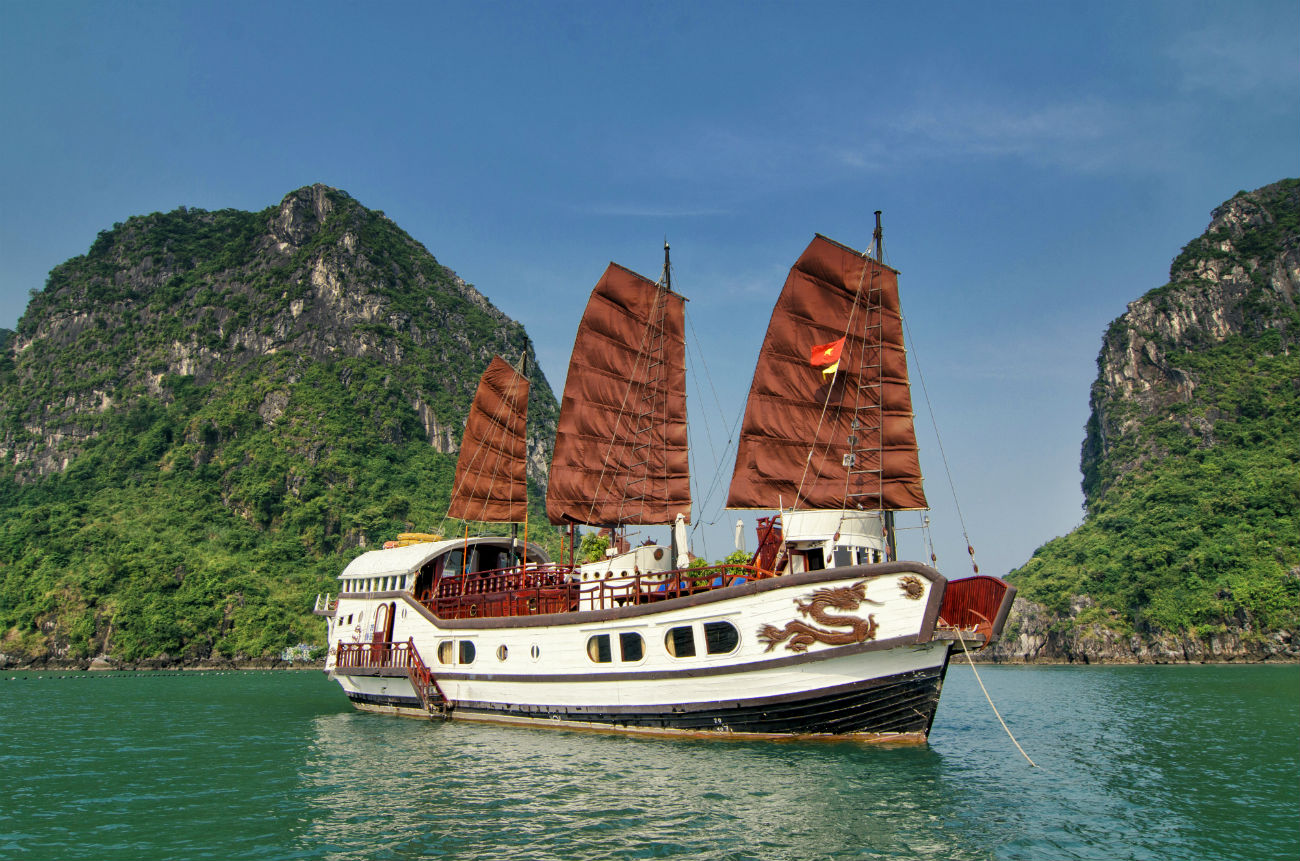 Red Dragon 2-day cruise ranks in at a slightly higher rate than the others, averaging a mid-range cost of $190. Kayaking services, meals and complimentary welcome drink are included in the price of the tour. You will also have an opportunity to utilize fishing and swimming equipment free of charge.
This tour will bring you out to Bai Tu Long Bay, a destination considered further off the beaten track from normal touristic zones. You will be able to see the stalactites and stalagmites of  the Thien Canh Son Cave.
You will also get to explore Vung Vieng floating Village in a wooden row boat. The cabins are a plush mahogany color, adding just a hint of luxury into your cruise. While just a bit more expensive than some of the other mid-range cruise lines, Red Dragon still provides a good quality to fit your expenses.
TOP LUXURY CRUISES
Emeraude Cruise Overnight from $235.00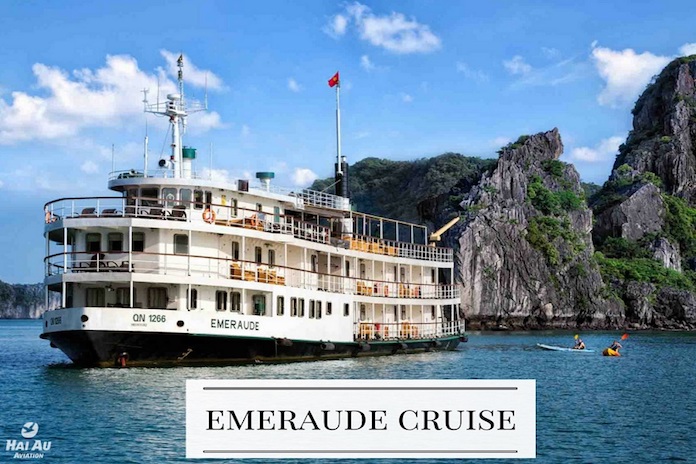 Once again, any luxury experience should be accompanied by a sensational seaplane. This time, Hai Au Aviation combines with Emeraude Overnight cruise for a fantastic luxury experience.
Emeraude which has a most recommendation on cruise package deals, is known for having superior cabins and cuisine. They offer fusion Vietnamese and International meals on board, also highlighting their Vietnamese spring roll class.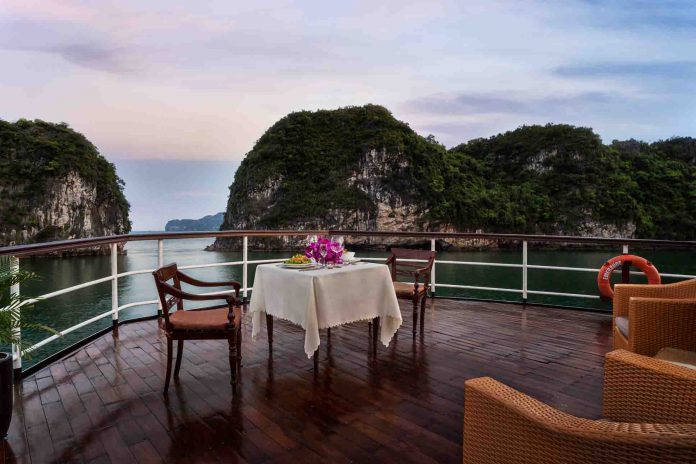 You can enjoy a crepe station on deck before visiting the famous Pearl Farm. There's also an opportunity to watch "Indochine", a famous French movie partially filmed in Halong Bay.
Cruise or kayak through Sung Sot Grotto and Luon Cave. Imagine you are Catherine Deneuve yourself as you fly through the sky in a glamourous seaplane and cruise through the bay in a decadent boat.
Hera 2 – Day Cruises from $375.00
Just like the Greek Goddess namesake, Hera 2-Day Cruise is the Queen of ships. Home to a 6-star luxury boat and 5-star food and beverage options, Hera Cruise is one of the most luxurious options in Halong Bay. The rooms are spacious and modern with beautiful wooden detail. A welcome drink and all meals are included.
You will be able to enjoy kayaking, swimming, a cooking class and tai chi. You will also get to visit a local fishing village in a complex reserved exclusively for Hera Cruise and customers.
This will give you even more local experience and the opportunity to see the life of Halong Bay up close. The benefit of a cruise like this is that, while the offerings may be very similar, the quality may exceed other lower budget cruises.
CHOOSE HALONG BAY CRUISE TO FIT IN YOUR POCKET
Not everyone in the world has the same sized pocketbook, so when choosing how to experience the glories of Halong Bay, finances must be considered. There are budget tours, mid-range excursions, and luxury ventures all ready to be experienced in this serene area of Southeast Asia.
If you make it to Halong Bay, a cruise is must-see, so take a look at the fees and rates to help you make the best decision for you. While weather and tourism seasons will certainly affect prices, there are all manner of deals to be found.
Take a soaring seaplane for one half of your journey; be a flamingo, a greek goddess or a film starlit for the other half of your journey.
TRAVEL WITH US
If you go to Halong Bay, there is no doubt you should engage in one of the amazing tours available. Of the hundreds of options available, there are some good deals for you from Hai Au Aviation.