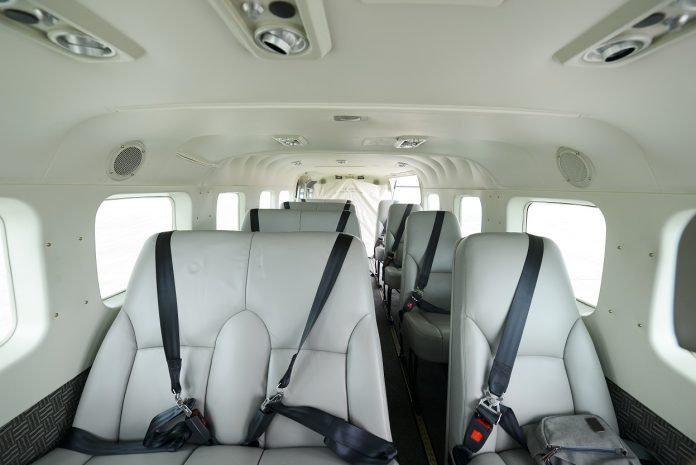 Seaplanes are becoming more and more popular throughout Asia. In countries often surrounded by water on at least one side, amphibious aircrafts are a no-brainer for everything ranging from emergency situations to tourism. The idea of creating vessels that could both float and fly is something that goes back as far as the late 1800s. Pioneers such as Alphonse Pénaud of France and Wilhelm Kress of Austria first created patents and seaplanes at the beginning of the aerial revolution. While their use became more popular during war times, they have since waned in popularity due to expense and practicability. That has, however, not stopped seaplanes from becoming an amazing way to experience the world from above. Asian countries from China to India to Vietnam have latched onto this beautiful way of traveling through the Asian landscape by lots of well-known seaplane services.
Aside from finding investors for seaplane purchase and maintenance, there are many factors to consider when attempting to open up a seaplane company. First of all, the weather has a huge impact on both seaplane function and landing capabilities. Areas that are prone to in climate weather have to be careful where to set up shop. It is also much as important to have appropriately trained pilots and staff. However, when done correctly it can lead to a huge boost in tourism and financial gain. As the following countries are figuring out, seaplane service can be a wonderful way to show off the treasure trove of touristic sites available in Asia.
HEAR ARE TOP 10 MOST WELL-KNOWN SEAPLANE SERVICE IN ASIA 2017:
Setouchi Seaplanes: Japan
https://setouchi-seaplanes.com/en/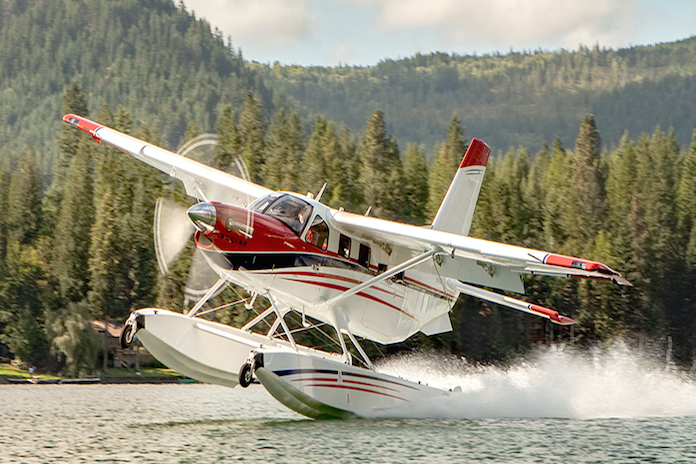 Setouchi Seaplanes opened very recently, in August 2016. They are the first seaplane company operating in Japan in over fifty years. Their main type of plane is the Kodiak 100 amphibious aircraft, which is a small 10-seat plane including the pilot. They offer scheduled sightseeing flights from the Bella Vista Marina in Onomichi Floating Port, as well as chartered flight options. Their average rates include 40-minute flights at $295 for weekdays and $340 for weekends. Onomichi is a city in the Hiroshima Prefecture area of Japan right on the coast of the Inland Sea.
Aviation Industry Corporation of China: China
http://www.avic.com/en/
South China has been in the news recently for unveiling what is supposed to be "the world's largest seaplane" to date. The AVIC AG600 Water Dragon can carry up to 50 passengers and has a  maximum range of 4,500 km. While it does not have the largest wingspan in history (that honors go to the Spruce Goose which made only one flight in the 1940s), it is certainly larger than any other seaplane currently on the market. Rates and schedules are not yet available and will depend on companies that purchase them. The Aviation Industry Corporation of China is a state-owned company focusing on all areas of aviation from research to defense, flight testing to construction.
Hai Au Aviation: Vietnam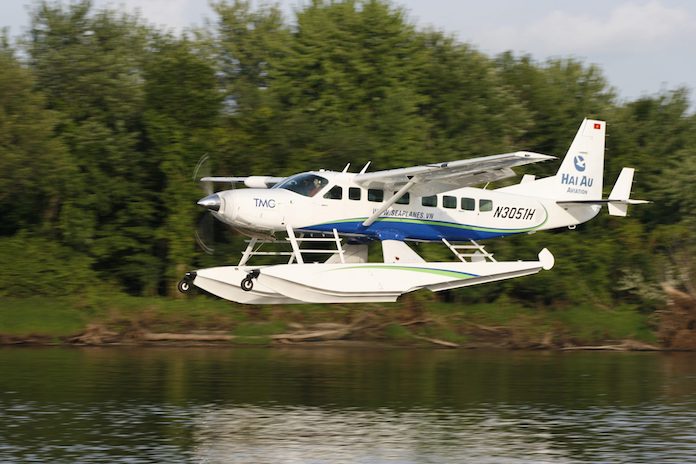 Hai Au Aviation is the single premier seaplane company in Vietnam. They utilize  Cessna Grand Caravan 208B – EX, a 12-seat seaplane, for their fleet. Hai Au Aviation offers a wide variety of seaplane options in and around Halong Bay, Vietnam. They have daily scheduled flights from Hanoi to Halong Bay, as well as short sightseeing excursions. They also have several package deals, combining seaplane service with cruises or hotel options in Halong Bay, in addition to a variety of charter services. Hai Au Aviation ranks as one of the best values for a sea place experience, offering 45-minute transfers for as low as $175. If you add a 15-minute scenic tour the price goes up to only $270 in summer and $385 in winter. Hai Au Aviation was created in 2011 and is part of the Thien Minh Group.
MEHAIR: India
http://www.mehair.in/index.html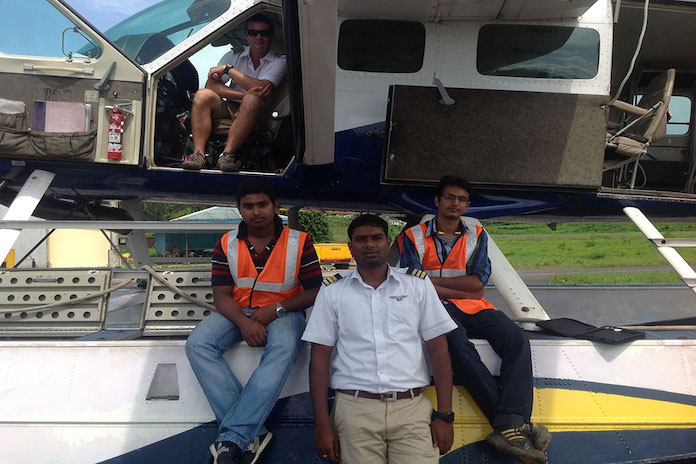 Maritime Energy Heli Air Services Pvt. Ltd. (MEHAIR) launched its seaplane service in India in 2011. It operates out of Andaman & Nicobar islands and intends to launch similar operations in Maharashtra ex-Juhu Airport, Mumbai, and Goa. MEHAIR uses two seaplane designs as part of their fleet: the Cessna 206 and Cessna 208 Amphibian aircraft. The Cessna 208 has a maximum capacity of 9 passengers while the Cessna 206 is a much smaller model with a maximum capacity of 4 passengers. Destinations outside of Andaman & Nicobar islands include Girgaum-Chowpatty, Gangapur Dam and Aamby Valley amongst others. Both scheduled and nonscheduled tours are available. Flight prices vary and are available upon request.
Seabird Seaplane: India
http://seabird.in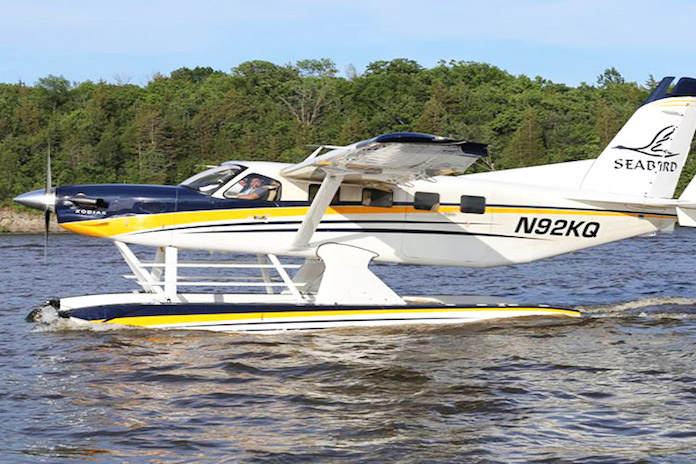 Seabird Seaplane began in November 2012 and is based in Kochi, India. The company owns two Quest Kodiak 100 amphibious aircrafts which can hold a maximum of 8 passengers each. Seabird Seaplane likes to combine the functionality of seaplane transportation with a leisurely trip through the skies of India. In addition to transport to and from Kochi, destinations include Bangalore, Kavaratti Island, and Minicoy as well as many others. You must use the contact form on their website to inquire about rates and fees.
Air Juan: Philippines
http://www.airjuan.com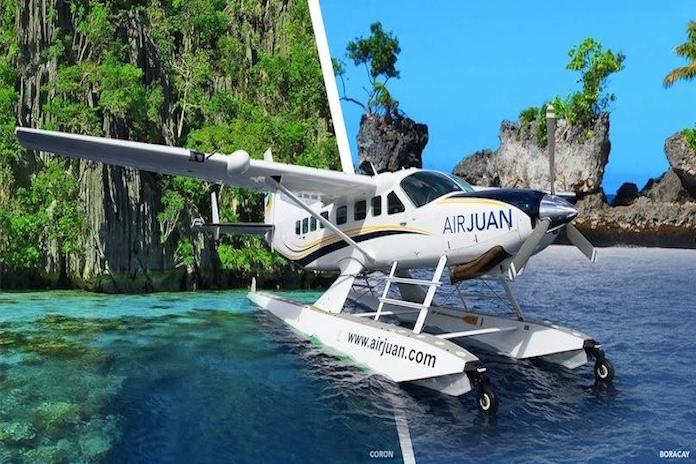 Air Juan is a Filipino company started in 2012. Their corporate office is located in Bonifacio Global City but they also operate out of Manila, Palawan and Cebu. They have been growing quickly for the past few years and utilize several different aircraft. Their seaplane model is the Cessna Grand Caravan EX Amphibian, which has a 10-passenger capacity including pilot. You can book all manner of flights and destinations around the Philippines, from Puerto Princesa to Cuyo Island to Busuanga. Rates vary from place to place, but daily flights are available from Manila Bay to Boracay Island averaging approximately $245.
Seaplane Adventures: Philippines
http://www.seaplaneadventure.com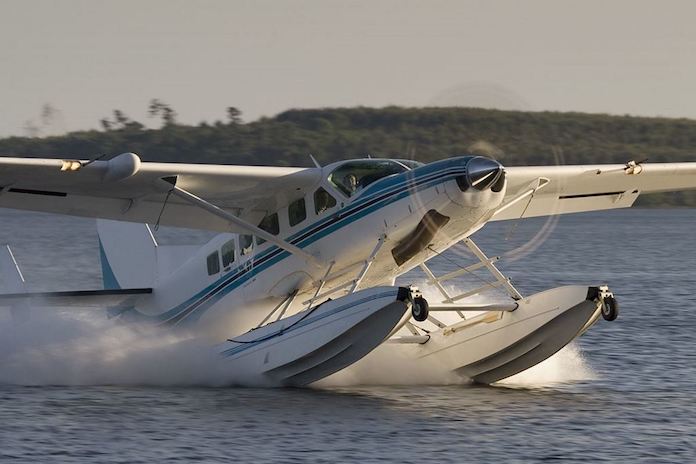 Another seaplane company in the Philippines is Seaplane Adventures. Seaplane Adventures boasts its status as the first commercial seaplane service in the Philippines. The company operates out of Manila and uses 10-seater Amphibious Cessna 208 Caravans. Their services included regularly scheduled flights, charter options, aerial photography excursions and scenic tours. Furthermore, they even assist with medical evacuation and humanitarian relief. Various destinations include Boracay, Zambales, and Coron. Rates and schedules available upon request.
Bali Seaplanes: Bali
http://bali-seaplane.com
Bali is another hot destination for seaplane use. The company Bali Seaplanes was founded only recently in 2016. They started with just one Cessna Caravan 208 and have grown quickly. Bali Seaplanes offer tours, scenic flights and charter options. The Menjangan and the Gili Islands are just a few of the spots they tour too. Scenic flights are approximate $270 and tours average $580.
Blue Water Seaplanes: Bali
http://www.bluewater-seaplanes.com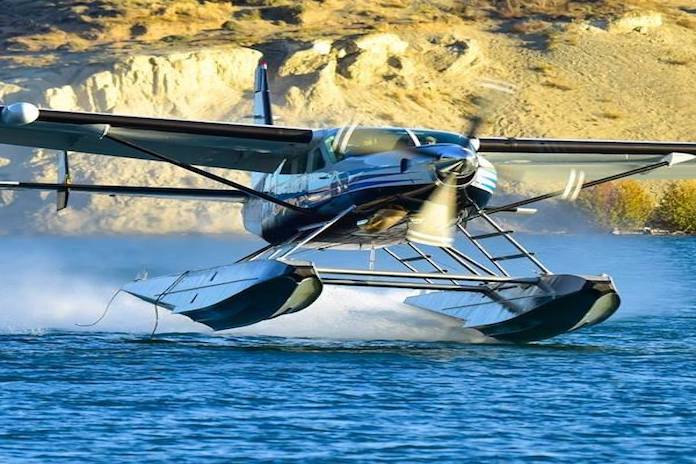 Blue Water Seaplanes also caters to the Bali and Lombok regions with similar services to Bali Seaplanes. They too offer seaplane services by way of the Cessna Caravan 208 and have a range of options from regularly scheduled flights to chartered flights to scenic tours. Their routes generally travel between Bali and the Gili Islands and cut travel time to less than half compared to traditional speed boats. However, you must contact Blue Water seaplanes for rates and schedules.
Cinnamon Air: Sri Lanka
http://www.cinnamonair.com/destinations.html
Cinnamon Air flies out of Sri Lanka and is managed by Saffron Aviation (Pvt) Ltd. Cinnamon Air's main hub is Bandaranaike International Airport (Colombo International Airport). Their fleet includes Cessna 208 Amphibian Caravans and the Cessna 208B Grand Caravan aircrafts, both seating approximately 8 passengers respectively. Cinnamon Air offers a range of destinations and experiences. You can choose between scheduled routes or luxury charter services, in addition to various trekking, water sport or safari excursions. Destinations range from Kandy to Dickwella, Colombo City to Castlereagh. A 20-minute scenic tour will cost you around $125.
In conclusion, any trip through Asia will involve extensive transportation. Since the seaplane industry continues to soar, it is worthwhile considering a seaplane as part of your transfer or tour options. It will eliminate unnecessary time spent on slow transportation options while allowing you a bird's eye view of the beautiful landscape below. As a result, many Asian countries are jumping on the bandwagon to offer this unique experience. It maybe worth it to jump on a seaplane and take advantage of such a rare opportunity.