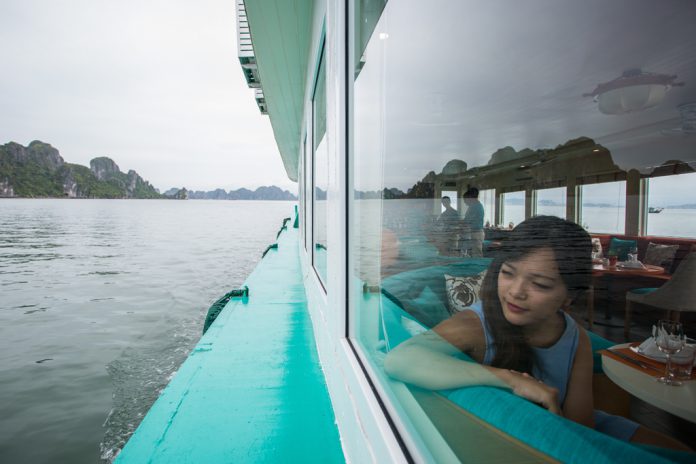 One of the most popular tourist attractions in Halong Bay, Vietnam, is a cruise through the surrounding emerald seas. There is an endless amount of options available for all manner of traveler. These cruises range from one-day to multiple-day options and allow the intrepid traveler to experience the full spectrum of Halong Bay delights in a short period of time.
Because there are so many cruise options available, however, it can seem daunting to choose the best one to fit your own personal needs.
Whether you are swinging through Halong Bay for a quick weekend or this part of Vietnam is your primary vacation spot, you will want to take some time to choose a cruise that fits all of your requirements. Here are the optimal steps to choosing the best Halong Bay cruise for you.
HOW LONG WILL YOU BE STAYING?

 
The first step to choosing any Halong Bay cruise is to decide how long you are planning to stay in the area and therefore how long you want your cruise to be. One-day cruises will give you a glimpse into the local life of Halong.
You will normally cruise around the bay, see a limestone cave or two, and possibly have a little time for swimming or kayaking. A two or three-day cruise will give you a much closer look into all that Halong Bay has to offer. You will be able to taste more of the food and engage in more activities such as nighttime squid fishing or early morning tai chi.
If you have plans to stay in the area for a weekend or longer than a multiple day cruises is best. If you already have plans to stay in a hotel or can't manage more than a day trip from Hanoi, a one-day tour is perfect.
YOUR BUDGET 
Finances always take their toll on any great adventure. When choosing a cruise through Halong Bay, you can easily narrow down your choices by deciding on a specific budget. Cruises range from less than $100 to well over hundreds more. Once you have decided how long you want your cruise to be, you can pick a specific price range.
There are many amazing cruises available for between $100-$150, which will let you see the beautiful sights and sounds of the bay and include some great food and activities. Most ships are decked out in opulent looking fabrics no matter what the cost.
It is usually best not to go for the absolute cheapest option out there. You get what you pay for. Spending just a little bit more will usually result in a slightly more efficient and comfortable cruise.
WHERE YOU WANT TO VISIT?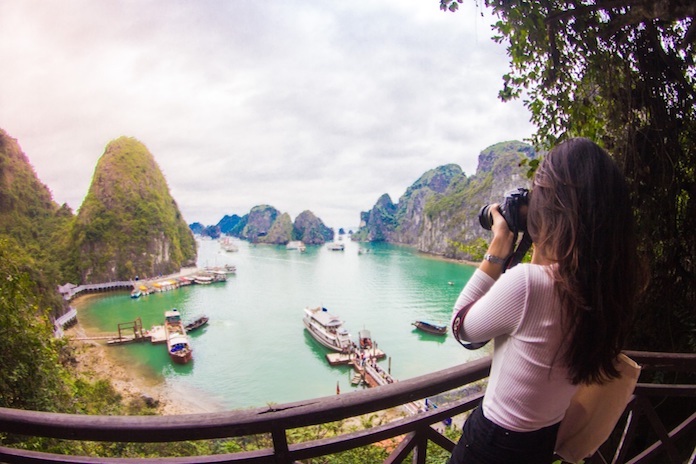 Halong Bay is a small corner of Vietnam, tucked into Southeast Asia. You can easily see many of the hot spots within a day or two of touring around. However, different cruises cater to different spots. There are dozens of limestone caves to explore and several floating villages to observe.
Not only that, but certain cruises are known to venture "off the beaten path", cruising past Halong Bay proper and focusing more on areas surrounding Bai Tu Long Bay. It is a good idea to sit down and consider which spots are most appealing to you.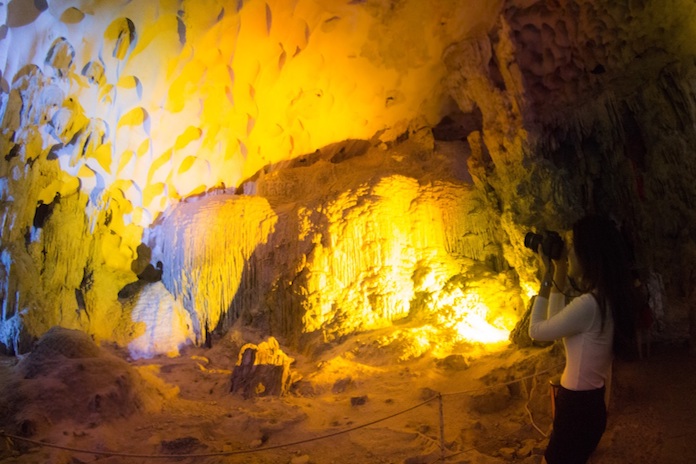 Would you prefer to see the Dau Go Cave, Sung Sot Cave, or Thien Cung Cave? Does Cua Van or Vong Vieng floating village sound most appealing? The length of your tour may have some impact on your choices but it is always best to choose an itinerary that will stop at the spots that seem most exciting to you.
CRUISE REPUTATION & SAFETY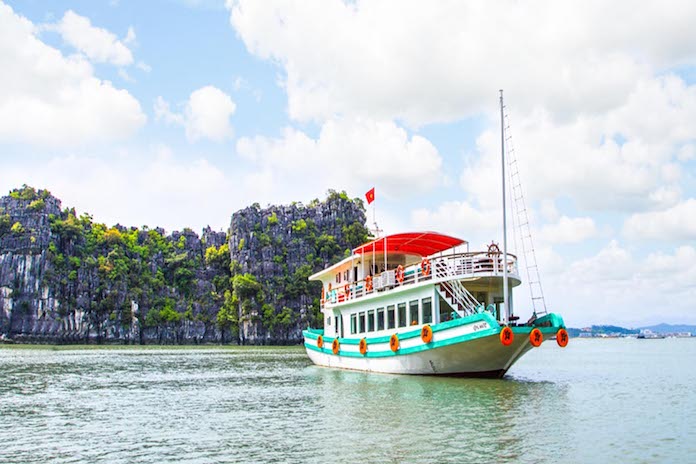 Another great way to narrow down your search is by researching a cruise's reputation and safety standards. Any reputable cruise line will have to adhere to specific safety protocol. However, there are so many cruise lines advertised online, you don't want to choose one without making absolutely sure that it is a secure and well-known company.
For example, modern cruise lines do not utilize wooden boats. This is a big red flag to pay attention to when sifting through options. Going cheap does not mean that you are choosing a bad cruise line, but you want to make sure to pay attention to ratings and customer reviews. It is usually best not to deal with a company that has little or no information to report.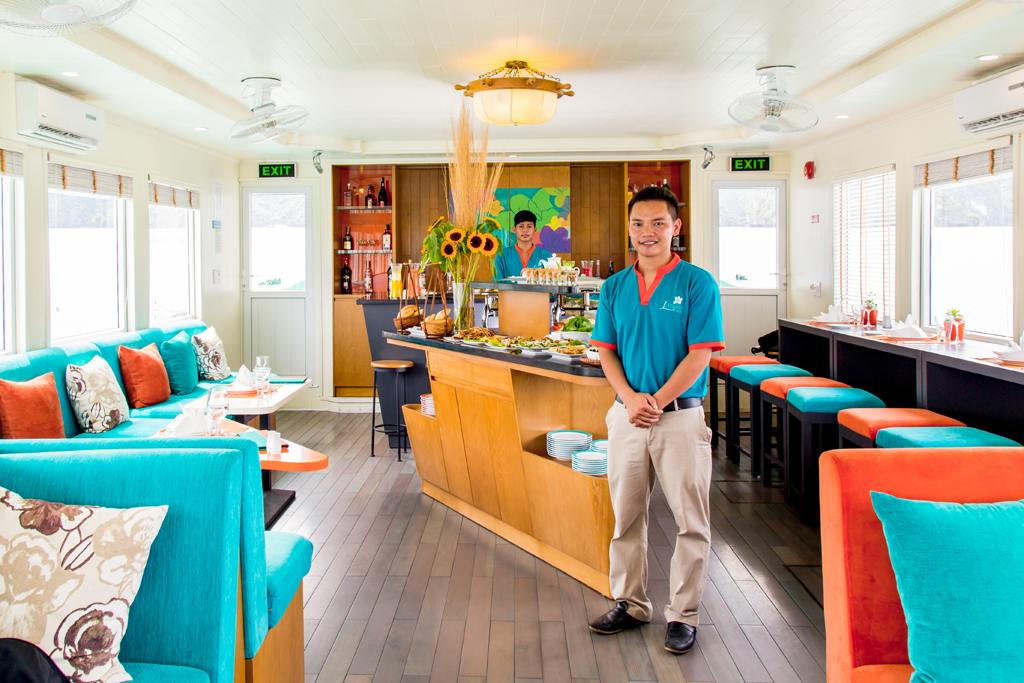 Hai Au Aviation works with L'Azalée and Emeraude to name a few. Other well-known companies include Signature, Indochina Sails, and Orchid cruise to name a few. There are so many great options, just make sure you do your homework before booking.
WHO ARE YOU TRAVELING WITH?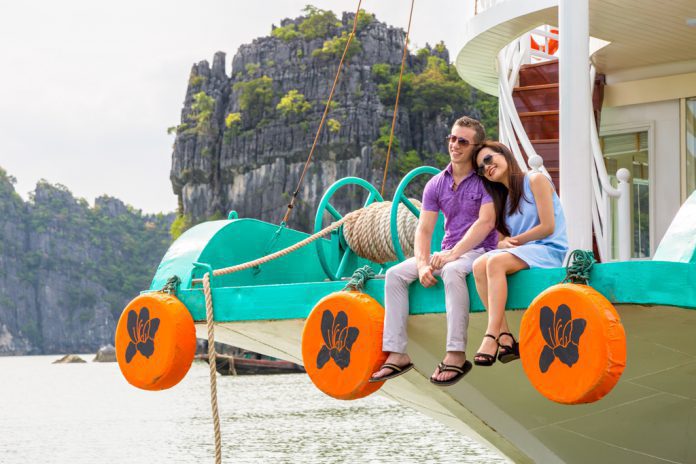 The people you choose to travel with will always impact how you want to travel. Perhaps you are flying solo across the globe, looking for intimate romance with a partner, or carting a caravan of kids around.
Halong Bay advertises cruises for each of these scenarios. Certain lines make it clear that families are their top priority, boasting rooms that will accommodate larger groups. Other companies concentrate on creating a romantic atmosphere for newlyweds and lovebirds.
There are even options for party cruises or boats that have single rooms for backpackers or independent voyagers. You want to make sure that the cruise cannot only accommodate the size of your party but also fulfills the requirements of each of its members.
SIZE OF THE BOAT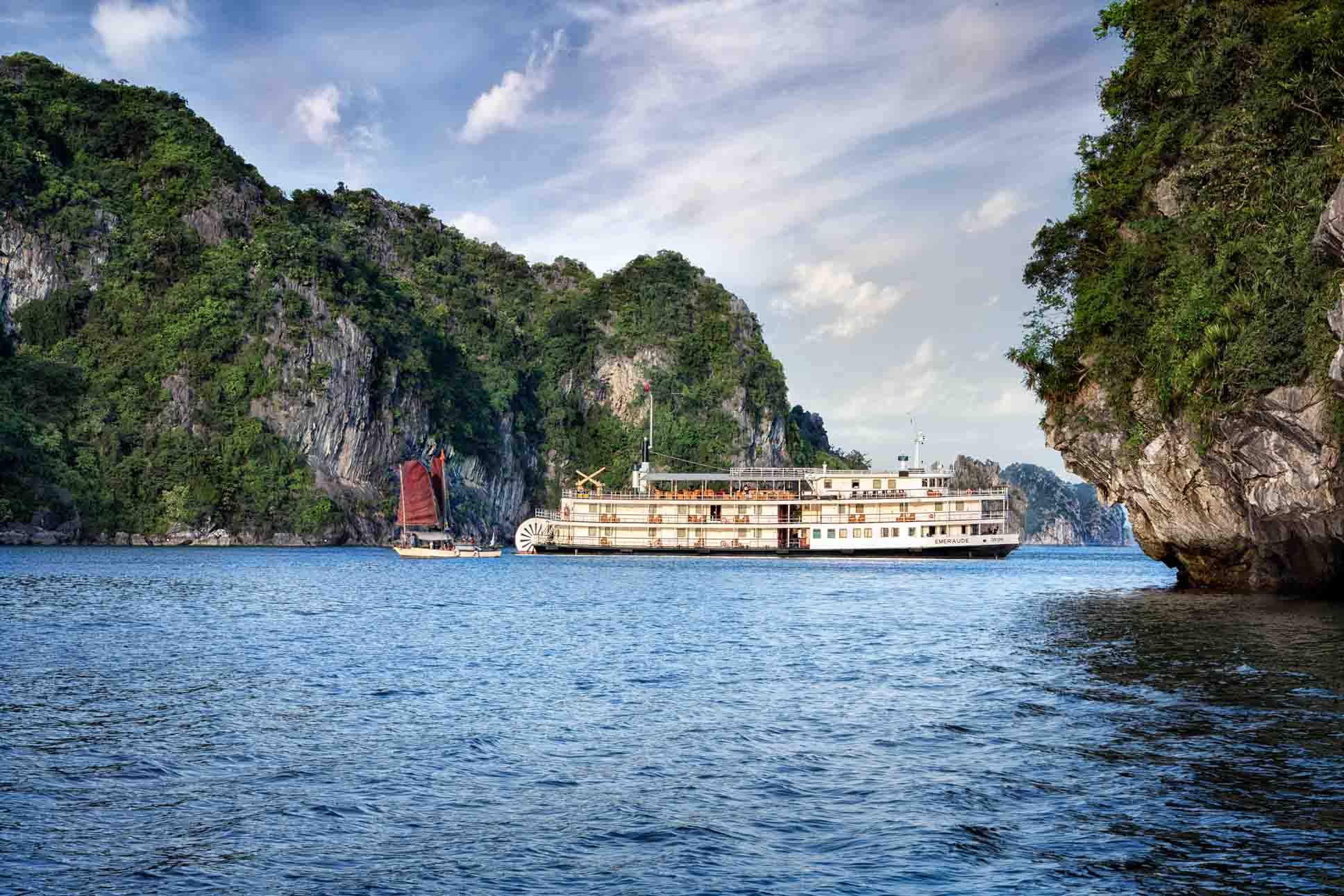 It's usually said that size doesn't matter, but in the case of Halong Bay cruises it often can. If you are a solo traveler or backpacker looking to see the sights with little to no fanfare, a petite little vessel might be just right for you.
However, the larger the group the harder it will be to enjoy a potentially cramped environment. Most Halong Bay cruise ships are not massive. There are so many boats roaming through the bay, it would be impossible to have a Titanic-esque ship floating through the surf.
But some boats are more spacious than others. Not only in terms of room space, but also in the dining rooms and on the decks. Travelers who want to spread their wings and enjoy the views from a tranquil spot on board will want to steer clear from boats that cram too many people into one tiny boat.
FOOD OPTIONS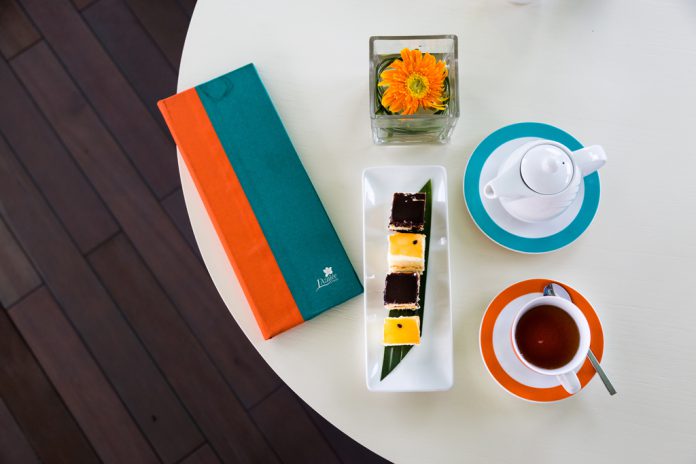 Most Halong Bay Cruises have a variety of food options available onboard. You will often find traditional Vietnamese dishes included in the menu as well as other international or fusion options. Many cruise lines even offer a Vietnamese cooking class or display as part of their activity itinerary during the excursion.
Adventurous travelers usually look forward to tasting the local flavors or dishes of whichever country they are exploring. However, today's society also demands food requirements. If you have a food allergy, intolerance or restriction, it is best to find a cruise line that will comply with your needs.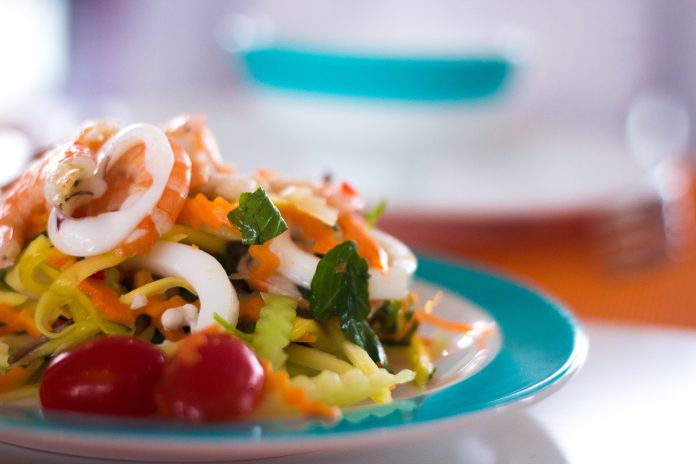 The most popular dishes include seafood of varying sorts. If you are allergic to seafood or shellfish, make sure there are other options available. Families with children will want to make sure there are kid choices for children who might not have developed adventurous taste buds just yet. Most companies will happily accommodate vegetarians upon request.
ACTIVITIES & EXCURSIONS
No one books a cruise through Halong Bay just to stay on board and enjoy the scenery. While that is certainly a stunning part of the journey, the more exciting part is stepping off the ship and submerging yourself into the picturesque landscape.
There are numerous limestone caves, beaches and fishing villages to explore. Most cruises will include excursions into these gorgeous areas of Halong Bay, by small boat or kayak. You can swim in the surf for an afternoon, maybe even snorkel or scuba dive.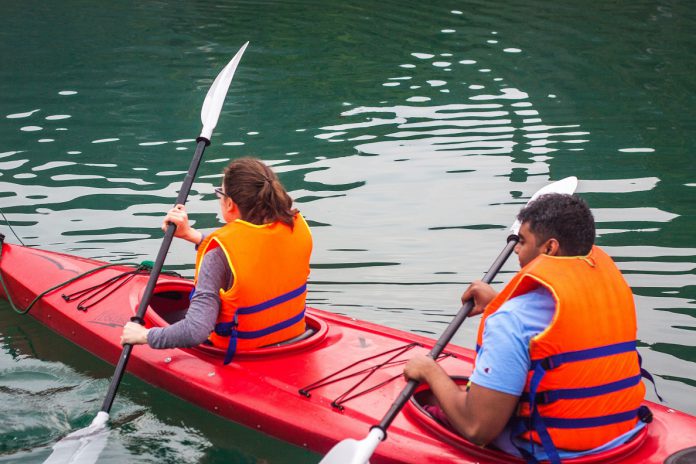 There are activities not only off the boat but also on. Activities range from music to cooking classes, movies to squid fishing or tai chi. Don't waste your time in Halong Bay merely sitting in the comforts of a luxurious room with a view. Be sure to investigate and take part in the brilliant experiences included in your trip.
TRANSPORTATION TO CRUISE & BACK
Hanoi, Vietnam is the closest major city to Halong Bay. Many tourists combine their tour of Halong Bay with some time spent in the capital city. Because of this, cruise lines generally include options for transport to and from the major city so that you can easily get to the airport and back regardless of the length of your trip.
One of the primary methods of transport is a shuttle or private car. The drive takes approximately four hours and is included in the price of the cruise package.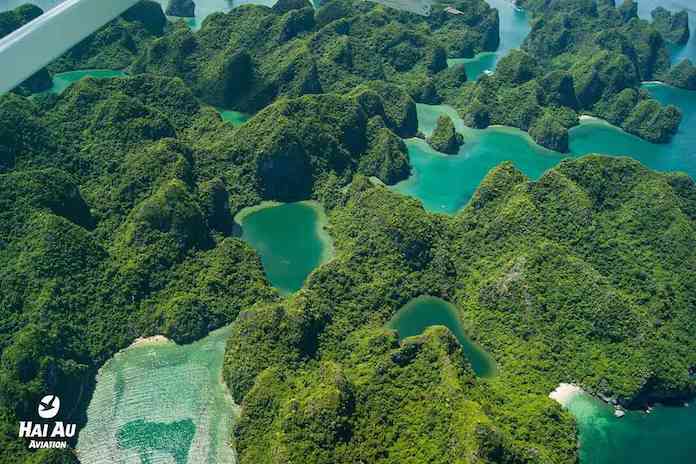 Some tours even combine with Hai Au Aviation and include a seaplane flight one or both ways, cutting the travel time in less than half and providing an opportunity to see Halong Bay from above.
While you can absolutely try to get to Halong Bay by independent car, train or bus, it will take much longer and be far more complicated. The best thing is to choose a cruise that has transportation included and work within your budget and time frame.
HOW TO BOOK YOUR TRIP
Once you have finally narrowed down your search and chosen a Halong Bay cruise line, it is time to book your tour. The quickest and easiest way is to book online. This usually gets you the best price in a secure way.
Most cruise companies should have their own website so you can be sure that there are no tricks or traps involved in your purchase. However, many deals are available through other travel or discount sites.
Once again, make sure to research and read the fine print. Any reputable agent like Kayak or Expedia will provide and safe and secure service though other sites such as Halong Bay Tours and Trip Advisor work as well. Just be sure to check for reviews and added fees.
Once you have completed all of this steps, you will ideally be ready for a wonderful cruise through Halong Bay, Vietnam. The planning process for any trip can seem overwhelming and confusing, but a bit of research and organisation will always guarantee amazing results.  In the end, you will walk away from Halong Bay with memories to last a lifetime.
Take the time to filter through the mountains of information and prioritize your personal travel needs. Halong Bay is a top tourist and Unesco World Heritage sight so you will find infinite options available with Hai Au Aviation.