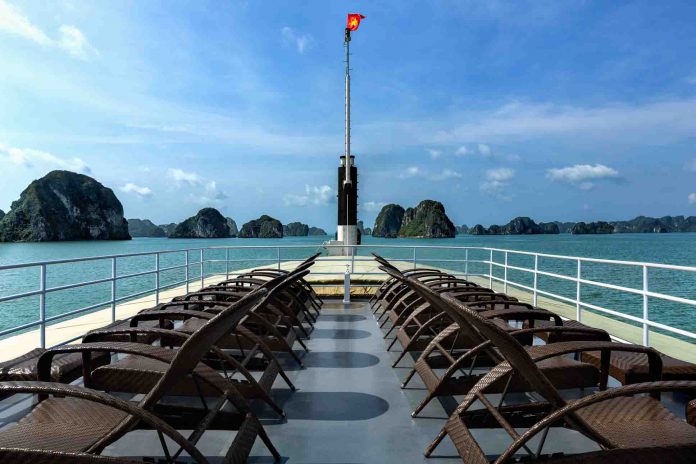 When going on a trip there are so many different options to choose from, and doing a little online reconnaissance before your trip can help you to pinpoint all of the activities that you want to do so that you get the most out of your trip.
Halong Bay is one of the World Heritage sites that you really need to see, so get your bucket list ready.  During your trip to Halong Bay, one of the most romantic and adventurous things that you can do is going on a cruise of the bay.
There are a lot of options available to you, so this article will help to go over the ins and outs when book cruises in Halong Bay.
WHY YOU SHOULD BOOK A CRUISE IN HALONG BAY TRIP?
You may be wondering why should book a cruise in Halong Bay for your trip and the main reason is that you'll get to see the area up close and personal while enjoying the luxuries of being on a cruise ship.
You can't visit Halong Bay without going on the water as you'll be denying yourself an experience of a lifetime.  Some of the beautiful island sights to see can only truly be enjoyed when going on a cruise.
Booking your cruise guarantees that you'll get to experience this for yourself during your vacation, so exploring your options is a good idea.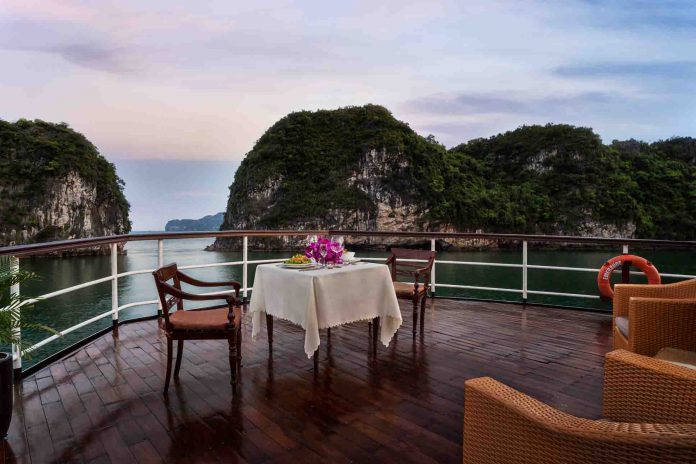 >> How To Get From Hanoi To Halong Bay: 4 Best Ways To Travel | The 2019 Guide
WHEN SHOULD YOU BOOK?
There are two schools of thought when it comes to the best time to book cruises in Halong Bay.  There are those that feel that you'll get a better deal when you wait until your trip to book with a local company.
On the other hand, there are those that feel that you'll do better if you book in advance.  Both of these cruise booking options have their own pros and cons.
BOOK AT ARRIVAL
ProsCons

You'll be able to speak in person with someone about the cruise that you're booking, and see with your own eyes the ship rather than having to rely on online pictures.
There is always the option to get a better price because you're able to bargain down the price or have last-minute deal, unlike paying just a set price online.

The main issue to waiting to book means that you may be limiting your options when it comes to what's available during your trip.
If you go during the busy season, you may not be able to get on a cruise as your schedule may not sync up with the openings the cruise ships have available.
Booking in advance means that your plans will be set before you even step foot into the country.
BOOK IN ADVANCE
ProsCons
You'll have the first pick of the different options available to you, and you'll know for certain when your cruise will be so that you can make plans around it to see other attractions in Halong Bay.
You can find specials and discounts to help you get a good rate on your cruise when you look online.  This can give you peace of mind that your trip will go along as planned, especially in the busy season where booking in person may leave you without many good options.
The main issue when it comes to booking in advance online is that you may be missing out on a better deal when booking up front.
Booking based on information provided online without being able to see the cruise companies in person.
Deciding when to book is often a personal choice as some people enjoy traveling by the seat of their pants where they just explore the area without a set itinerary, and others prefer to have everything in place beforehand.
Just keep in mind that if you prefer to wait and are visiting during peak season, you may end up without the cruise package you'd like to have and settle for the ones that are still open.
WHICH CRUISES TO CONSIDER?
YOUR ITINERARY

There are a variety of cruises that you can consider during your vacation that will be a good fit to your itinerary.  They offer day trips for people that are only planning on staying in the area for a short time or just want to experience a short excursion on the bay.
For those that are looking to have a short trip on the bay, but still get a good cruise experience you can try an overnight cruise.  This can be a great option for someone new to cruising, but wanting to see whether or not they'll enjoy it.
People looking to get a full cruise experience with all the pampering and adventuring involved will enjoy going on the three days two nights or longer cruise packages.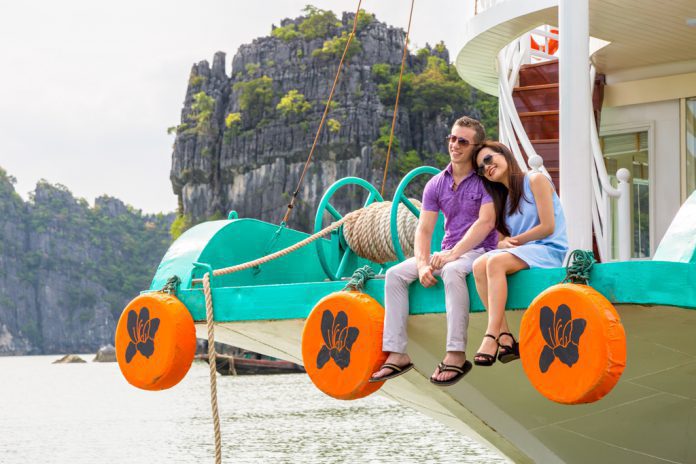 YOUR BUDGET
Not only should you look at the cruised based on how long they will be, but you can look into what types of amenities that you can experience when onboard.
There are luxury cruises that are like five-star hotels on the water and budget cruises that are wonderful for a day trip or a family looking to keep their budget at a minimum that is just like a budget motel with cruise levels in between.
One travel expert noted that often the difference between a more expensive budget cruise and the midlevel cruise is the quality of the food in that you'll be feasting like a king with a slight difference in price while the difference between a low-budget cruise and a higher priced mid level cruise will often be the number of passengers on the boat.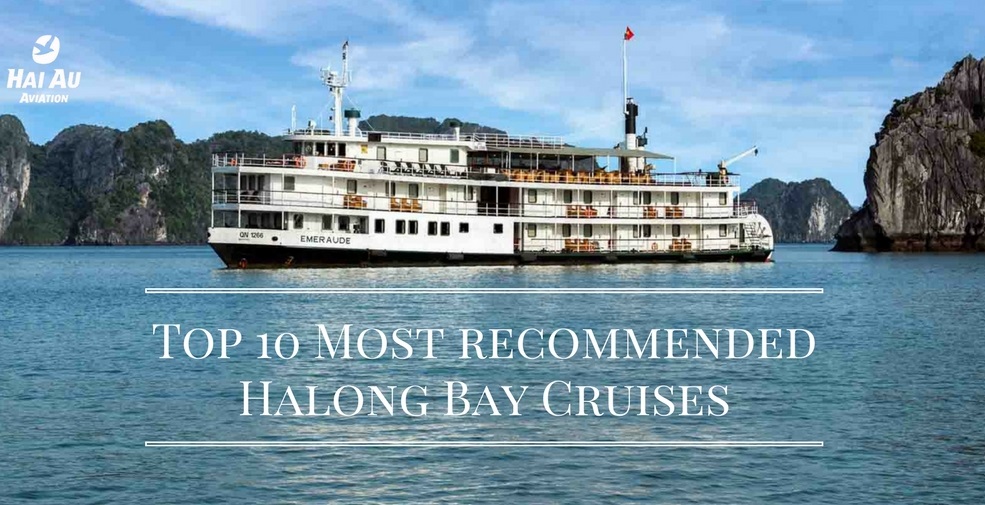 DATE AND TIME
Be sure to look at the departure and arrival times and dates for your cruise package carefully.  You don't want to miss the cruise departure time for your cruise because you didn't plan accordingly, such as a transportation delay at the airport.
The same is true with your arrival time back into port as you don't want to miss another event you've scheduled or getting back in time for your flight home.  Some experts say that you should be in the port city the day before the cruise leaves to ensure that you'll be able to make your boat trip on time.
WHAT ACTIVITIES ARE AVAILABLE?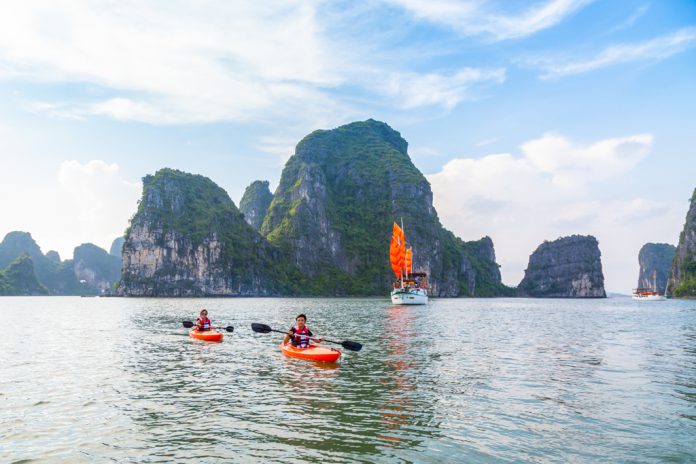 The activities that are available on your cruise will vary with the company.  Try to find a cruise with an appropriate length and the activities that you want to experience the most.
Some activities to look for include:
Sail in a traditional Chinese Junk
Sightseeing
Swimming
Diving
See the Bright and Dark Lagoons
Explore caves with guided tours
Have lunch in the caves
Kayak or canoe tours
Hiking excursions
Explore amazing rock formations, such as Chicken Rock
Go fishing for squid and other sea creatures
Attend a traditional Vietnamese cooking class
Explore Tai Chi
Visit a fishing village
Seaplane tours
Not every cruise will offer the same variety of activities, so when you are looking to book you should try to look for a cruise that will have all of the activities you are looking to explore.
You may not find a cruise that offers everything on your list, but you'll probably be pleasantly surprised with the packages that are offered.
HOW SHOULD YOU BOOK YOUR CRUISE?
There are a number of ways that you can book your upcoming cruise to Halong Bay.  You can go online and locate cruises through a variety of sources.
You can try an online travel agent, your hotel's website, the official websites for the variety of cruise companies in Halong, and other booking websites.  If you feel more comfortable booking in advance over the phone, you can contact many of the same sources.
Your hotel's concierge will often be able to help you with booking a great cruise, or you can contact the cruise company directly.
When booking during your trip, you'll want to book with an operator that you trust.  If you don't book through your hotel, they can often refer you to reputable cruise providers.  Get brochures that talk about what your cruise offers, and don't be afraid to compare your options.
WHAT DID OTHERS SAY? 
One great source for information on the cruise operators in Halong Bay is by looking at reviews from prior guests.  You can get some great information from these reviews that will help you to pick out which cruise you'd like to take.
However, take some of the reviews with a grain of salt as some companies may put up false reviews, and some reviewers may have a skewed vision of what their experience was really like.
If you see a company with a lot of negative or mildly okay reviews with a few shining reviews showing up here and there may be trying to improve their image the right way by changing their tours, or they may be buying reviews.
When it comes to reviews from someone that had a bad experience, remember that there are some people that cannot be pleased no matter what is done for them, and that's just the way that it is.   

QUESTIONS TO ASK WHEN BOOKING? 
There are a number of questions to ask when you are booking your cruise.
What activities are available on your cruise? (This may change with the seasons, so it's a good idea to specify when you plan to visit, especially if it happens to be further out than a few weeks.)
Do you offer any extras?
What are your meal options?
Do your itineraries ever change during a trip?
Are your departures or arrivals ever delayed?
What is your refund policy if a trip needs to be canceled due to weather or other reason?
What are the safety measures in place?
Any questions that you think of should be asked for your personal situation.
Getting the answers to these questions can help to make your cruise in Halong Bay better.  You'll know what you're getting into in case any issues arise, and feel more confident about your trip.
HOW MUCH CAN YOU EXPECT TO PAY?
The amount that you'll pay on your cruise around Halong Bay will differ for a variety of reasons.  An overnight luxury cruise will cost you about US$ 220.  Overnight cruises that are in the midrange level are about US $110 to $130.  If you're looking for a budget cruise, you can find day trips that are about US $60 dollars.
Even if you plan on booking your cruise when you arrive in the area, don't be afraid to do some comparison shopping online.
This is an excellent way to view the price range of Halong Bay Cruise online and give yourself a good knowledge of what you should expect to pay for your trip.  Don't be shy of using this to get yourself a good deal.
 Tip: Since there's a lot of competition when it comes to cruises in Halong Bay, there's a great chance that you'll be able to find a cruise that has some extras added onto your itinerary for free.  You can lookout for a good deal while shopping around online, over the phone, or in person. 
TIME TO BOOK THE CRUISE
There you have it.  Here are some great cruise options in Halong Bay that are open for you during your stay, and the information that you'll need to make an informed choice on the type of cruise that's just right for your group.
There great budget cruises that will give you a fun day out on the bay to explore the area and see the sights while getting back to port the same day to get into the other adventures on your trip.
At the other end of the services scale, there are amazing luxury cruises that will help you to feel pampered while exploring the regions.  You and your group members of all ages are sure to have a good time.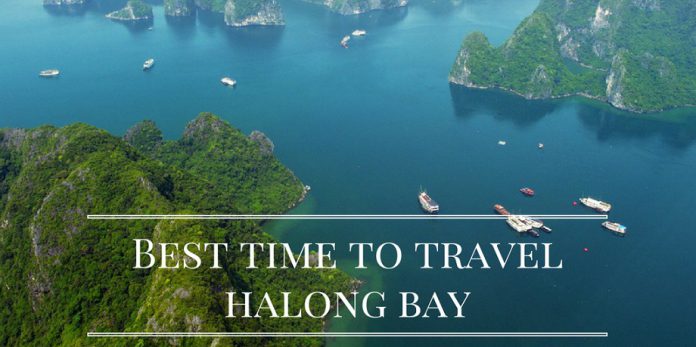 We at Hai Au Aviation are here for your needs when coming to visit Halong Bay, so feel free to contact us with any questions or concerns you may have about your trip.  It's very important to us that you have an excellent time during your stay.
TRAVEL WITH US
Visit us at our website to learn more about some of the cruises that can be booked through us in addition to our other great packages.
[adrotate group="1″]