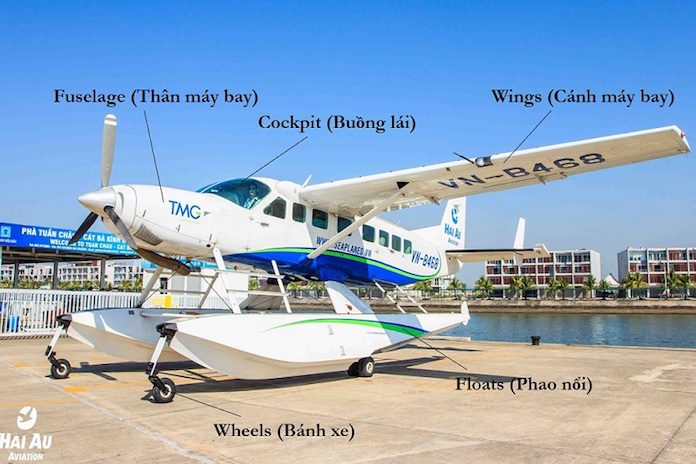 Imagine flying in a brand new seaplane over the beautiful terrain and magnificent seascape surrounding Hanoi and Halong Bay, Vietnam. To see the lively streets of city life merge into the endless green vegetation of the countryside and finally open up onto the tranquil waters of the sea.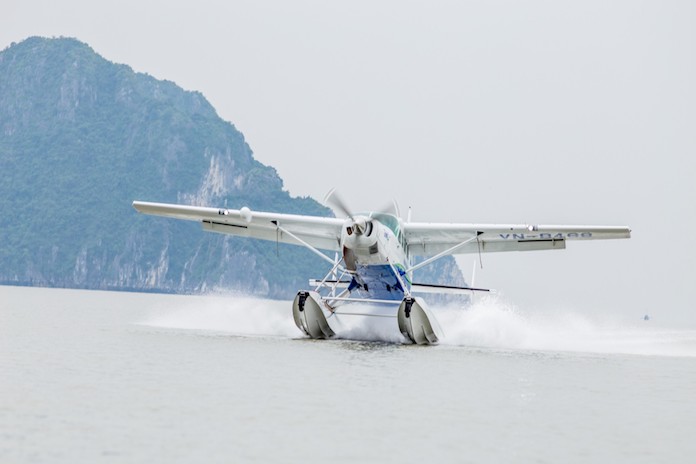 From 150 feet above sea level, you can experience some of the most astounding sights of Vietnam as you fly above in one of only three cutting edge seaplanes available. Hai Au Aviation boasts the only seaplane service in Vietnam. It is a unique opportunity to have a bird's eye view of the picturesque scenery.
BRAND NEW CESSNA CARAVAN AIRCRAFTS
Hai Au Aviation Seaplanes are state-of-the-art aerial wonders. The company owns and operates three Cessna Grand Caravan 208B – EX amphibian aircrafts. The Textron Group (USA) manufactured and released the seaplane model in 2014.
These brand new seaplanes meet all international safety standards and are considered the safest single-engine aircrafts in the world. In addition, they have the recognition as the safest single-engine aircrafts to land on water and meet the standard requirements of the FAA (Federal Aeronautics Associations), ICAO (International Civil Aviation Organization) and CAAV (Civil Aviation Authority Vietnam). You will have no safety fears or concerns when flying in a Hai Au Aviation seaplane.
THE HISTORY OF CESSNA
Clyde Cessna was one of the first American aviators and aircraft designers. In June 1911, Clyde first built and flew his very own aircraft. Eventually, he found a business partner in Victor Roos and created the Cessna-Roos Aircraft Company which quickly morphed into the Cessna Aircraft company. Clyde had many business ups and downs over the years, collapsing under the weight of the Depression but then rebuilding business when planes become more popular after World War 1.
Clyde's innovation and technical skills created a legacy that culminated in a reputable aviation empire now parented by the Textron Company. The headquarters is in Wichita, Kansas and continues to produce a variety of Cessna models, the Cessna Grand Caravan 208B – EX one of its most reliable.
SEAPLANE AESTHETICS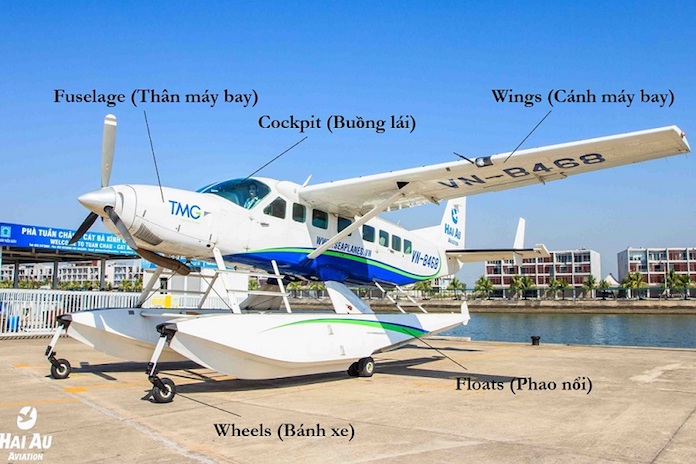 The Cessna Grand Caravan is a compact model with a comfortable interior. As you approach the seaplane, you will notice that it is mainly white with several windows and the Hai Au Aviation trademark in blue and green. They are remarkably small but impressive looking vehicles. Once inside the plane, the 12 sleek leather seats allow you to sit back and relax as you soar through the clouds. Each seat is next to a window so you can easily drink in the glittering panoramas.
The plane capacity is 14 people total, including two seats for pilots and 12 seats for guests. Cabin baggage is maximum 7 kg and the dimensions should be no larger than 56cm x 36cm x 23cm. This is so that you can easily transport personal belongings but without the discomfort of excess baggage. The dimensions of the cabin are:
Height 54 in (1.37 m)
Length 16 ft 9 in (5.10 m)
Width 64 in (1.63 m).
You will be quite cozy but incredibly safe and comfortable in these flying machines.
SEAPLANE SPECIFICATIONS
For a more technical understanding of how this seaplane model work, it is important to look at the specifications involved. It is certainly a compact aircraft with abundant power.
The Cessna Grand Caravan 208B – EX is 41 ft 7 in (12.67 m) in length and 15 ft 1 in (4.60 m) in height.
The wingspan is 52 ft 1 in (15.87 m) with a wing area of 279 sq ft (25.96 sq m).
The maximum cruise speed is 195 ktas (361 km/h) with a maximum range of Maximum Range 964 nm (1,785 km).
It takes 2,160 ft (658 m) to take off and 1,871 ft (570 m) to land.
The Cessna Grand Caravan was built to maneuver "challenging missions, high payloads and short, rough runways."
SAFETY AND MAINTENANCE
Safety and Maintenance is of the utmost importance to Hai Au Aviation. Only highly experienced and certified engineers and mechanics are allowed to do work on the seaplanes. Each plane is serviced at the international standard facilities in Tan Son Nhat and Noi Bai airports. Major maintenance checks take place at Cessna facilities in Singapore and all maintenance routines follow strict FAA standards.
In terms of safety, Hai Au Aviation seaplanes are in full compliance with CAAV and Ministry of Transport requirements. They are also always coordinating with relevant authorities while in the air, on the ground or in the water. No Hai Au Aviation seaplane operates outside of Vietnamese transport authority.
BENEFITS FOR PASSENGERS
Once you have decided to take a Hai Au Aviation seaplane, you can choose from among many different flight options.
There are daily scheduled flights that will take you between Hanoi and Halong Bay at only a fraction of the time it would take to travel by land.
You can opt to book a 25-minute sightseeing tour and marvel at the beautiful vistas from an amazing perspective.
For the most luxurious private travel experience, book the Hai Au Aviation seaplane private charter services.
By choosing to fly in a Cessna Grand Caravan 208B- EX you are eliminating wasted time and focusing on the joy of your trip. The comfortable cabins, excellent safety and maintenance standards, and sheer speed of the trip make it the ideal way to travel around Vietnam.