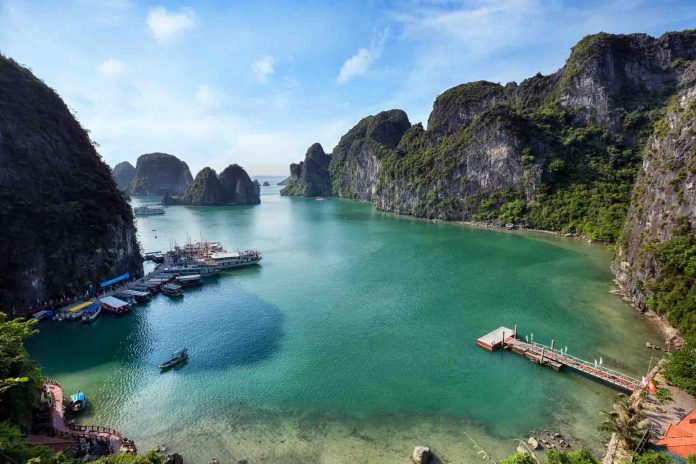 The summer is coming and it's time to sit down and figure out your holiday schedule. With the advent of technology, creating the perfect vacation has become simultaneously easier and harder at the same time.
There are hundreds of destinations, deals, and DIY vacation tools. With one click of your finger, you can book a flight, a hotel, and an adventure package independently or all in one. With any luck, you have already chosen Halong Bay, Vietnam as this year's fantasy spot.
The emerald seas, junk boat cruises, and seaplane experiences make it an ideal vacation destination for solo travelers, romantic lovebirds, or globe trotting families. Instead of getting caught up in the whirlwind of choices, here is a list of the 8 steps you should take to plan your Halong Bay trip in Vietnam.
HOW TO GET READY FOR YOUR HALONG BAY TRIP?
STEP 1: RESEARCH AND PLAN
The first step in any successful vacation is to research options and start making a plan. While some travelers prefer to venture forth off the cuff, it is usually better to have at least a little lay of the land before dropping into unknown territory.
Depending on where you are coming from and how long you will be in Vietnam, you may need to acquire certain medical vaccinations. Immunizations for diseases such as Hepatitis A, Tetanus and Typhoid are frequently required for foreigners. In addition to medical and legal issues, you will want to research the various options available including travel time, transport options, activities, and food.
Visa Fee
Many countries will also demand that you obtain a travel visa before entering Vietnam. Foreign nationals of Thailand, Singapore, Malaysia, Philippines, Indonesia, Laos, Japan, South Korea, Russia, Sweden, Norway, Denmark, and Finland are exempted from visa visas upon entry into Vietnam if stay no more than 15 days from the date of entry.
Normal visa fee for foreigners entry Vietnam is $25. However, there are some special policies for different nations. For example, American citizens have to pay $135.
STEP 2: CREATE A BUDGET
Vacations are rarely cheap and are certainly never free. However, there are different options for different types of travelers. Are you a backpacker looking to do things on the cheap or plan a honeymoon and in search of luxury romance?
Are you a mother or father of 4 and wanting to combine frugality with a few splurges? Usually, Halong Bay cruise tour includes bus transfer from Hanoi to Halong so you could save some money on transportation.
Halong Bay has opportunities for all kinds of budgets. Packages and cruise deals offer options for tourists looking to lounge in lap luxury as well as winging it in the wild.
Some people prefer to spend money on beautiful accommodation whereas others would rather focus their funds on local cuisine or unique activities. If you prioritize the aspects of your trip, it will be easier to organize how and what to book.
First, take a look at your overall spending budget.
Next, highlight the parts of your voyage that are the most important to you.
STEP 3: CHOOSE HOW LONG YOU WILL STAY
Halong Bay is a small but culturally rich area of Vietnam. There are an amazing amount of things to see and do in this renowned Unesco World Heritage Site. From the limestone caves to the floating villages to the beautiful beaches, you could easily spend a week or two exploring this bay alone.
Depending on your budget and amount of vacation time, you may need to consider a more abbreviated or structured voyage.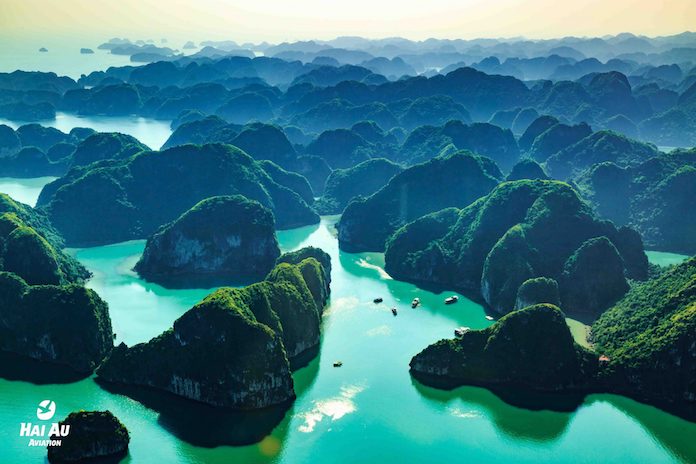 As Halong is closest to the major city Hanoi, many travelers choose to include Halong Bay as part of their larger Vietnam trip. You can find many tours from Hanoi which will give you a glimpse of Halong Bay and many of its local landmarks. Consider booking one of the many cruise options so that you can see the highlights of Halong while gliding through the exquisite waters.
From one-day to 2D1N tours, cruises will allow you an opportunity to taste local food, kayak through the karsts, and even squid fishing in the deep blue seas. There is always time for Halong Bay, you just have to decide how much you can spare.
STEP 4: DECIDE HOW TO GET THERE
Since Hanoi is the closest main city to Halong Bay, most people choose to start their travels in Vietnam's capital. Whether you are planning to spend most of your time in Halong or it is one stop on a larger trip, there are many options for transport between Hanoi and Halong Bay.
Cruise options almost always include a shuttle transfer from your hotel or a central area in Hanoi. It is by far one of the easiest methods to get to Halong Bay. This option will typically take about 4 hours one way.
You could always hire a private car but that would be much pricier than combining transport with a tour. There are also public options such as train or bus. However, these routes will take much longer than a direct shuttle.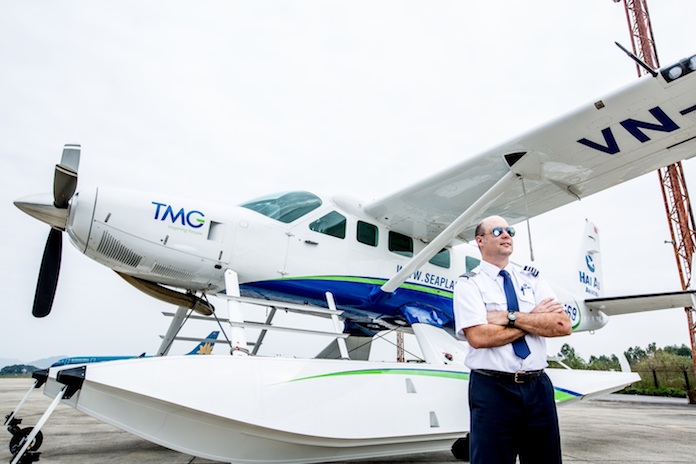 The fastest and most luxurious option by far is to hop on a one-of-a-kind seaplane, a unique experience provided by Hai Au Aviation. A seaplane reduces the travel time to Halong Bay by more than half and allows stunning views of the landscape below.
While it is certainly a less frugal mode of transport, it is always one of the most memorable and adventurous. You can book passage on a seaplane to or from Halong Bay or combine it with day cruise as several tour options that Hai Au Aviation offers. No matter which mode of transport you choose, a ride in a seaplane should be top on your list.
STEP 5: BOOK ACCOMMODATION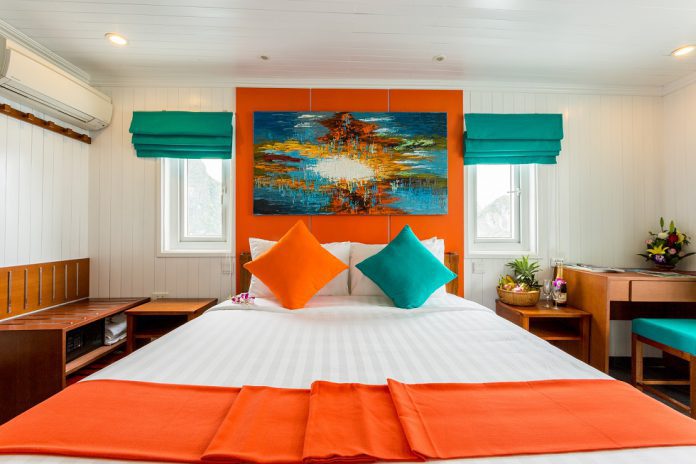 Considering your budget and allotted travel time is the first thing you need to do before booking your accommodation. Halong Bay has several different options for where to stay from hostels to hotels to classic cruises.
If you are staying in Halong Bay for several days and want to explore everything on your own terms, hostels and hotels can be great for independence.
Hostels are perfect for backpackers or younger travelers looking to spend little money and meet some fun like-minded people. Hotels range from clean and affordable to pricey and decadent.
A Halong Bay trip is never complete, however, without at least one night on a traditional cruise. These boats take you to many spots all along Halong and Bai Tu Long Bay. You will get a chance to try many adventure activities like kayaking and swimming or fishing.
You can see the limestone caves and floating villages so typical to the bay. Companies offer cruises for all types of tourists at all different price points. No matter which kind of accommodation you choose, Halong Bay will not disappoint.
STEP 6: EXPLORE FOOD OPTIONS
Food is one of the most interesting cultural elements to any vacation. Visiting Vietnam opens up a whole new world of culinary delights. An important thing to research before heading to Halong Bay is to find out what types of food are most unique to local culture.
It is an amazing opportunity to experience something truly delicious and authentic. It is also important to make sure that there are food options for you. In today's climate of allergies, diets, and culinary values, many people have to prepare for their trips in particular ways.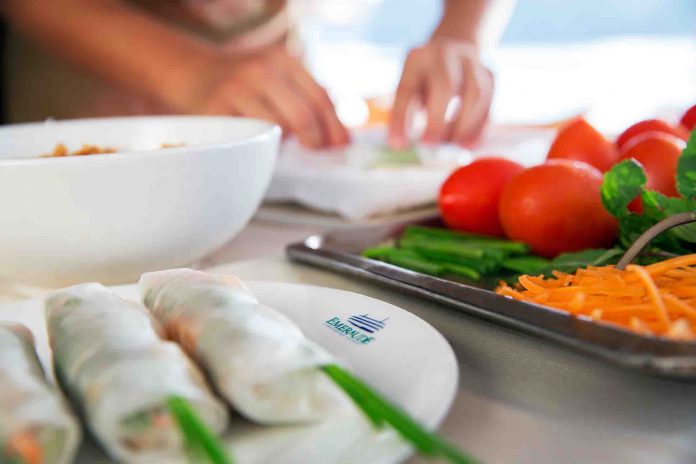 Halong Bay is of course known for delectable seafood and traditional Vietnamese fare. Dishes such as sea snails and squid-sausages are local delicacies and must-tries when visiting Halong.
If you are a vegan or are allergic to seafood, for example, Halong Bay has international restaurants and many cruise ships will provide for alternate meals, but you want to make sure to investigate and notify before booking anything.
STEP 7: CHECK THE WEATHER
The weather and the season are important factors no matter where you plan on traveling. This will dictate the type of clothes you pack and what other products you might want to include in your suitcase like mosquito repellent, sunscreen or an umbrella.
The high season for inbound tourism in Halong Bay is winter time, from November to December. Domestic tourism is down and travelers from colder climates are looking for an escape from the deep chill.
Happily, Halong Bay still enjoys warm and temperate weather during these months. It's less humid and cool at night so you can still engage in watersports but may need to pack some layers for the evenings.
The summer months are high for domestic tourism which means you will be rubbing shoulders with more native Vietnamese but still dealing with tourism traffic and longer lines.
During this time of year, the heat is most certainly on, so you will want to bring a lot of suntan lotion and make sure to invest in as many water activities as possible: swimming, snorkeling, kayaking, cruising are all great ways to avoid the heat.
STEP 8: INVESTIGATE LOCAL ACTIVITIES
No matter how you choose to get to Halong Bay, how long you stay or how much money you have, the main reason to go to this gorgeous part of the world is to experience everything it has to offer.
Even if your main agenda is lounging on a pristine beach and staring out at the sea with a cocktail in your hand, it's worth researching exactly which beaches are the best for silence and solitude versus water sports and socializing. And for most Halong Bay tourists, there are far too many wonderful activities to choose from.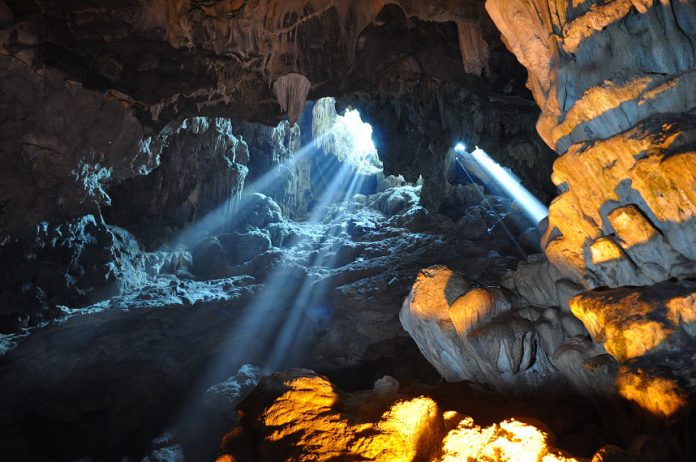 Limestone caves are a pinnacle of Halong Bay tourism and a must-see when exploring the bay. These natural masterpieces are beautiful caves with glittering walls and crystalline pools. The floating villages are home to Halong Bay locals who spend their lives fishing at sea.
Climbing Bai Tu Mountain is a wonderful way of seeing the spectacular scenery below. The kayaks, canoes, cruises, and seaplanes are all necessary activities to explore the stunning waters of the bay. Once again, you will need to prioritize the activities best for you and your travel companions so as to optimize the time you will have.
Finally, press the button and book your trip.
Every tale begins with an agenda, whether set in stone or open to interpretation. A Halong Bay holiday is a beautiful story just waiting to be told. If you want to sift through all of the websites and offers, from airplanes to accommodation, consider the best ways to plan your next exotic vacation.
Research your options and prioritize your plans. Settle on a budget and investigate local culture and customs. Finally, press the button and book your trip. From seaplanes and cruises to sea snails and beaches, these are the 7 steps to planning your Halong Bay trip in Vietnam.
TRAVEL WITH US
We provide a wide range of Halong Bay tours from day trip to 2 days 1 night stay in L'Azalee & Emeraude Cruise with seaplane scheduled and scenic flight. Visit here.