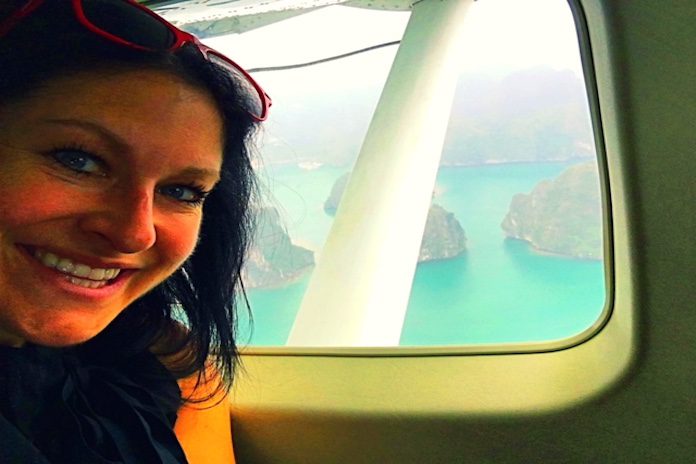 Ha Long Bay, located in northern Vietnam and accessible from Hanoi, is a must-see destination on your Vietnam travel. Ha Long Bay offers exhilarating experiences, from unforgettable seaplane rides with Hai Au Aviation to kayaking in some of the bay's most coveted area.
The enchanting activities in this northeast region will make you want to stay longer than you had originally planned, and heighten your sense of wanderlust.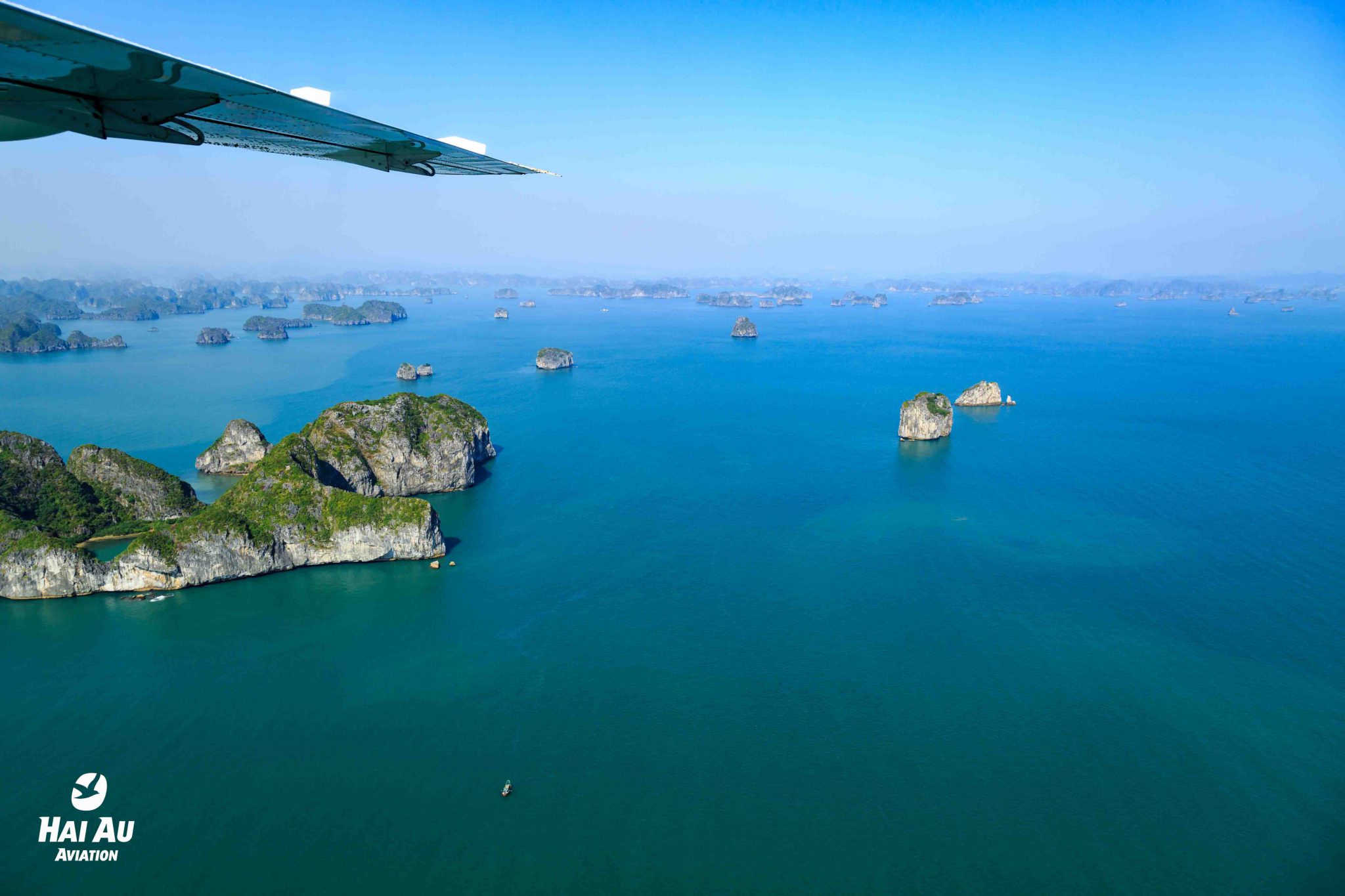 Shortly after moving to Vietnam, I decided to plan a peaceful, out of the city quick trip.  I chose to visit Ha Long Bay with a quick one-night stop in Hanoi.
To get to Ha Long Bay, you will first need to get to Hanoi.  While there are plentiful options for transportation, I chose to travel by Hai Au's scenic seaplane tour. Therefore, I could get a good aerial view of the bay.
When you Google "Vietnam," you're almost always bound to have pictures of Ha Long Bay come up in your search. These images will fill you with wanderlust beyond belief.  The bay is an absolute must-see, and I wanted to see it from a different angle.  Now that I had my transportation set, I was ready for my big adventure!
DAY 1: ENJOY THE MAGNIFICENT VIEWS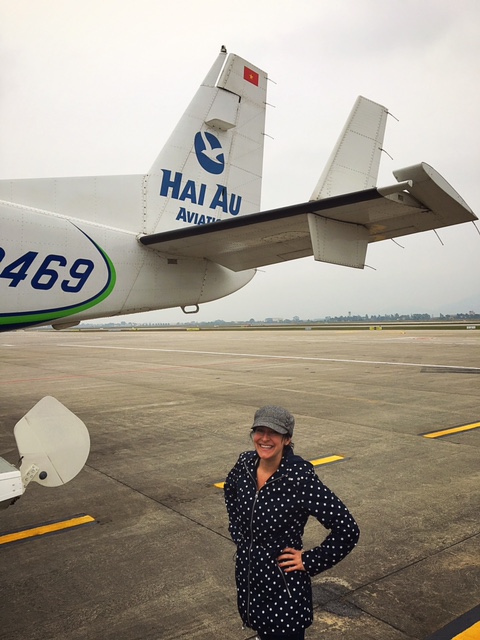 Travel day arrived, and I greeted it with my new favorite, a Vietnamese coffee.  I spent most of the morning, and my hour long Uber ride to the airport, thinking about the fun flight ahead, as well as what I wanted to do with my two short days in Ha Long Bay.  With a few ideas in mind, I decided I would finalize plans upon arrival after I talked with local excursion companies.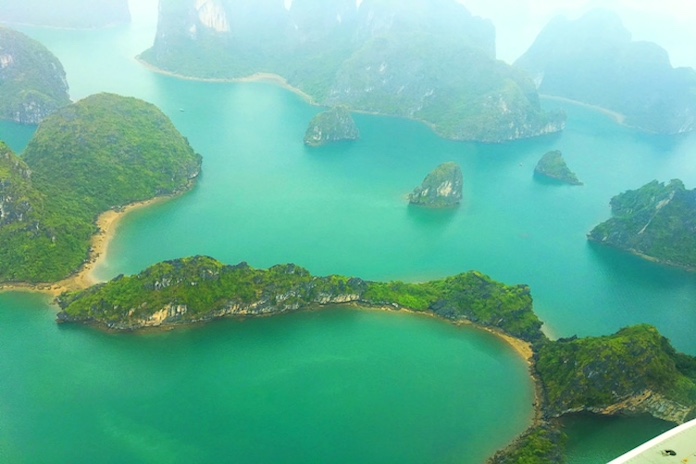 Until then, I planned to sit back and enjoy the flight and its magnificent views. (If you ever have the chance to ride on a seaplane, don't hesitate – book it!  There's nothing else like it.)  I don't know about you, but the thrill of a water landing excited me since it was something I'd never done before.
The scenic flight gets you to Ha Long Bay in a quick 45-minutes, plus a 15-minute tour up close and personal around the bay. The Hai Au Aviation staff is friendly and makes your flight a memorable one.  What better way to arrive in style than with a splash landing in radiant turquoise waters?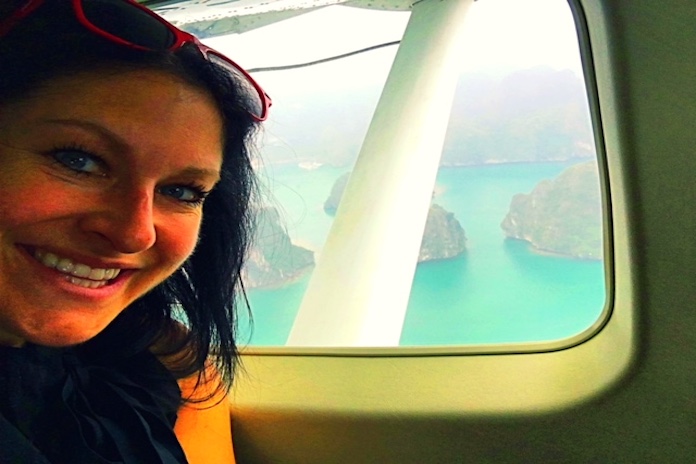 Hai Au Aviation operates out of Noi Bai International Airport, the closest airport near Ha Long Bay, Vietnam; and offers daily flight times, as well as charter and tour package options.  Worth every penny, you'll experience the best aviation in Vietnam.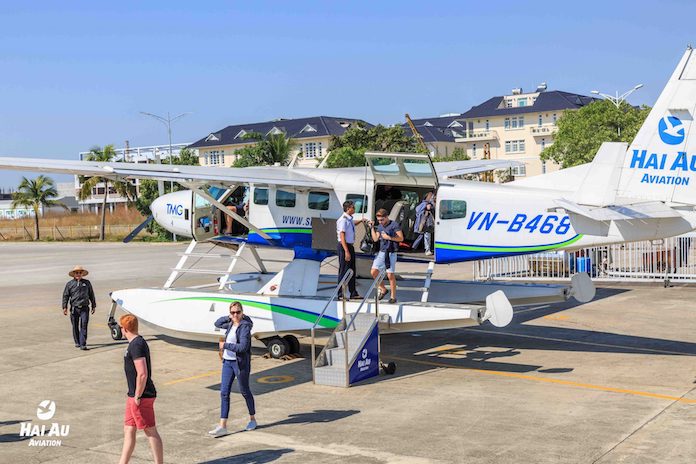 When we landed in the bay, I finalized the activities I wanted to pursue and headed to my accommodation to change, lock in my next day plans and get back out the door to explore. I walked the streets for a while, wandering aimlessly, but taking in every little bit of culture.
Fortunately, I discovered a market where vendors were selling street food including seafood dishes, fresh fruit and Pho. I also purchased a handful of items, which I'd cook for dinner at some point.
All of the scents from the market made me hungry and drove me into the first café I spotted. I noshed on a late lunch of beef stir-fry, a good dish to warm me up on this brisk afternoon.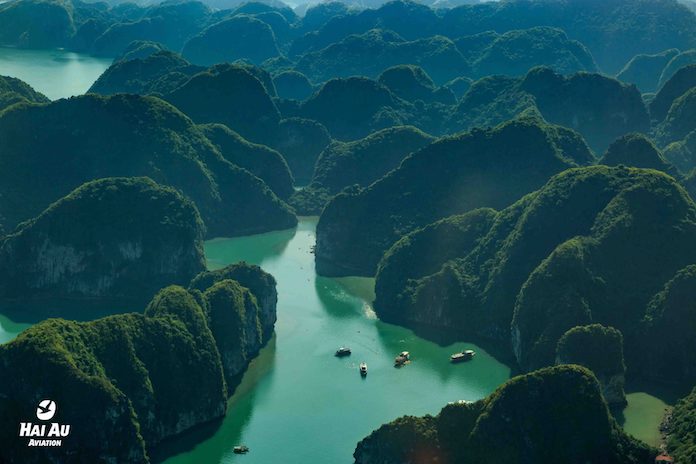 Not too long after lunch, it started to rain, so it was back to my Air B&B to work the remainder of the evening and prepare for the one-day cruise I booked through Ha Binh Cruises.
You're probably wondering why I brought my work with me to such a beautiful destination.  After all, I am in Ha Long Bay. The beauty of travel writing is that it allows me to work on the go from all over the world. No complaints here!
Tips
One thing to note if you're traveling to Ha Long Bay this time of year, bring warm clothes for layering as it can be chilly. While you'll find it to be more hot and humid between April and September, you can expect October through March to be dry, but also chilly at times, especially if you're on the water moving at a fast speed.
DAY 2: ONE DAY CRUISE HALONG BAY
Revived and ready to go after an early morning wake up call and pick up by Ha Binh Cruises, I boarded the bus that would take me to the Tuan Chau Marina where we would set sail. The 6-hour cruise I booked included the things I wanted to see and do: kayaking, floating villages and the Thien Cung Cave.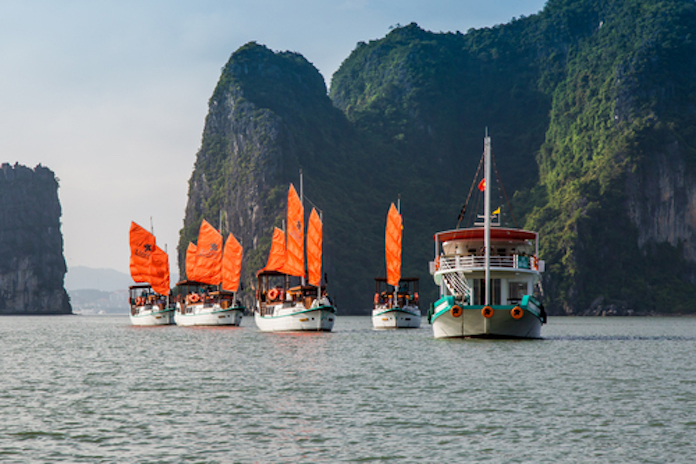 The first, and maybe my favorite, stop on the cruise was to Thien Cung Cave. Beautifully lit, this cave's ambiance is one to be unmatched against any other cave I've seen. You'll walk the guided concrete paths while taking in the stunning rock formations and natural beauty that lies within.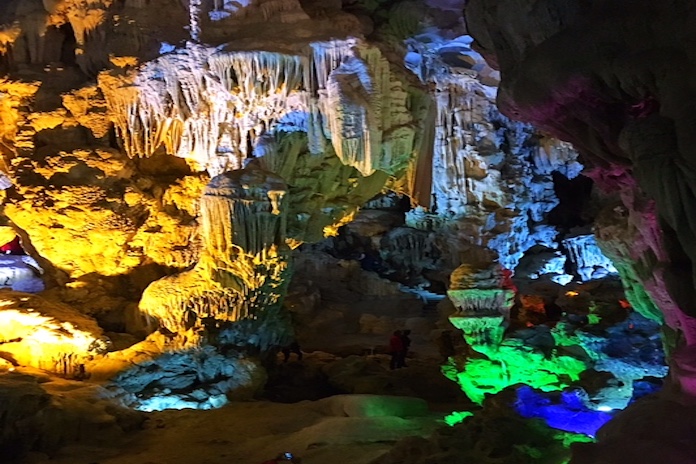 My other favorite stop on the cruise was for us to go kayaking. But I didn't realize it would be within the Ba Hang floating villages!  It was the most fantastic time.  For a small fee, Ha Binh offers the option to self-paddle a kayak or ride in a bamboo boat while having a local lead the way.
I chose to paddle in and out of the boat villages for a closer look at the way these locals live.  While you're floating by, you notice the simplicity of the floating village lifestyle – and it is fascinating.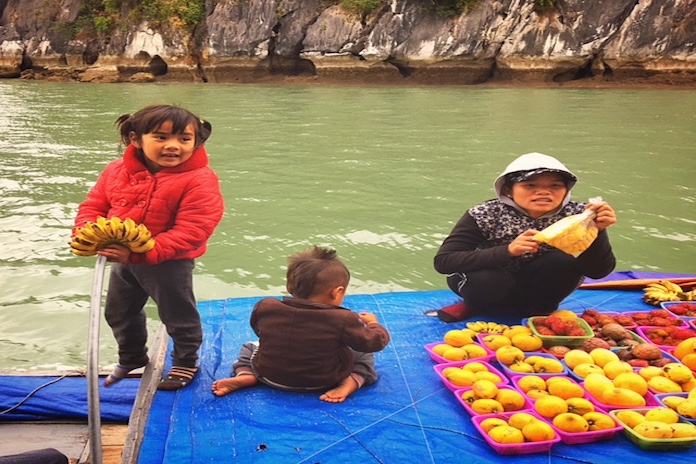 The remainder of the afternoon on the boat consisted of a family-style lunch, mingling with other fellow travelers and cruising on the water while taking stock of the main islands as we'd pass by, occasionally stopping to visit a few.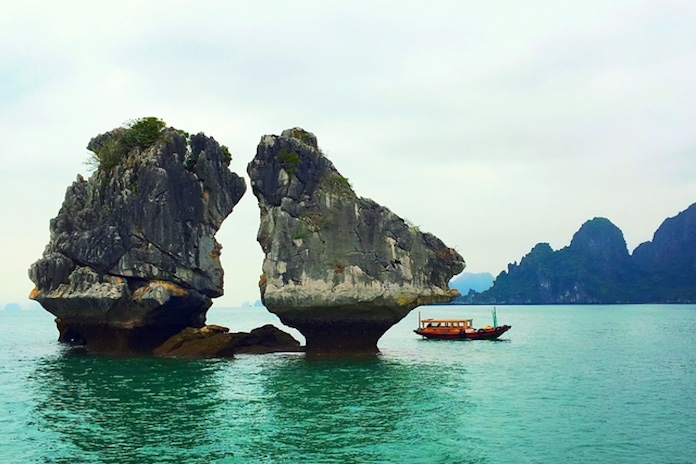 One of the best parts about traveling is meeting other like-minded individuals from all over the world. In the travel time between destinations throughout the day, I had the chance to converse with many individual.
All shared their personal backgrounds, travel history and reason for this particular visit to Ha Long Bay.  I thoroughly enjoyed hearing about each person's life journey.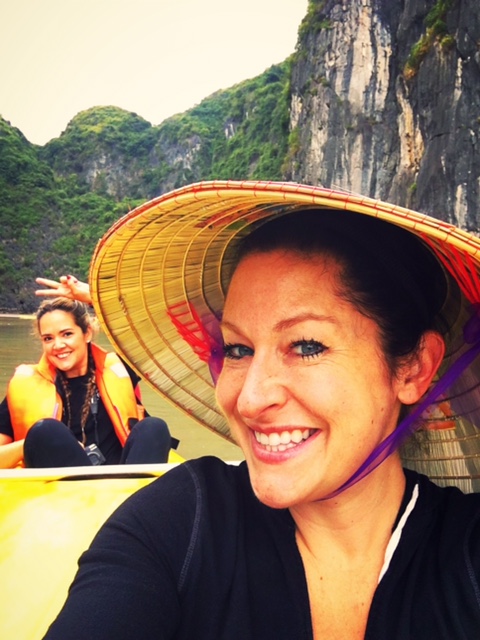 As our day concluded, I realized how much activity I was able to fit into one day. Man, I certainly got a lot done, didn't I? Somehow, I was starting to get hungry again.  It must have been all that hard work paddling through the bay. I thanked myself for buying goods for dinner at the market the day prior. So by the time the shuttle dropped me off, I was tired from the big day I'd had.
This good 'ole day deserved a glass of wine. After all, this trip had been a major success.  Who says you can't do a lot in two days time? With that, I whipped up a tasty and easy pizza made with fresh local ingredients and raised a glass to the fact that I had a magnificent time. 
The next morning, with only a few expendable hours before my return seaplane flight, I stopped at the café around the corner from where I was staying.  As it turns out, there were a few English-speaking locals. They were interested in my profession, and we chatted briefly about work over matcha lattes.
The time had come for me to say goodbye to Ha Long Bay. With reluctance for leaving this exquisite city and World Heritage site, I boarded my flight.  At least I would be able to enjoy the extraordinary views one last time before flying back to Hanoi.
This is, and always will be, a trip to remember.