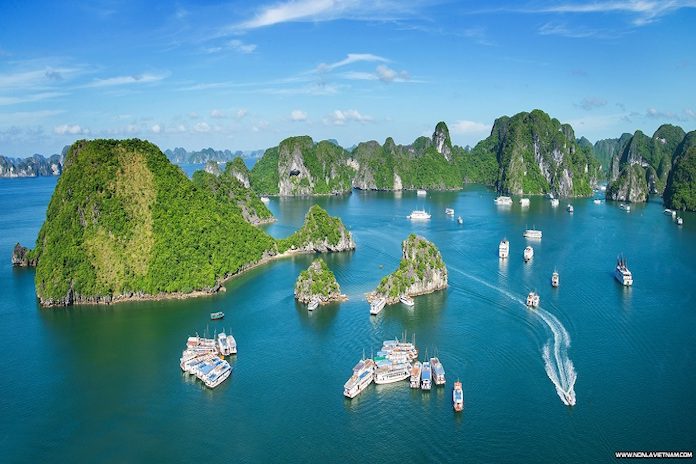 A Halong Bay weekend getaway is one of the most ideal plans. Whether you are touring the Southeast Asian landscape for weeks on end or setting your sights on Hanoi and Halong Bay in particular, this Unesco World Heritage site is a must-see.
There are many options for visiting Halong Bay, but when planning a short weekend trip, it is necessary to organize and prioritize. The two main ways of enjoying a quick stay in this stunning area of Vietnam include one night in a hotel or one night on a traditional cruise ship.
Both options have their benefits and are suitable for different kinds of travelers. Detailed below are two optimal itineraries for a wonderful weekend in Halong Bay.
CHOOSE CRUISE 2D1N TOUR IN HALONG BAY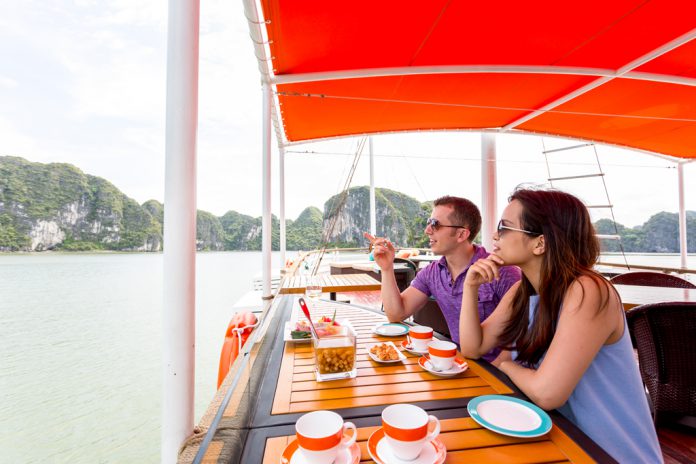 A 2-day cruise is one of the most popular and time-efficient ways of exploring Halong Bay. You get the opportunity to sail through the brilliant blue seas and witness some of the main tourist highlights without having to do much legwork. You will be taken from point A to point B, all of your meals are included and your itinerary is set in stone.
Who should take this option?
This tour is perfect for the traveler who would like to get the guide around the bay. While you will have to do some research in choosing a cruise, once you are on board you don't have to worry about where you go, what you will eat or what you want to do.
Everything is pre-planned and designed for you to see as much of Halong Bay as you can in a limited time. Cruises are geared toward anything from romance to family to parties. It is pretty much ideal for almost any traveler who doesn't mind a set itinerary.
What is included?
Halong Bay Cruises are notable for certain features. They normally include transport to and from Hanoi, meals, some drinks, accommodation, entertainment and excursions.
It is essentially an all-in-one package deal to see the most renowned parts of Halong Bay. You will most likely be picked up early from Hanoi and then shuttled to Halong Bay.
This transfer normally takes place in a car or shuttle bus, though there are fancier options including things like flying in a seaplane.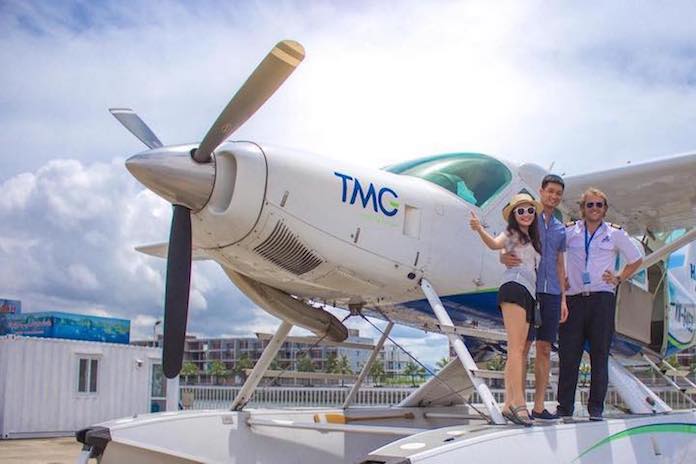 Many tours include welcome drinks on board your vessel or traditional junk boat, after which you will begin to tour the bay. Stops include various limestone caves, beaches and traditional floating villages.
Most cruises allow time for kayaking, swimming and other water sports. You will have traditional Vietnamese or International fare for your meals and participate in  several onboard activities such as cooking classes, tai chi, and squid fishing.
When to take?
The high season for international tourism is during the winter months from November to December whereas high season for domestic travel is during the summertime. Months like September, November to March and May are ideal for weather, when you will be able to avoid the wet season.
Fortunately, Halong Bay cruises run throughout the year almost every day of the week. No matter when you are planning your trip to Vietnam, there is sure to be a cruise option available to book.
It can certainly be nice to avoid the prime tourism months when the already packed bay is overflowing. Despite tourist traffic, however, there will always be cruise available.
Going where?
Halong Bay is a relatively small area of Southeast Asia. Cruises generally tour through the Halong Bay and Bai Tu Long Bay regions. The latter is considered a more "off the beaten path" destination.
It is generally touristy anywhere you go in the area, though some beaches and islets are less populated than others. By booking a cruise, you are obliged to venture into the areas preset by the itinerary. These will include various limestones caves, popular beaches and floating villages.
How much?
One of the best parts about a cruise through Halong Bay is that there is a large range of price options available. There are cruises for the budget traveler as well as the luxury tourist and all manner in between.
If you have a pack of rowdy kids by your side or are backpacking on your own, cruises are by far the most economical choice around.
While you can find cruises offered for less than $100, it is generally advisable to go up a bracket and choose between one of the many options offered between $100-150. If you have interest in additional luxury, the price can go as high as you wish.
The Upside and Downside?
Cruises are generally one of the best ways to experience Halong Bay for a quick weekend away. You will see many of the most popular sights, get a taste of local culture. However, there are a few downsides.
You will want to investigate your cruise options so that your boat is safe, reputable and provides everything you require. Because Halong Bay is a prime tourist destination, you are likely to be doing all of the same activities as every other tourist out on the bay.
There are many itineraries to pick from but you have far less flexibility than if you were choosing your own adventure. A cruise is definitely not the best idea for a traveler looking to escape the traditional tourist path.
Check out our Cruise Tours with Emeraude/ L'Azalee Cruise
CHOOSE A NIGHT AT A HOTEL AND DAY CRUISE TOUR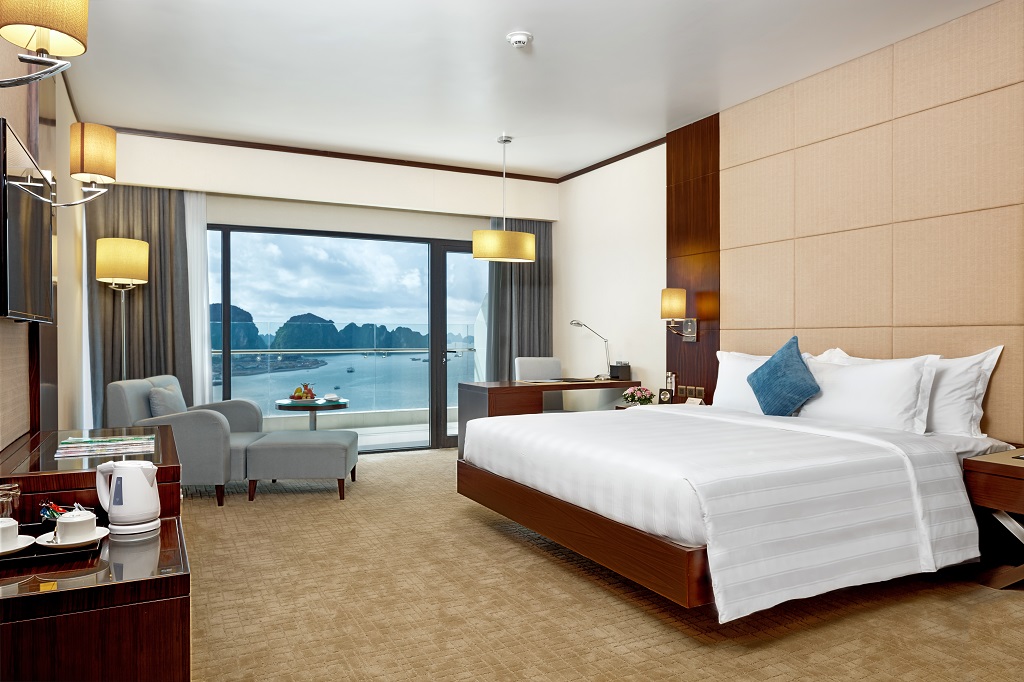 Cruises are not the only option in Halong Bay, nor are they the best option for all. Travelers looking for a more flexible itinerary with a sturdier home base may want to book a hotel instead. To fully take advantage of all that Halong Bay has to offer, a hotel with an additional day cruise can be an ideal choice for people in search of tourism combined with tranquility.
Who should take this option?
Staying in a hotel has many advantages, specifically for certain types of travelers. Business people in town for a conference, tourists attending events in the area, or even seasick passengers had better stay away from cruise ships for too long.
There are several hotels in Halong Bay that cater to the luxurious surroundings and offer a comfortable destination for travelers on the go. Many cruise lines offer one-day tours and some even promote half-day tours, meaning that you can still fit in a bit of tourism despite your already busy schedule.
For those tourists who don't have much fear for seafaring or are physically incapable of boarding a boat, a hotel will still allow you to enjoy Halong Bay.
What is included?
Not everyone wants to spend their entire trip to Halong Bay at sea. If you have specific reasons for being a landlubber, there are many hotels available. You can book one night in a hotel and a full day cruise separately or sign up for a pre-existing package that includes both.
Hai Au Aviation, for example, pairs their spectacular seaplane service one way from Hanoi to Halong Bay where you will stay for one night in at the Wyndham Legend. You can add a full day tour through L'Azalée Cruise line and have the best of both worlds at your fingertips.
You will be able to catch the hot spots of Halong Bay on a limited time schedule while still enjoying the luxury of a 5-star hotel.
When to do?
Hotels get less influence from weather conditions so you can easily book this form of accommodation all year round. With events and business engagements occurring nonstop, hotels are ready and waiting to receive you and your travel companions.
If you are heading to Halong Bay for tourism, the best months are still in the winter from November to December. However, without the worry of longer stays on board a ship, it is easier to plan.
It is still better to avoid the wetter months if you would like to see the karsts and beaches at their best, but a luxury hotel usually makes up for any weather trials.
Where?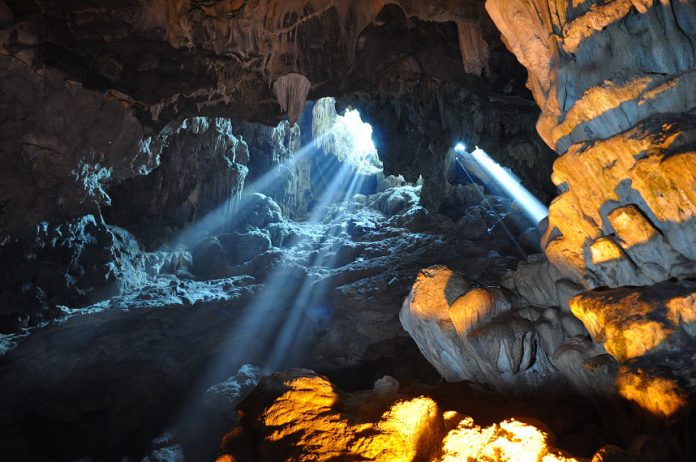 Halong City is a petite metropolis. Waterfront property is sparse and therefore coveted by landowners so that they can boast rooms with a breathtaking view. There are also several full-day or half-day tours through many cruise lines in Halong Bay.
These tours will generally give you a glimpse into the highlights of Halong Bay, including notable limestone caves, perhaps a floating fishing village and an hour or two of swimming or kayaking. It's a wonderful quick taste of the area for a perfect weekend by the sea.
How Much?
Hotels rates can vary vastly just as cruises do but you can also book them at wonderful prices. Rates can range from $50 per night to $250. Just as with the wide range of cruises out there, hotels will accommodate all manner of traveler.
One-day cruises have the same price. Most decent options will cost around $100 for a full day cruise. When combined with a package deal, this rate may decrease. The more luxuries and perks that you want to add to your package, the more expensive they can become.
All in all, you will most likely spend more money when combining a hotel with a day cruise option than when you book a two-night cruise out at sea. Once again, this allows for more flexibility and independence than a pre-planned cruise itinerary, but comes at a cost.
The Upside and Downside?
One night in a hotel plus one-day cruise through Halong bay will allow you the opportunity to see the many wonders of Halong Bay with the added bonus of flexibility and independence.
Business people and travelers with a specific agenda will find that this option gives them the opportunity to explore Halong Bay on their own terms, with a few hours of guided tourism.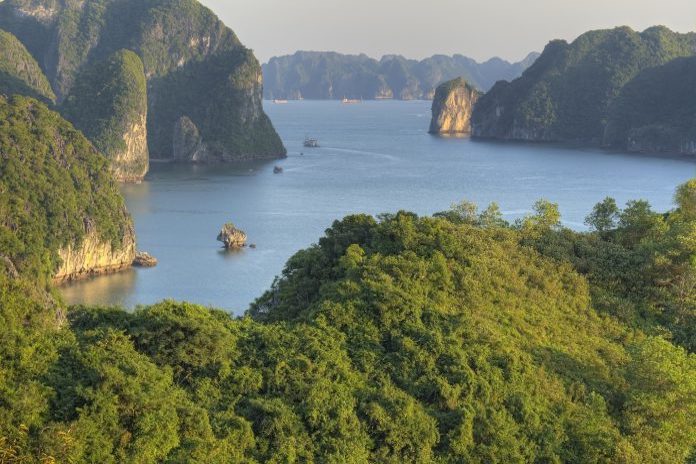 However, you will not be able to see as many of the fantastic spots that you could see in a weekend if you were floating the seas of Halong Bay the whole time. It is generally a more expensive route, though there are many deals that might fit perfectly into your schedule and financial plan. You may miss out on some traditional hot spots due to such a short stay in Halong Bay.
There are amazing adventures ready and waiting for all weekend Halong Bay travelers. Southeast Asia is a veritable Utopia for anyone touring Vietnam, whether it be a few days or a few weeks or months.
Whether it be a night in a hotel overlooking the bay or a cruise floating atop the sea, a weekend in Halong Bay is always a magical experience overall.
While there is an infinite amount of itineraries available to all manner of voyager, these are two foolproof options that a large amount of tourists choose. Visit Hai Au Aviation for more great options.