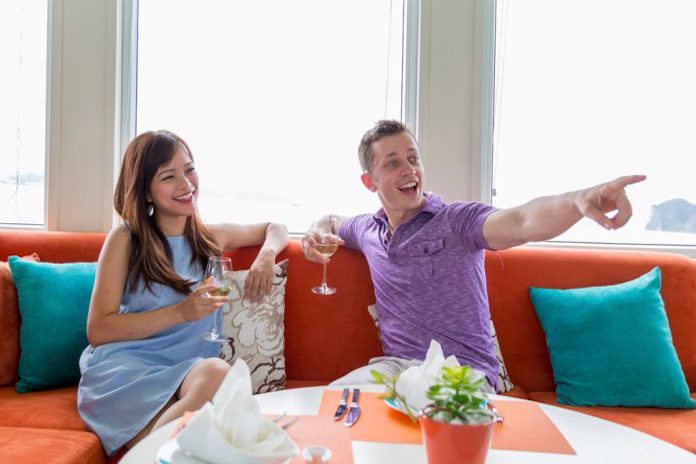 GUIDE TO CHOOSING THE BEST HALONG BAY DAY CRUISE THIS 2021 
Halong Bay is full of adventure, romance, glamour, and tranquility. It's no wonder that this stunning piece of Southeast Asia has been the site for endless amounts of films looking to find a panoramic backdrop filled with magical seascapes.
From the limestone caves to the floating villages to the sandy hidden beaches, it is a perfect paradise for panoramic backdrops. No matter what kind of traveler you are, there is something to entice and intrigue in this stunning Unesco World Heritage Sight, tucked in the beautiful seas of Vietnam.
One of the best ways to experience the charms of the bay is by booking a cruise to explore the deeper layers of Halong Bay and see the sites up close. For those without the time or resources to spend more than one day in Halong Bay, there are abundant full day cruises offered by all manner of companies. A full day cruise is one of the very best ways to get a quick glimpse into the beauty and charm of Vietnam.
Take a look at some of the best Halong Bay day cruises of 2021.
BEST HALONG BAY DAY CRUISE FOR THE SEASCAPE – L'Azalee Day Cruise & Seaplanes Flight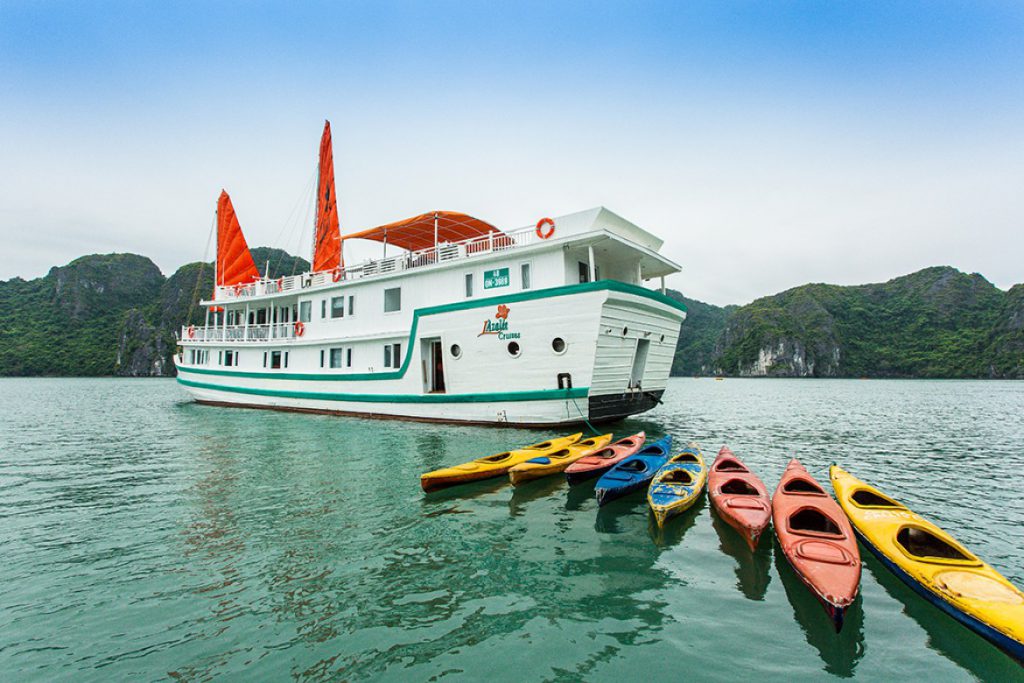 For those looking to see amazing views from above as well as below, Hai Au Aviation's Seaplane Flight and L'Azalée Day Cruise is the one for you. Instead of taking a 4 hour bus or car ride to and from Halong Bay, take advantage of this amazing opportunity to soar through the clouds on one leg of your ride.
Some may choose to begin their journey with this decadent flight and be privy to a birdseye view of Halong Bay before landing and boarding your cruise by flight from Hanoi to Halong Bay. Others may prefer to end their day lounging in the glamour of a seaplane, saying goodbye to their spectacular experience of the bay while cruising high in the sky on the way back.
L'Azalée is a prime cruise line offering quality service at reasonable costs. In between seaplane rides and shuttle bus journeys, you will enjoy a Vietnamese-style buffet lunch and wander around the typical sights of Halong Bay, from Cock Fighting Island to Ba Hang Floating village to Thien Cung Cave. For those with a mind for landscape and panoramas, this is the tour for you.
BEST HALONG BAY DAY CRUISE FOR THE FAMILY – Pelican Halong Cruises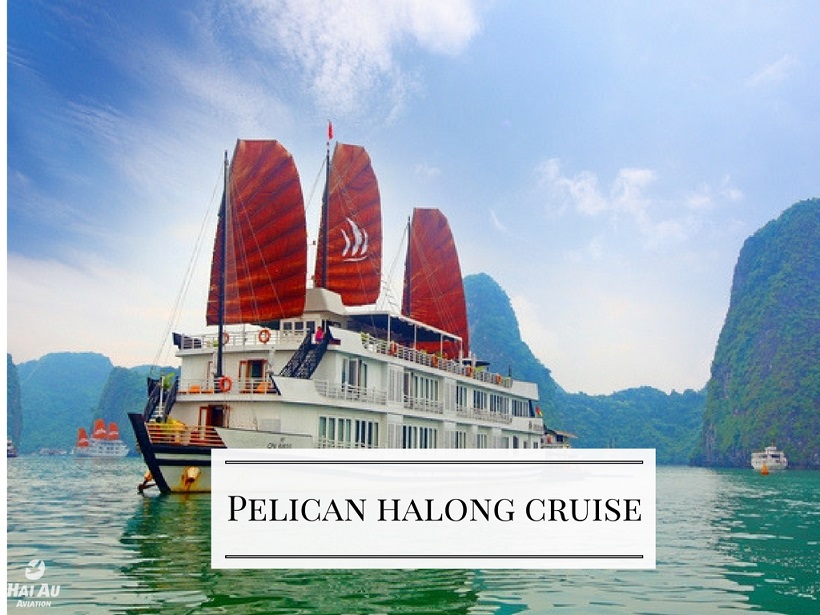 The first Halong Bay day cruise on our list is organized by Pelican Halong Cruises. While there are many options for day cruises in Halong Bay, this one stands out due to its affordability and summarized Halong Bay experience.
Itinerary
Your family will be picked up at your hotel at 8 am, eliminating any public transportation or need for running around town. You will then enjoy a 4-hour scenic drive through the countryside of Vietnam before arriving at Bai Chay Harbour. After a satisfying seafood lunch, you will board the vessel and cruise around Halong Bay for the next four hours, seeing sights such as a local fishing village, limestone caves, and grottoes.
By the end of the day, you will have culture and history to talk about for ages, the perfect way to share a moment with your family. This tour is quick and efficient, giving you a traditional overview of Halong Bay without any fuss and at a great rate for you and your loved ones.
BEST HALONG BAY DAY CRUISE FOR THE MATURE – Annam Junk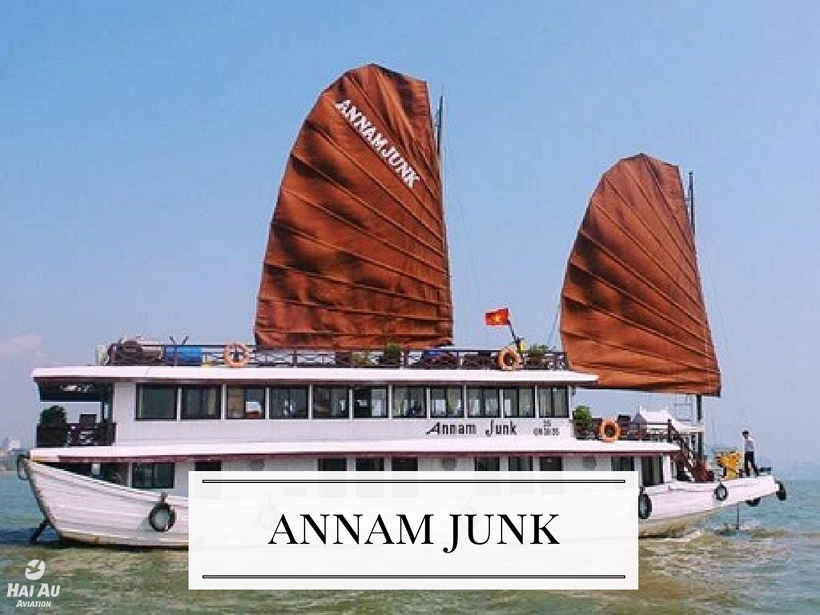 Annam Junk offers a similar itinerary to the others we've listed so far, but with the added bonus of just a touch of sophistication. While still open to families and friends alike, this is a good tour for adult couples who are looking for something simple and straightforward in a small sized boat.
Enjoy a sumptuous seafood lunch while looking through the windows of this elegant boat and the seascapes around.
Explore the Thien Cung and Dau Go Caves, amongst other karsts and caves of the bay
Take advantage of the other groups and couples lining the decks and make some memories for you all to take home together.
Converse about your adventures across the globe and muse over the beautiful sights of the day. The price remains in a moderate zone so you will cruise around worry-free as the junk boat sails glimmer in the breeze above.
BEST HALONG BAY DAY CRUISE FOR SMALL GROUP OF FRIENDS – Alova Day Cruise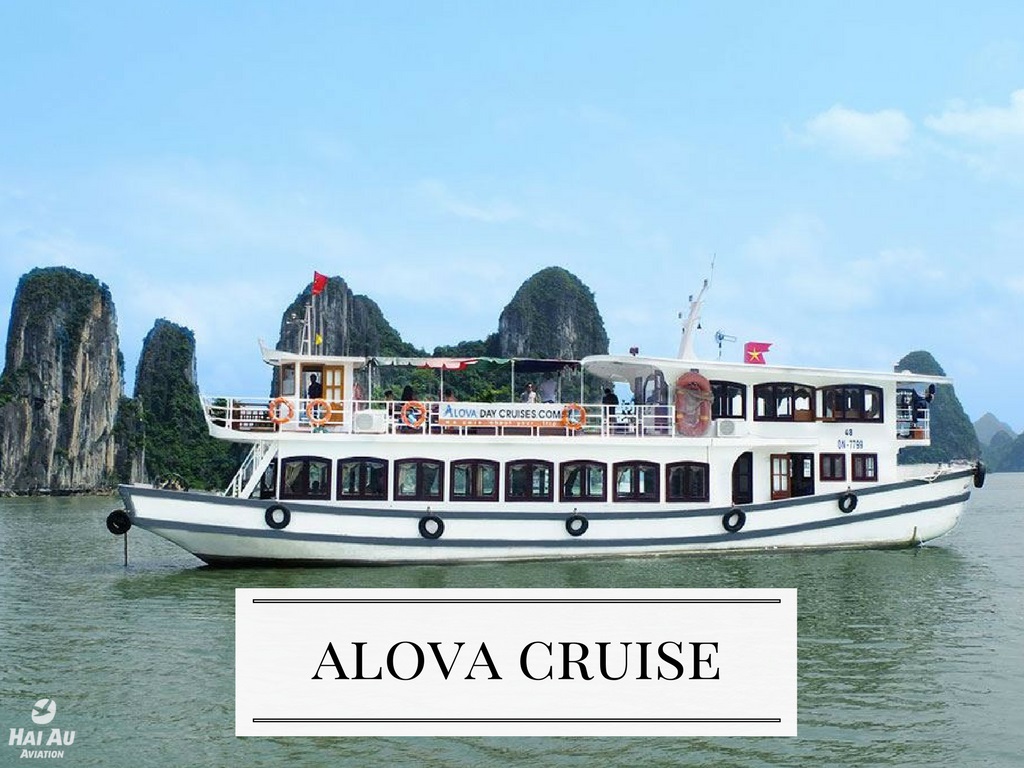 Traveling around Halong Bay with your friends means being on the lookout for tours and experiences that will easily accommodate. Alova Day Cruise offers medium sized boats with cozy interiors, perfect for small groups of tourists.
Along with their typical list of Halong Bay sights and sounds, Alova also offers a welcome drink with fresh fruit, in addition to two bottles of water per person. You will feel utterly indulged as you visit Thien Cung Cave and all the other grottoes in the bay. Since the cost of the tour itself is at the lower end of the spectrum, this tour is great for groups of any age or size looking to find good value during their one day cruising the bay.
You will be able to all fit on this vessel and enjoy the scenery as you make your way around Halong and see the wonders above and below the sea. Though the boat is not in the traditional junk style, it makes up for it with personality and pizazz.
BEST HALONG BAY DAY TRIP FOR THE ROMANTIC – Signature Cruise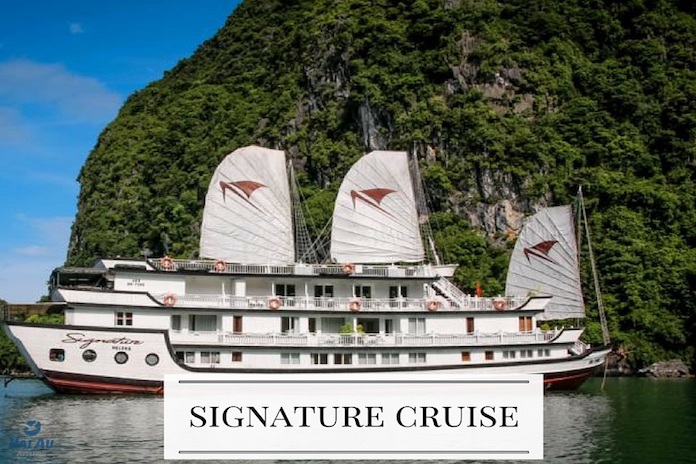 Signature Cruise, which is one of the top 10 most recommended cruises in 2016, is renowned for their luxurious junk boats and romantic atmosphere. This unique cruise offers intimate experiences that will make any pair of love birds swoon.
You will be given a signature seafood lunch as you embark on a tour through Bai Tu Long Bay and drink in the magical surroundings. Bai Tu Long Bay boasts a few less touristy sights such as Oan Lagoon, Teapot and Monster Head Islet. Rather than taking a group boat to the caves, try out a romantic kayak for two. Paddle to some of the more hidden passages and cozy up by the karsts for a moment or two.
Take the time to learn a little bit about Vietnamese cuisine by taking part in the cooking classes given on board. Finally, find yourself enchanted by the stunning Halong Bay sunset as you sip cocktails and sail back to shore.
BEST HALONG BAY DAY TOURS FOR THE BUSINESS PERSON – Indochina Junk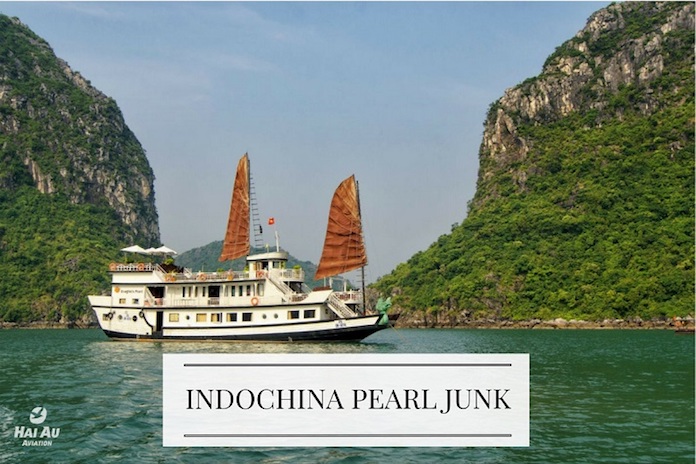 Of all the traditional junk boats gliding around Halong Bay, Indochina Junk prides itself on being one of the best. Somewhat different than the other tour company options, Indochina Junk offers a choice between a morning or an afternoon tour.
This gives more flexibility to those travelers who really don't have the time to explore Halong Bay for more than a few hours. Perhaps you are a business person staying in Halong and only have a quick morning before meetings to jettison out into the perfect blue waters. No matter which time of day, you will spend some time in the Cong Do area, kayaking to explore Thien Canh Son cave.
Since transportation to and from the bay is an added expense, the price ends up on the higher end for those coming from a further distance. This tour is best for people already staying in Halong Bay and looking for a way to see the breathtaking sights. But for those travelers with the resources to oblige, this tour is a great opportunity to see the beauties of Halong Bay in a very limited time.
BEST HALONG BAY DAY CRUISE FOR THE BUDGET – Halong Phoenix Cruiser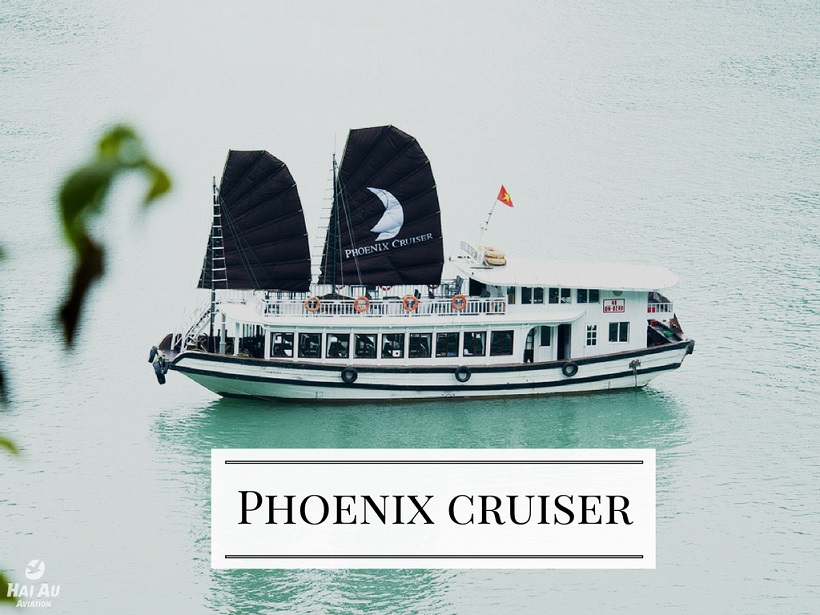 While there are many good deals lining the seas of Halong Bay, Halong Phoenix Cruiser is considered one of the best values. Whether it's a one, two or three-day tour, Phoenix Cruiser keeps the expenses at bay while you sail around Halong.
Their one-day tour takes place on a traditional junk boat and follows a traditional itinerary. You will see the stalagmites and stalactites sprinkled throughout the caves and grottoes, exploring Duck, Swan and all the other islands with magical names. You will also get the opportunity to try a daring kayak adventure. Whether this is your first time or you're an experienced kayaker, it's still a thrill to paddle through the glittering rocks.
You'll be able to take some of the exotic photos that probably seduced you to Halong Bay in the first place. By day's end, you won't have a single regret in your choice to cruise along Halong Bay.
BEST HALONG BAY DAY CRUISE FOR THE LUXURIOUS – Paradise Cruise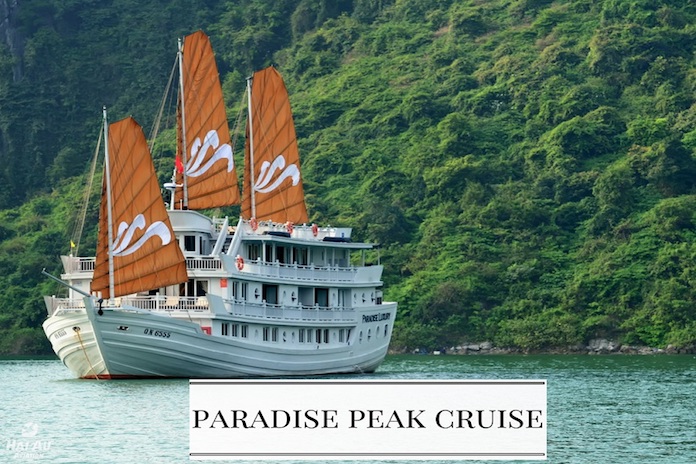 Paradise Cruise has a reputation for decadence and fine dining. Their boats are large and luxurious with a sprawling deck offering wonderful views of the bay around. Paradise also provides a choice of either a half-day or a full-day tour, once again considering the options of travelers with limited time.
On either tour, you will be treated to lunch and the delights of several sights to feast upon.
If you book the half-day cruise, you will see Soi Sim Beach, Coconut Tree Island, and Cua Van Floating Village.
If you choose the full day option, you will also stop at Titov Island and have various water sports and activities to choose from, including climbing to the top of the mountain for even more spectacular views.
This cruise line is marketed for the luxurious and therefore not considered the least expensive. However, for those searching for something special, you've come to the right place.
BEST HALONG BAY DAY TOUR FOR SOLO TRAVELERS – V' Spirit Cruise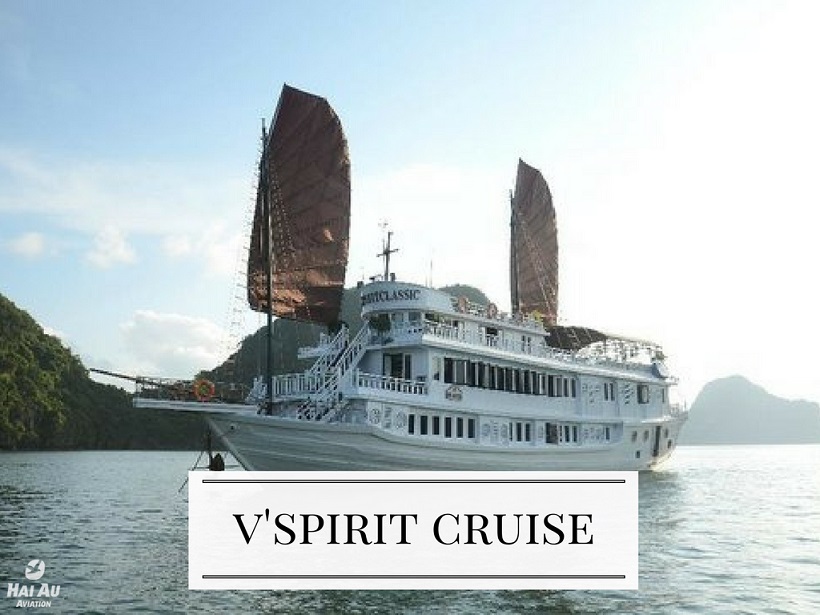 There are many different options for solo travelers in Halong Bay. Depending on your time frame and budget, you may want to try out a day cruise that will hit the highlights without leaving you broke.
V'Spirit Cruises offers a traditional junk day cruise that will give you what you are looking for and allow you the chance to see Halong Bay in the comfort of a cozy cruise. You can try out a kayak or perhaps get to know some new people on a bamboo boat as you weave through the floating villages and pass by the Dog Stone and Burning Incense Islet. By mixing with the locals, your craving for culture will be perfectly satisfied.
This cruise also offers a seafood lunch, two bottles of water, a welcome drink and fresh fruit. For those looking to have some fun and not spend a lot, this tour is a fantastic choice.
BEST HALONG BAY DAY TOUR FOR BACKPACKERS – Flamingo Cruise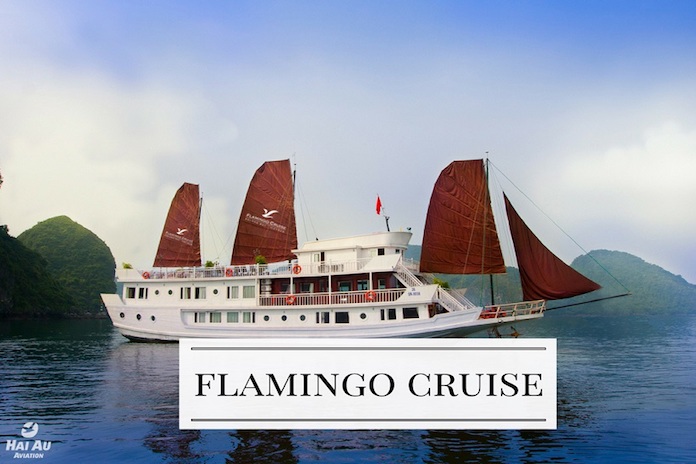 Most backpackers traveling the globe are looking to see the sights, get into the real culture of the environment, and do so without too much extravagance. They are interested in spontaneity and seeing the local scenery up close.
Flamingo Cruises has one of the cheapest rates around without missing out on any of the typical Halong Bay must-dos. You will get your traditional lunch, your opportunity to kayak on the open seas and your time to explore the grandeur of the caves and grottoes. You'll cruise around  Tuan Chau Island, Dinh Huong Island, and Dog Island to name a few.
Don't forget the traditional fishing village, giving you a glimpse into the local culture and inhabitants of Halong Bay. While this tour doesn't have the same perks as some of the other tours, it is by far one of the most affordable around.
ENJOY YOUR BEST DAY CRUISE IN HALONG BAY!
Through the limestone caves, fishing villages, and emerald-colored seas of Halong Bay, cruise ships sail every day and all year long. It is one of the things that makes Halong Bay shine as a pillar of beauty and local culture in Southeast Asia. There are an astounding amount of options to choose from when deciding which cruise is best for you.
However, when you have only one day to throw yourself into the overwhelming number of things to see and do in this beautiful area of the world, quality, timing, and finances are the biggest things to consider.
TRAVEL WITH US
From the soaring seaplanes of Hai Au Aviation to the traditional junk boats of Indochina Junk to the romantic ambiance of Signature cruise, these are some of the best Halong Bay day cruises of 2021.