This March, my friends and I decided to register for a tour in Halong Bay and of course, wanted to see the real stunning view in "Kong: Skull Island".
ABOUT HALONG BAY
Halong Bay is a UNESCO world heritage site, The bay has emerald green water and over 2000 limestone islands dotting the landscape. The best way to experience the bay is by boat with many types of tour on the bay available, we chose a-2-day trip with Hai Au Aviation and L'Azalée Cruise
Price: US$ 459 for 2 days (INCLUDING Tax. entrance fees and tourist tickets)
You might think the price is a little bit higher compared to other tours, however, since the package included a scenic flight from Hanoi to Halong Bay, it's still worth the hype.
Halong Bay Cruise Review: 
PREPARE FOR YOUR TRIP
– Booking:
+ I booked the tour on this website
Booking through hotline is recommended because I found this web is a little bit hard to understand.
+ Summer is the most suitable period for travellers to enjoy the stunning view of Halong Bay from above.
– Get ready:
+ For this 2D1N tour, you only need the basic clothing option such as T-shirt, comfortable walking shoes, cardigan and sunglasses.
+ Games: Uno, poker or your favourite board games. During the trip, you can't access to wifi/3G to check what's happening in the virtual world. So make sure to create the most quality time with your loved ones.
+ Camera: you don't wanna miss any marvellous moments of Halong Bay
Brief Itinerary
Means of transport: + Hanoi – Halong: Seaplane: from Noi Bai International Airport (45 mins) to Tuan Chau Marina.
+ Halong – Hanoi: Shuttle bus (4 hours)
Accommodation: + L'Azalée Cruise, a 2-person room
Destinations & Activities:
Scheduled flight with Hai Au Aviation
Kayaking
Squid fishing
Sung Sot Cave
Pearl Farm
Titov Island
DETAILED ITINERARY
Day 1: Hanoi – Halong, Sung Sot Cave, Pearl Farm
By 8:30 am, company's bus picked us at 17 Ly Dao Thanh Street to Noi Bai International Airport.
It's really quick to get everything done, no need to queue for check-in.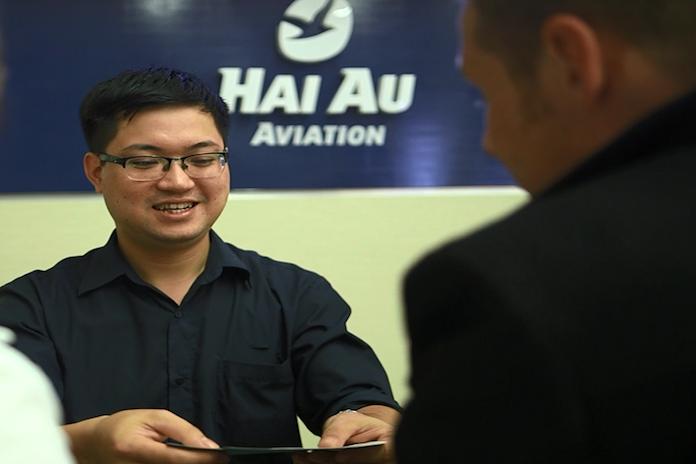 Fortunately, the weather was so fine that day, the sun was shining which gave us a stunning view of Halong Bay from above.
What I like about the journey is direct interaction with fantastic captain and co-pilot on board, they even took selfies with us…LOL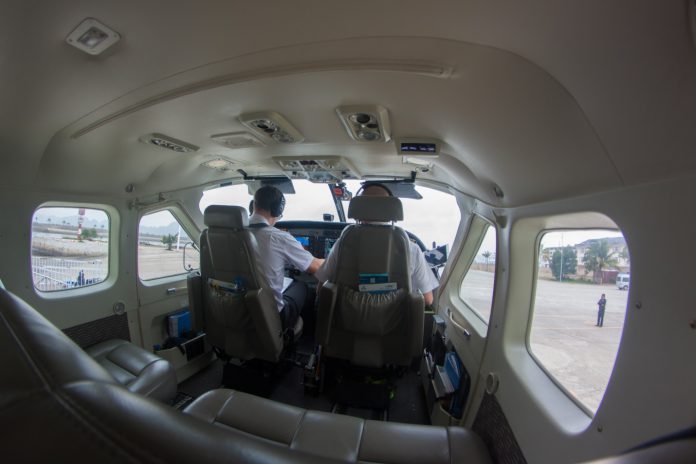 During 45 mins of the flight, you can use cell phones with GPRS to post status, picture or even live on Facebook or Instagram to check-in (Don't forget to tag Hai Au Aviation).
You may find it's a little bit shaky and noisy when flying with seaplane, however, it was still an amazing experience with spectacular scenery from the plane and very safe/ new aircraft.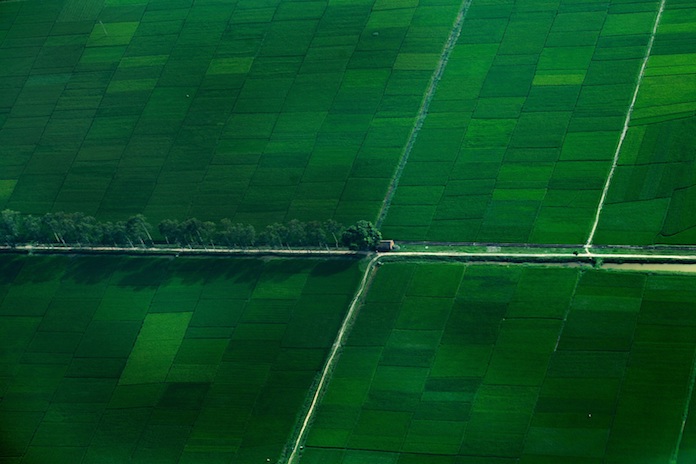 10:30: WELCOME TO HALONG BAY!!!
After 30 mins waiting, we were amazed by the breath-taking beauty of thousands of limestone karsts jutting up from the jade green waters of Halong.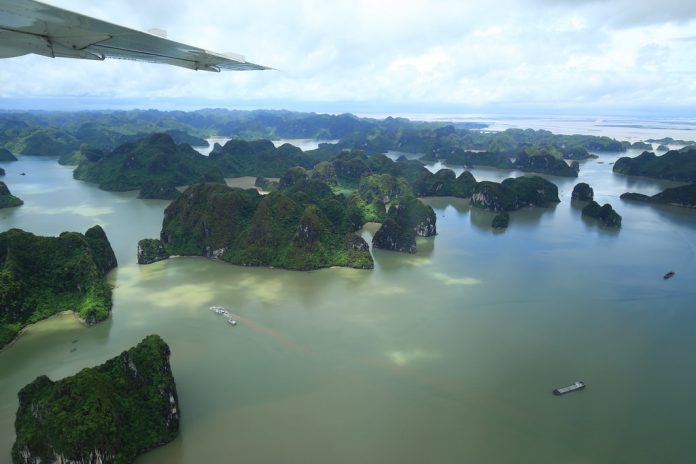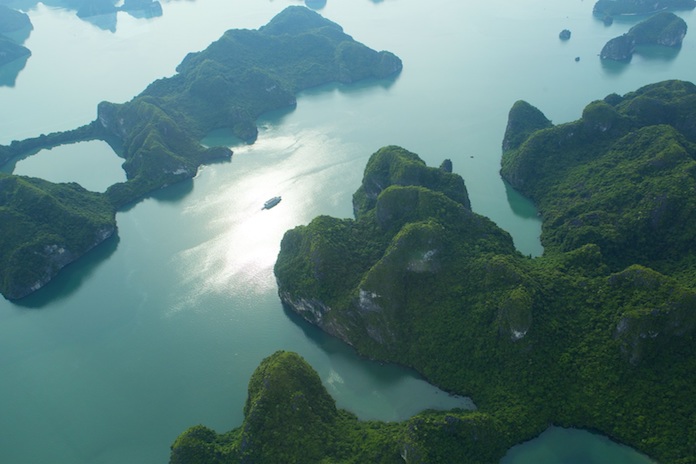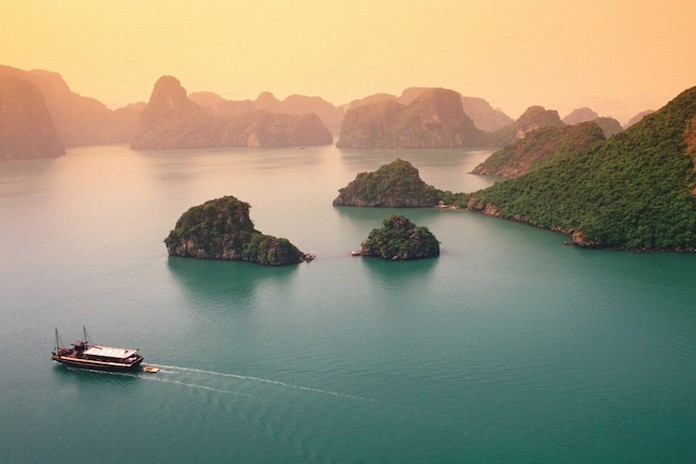 Stunning view of Halong Bay in "Kong: Skull Island" was right underneath. Make sure you capture all the best moments so you can come back home with a treasure chest full of amazing memories.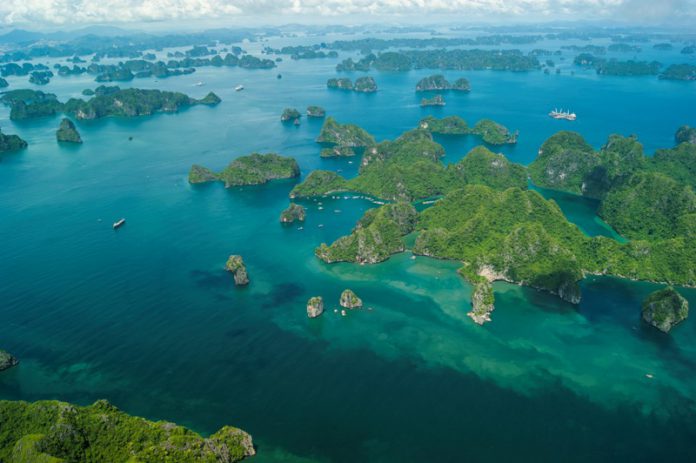 After a 15-minute scenic flight, we were amazed by the thrill of water landing at Tuan Chau Marina. Love it!
While waiting to check-in, we took advantage of the beautiful background at the port to take some pics.
WELCOME ON BOARD!
My first impression of L'Azalée Deluxe was the tone of colours on the boat: orange & turquoise.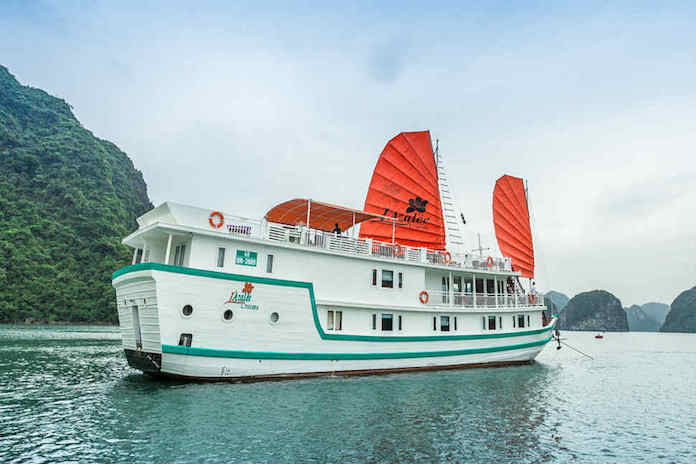 While other cruises prefer: light brown and white with classic style, I believe L'Azalee is chic, elegant and suitable for those who are young-at-heart.
Our room was surprisingly spacious with great natural light and offered every amenity we needed to make our stay comfortable.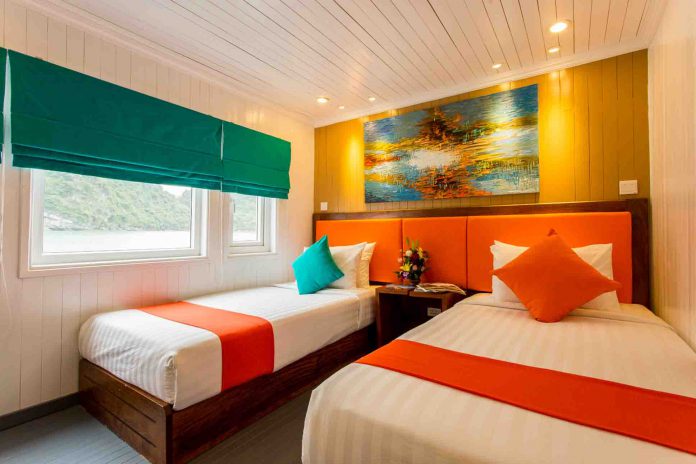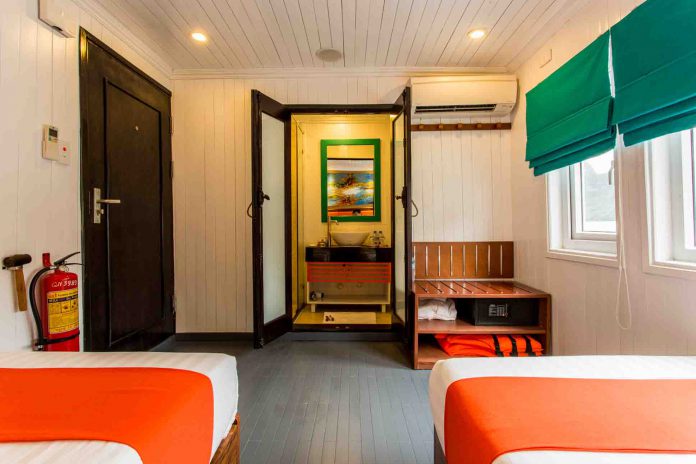 After experiencing our first lunch – a feast of mango salad, hot and sour seafood soup, sautéed squid,  and, my personal favourite, Vietnamese rice with spring rolls – we were hooked. I couldn't wait for the next meal. After an hour cruising, we were floating in the middle of the bay so that we cannot access to 3G or wifi. So, get ready to enjoy the real world and the once-in-a-lifetime experience.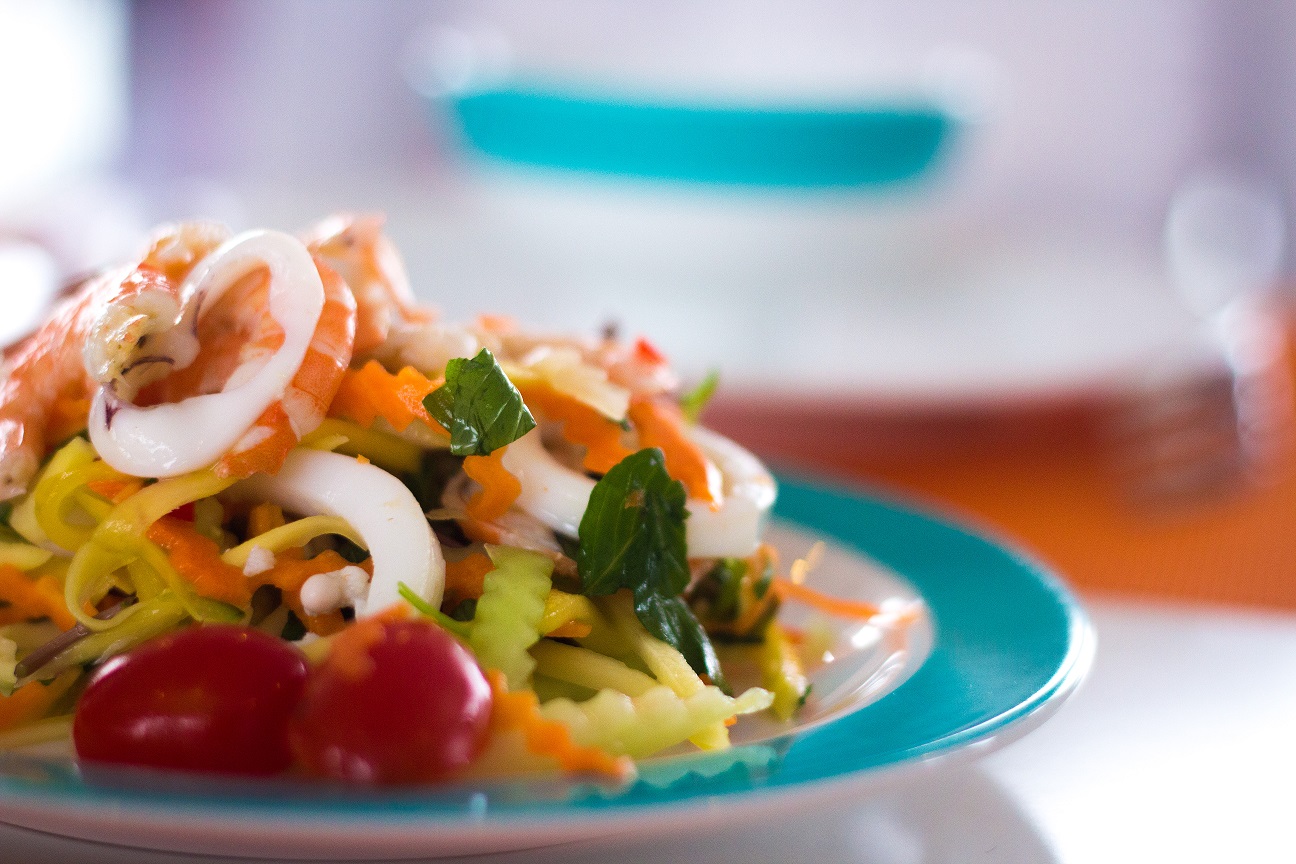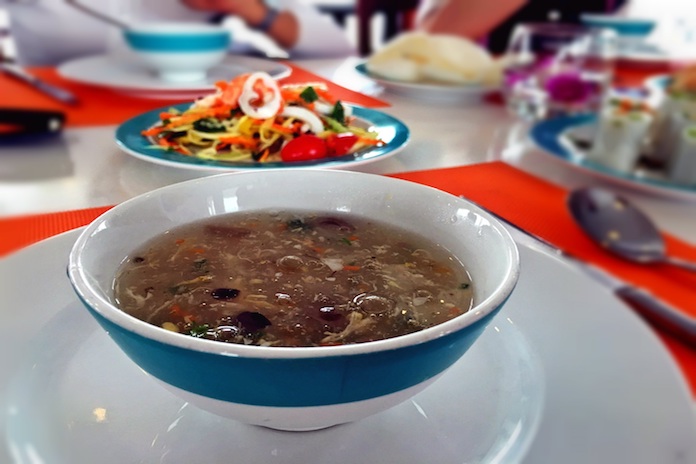 Helpful staff made us feel really comfortable with professional service and delicious food. We decided to wander around rather than stay in the cabin. And guess what? We found L'Azalée's upper sun deck was amazing, giving us a chance to get up close to the beautiful rock formation, you can have a cup of tea/coffee (for free), chit chat with friends while cruising through the calming area.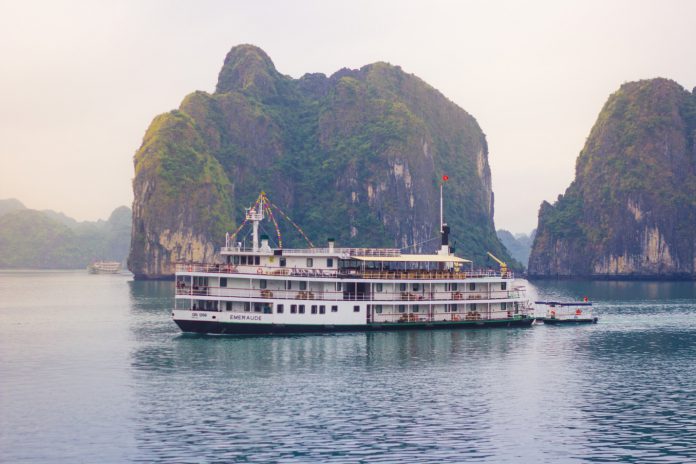 After a while, we went back to our cabins to have a cat nap before going to explore Surprise Cave.
Around 3 pm, we transferred to a small tender to enter SUNG SOT Cave. It took us about 60 mins to explore every single detail. I can't help myself but take hundreds of photos because of the magnificent nature.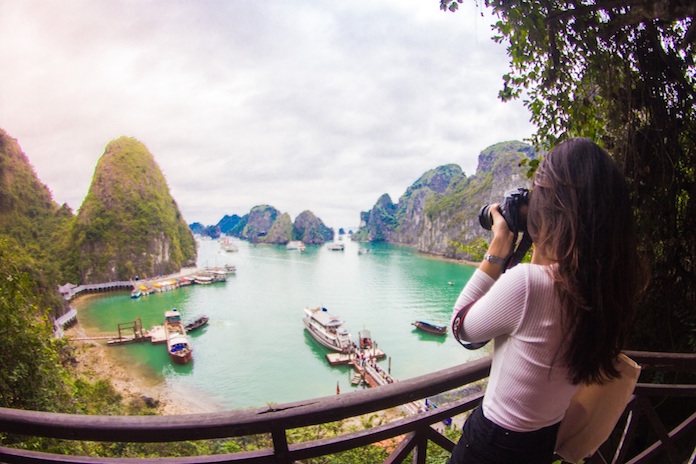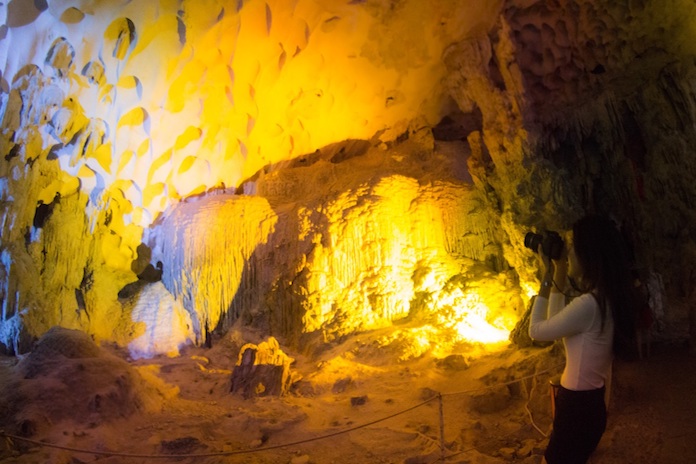 Back to the boat, we headed to Pearl Farm to find out how pearls were made and used in Ha Long.
Make sure to come with wife and kids. Educational and enlightening for the family. Very wide range of pearls and pearl art for all budgets. Friendly staff and open to bargaining too!! Well worth a visit.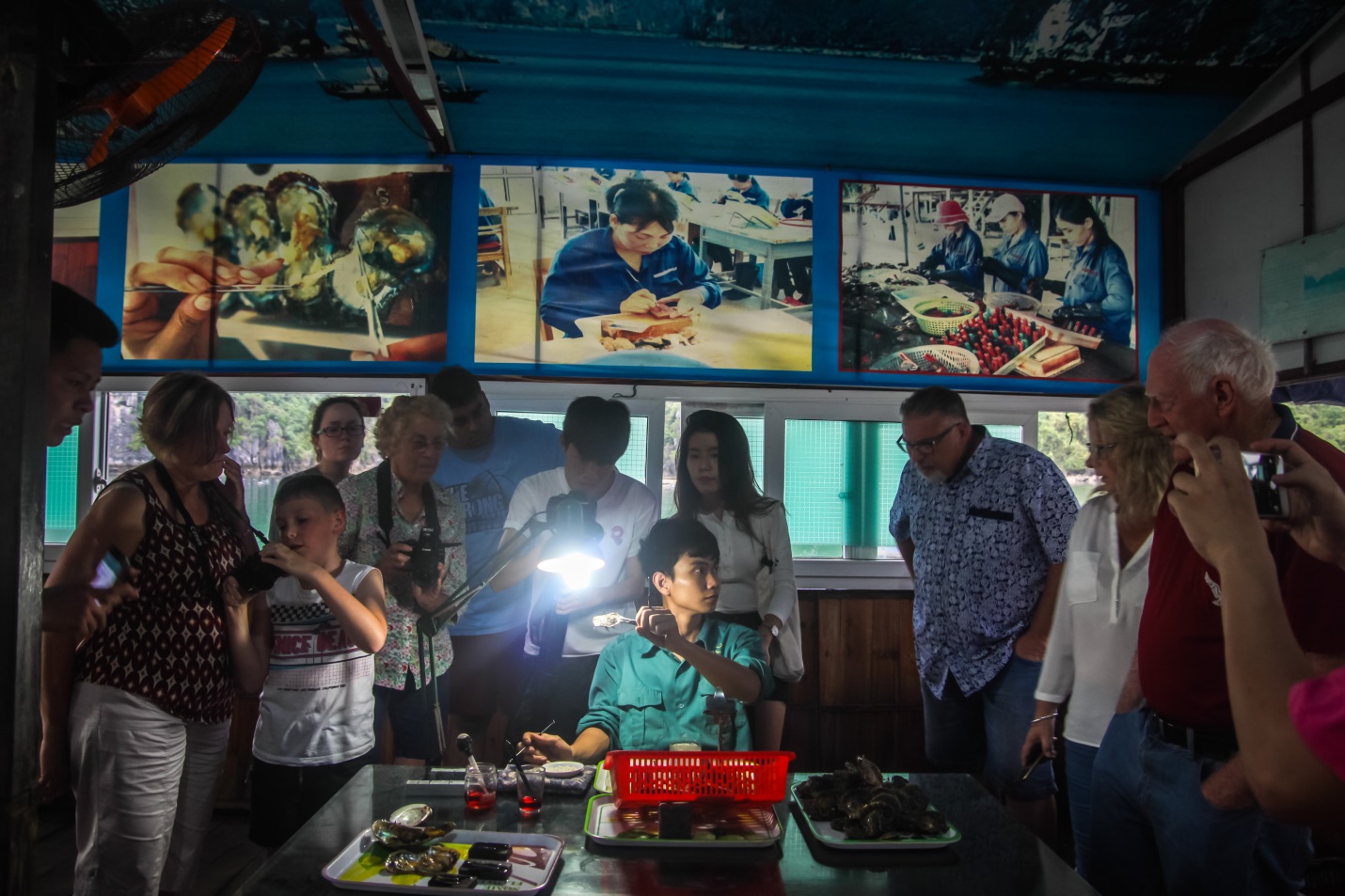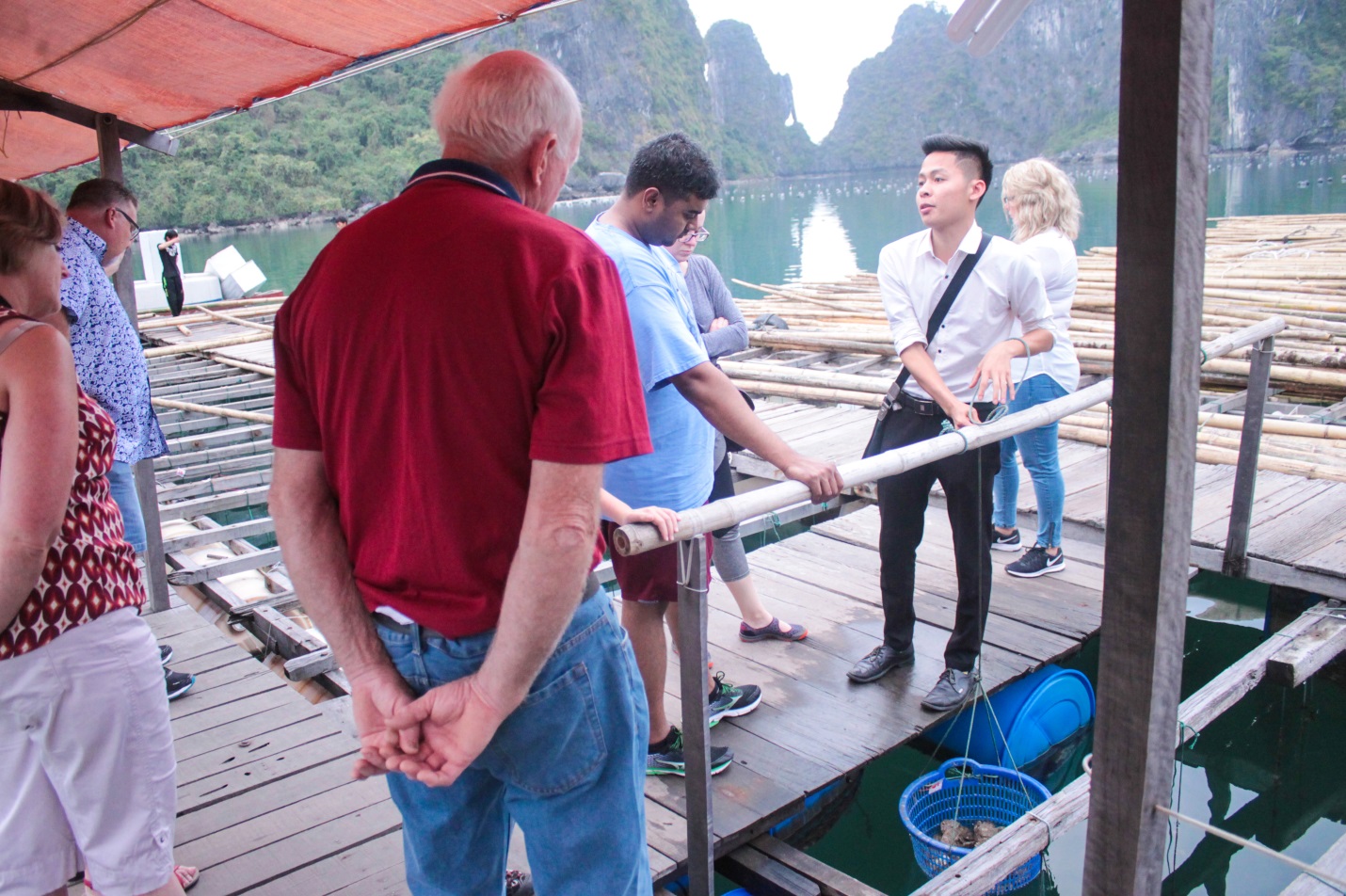 It's time for kayaking!
CAUTION:
ALWAYS wear a lifejacket!
Do not bring electronic devices, or else, you might take risks breaking them.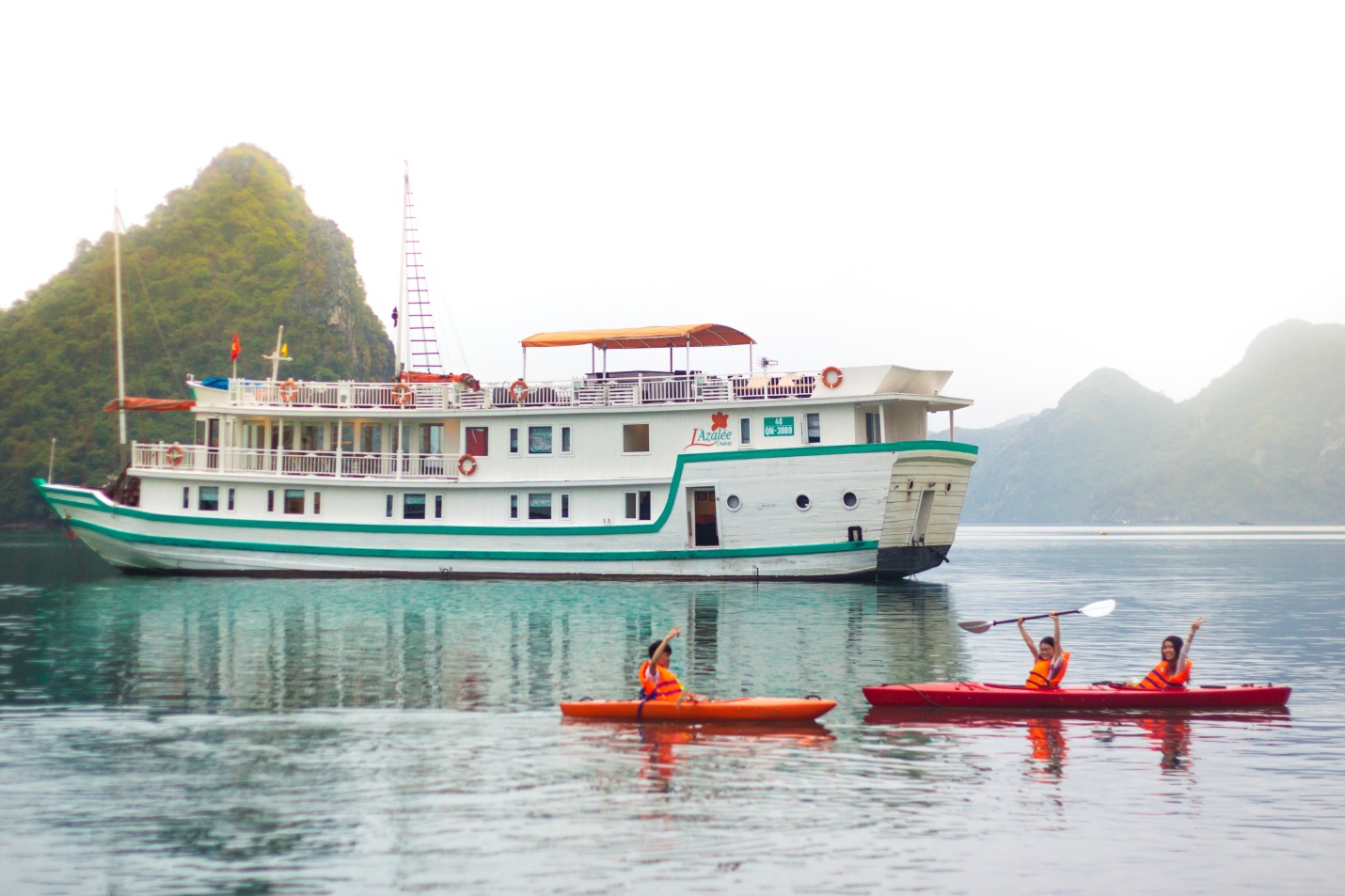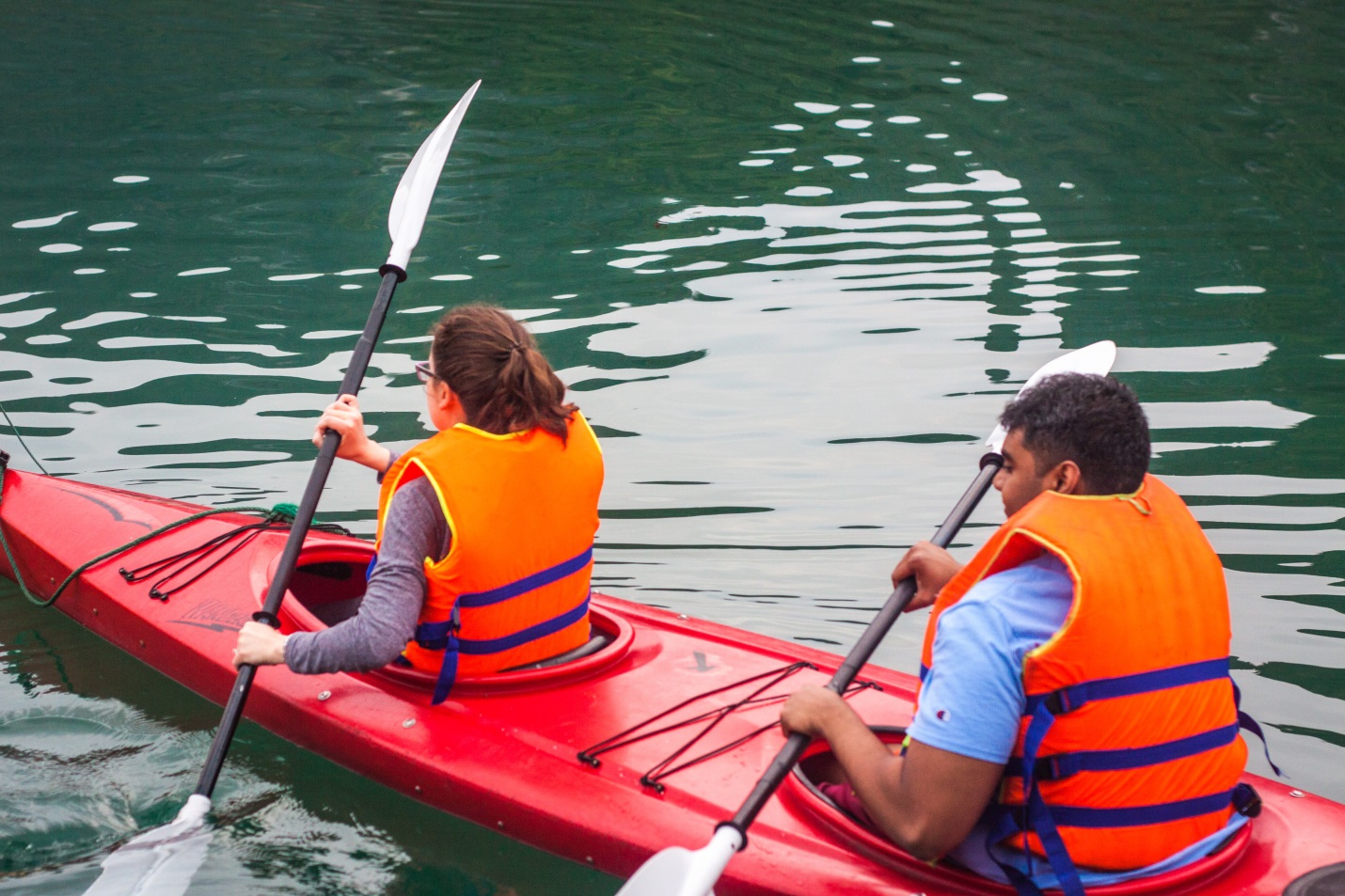 Most of us newcomers embarked on a one-hour kayak adventure to explore the calming sea surrounds Pearl Farm. We paddled around, enjoyed the craggy karsts up close in near solitude and the fresh air in Halong Bay.
Then, we came back to our cruise, took a short break and ready for an added bonus – the "Wrap & Roll" lesson held before dinner where the chef taught us how to make Vietnamese rolls.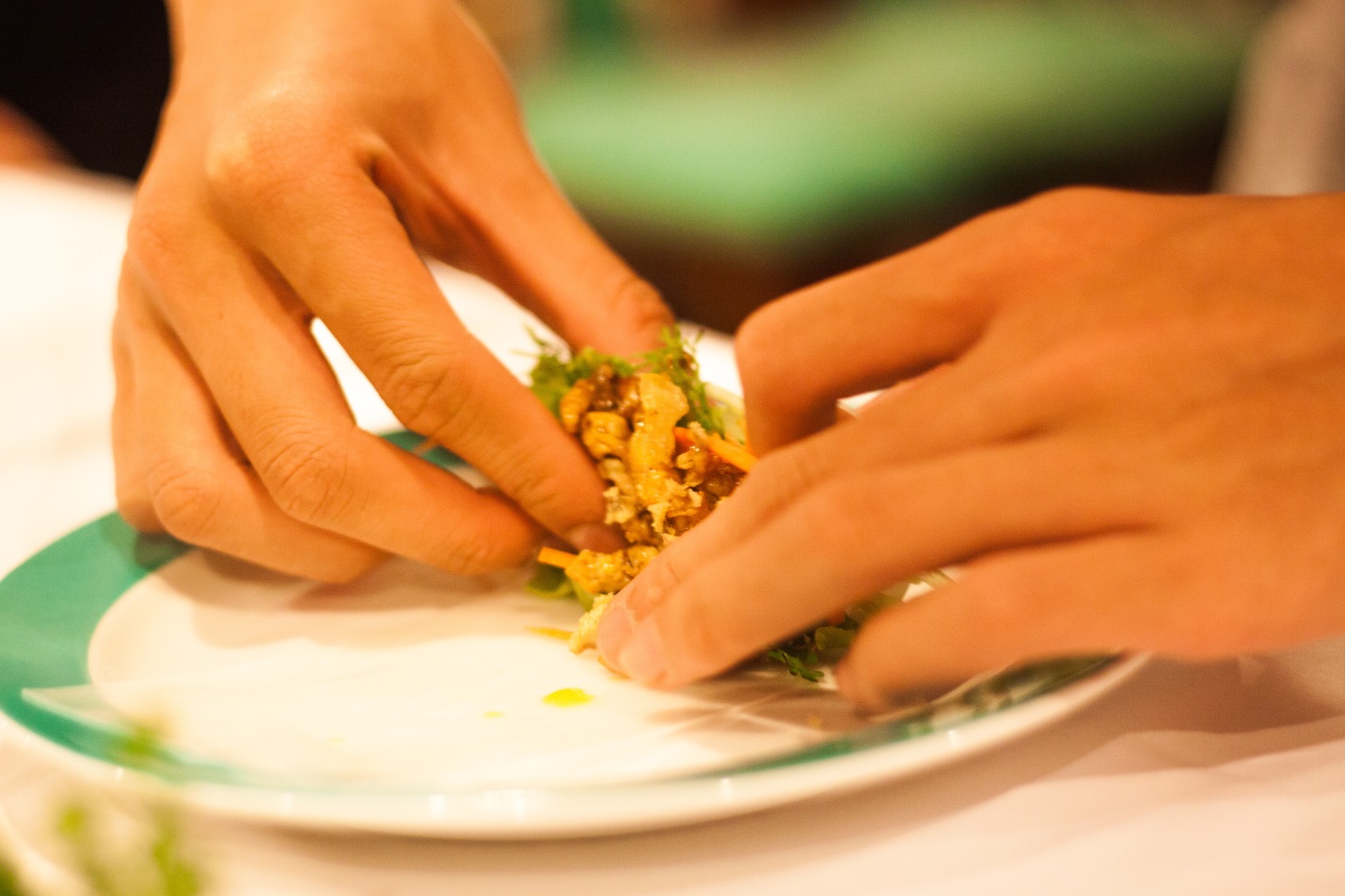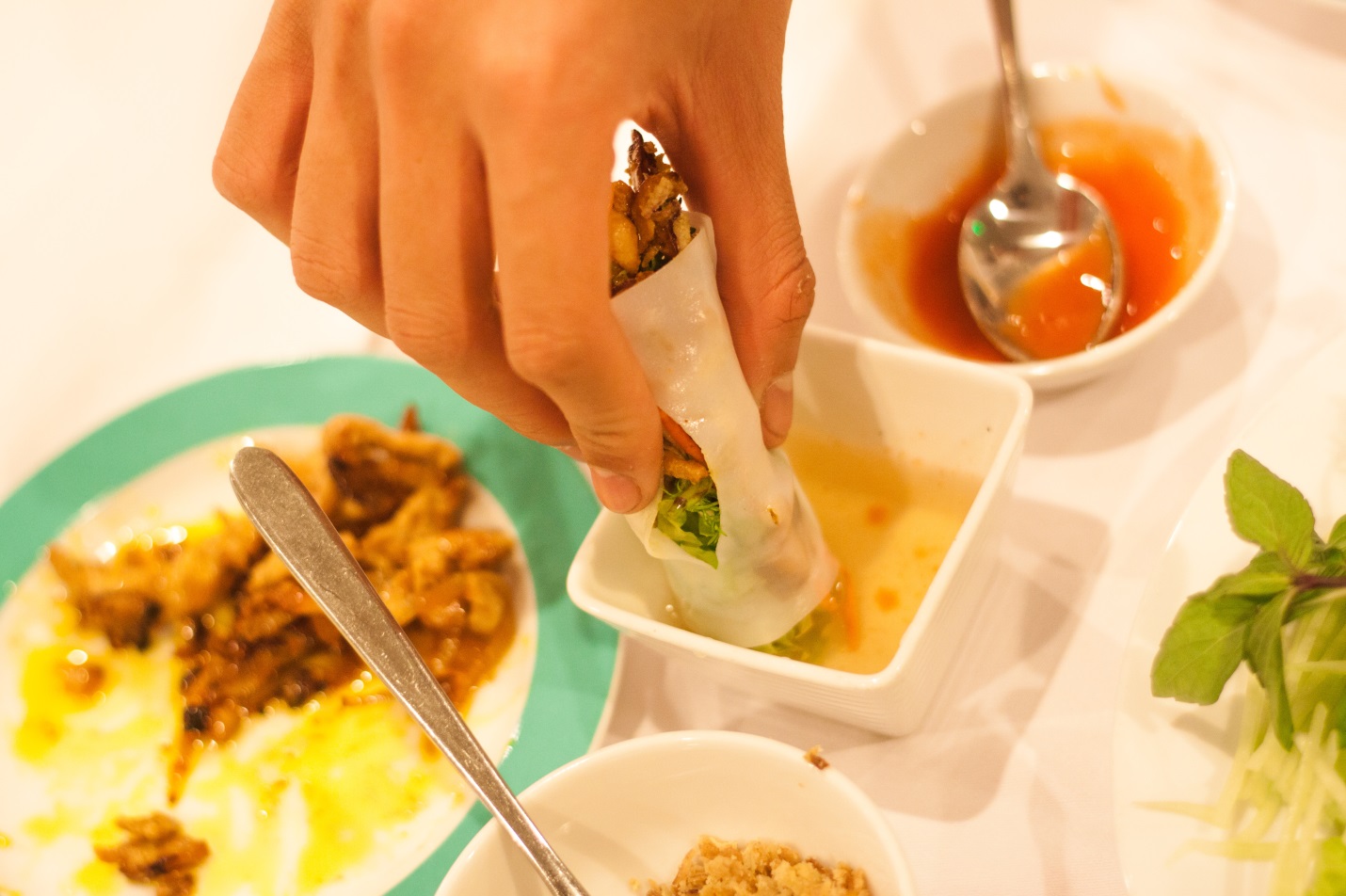 After that, dinner was served.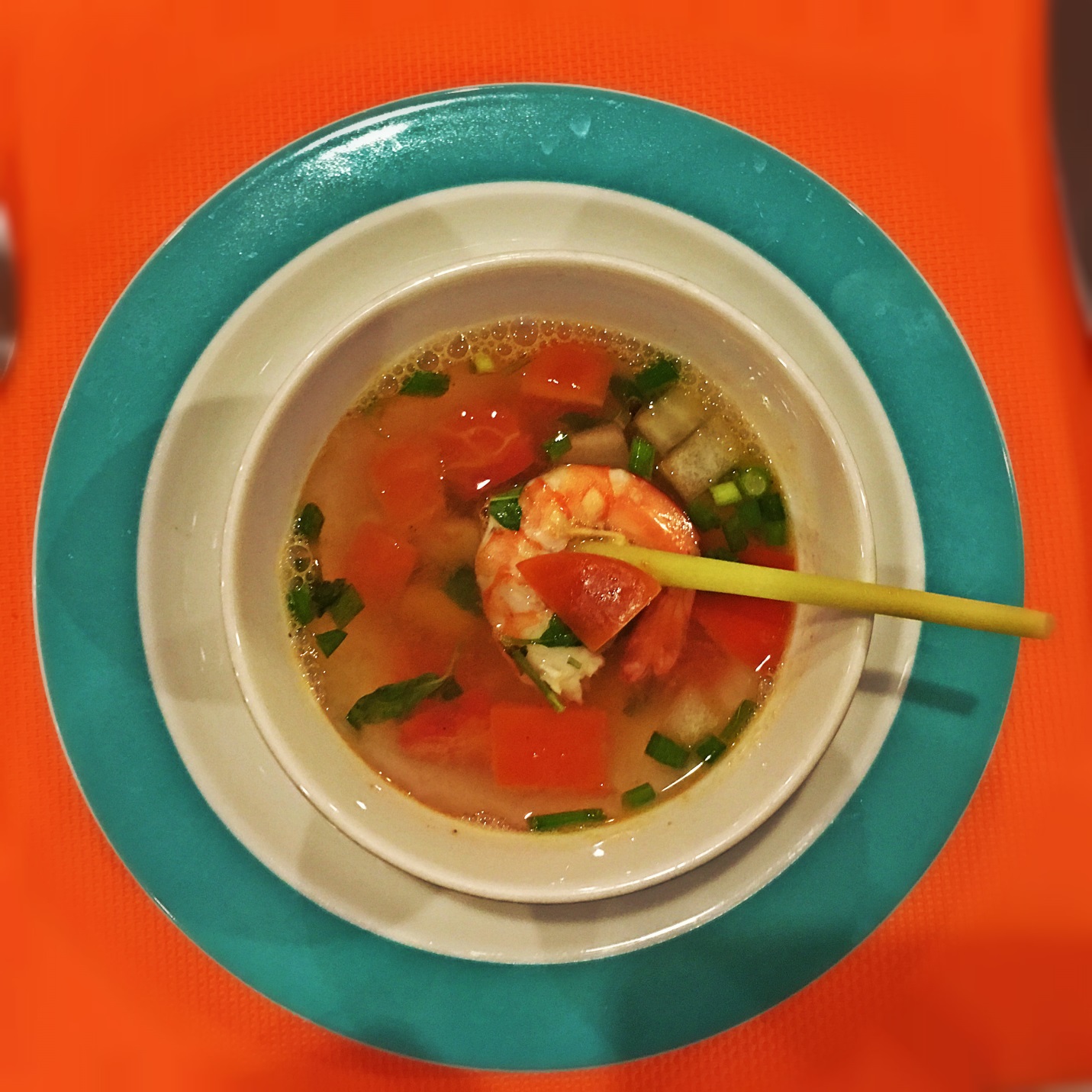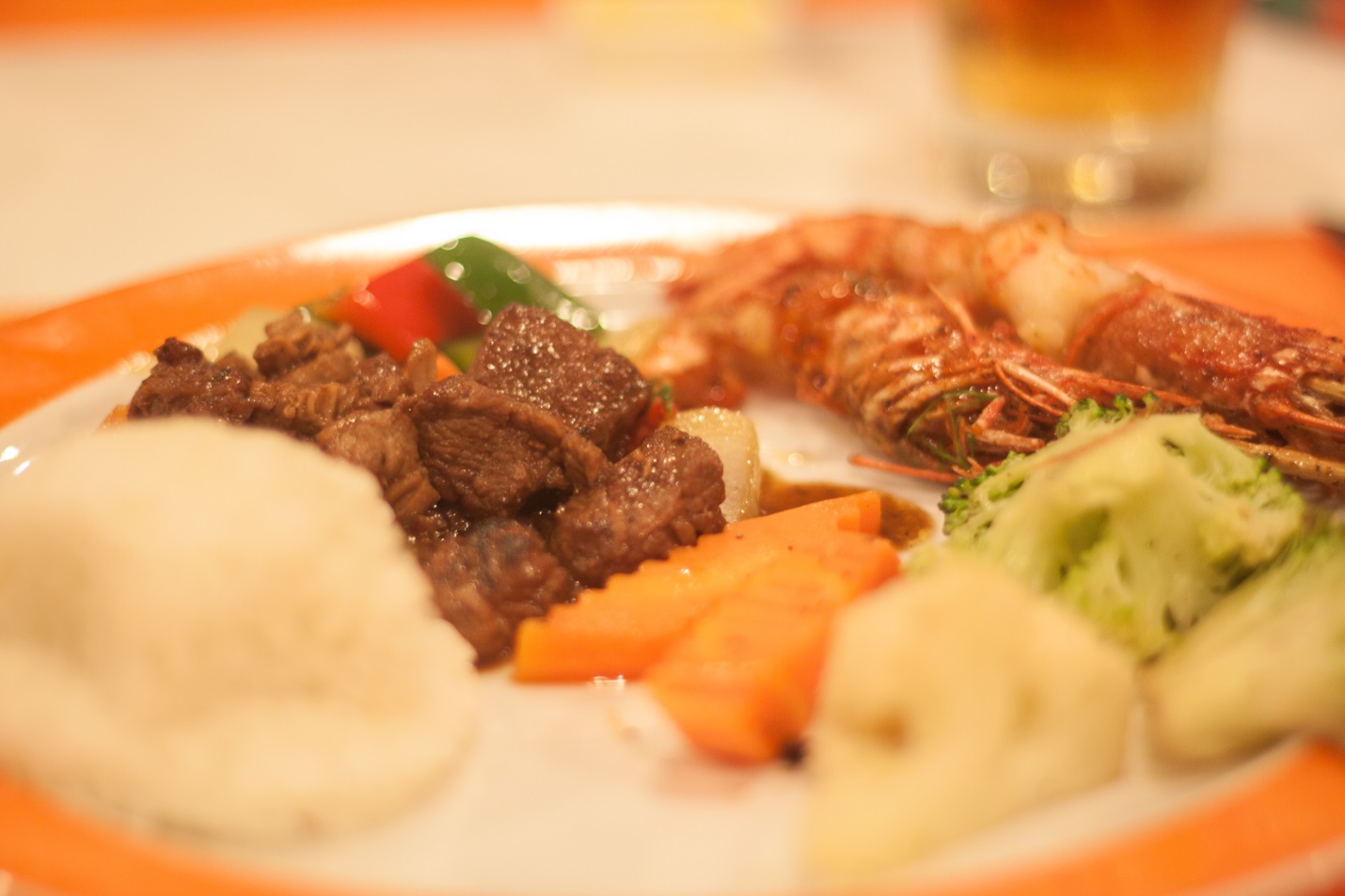 We decided to review hundreds of pictures that we took during the day on top deck, had a small talk and enjoyed the peaceful nightlife of Halong Bay.
Do not miss out squid fishing at 9 o'clock with the lovely tourist guide, who taught us how to bait and catch squid in the old-fashioned way. Unfortunately, we can't take any photos because it was too dark.
The last activity of the day was playing Uno and the "Truth or Dare". Make sure you have an abundant of punishments for losers to make them look miserable LOL. None of us touched our phones, and we still had so much fun that night
Day 2: Titop Island & back to Hanoi
We were so lazy in the morning, opting to sleep in rather than join the tai chi sensei on the deck for a morning stretch.
Once again, I had to give a compliment for L'Azalée's delicious meals. I'm in love with the chef's salad.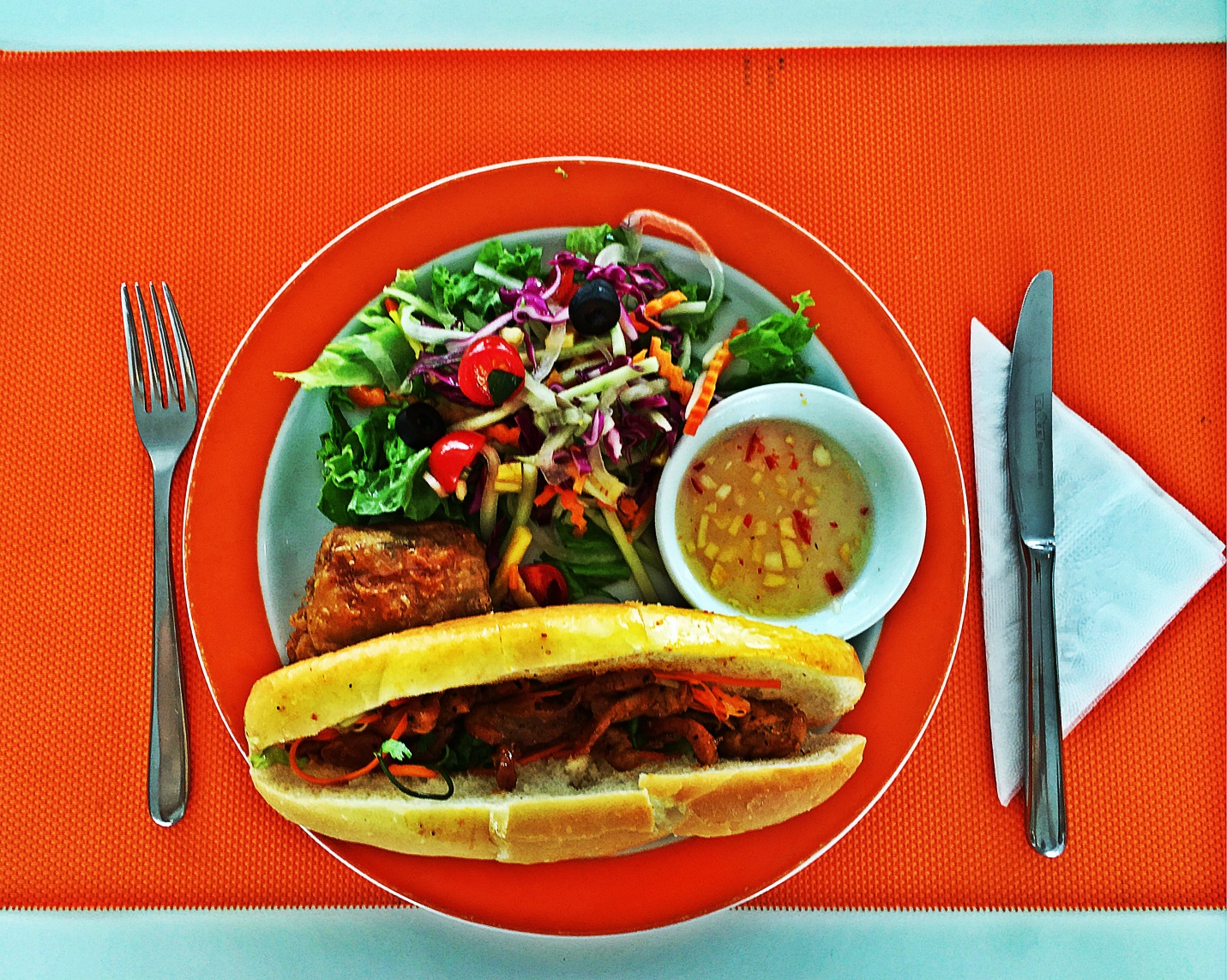 After breakfast, we made our way to Ti Top Island – another tourist attraction of Halong where we enjoyed the overview of Halong from the top of Titov mountain.
There is a sandy beach but the weather was a bit chilly and grim so only western tourists swam and we enjoyed hiking and climbing mountain.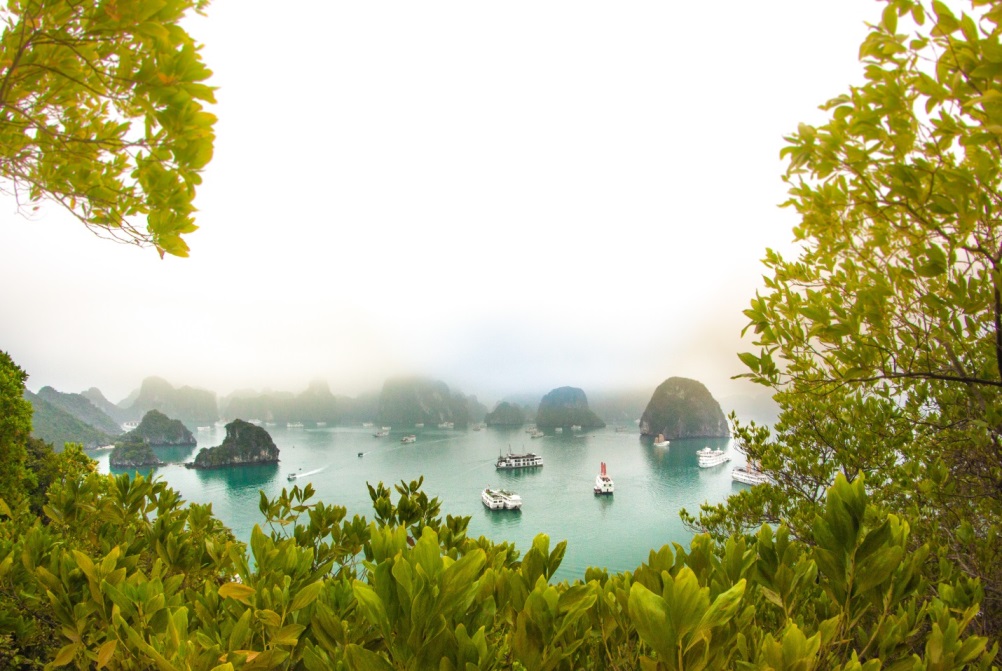 Then, we came back to the boat and started packing our bags and getting ready before returning to Halong City.
We saw a lovely "Happy tip for the staff. Thank you very much" box in the dining room.
We were so impressed by this delightful staff and the hospitality they showed us on board.  It was a little sad to have to say goodbye.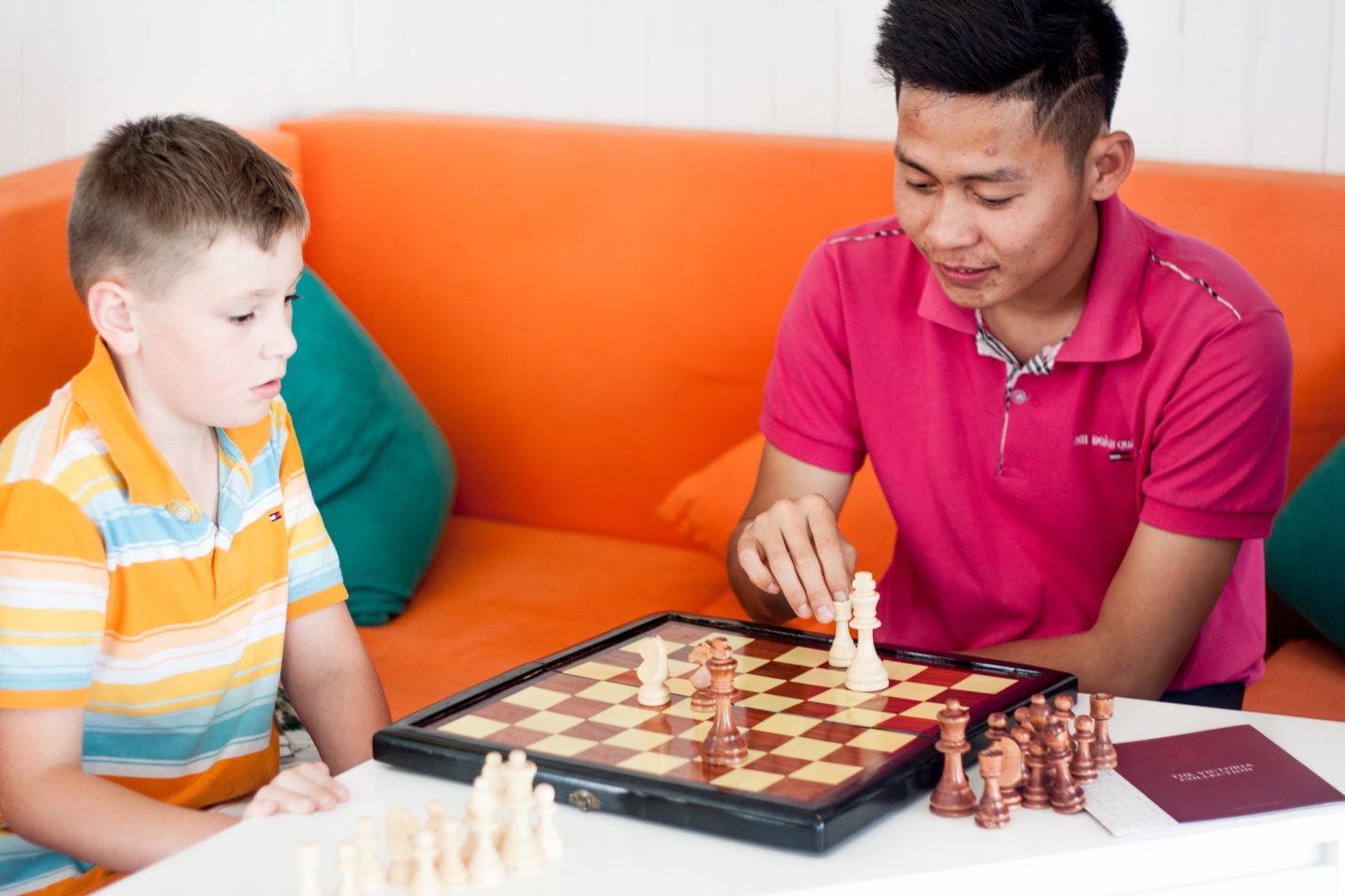 All too soon it was time for the L'Azalée Deluxe to return us back to Halong City for our transfer to Hanoi.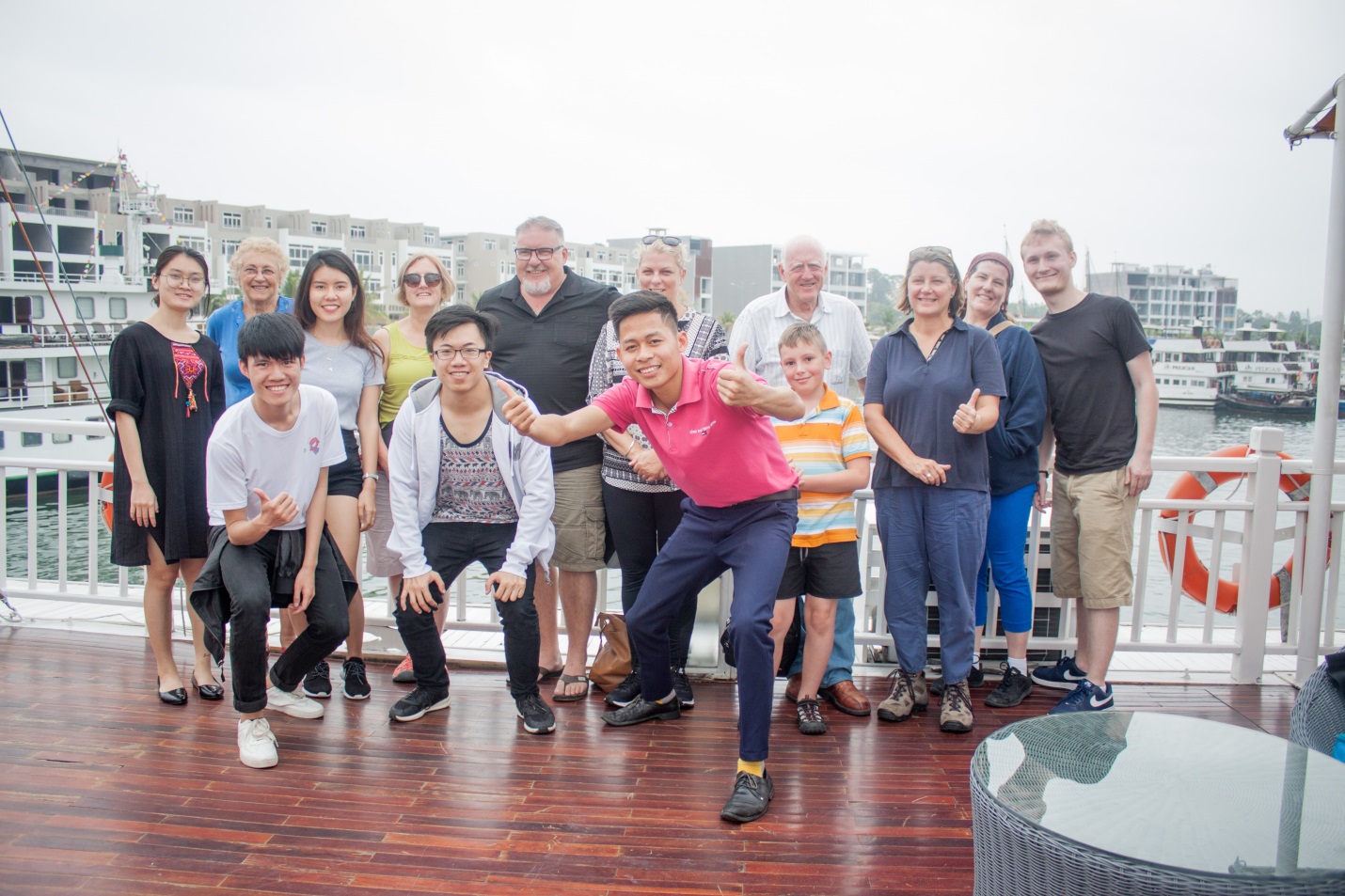 We had an air-conditioned coach pick us up at L'Azalée Lounge and transferred back to Hanoi. I was impressed by the décor, comfortable seat and other notable amenities. I would edit and post my entire adventure on facebook right the way.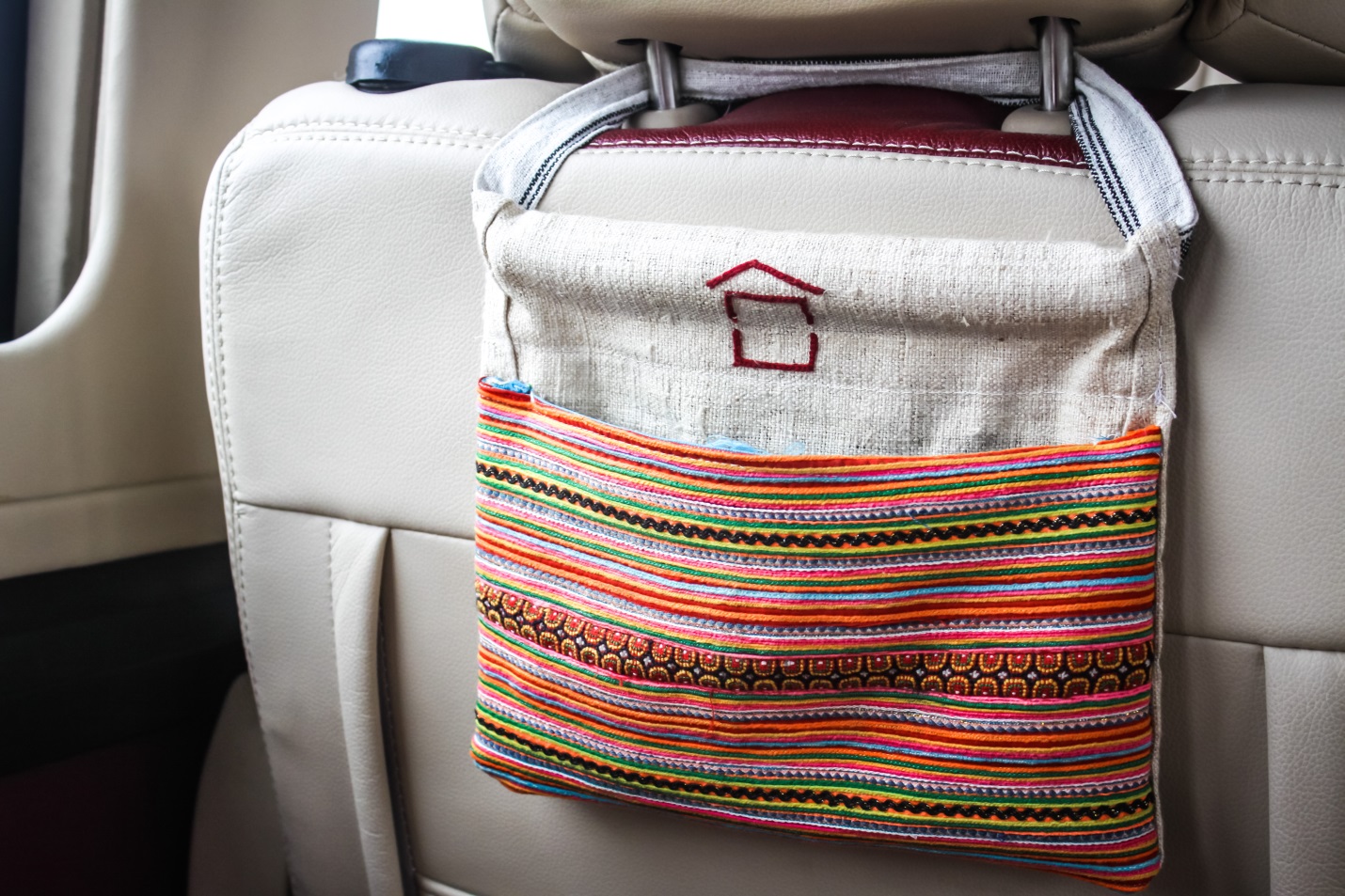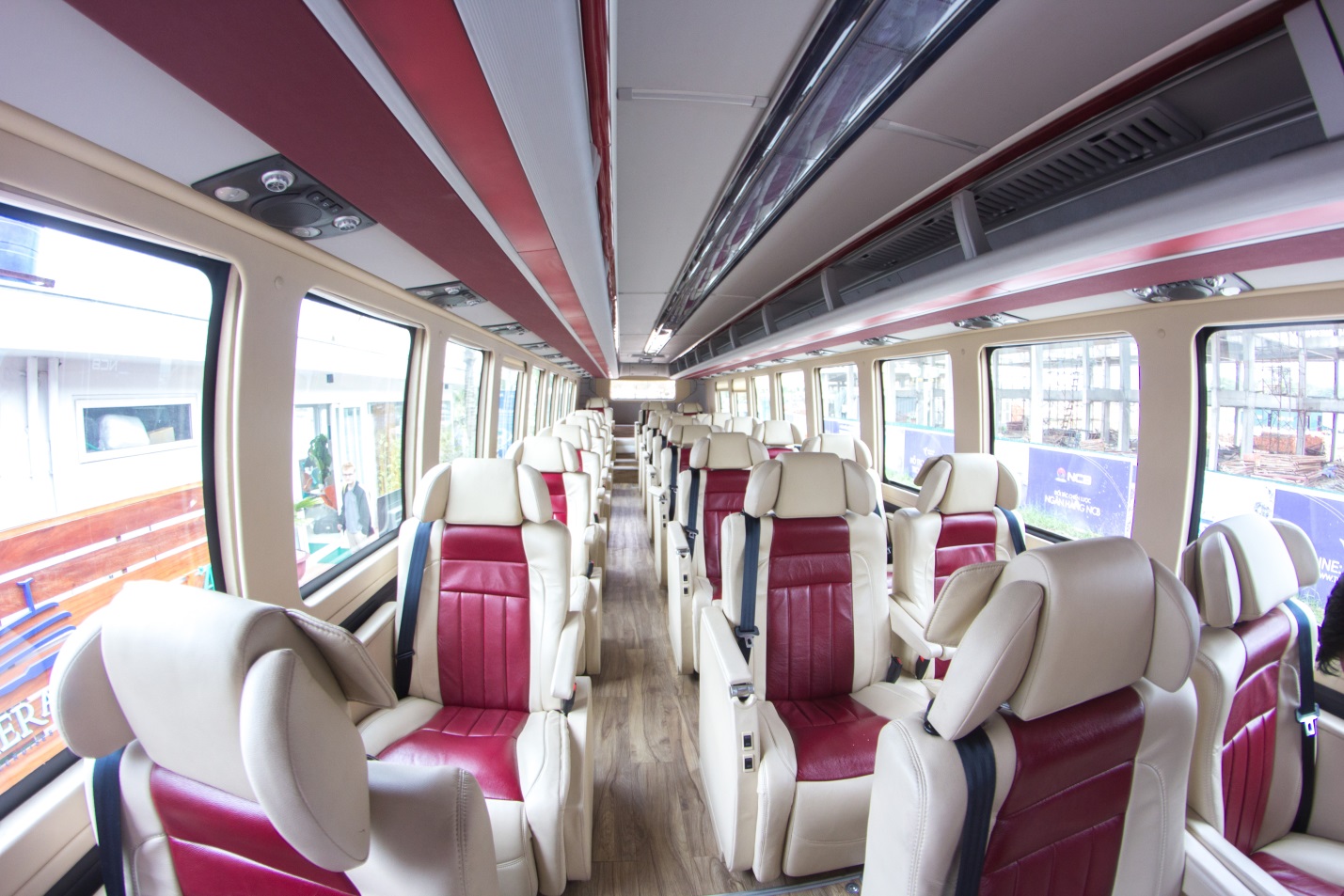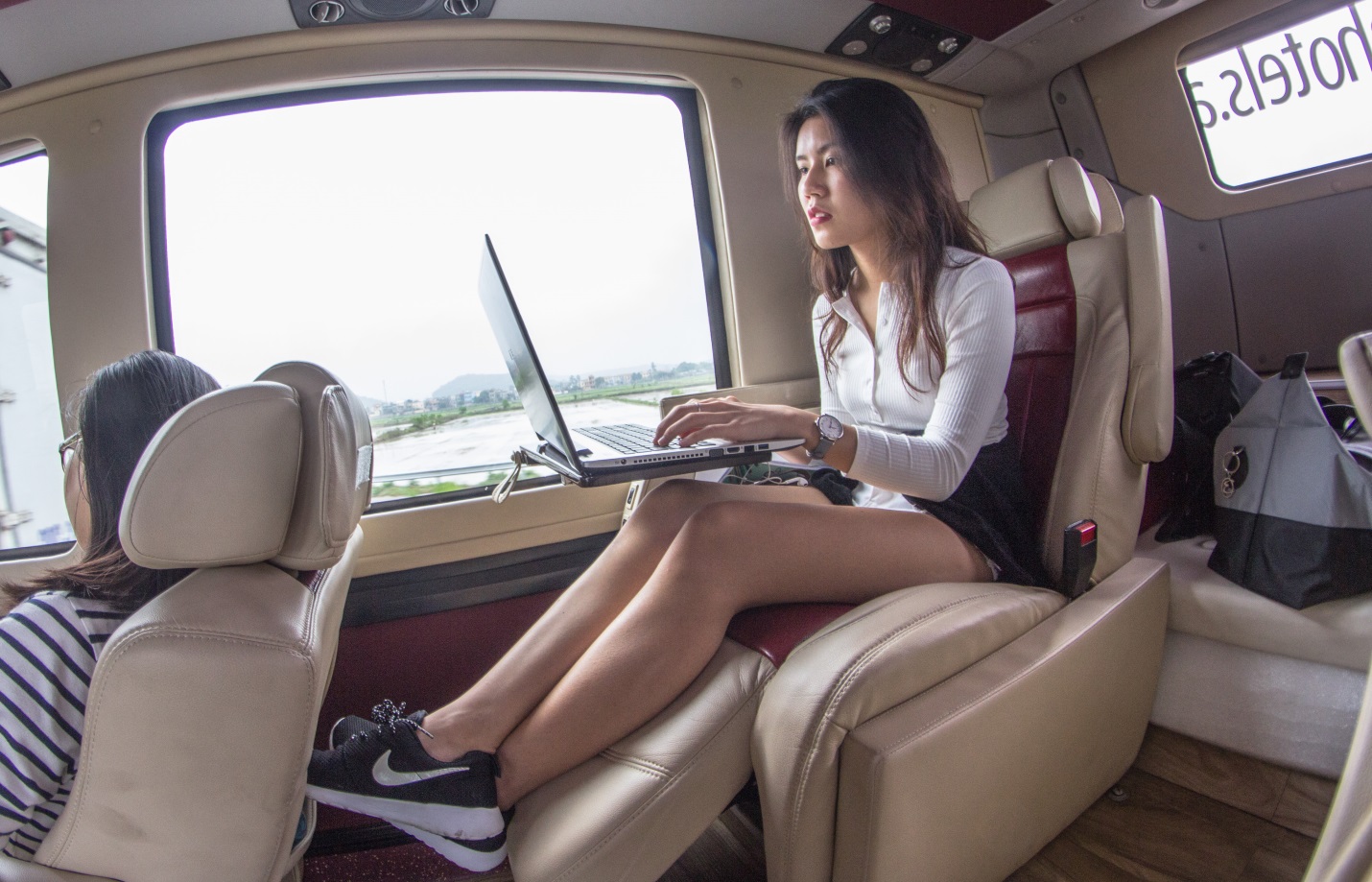 During the long drive, we had a small break at a Vietnamese Handicraft village. I'm sure that you will be amazed by a wide range of handmade work of art for all budgets here.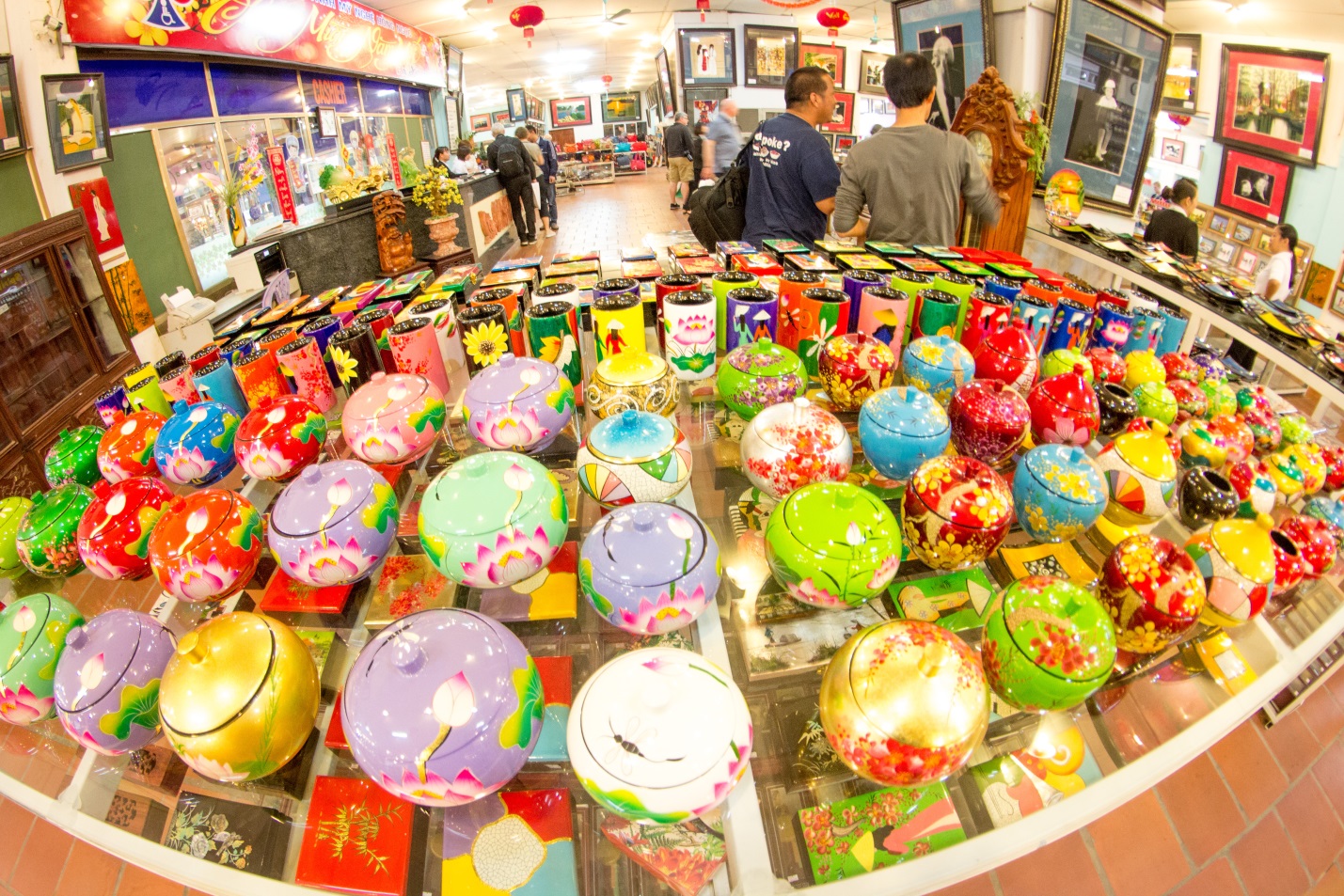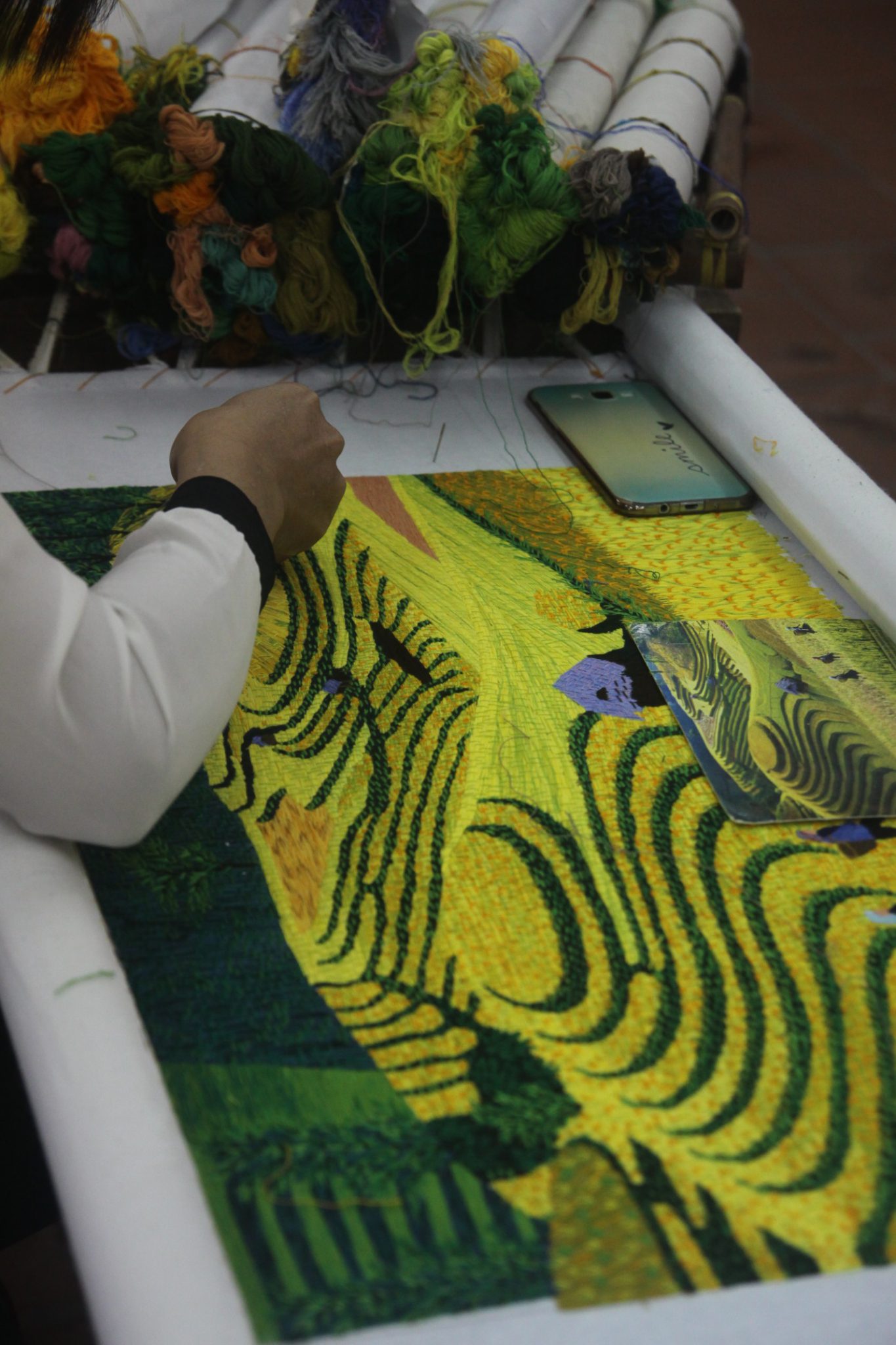 About 4 pm, we arrived at the Old Quarter, ended tour.
OVERALL REVIEW
As with anywhere, so much our impressions of a place are based on our overall experience with the people, the activities and the food. We found the L'Azalée staff to be extremely enthusiastic, professional and accommodating from start to finish.
Costs of cruises vary significantly between junk boats and accommodate a wide array of budgets from a mere US$60 per night to US$600 or more. A 2D1N Halong Bay cruise aboard the L'Azalée Deluxe costs US$102 per person.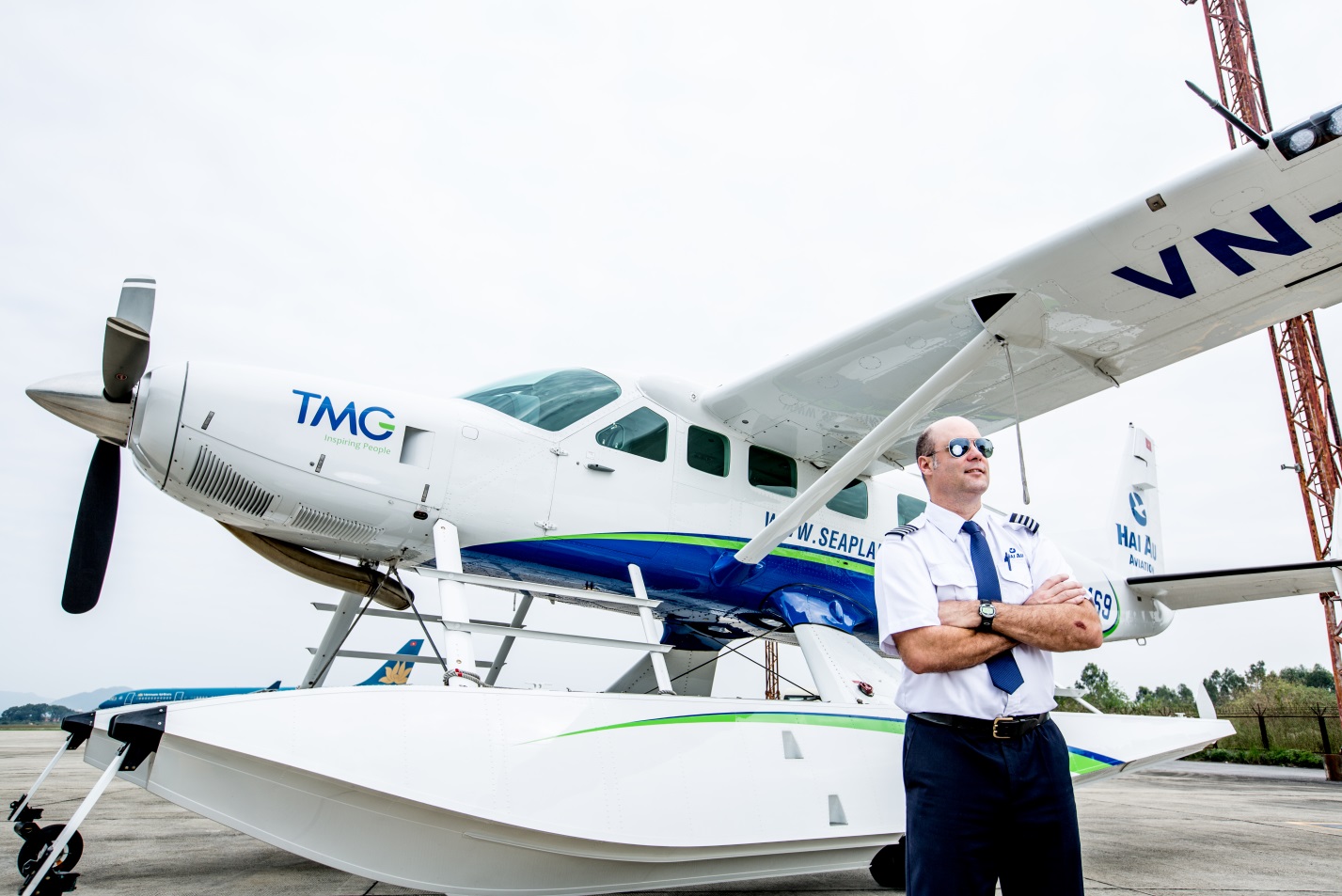 I've just checked, they are having SUMMER PROMOTION PACKAGE, only US$ 350 including seaplane flight and a 2-day-1-night cruise.
Finally, all I can say about this tour is "worth every single penny", if you want to see Halong in different angles, then this is the right choice for you.
[adrotate group="4″]