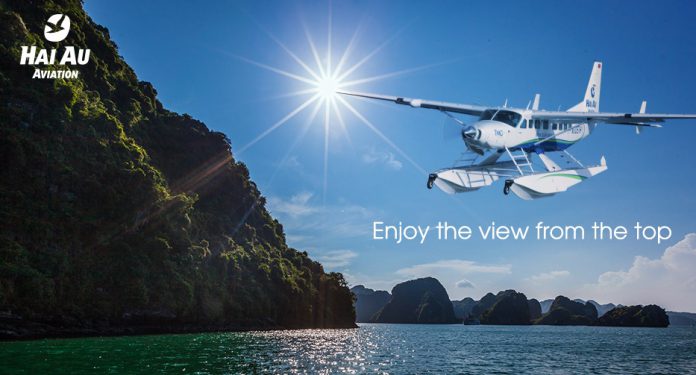 Ha Long, 09 September 2014 – Hai Au Aviation officially launches the seaplane service for tourism in Tuan Chau, Ha Long, offering tourists in Vietnam the opportunity to experience sight-seeing flights between Hanoi and Ha Long Bay, as well as scenic flights in Ha Long Bay for the first time.
Honoured to be the first aviation of seaplance service for tourism in Vietnam, Hai Au provides high-end sight-seeing flight services and guarantee international standards in aerial safety. The Cessna Grand Caravan EX seaplanes of Hai Au Aviation are the newest model with the latest technology, produced by Cessna Company of Textron Group in Wichita, Kansas, USA, with its seaplane buoys later installed at Wipaire Company in Minnesota. The seaplanes, with 12 premium seats for passengers, have wide windows designed for scenic journeys over Vietnam's beautiful landscape at 500 to 3000 meters above sea level.
From 10 September 2014, Hai Au Aviation will start seaplane service for commercial purpose with Cessna Grand Caravan EX seaplanes. There will be 1 to 3 round trip flights between Hanoi and Ha Long, and 5 to 10 scenic flights on the bay. Apart from regular flights, we also operate charter flights for organizations and individuals and even specialized flights for government authorities in Vietnam or overseas.
As the third seaplane will arrive around the end of November 2014, Hai Au Aviation will expand the service to Ho Chi Minh City, Khanh Hoa, Binh Thuan, Can Tho, An Giang, Ba Ria – Vung Tau, Kien Giang, Lam Dong and so on. It is expected that in 2015, Hai Au will implement more stops and flight areas in the center of Vietnam and enhance international flight operation.
One of the highlighted priorities of Hai Au Aviation is the guarantee of safety for each flight, so as to gain trust and confidence for customers. In addition to the technical standards and maintenance process that adhere to strict regulations, Hai Au Aviation also select a team of well-trained pilots with experience in international flights. Hai Au's foreign captains hailing from New Zealand and Australia are all highly experienced in navigating seaplanes, and work alongside Vietnamese co-pilots who are equally trained to high standards in Australia. Customer service is also another priority that Hai Au pays high attention to, in order to bring about unique and memorable flight experience.
At the launching ceremony, Mr. Luong Hoai Nam, General Director of Hai Au Aviation Joint-stock Company, said: "We choose Ha Long Bay for launching the service in order to emphasize the need for sustainable tourism development by high-end travel services that are appropriate to the requirements for nature protection in tourism. We propose that the government, local authorities and businesses together make Vietnam become a destination of world-class sea tourism, which will attract more premium international tourists to Vietnam for sightseeing, resort and relaxation, and maximize the potential of Vietnamese sea tourism, competing with high-end sea tourism destinations such as Maldives, Fiji, Seychelles, Hawaii". Besides, Mr. Nam also mentioned the history of seaplane in Vietnam nearly 100 years ago and Hai Au Aviation is honoured to bring the seaplanes back to Vietnam for tourism.
The seaplane service of Hai Au Aviation will bring both domestic and foreign tourists in Vietnam exceptional tourism experience. Customers not only can visit the most famous destinations more quickly and in better comfort, but can also experience Vietnam's incredible natural scenery from above, and take photos in panoramic views. The feelings when seaplane takes off and lands on water also create a distinctive factor for each flight. The launch of scenic flight services by seaplanes, hosted by Hai Au Aviation, will bring a new potential direction for Vietnam's airline industry in general, and domestic tourism in particular.
Hai Au Aviation now offers its customers great promotions on the occasion of its grand opening: sale off 50% for 1 Ha Long scenic flight ticket.
For more information about Hai Au Aviation as well as the company's updates about services, promotions and competitions, please visit the website www.seaplanes.vn or Facebook page https://www.facebook.com/haiauaviation.