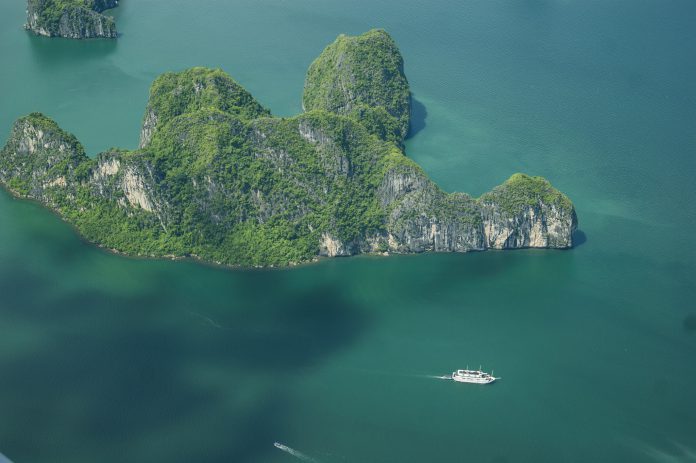 The Halong region not only provides visitors with heart-stopping views but also fantastic options for accommodation. The 10 resort and hotels in Halong Bay described above are some of the top choices amongst Halong Bay Hotels.
Halong Bay - UNESCO World Heritage
The breathtakingly beautiful Ha Long Bay can be found just 170km from Hanoi, in Northern Vietnam. The Bay provides visitors with views of gorgeous limestone karsts as well as over 2,000 islands rising out of the clear emerald water, making it the highlight of any trip to Vietnam. Given the splendor found on display at Ha Long Bay it is no surprise that it has come to be one of the largest tourist hubs in all of South East Asia.
Many of the best hotels in Asia can be found spread all across the Bay. Whether it be luxurious 5 Star hotels, deluxe mid range hotels or the more humble budget hotels, all types of accommodation can be found for tourists visiting Ha Long Bay.
The following list provides in depth look into the Best 10 hotels found in Ha Long Bay in 2017 taking into account price points and locations.
WYNDHAM LEGEND HALONG HOTEL 5 Star

– Best Luxury Hotel in Halong Bay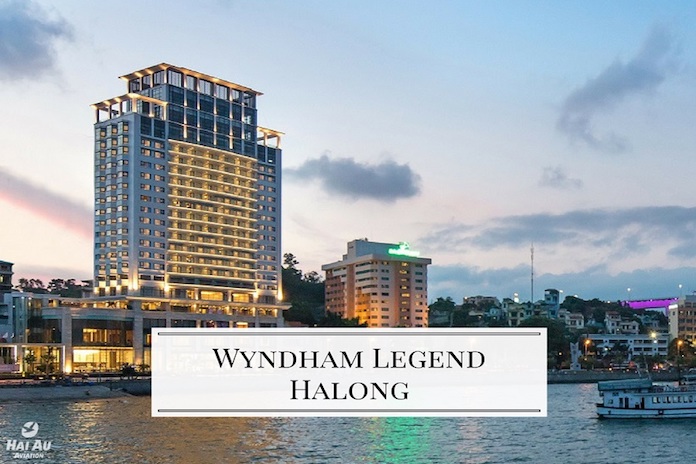 The hotel boasts one of the most stunning views of the Bay in Ho Xuan Huong str. With 217 luxurious and spacious rooms, the Wyndham Legend Halong assures that visitors will be pampered with lush comfort for the duration of their stay.
The Wyndham Legend Halong also provides guests with a wide range of facilities to further enhance they experience at the hotel. Some of the facilities that set the Wyndham Legend apart from its competition are:
Club Lounge
Kid's Lounge
Top-class gymnasium
Gift/souvenir shop
Gorgeous swimming pool
Top services provided by the hotel include:
Room Service
24-hour room service
Free Wi-Fi in all rooms
Daily housekeeping
Limousine Service and Laundry Service
The Wyndham Legend is just 1.5 km from the city. Other surrounding attractions can be accessed through the Bai Chay Bridge which is situated just minutes from the location.
Guests may also benefit from
Promotion package
 at the Wyndham Legend Halong which comes in a group deal with the top aviation tour company in Ha Long Bay, Hai Au Aviation.
PARADISE SUITES HOTEL & SPA

– Best 4 Star Hotel in Halong Bay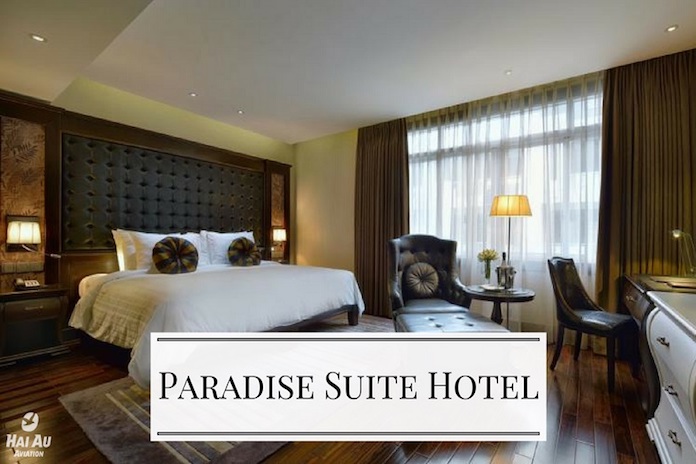 The hotel aims at providing guests with personalized service with as well as an elegant and relaxing atmosphere. The rooms at the Paradise Suites Hotel are seen as an extension of the award-winning cruise ships are produced by Paradise Vietnam. All rooms are classically designed with cozy wooden decor and distinguished and elegant feel to them.
Room Service
24-hour Room Service
24-hour laundry / dry-cleaning / pressing,
Twice-daily housekeeping service
Valet parking
Guests may also arrange day trips at the tours desk
The Spa comes fully equipped with separate rooms provided for each treatment and therapy. Some of the most popular treatments include aromatherapy and basalt stone massage. Other unique signature treatments are also available, they are changed seasonally.
The Paradise Suites Hotel provides guests with dozens of services and facilities to ensure their stay is as seamless and comfortable as possible.
In terms of facilities the Paradise Suites Hotel provides guests with: 
Sauna
Hot tub on demand massage parlor
Steam room
Water sports including fishing
CITY BAY PALACE HOTEL

– Best Mid-Range Hotel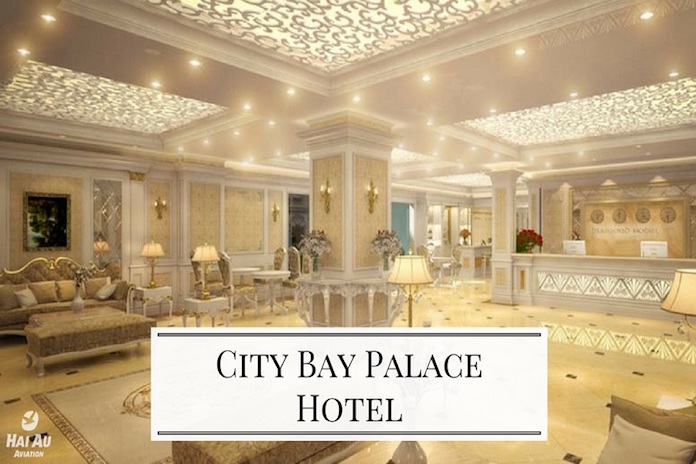 While there may not be as many 3-Star hotels in the Halong area, the few that are available give guests a peculiar blend of value and comfort. The hotel consists of a respectable 60 rooms which give visitors essentials such as free WIFI and toiletries, a flat-screen TV, minibar and even a lovely view of the Bay and surrounding areas.
Buffets and la carte meals are also available in the dining areas of the hotel. The City Bay restaurant serves Asian cuisine, as well as international dishes. Breakfast is offered by the hotel daily.
At almost a third of the cost of most 4-Star hotels the City Bay Palace Hotel can be the right choice for visitors looking to spend most of their days out of the hotel and in the surrounding Bay areas.
Address: 156 Le Thanh Tong Str., Bach Dang ward, Halong City.
MUONG THANH LUXURY QUANG NINH HOTEL

– Best Hotel with Great view
Almost all of the hotels scattered across the Ha Long Bay have breathtaking views. However, the Muong Thanh Luxury Quang Ninh Hotel has an especially spectacular view of its surroundings. Built high into the sky, the Muong Thanh Luxury Quang Ninh Hotel allows guests to look far and wide into the distance, catching a view that other hotels just can't give guests.
The hotel is a great base from which to discover all of Halong but can also be the ideal place to lounge and relax taking in the surreal view.
As a 4-Star hotel, the rooms and facilities at the Muong Thanh Luxury Quang Ninh Hotel live up to the lofty expectations. In terms of amenities, the hotel offers
Wonderful spa
Fitness centre
Tennis courts
Karaoke bar
The hotel is relatively close to the city center at just 7.1 km away and is about 3 and a half hours away from the airport via shuttle.
Address: Halong Str., Bai Chay Ward, Halong City
NOVOTEL HALONG BAY HOTEL

– Best hotel with good location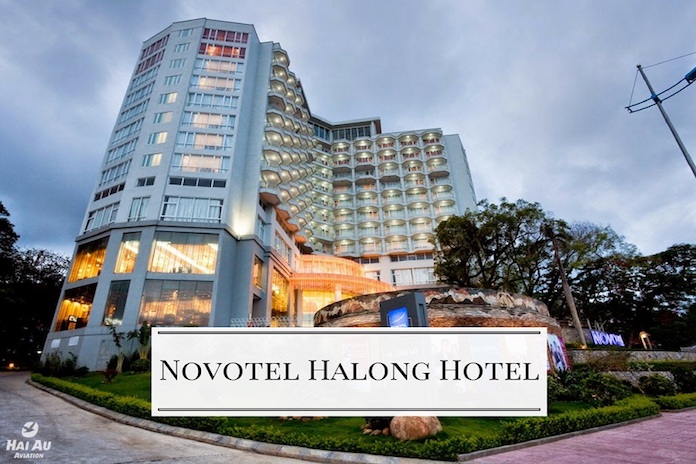 Ideally located, the Novotel Ha Long Bay Hotel has a fantastic beachfront which allows for easy access to many of the popular tourist sites in the area such as the Bai Chay Beach, Sung Sot Cave, and the Emeraude. The hotel is only 15 minutes away from the Halong Port.
Room Services
Dry cleaning and laundry
Daily housekeeping
Wake up service
Currency exchange
The Novotel Halong Bay Hotel has a wide range of on-site facilities including:
Terrace dining at the Square Restaurant
Fitness centre
Tennis courts
Spa
Lobby lounge bar hosting live music and entertainment
Amazing outdoor infinity pool
Getting to the hotel is quite simple. Novotel Hotel is only a 90-minute drive from Cat Bi International airport or 3 hours from Noi Bai International airport.
The
Hai Au Aviation package
is ideal for guests looking to enjoy not only the great accommodation but also a roundtrip seaplane ride over the beautiful Ha Long Bay. 
Address:160 Ha Long Road, Bai Chay Ward, Ha Long City
HALONG PLAZA HOTEL

– Best hotel value for money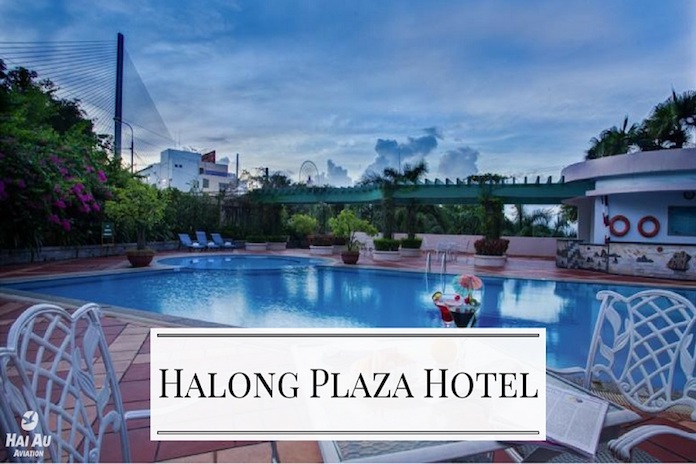 All 200 rooms and suites are furnished stylishly with modern and luxurious facilities. The hotel has been specially designed to give visitors the most scenic views of Halong Bay and the Bai Chay Bridge. All rooms are equipped with high-speed Wifi, satellite TV, minibar/refrigerator and luxury toiletries. At a fraction of the cost of other luxury hotels, the Halong Plaza gives visitors great value for money.
The Halong Plaza Hotel also offers guests a range of restaurants which produce a number of different types of cuisine such as Vietnamese, Japanese, Western and Thai. The entertainment area offers a bunch of activities to guests such as 
Fully equipped fitness center
Outdoor swimming pool
Massage room
Games room
Halong Plaza can also double as a great business center with conference and banquet rooms with excellent facilities & services. The service standards at Halong Plaza Hotel have always featured a great attention to detail and a very welcoming and friendly atmosphere to all visitors.
This top notch service and luxurious ambiance make Halong Plaza the ideal hotel for visitors looking for all the comforts of a 4 Star hotel without the price tag.
PARADISE TREND HOTEL

– Best Room facilities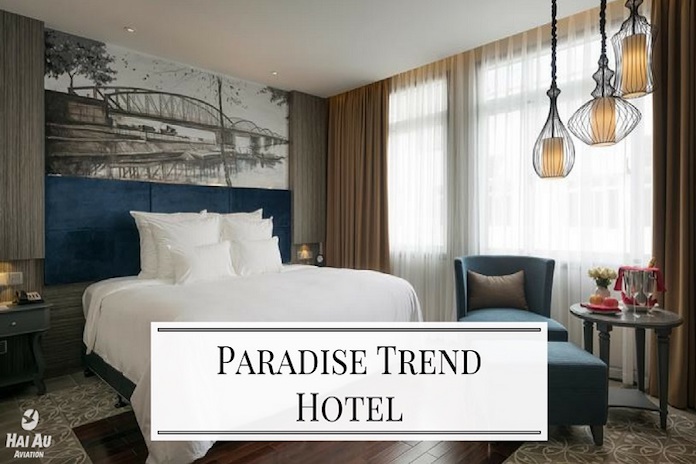 The rooms at the Paradise Trend Hotel are chic and elegant, with all the modern facilities that anyone could need. The beautiful parquet floors, king size bed, and marble toilets provide guests with a sense of luxury just walking into the room. The rooms also have free WIFI as well as a huge flat screen TV with satellite channels, to make sure guests have all the entertainment they need in their rooms. With 24-hour room service at your beck and call you won't have any problems ordering whatever you need to your beautiful room.
The modern and stylish Paradise Trend Hotel gives guests some of the grandest and spacious rooms in Halong. 
Spa
Gymnasium
Karaoke bar
2 restaurants
The Paradise Trend Hotel is located in the Tuan Chau district in Ha Long just 7 km from Ha Long Night Market.
ROYAL LOTUS HOTEL HALONG

– Best Business Hotel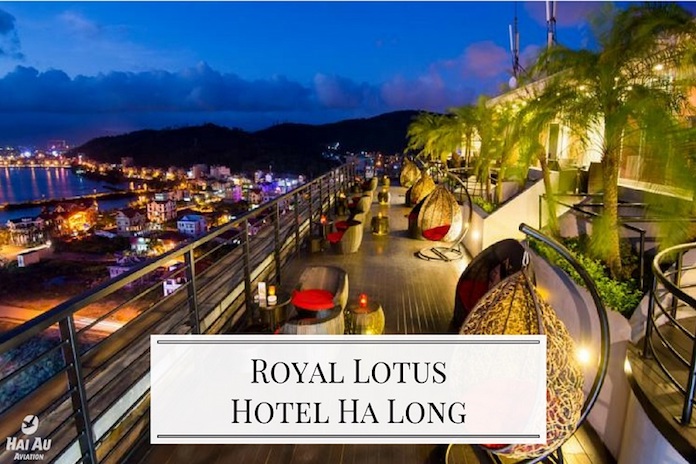 The Royal Lotus is known as a business hotel offering a number of meeting rooms that can hold from 30 to 600 people for all kinds of events and provides guests with a business center which can aid in creating any photocopies or dockets which are needed for meetings. A number of restaurants are also contained which to be used as great spots for conducting meetings while dining. Free WIFI is also available throughout the hotel ensuring guests never lose contact with their work.
On top of the business features, the Royal Lotus Hotel provides guests with a host of amenities that can help them relax. Some of the notable amenities are: 
Indoor pool (all year)
Hot tub/Jacuzzi
Massage, Spa and wellness center
Fitness center and Sauna
The Hotel Royal Lotus is just a 5-minute walk from Halong Pier and only a 10-minute walk from the Halong Central Business District.
VINPEARL HALONG BAY RESORT

– Hotel with Best amenities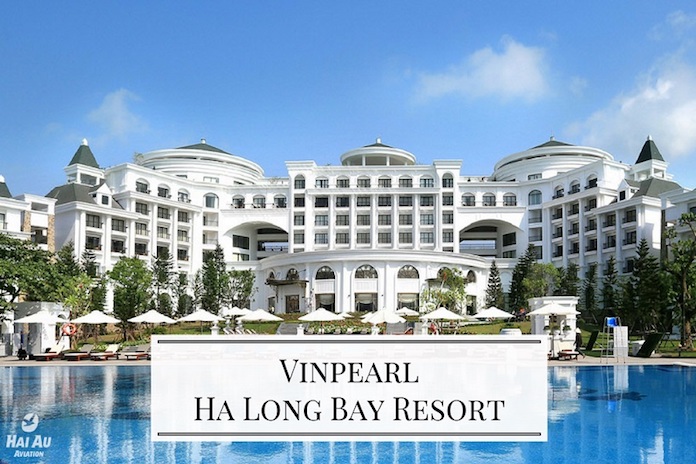 All guest accommodations at this 5-star hotel feature thoughtful amenities that ensure an extremely comfortable stay. The hotel offers guests a collection of recreational activities which can make the hotel your home away from home.
The Vinpearl Resort offers guests a variety of Deluxe Rooms with either a sea view or ocean view. The rooms all adhere to the highest international standards of comfort and are composed of the latest in modern facilities, making facilities and luxury bathroom amenities.
Room Amenities
HD TV,
IDD Telephone,
Complimentary Wi-Fi, a
Mini Bar,
Complimentary tea and coffee
All guest rooms have a private balcony or a terrace with views overlooking the beautiful Ha Long Bay or the tropical gardens and pools of the hotel.
Room Services
24-hour room service
Free Wi-Fi in every room
Daily housekeeping
Salon
Laundry service
Luggage storage
As you would expect the Vinpearl Ha Long Bay Resort provides guests with an array of facilities and services. The Resort gives guests access to: 
Gigantic outdoor swimming pool
All seasons indoor swimming pool
Kid's Club, water sports, and activities
3 natural beaches
2 outdoor tennis courts
Vincharm Spa
Fitness centre
Yoga room
HALONG CHEERS HOTEL

– Best Hotel with Budget price
The 40 rooms at the Halong Cheers Hotel have a TV and comfortable single or double beds. Some rooms even have a seating area where guests may relax while taking in the sights and sounds of the beach. All rooms are also fitted with a private bathroom featuring a bath or shower. Extras and throwaways include slippers and free toiletries.
Free shuttle service
24-hour front desk/shared lounge
Arguably the most attractive quality of the hotel is the abundance of activity tours available for guest including cycling, fishing, water sports, and hiking.
The nearest airport to the hotel is Cat Bi International Airport which is just 37 km from the property. The Halong Cheers Hotel might be a budget hotel but it maintains high standards of customer service and comfort.
GET READY TO DISCOVER HALONG BAY!
Listed as a UNESCO World Heritage Site in 1994 and even one of The Seven Natural Wonders of the World in 2012, the Ha Long Bay has reached celebrity status amongst nature lovers worldwide and continues to be a must-see for all tourists in the area.

TRAVEL WITH US
Make sure you take a look at the amazing deals provided by the Wyndham Legend Halong and the Novotel Halong Bay Hotel in association with Hai Au Aviation before booking your accommodation in Halong Bay.
The highly sought after seaplane rides and great discount on the hotel make it the perfect deal for those looking to discover Halong!