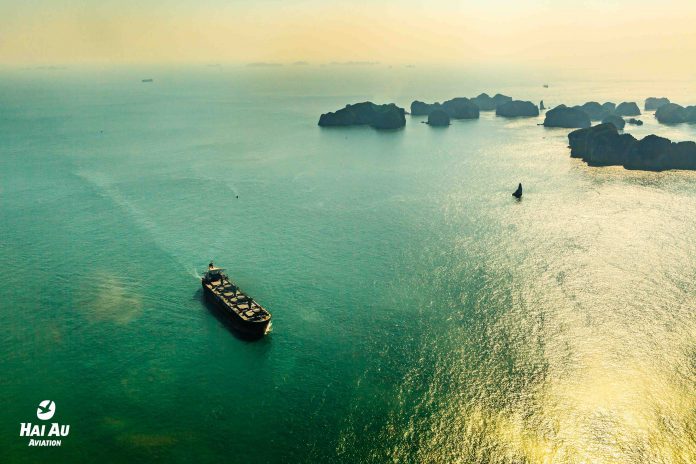 As you approach Halong Bay, Vietnam, the first thing you experience is a gentle breeze and a whiff of salty sea air.
Whether you're driving over land in a shuttle bus, flying through the clouds in a seaplane, or rumbling along on a motorcycle, the next thing you experience is a glimpse of emerald green as the water begins to come into view. All of a sudden, the closer you get to Halong Bay, the more you imagine the brilliant photos that do their best to capture the magical moments and the perpetual beauty.
The images of crystal blue bay and cloudless blue sky start to blend into a panoply of color.
The myriad cruise ships pepper the seascape, leading characters in their own story.
The massive karsts create the backdrop of a blissful scene, jutting from beneath the surf.
The kelly green plants wind their way around the islands, creating an intricate framework.
There is an infinite amount of spectacular spots to photograph all throughout Southeast Asia and Halong Bay is no exception. From mountains and seaplanes above, you can have a rare bird's eye view. You can weave in and out of the grottos and caves from cruises and kayaks. From hidden beaches and floating villages, you can get up close to the daily life of the bay. Halong Bay pictures will mark your travels and leave a lasting memory for your trip.
FLYING THROUGH THE SKY
There aren't many ways that you can cruise through the clouds of Halong Bay and still get close enough for some amazing views. Helicopters are expensive, hot air balloons don't run, and parasailing isn't optimal for photography equipment. One option, however, stands out from the rest.
Seaplane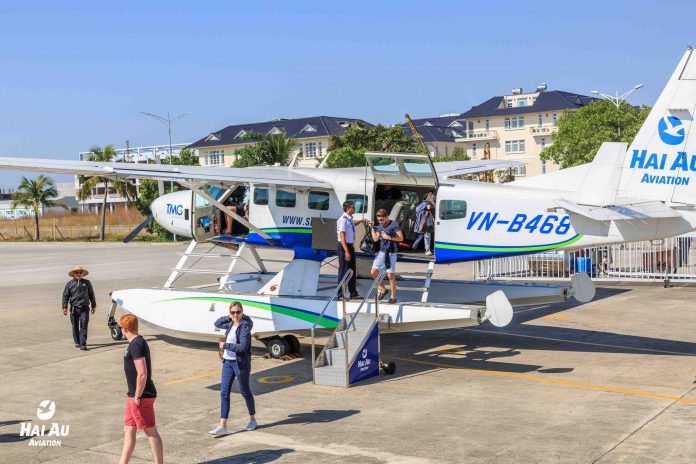 One of the most unique ways to see Halong Bay is by seaplane. Hai Au Aviation offers a one of a kind experience to combine a tour of the bay with seaplane transport to or from Hanoi. Furthermore, you can also sign up for a tour of Halong Bay and spend a blissful 25 minutes gliding through the clouds and feasting on the seascapes below. This is basically a photographer's playground, having the opportunity to see Halong Bay intermingled with fluffy clouds and sparkling sun. It is a floating paradise of photo opportunities.
Especially, while flying with seaplane, you are free to use mobile phone 3G to connect the internet. Therefore, you would have lots of great photos even without a proper camera. Gear up for the panoramic views and practically perfect shots.
Queen Cable Car and Sunwheel
A brand new attraction in Halong Bay is the Queen Cable Car, which runs from the Bai Chay district of Halong City all the way up to the top of Ba Deo Hill. According to the Guinness Book of World Records, this is the tallest cable car available, registering at 188,88 meters. It is an amazing opportunity to glide over the bay and get a majestic view of the sights below. Each car can carry 230 passengers, so they are quite large with windows bordering all sides.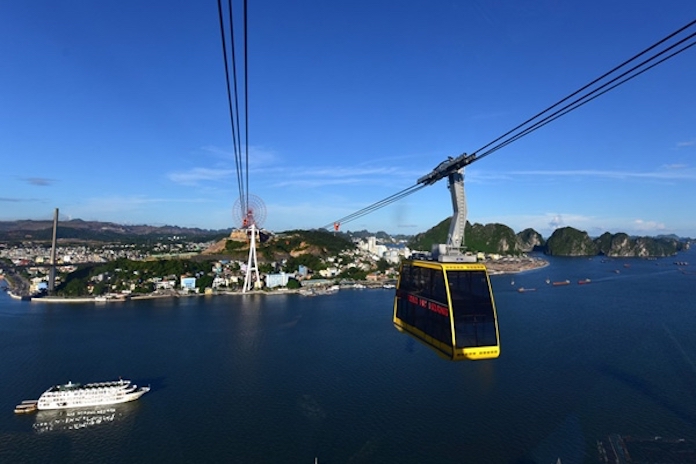 Once you reach Ba Deo Hill, you can then take advantage of access to the Sun Wheel: an enormous Ferris wheel also offering fantastic views of Halong Bay. Each of these attractions provides a unique opportunity to enjoy a stunning perspective of Halong Bay from the sky.
A two-way cable will cost around 300.000VNĐ/ person.
Mountains and Peaks
Halong Bay is made up of stunning limestone karsts, creating islands, grottoes, and peaks all throughout the bay. These make ideal spots to climb and achieve a gorgeous view of the land and sea below. Some of the most optimal points are on the list below.
Bai Tho Mountain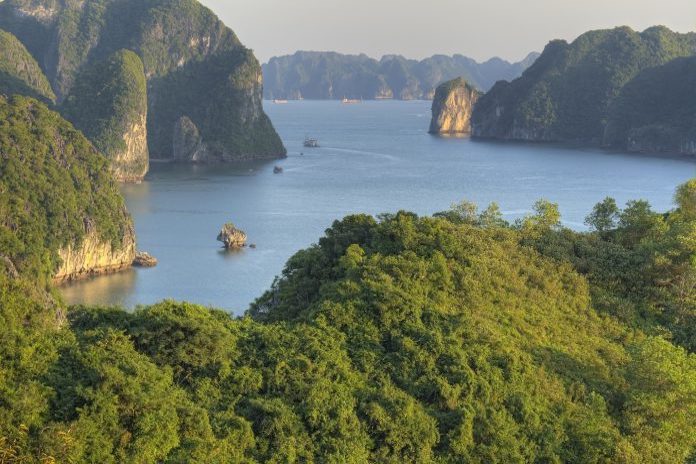 Bai Tho Mountain is one of the most famous and highest peaks in Halong Bay. Located right in the city center, Bai Tho Mountain is not the easiest mountain to scale but certainly doable for most tourists. The entrance is tucked amidst local houses, hidden in a small corner with no sign in Hang Noi street. Ask the locals and they will be more than happy to point you the right way. You will finally come upon a magical staircase that winds up to the top of the mountain. It will take about 30 minutes to conquer this 200 meters (106m from ground level).
From the top, you will have one of the most comprehensive and gorgeous views of Halong Bay. While it is a steep walk, there's no reason why you can't cart a decent camera and take advantage of all the wondrous sights from goats wandering through the rocks to birds soaring down to the bay below.
Ti Top Mountain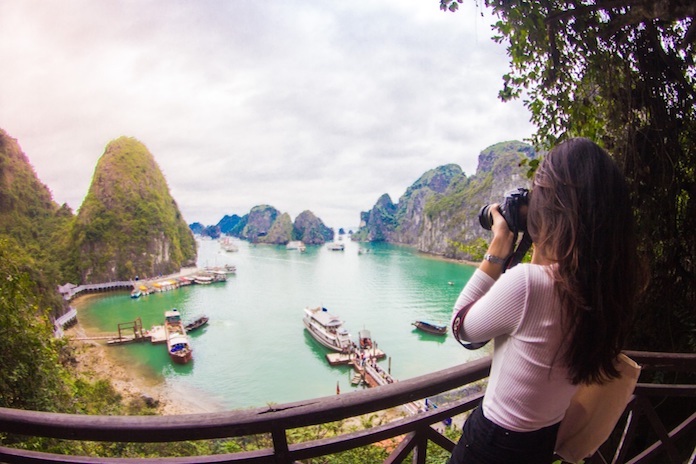 Right in the heart of Halong Bay lies Ti Top Mountain, 8 kilometers from the Southeast of Bai Chay Harbor. Approximately 400 steps will take you from Ti Top beach to the top of the peak. This gives you a perfect opportunity to discover views from the small sandy shore as well as up high in the sky. While many cruise lines stop here, it is generally a quieter spot than Bai Tho and will provide a much different perspective from the center of Halong Bay.
Butterfly Valley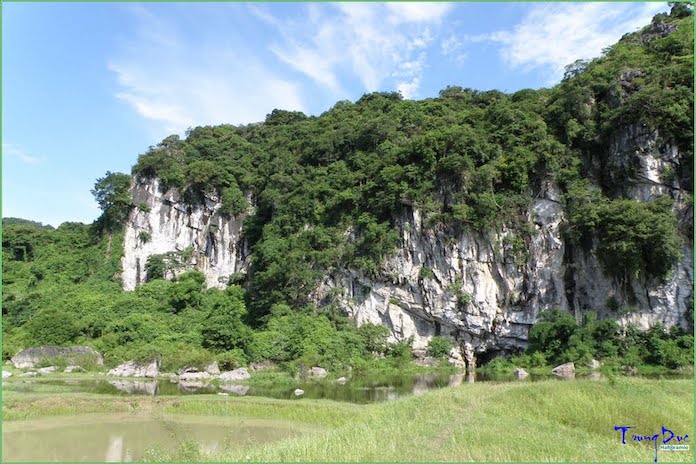 Butterfly Valley is situated on Cat Ba Island. It is a rock climber's wonderland, home to about 60 sports routes. There are sheets of limestone shooting out of the terrain in many spots. It is also a popular area for honey and honey-related products so keep on the lookout for local food opportunities. Most people choose to go on a hiking or rock climbing tour to check out these amazing sights and make sure that they have guidance for safety concerns. If you have an adventurous spirit and a longing to shoot some amazing geographic anomalies, though, this is a great opportunity to go somewhere off the beaten path.
FLOATING VILLAGES
The floating fishing villages of Halong Bay are one of the most unique ways of seeing the local Vietnamese culture in action. Hovering over the emerald water, the multicolored houses stand out as a patchwork of family and industry. These are an ideal place to not only meet some native inhabitants of Halong Bay but take interesting shots of daily life.
Cua Van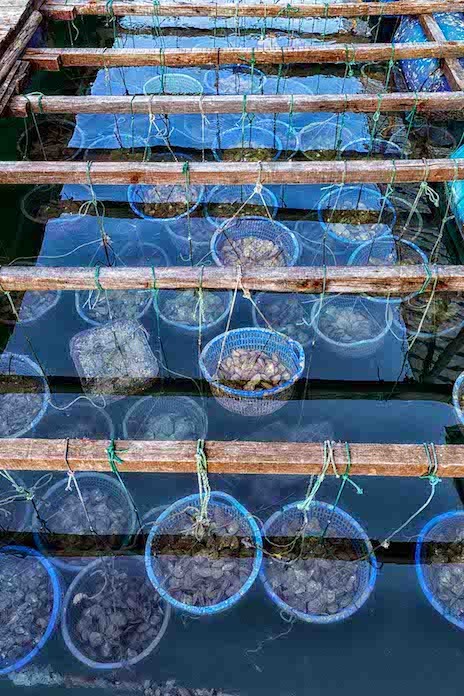 Cua Van village is one of the most popular in Halong Bay. It sits in tranquility about 20km from the touristic boating wharf. It is the largest fishing village in the area and boasts a population of 733 people in 176 households. Home styles range from the small and clean to the more spacious and well-equipped, utilizing electricity and televisions. Not only will you be able to see the real-life homes of the fishing families, but observe the vast amounts of marine life floating below, an excellent opportunity to photograph the many layers of Halong Bay.
Vung Vieng
Located in Bai Tu Long Bay, Vung Vieng Village is a slightly smaller fishing community. There are about 50 families with approximately 200-300 members. Most of these villages are generally considered to be poor. Fishing is their primary income for things like food and potable water but nowadays tourism also assists their economy. One of the most beautiful sights is seeing the local children learning their family craft, romping around in the surf and contributing to the trade.
ON THE DECKS OF CRUISES
One of the hot spots of Halong Bay tourism is their wide selection of full day to multiple day cruises (2D1N or 3D2N). It's an ideal opportunity to get out into the water and take some panoramic photos of the world around. Most of them will also include Sung Sot caves visit, which will allow you to get up close and personal with the limestone karsts so you can take some exquisite photos of the landscape. There are many options for cruises of all length and price. These are some of the top sellers.
L'Azalée Day Cruise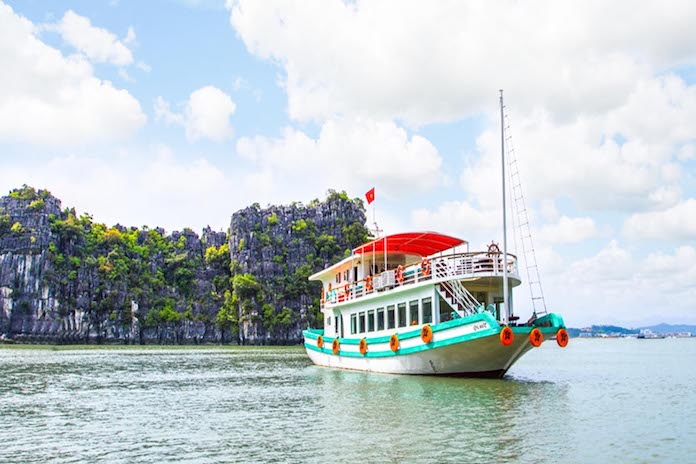 Seaplane Flight & L'Azalée Day Cruise is one of the most affordable options and is ideal for people working with time restraints. Hai Au Aviation has many tour package deals which combine their seaplane experience from Hanoi to Halong Bay with a hotel or cruise option. By taking advantage of this option, you will be able to see the sights from the sky and the sea, snapping shots from every angle you can think of. They also have a wonderful overnight affiliated with Emeraude cruise, a high-end cruise line that will provide you with some delicious Vietnamese food and show you some of the amazing scenery where movies such as Indochine were filmed.
The itinerary often includes visiting Sung Sot Cave, Ti Top Island, Pearl Farm and 2 meals on board.
Indochina Junk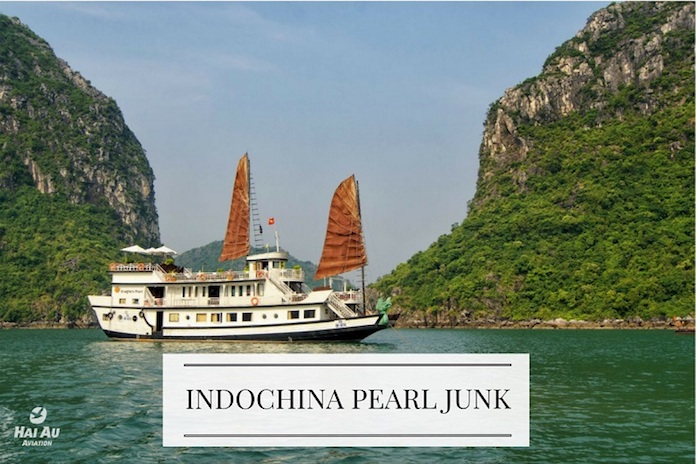 Traditional Junk ships stand out like a blast from the past as you gaze out into the waters of Halong Bay. The rust-colored sails flying high above the deck are photo-worthy themselves, inspiring all manner of adventure theme. Indochina Junk will bring you out toward Bai Tu Long Bay, an area considered more "off the beaten track" then some of the initial Halong Bay sights. You will have the occasion to kayak into the caves and mingle with the floating villages, seeing many of the sights you have on your list for great photo opps.
Signature Cruise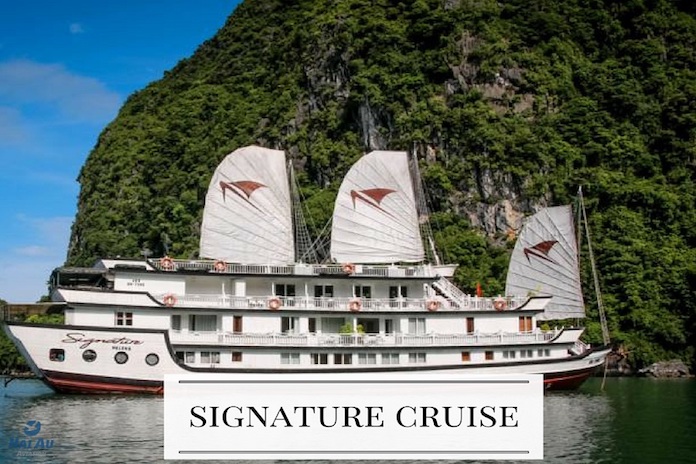 Signature Cruise is considered a luxury romantic cruise ambiance. You'll be able to take a Vietnamese cooking class or try out a lesson in Tai Chi. This itinerary could bring you out toward the Cong Dam Area and includes all of the sights and activities typical to a Halong Bay experience. Imagine walking on the day during sunrise or sunset and capturing the moment the sun first starts glittering on the horizon. These cruises will give you ample opportunity to take some of your most astounding photos.
LIMESTONE CAVES AND KARSTS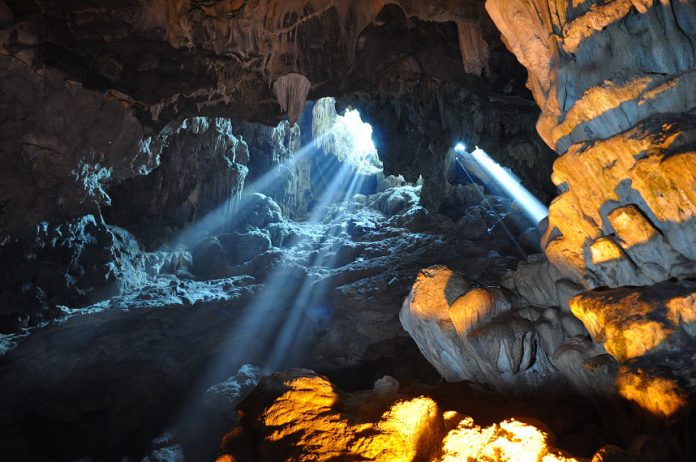 Some of the most remarkable aspects of Halong Bay are the limestone caves and karsts that jut out from the sea and create the magical skyline surrounding the bay. Most cruises and tours will include time to explore some of these grottoes either by kayak or by foot. It's a fantastic opportunity to take out your camera and get clicking away at all the stalactites and stalagmites piercing the terrain.
Dau Go Cave
Dau Go Cave is located on Dau Go Island and is considered to be the largest and grandest of the limestone caves. It is almost 2 million years old and holds the dimensions 12 meters wide and 17 meters high at the entrance. 90 steps will bring you into the first of 2 chambers ready to explore. As you walk through the cave you will see the amazing geological detail as the light reflects from mystical angles.
Thien Cung Cave
4 kilometers away from Dau Go Cave you will find Thien Cung Cave, another magical grotto. The cave is 10,000 square meters. After a narrow passageway, you will come to a spacious chamber filled with the reflective light so common to these ancient structures. The complex network of stalagmites and stalactites make it a challenging yet incredibly worthwhile experience.
Sung Sot Cave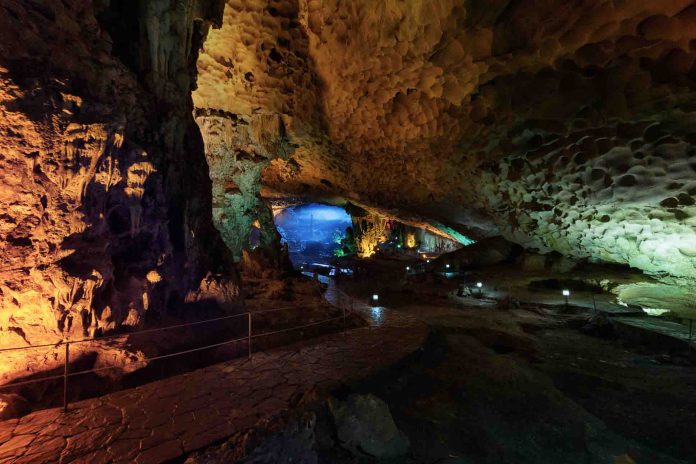 Sung Sot cave is another legendary experience, often called the most famous of the Halong Bay limestone caves. 100 stone steps mark the entrance to the various chambers, once again denoted by the kaleidoscopic light and geological wonders. The deepest section is the "royal garden" where you will find a crystal clear pond decorated with various flora and fauna. It's a stunning haven away from the hustle and bustle of the world outside.
Hire a tour guide and the myth of each cave could surprise you.
HIDDEN BEACHES
Finally, there are many hidden beaches sprinkled around Halong Bay, giving the tourist or the photographer alike, a chance to frolic in the deep blue sea and capture some of the most picturesque moments of the bay. Many beaches closer to the city are small and touristy, but because there are so many beautiful islets around the bay, there is always a place to find some solace and serenity.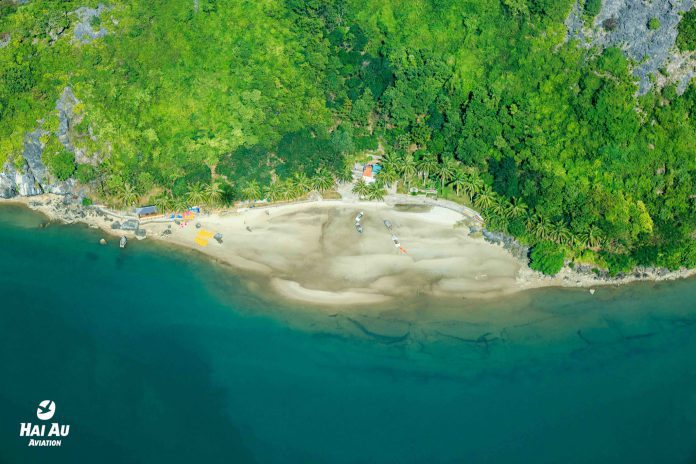 Ngoc Vung Beach
While you will still find beach chairs and sunbathers at Ngoc Vung Beach, the sandy shores and pristine waters make up for it. This spot is still considered relatively untouched and the sea is crystal clear all year round. It's a beautiful location for pictures of beach dwellers, marine life, and panoramic views of the bay. The beach is about 34 km southeast of the tourist wharf and the island is approximately 12 square kilometers. Walk as long and as far as you can or stick around for campfire and see the sparks twinkling under the deep blue sky.
Usually, tours in Halong Bay do not provide to Ngoc Vung beach so that you have to arrange everything by yourself.
Son Hao Beach
Son Hao Beach is located on Quan Lan Island. It is a small island and scarcely populated, to begin with, though there is a small village in the center and moderate tourist trade. Son Hao beach is hard to find and still considered one of the most secluded areas around. If you can find the entrance, you will be well rewarded as one of the only inhabitants taking advantage of its beautiful shores. It is not as well-maintained as some of the other more touristy beaches, but for exquisite shots of a serene seascape, it ranks on top.
Ba Trai Dao Beach
Ba Trai Dao beach is also on the tourist track but is unique due to its mythical association. Three small mountains resembling peaches separate the three small beach areas that are ideal for swimming and kayaking around. Legend has it that a fairy fell in love with a fisherman near these isles and offered the young man three peaches as a token of her affection and to bring him eternal life. Because she had stolen them from heaven, the King of Heaven became angry and turned the peaches into the three limestone isles, separating the fairy forever from her love. The islands are now considered romantic and enchanted hamlets to take advantage of only during the 2-3 hours a day when the sand is not covered in tide.
"Leave nothing but footprints. Take nothing but pictures"
Those looking for a unique view of the landscape should try a sensational seaplane or explore a historic limestone cave.
For people in search of local culture spend some time in one of the many floating villages or make your way to a bewitching hidden beach.
For the photographer in us all, Halong Bay pictures will bring your adventures to life.