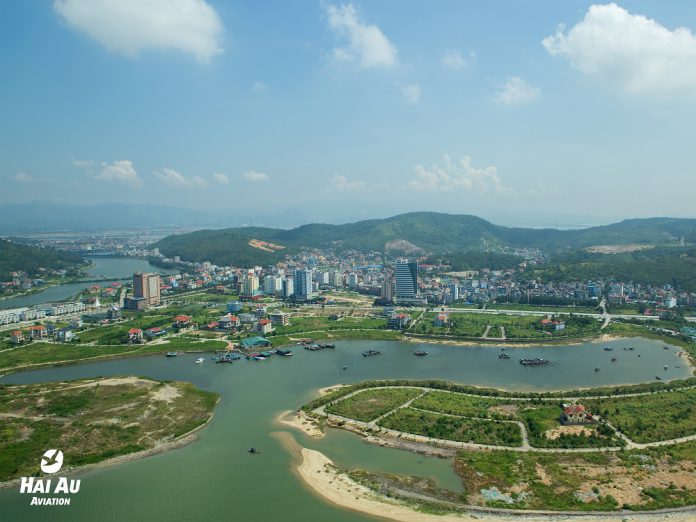 The dragon, sent by the Jade Emperor, descended from heaven into the sea, and sprayed a thousand pearls from its mouth. From these cascading pearls, the 1,600 shaggy limestone stacks of Halong Bay emerged, a huge curvature of jumbled karst fortress designed to protect Vietnam from invaders in the Gulf of Tonkin.
Most visitors to Vietnam sail past the rocky outcrops – some soaring 100m high – on boat cruises, but last month Vietnam's first tourism seaplane launched, flying visitors over the Unesco world heritage site and giving them spectacular dragon-eye views.
Hai Au Aviation's Cessna Grand Caravan, carrying 10 passengers, flies low over the entire panoramic karst fest – a vast area of 43,400 ha of drowned limestone karst some 165 km from the Vietnamese capital of Hanoi in northern Vietnam.
The towering outcrops of Halong Bay, which means 'where the dragon descends to the sea', dwarfed the pleasure boats on their overnight cruises and from the air the forested boulders now looked like mossy lumps and bumps – the stepping stones of a giant, plopped on an emerald green pond.
As a passenger on the first flight, I could see parts of the bay not visible from a cruise boat – lush, sculpted valleys and hidden lakes which shimmered in the late afternoon sun. It was like glimpsing a primeval land untouched since the mother goddess of Vietnam Au Co, and the dragon prince, Lac Long Quan, met on earth thousands of years ago before they gave birth to the ancestors of modern Vietnam.
The new seaplane service also takes visitors to the bay from Hanoi airport – a 30 minute flight compared to four hours by road – before landing at the local marina. From here, visitors board different cruises, with varying price tags, to explore Halong Bay by boat.
Designated a Unesco world heritage site 20 years ago this year, the bay is one of Vietnam's most popular tourist attractions. It is only recently though, that a small number of cruise boats have ventured further east into the Gulf of Tonkin, to the outer rocky flanks of Bai Tu Long.
I escaped the congestion of Halong Bay with Bhaya's three-day cruise to Bai Tu Long on the Au Co with her 32 handsome wood cabins with balconies.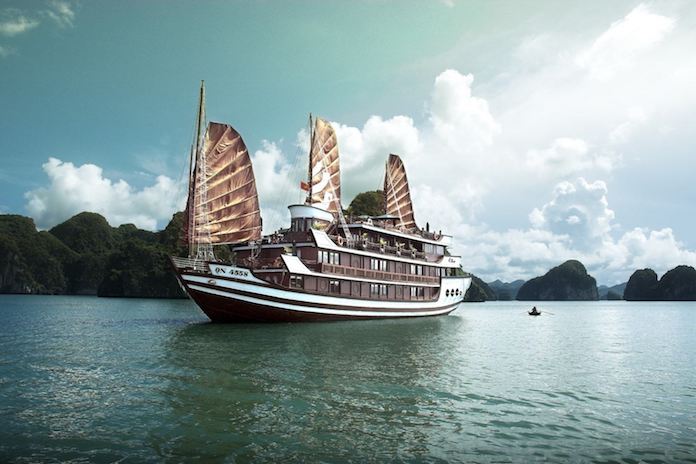 The white ship (in a mysterious move, authorities ordered all the boats in the bay to be painted white, the same colour as the fog that can envelop the area) heads first to Bai Tu Long, the outer battlements of the limestone fort, before cruising back through Halong Bay at the end of the trip.
Bai Tu Long means 'the place where the dragon children descended'. It's an isolated, otherworldly, remote area of the gulf, scattered with knobbly peaks, pillars fringed with untidy twigs, solid limestone sentinels cut with sheer bare-faced rock and, every once in a while, an apron of creamy sand seen tied to the base of the towers.
We cruised to one of these – Vung Ha Beach – a crescent-shaped bay at the base of a crouching outcrop with jagged, castellated peaks. After kayaking through the undercut of a nearby stack, we abandoned the paddles and dived in to the warm, papaya green waters. After a long soak, it was time to sit on coral-shattered sands that were perfumed by the fragrance of a white bloom floating over the beach.
Back on board, we supped on the happy hour flow of cocktails and Hanoi beer with the Au Co guests, hailing from Australia, Europe, America, and Vietnam. At dusk, when the wings of the golden crow – the sun of Vietnam's creation story – hovered over the unkempt rocky lumps, fishing boats puttered by and sampans slouched under the overhangs. Then, when the graceful swan of the moon ascended, all that was visible in this distant spot away from other tour boats were the dying violet clouds and inky black outlines of limestone monoliths. The stars hung very far away in the intensely black sky and the small wake of the fishing boats caused the moonlight to shimmer in slithers, making it look as if stars were dropping into the waters.
Our breakfast in the Au Co dining room came with more spectacular views as we cruised just metres past the scattered islands of Bai Tu Long. Some of the pillars were jagged like the scales of a mythical dragon, some just stumps, others appeared in traditional jelly-mould shape and some like a batch of misshapen rock cakes. In the distance, we spied a dense army of lead grey pillars studded with the tufts of hardy plants glued to the vertical shafts of the rock.
Sheltered in a barnacled corner of Bai Tu Long is Vung Vieng village. In an attempt to control pollution in the bay, fisherman have either been exported to land or corralled into floating communities by the government. We boarded bamboo boats so the locals could row us around their village and oyster pearl farming plots. Au Co's Mr Tuan explained: "Locals sell these pearls for jewellery, cosmetics, and medicine. It takes a year to 18 months to cultivate pearls but only around 30 per cent of the farmed oysters grow pearls."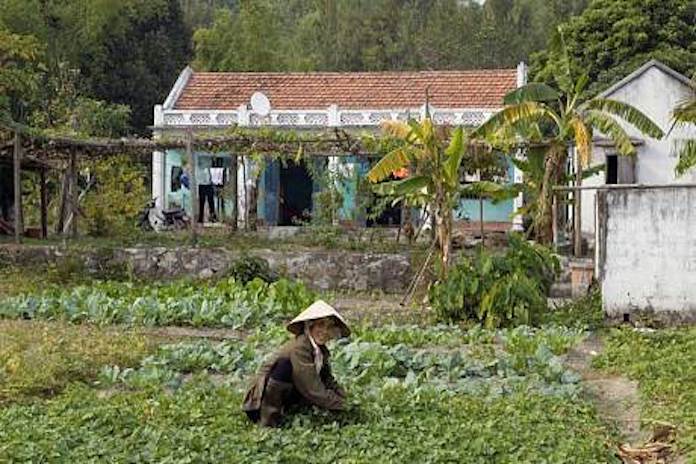 After being rowed around Vung Vieng and a lot of leisurely sitting around under the canvas umbrellas of the Au Co, we all felt it was time to exercise – but not before feasting for lunch. The Au Co's cuisine is based on the Taoist philosophy of balance and harmony and our five-course meals included delicate dragon fruit and Phan Thiet scallops, grilled minced Halong fish on lemon grass, chicken roulade with onion cream, and an intense passion fruit pannacotta.
Stomachs full, we moored off the south-east corner of Cat Ba, the largest island in Halong Bay, a colossal karst platform, straggled by smaller tiny islands, and home to a rare and endemic primate.
"In 1960, there were 2,700 Cat Ba langurs, but they've all been eaten," Mr. Tuan told us. "Since 2000, the number has increased from 53 to 65, and there is now good conservation education in the local villages."
Accompanied by zooming green dragonflies, we biked through a Jurassic Park wonderland of limestone walls flanked with feral plants and bushes to Viet Hai, a small, repopulated village where the Au Co employs locals at its organic farm. We didn't see any primates above ground but below ground was a different story.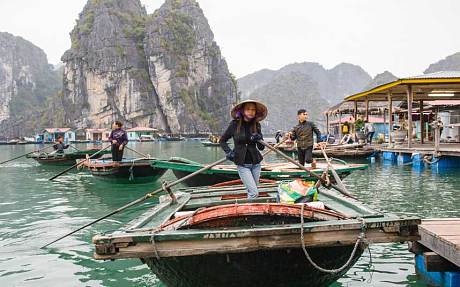 Halong Bay's grottoes have been visited since the French discovered them more than 100 years ago. At Hang Sung Sot (Surprise Cave), Mr. Tuan pointed out the subterranean images seen in the whipped up floors and ceilings of the chambers – Kong Kong's face was here, a turtle symbolizing longevity there, and the tail of a dragon rippled above our heads. It reminded us, again, of Halong's 'descending dragon' and its protection of this extraordinary Unesco landscape.
A week-long luxury trip to Vietnam with Audley Travel (01993 838 140; audleytravel.com/vietnam) starts at £2590 per person, including three nights at the Sofitel Metropole Hanoi with a full day tour, international flights, sea plane to Halong Bay and two nights aboard the excellent Au Co.
Hai Au Aviation (seaplanes.vn) offers 30-minute daily flights from Hanoi to Halong Bay, as well as additional scenic flights on Cessna Grand Caravans from £170 person.
The Au Co (+84 (0)933 44 65 42; aucocruises.com) three-day cruise to Bai Tu Long costs from £670 per deluxe cabin for two people including road transfers.
GETTING THERE
Thai Airways (020 3263 2062; vietnamairlines.com) flies from London Heathrow to Bangkok for £750 return. Vietnam Airlines flies from Bangkok to Hanoi for £190 return. Vietnam Airlines operates direct flights from London Gatwick to Hanoi twice a week. Prices start from £497 return.
GETTING AROUND
Self-drive car hire is not available to short-term visitors to Vietnam. Most visitors to Halong Bay book a cruise package which includes land or seaplane transfers to the bay from Hanoi.
THE INSIDE TRACK
As the old adage goes, you will get what you pay for. There are cheap and cheerful backpacker boat excursions to Halong Bay starting from a half-day cruise to longer trips where accommodation is basic; at the other end of the spectrum are top luxury packages such as the Indochine elegance of the recreated French paddle steamer, the Emeraude. If you would like to travel to Bai Tu Long you will need to opt for at least a two-day cruise to cover the distance.
BAI TU LONG CRUISES
Alternatives to Bhaya's Au Co include Indochina Junk's junks on their 2-day cruise(indochina-junk.com). The Princess one-cabin junk costs from £228 per person; the Prince, suitable for families, with cabins ranging from one to three, costs from £139-184 per person.
Ethnic Travel (ethnictravel.com.vn) offers a 3-day cruise taking in a visit to Quan An Island on its small wooden junk with blood orange sails from £105 per person.
Tonkin Cruises three boats sail a 3-day cruise to Bai Tu Long Bay (tonkincruise.com) from £161 per person in a deluxe double.
BEST TIME TO VISIT
Halong Bay can be visited year round. The best time to visit is September and October, and March and April.
FURTHER INFORMATION 
Vietnam National Administration of Tourism (vietnamtourism.com).
(Written by Claire Boobbyer – The Telegraph)