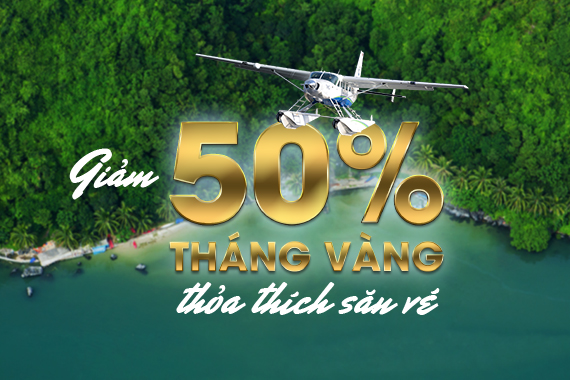 A MONTH OF AMAZING DEALS WITH HAI AU
There is no doubt that the best way to see its primitive beauty is from the air on Hai Au Aviation's seaplane with both way experience of taking off and landing on water.
Aiming to bring Vietnam's one-and-only seaplane sightseeing experience to more of our guests, Hai Au is pleased to launch a month-long super savings promotion offering 50% off.
The promotional rate is now just VND 9,000,000 VND / flight (r̵e̵g̵u̵l̵a̵r̵l̵y̵ ̵V̵N̵D̵ ̵1̵8̵,̵0̵0̵0̵,̵0̵0̵0̵) for a maximum of 12 passengers.
Please always wear a mask, wash your hands, sanitize, and submit a health declaration at https://tokhaiyte.vn before you board

INCLUDES
- 1 ticket for 25 minutes scenic seaplane flight over Halong Bay
TERM & CONDITIONS
1. Only apllicable to 02 flight on 09:00 and 16:10 everyday from Monday to Friday from March 22 - April 29, 2021.
2. Payment must be made upon booking
3. Rates are inclusive of 5% service charge and 10% government tax
4. Weather conditions may cause schedule changes or cancellation
For direct booking, please call: (+84) 0962 069 689
Or email us at rsvn.hn@haiauaviation.com