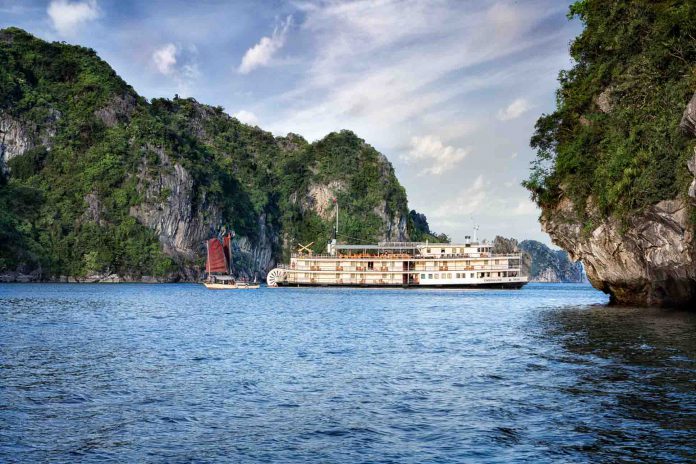 Whether you have one day or several, taking advantage of the Halong Bay's proximity to Hanoi will surely be one of the best decisions you could ever make. And while there are many different ways to journey from the capital city to amazing site, one of the easiest and most enjoyable options is bobbing along the open sea on Halong Bay cruises.
Cruises can go with various forms of land and air travel so that you can see a little bit more of the Vietnamese landscape and then plunge into the bright blue waters of Halong, sailing above the water and witnessing every sight and sound you could wish.
From seaplanes and day adventures to junk boats and romantic rendezvous, Halong Bay cruises are out there for every kind of traveler.
SOPHISTICATED ADULT

 

CHOICE – BHAYA CRUISE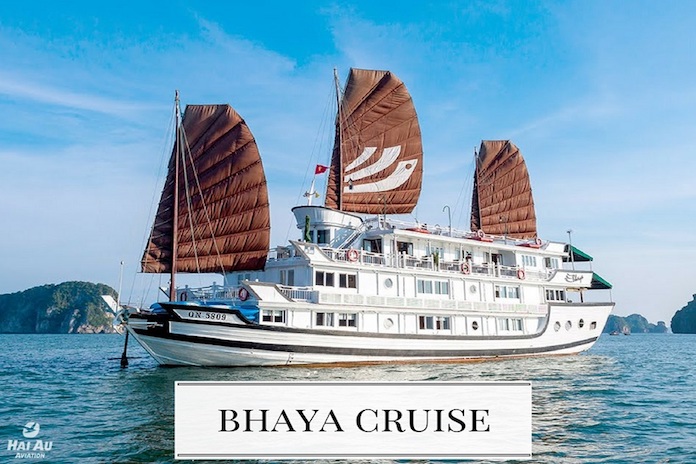 You will be able to partake in the Sung Sot Cave tour and a tour of the Dark and Bright Lagoon. You will feel like an absolute film star as you imagine the movies that have been made in this magnificent bay as you float along under the evening stars in a boat.
FEATURED
Not only will you be able to embrace the bird's eye view from your seaplane above, but you will get a more in depth look into the charms of Halong Bay. With the Bhaya cruise, you will have the opportunity to ride on a traditional junk ship and try out some of the local activities like tai chi or squid fishing. 
BEST OVERNIGHT CRUISE – HALONG BAY FLIGHT & EMERAUDE CRUISE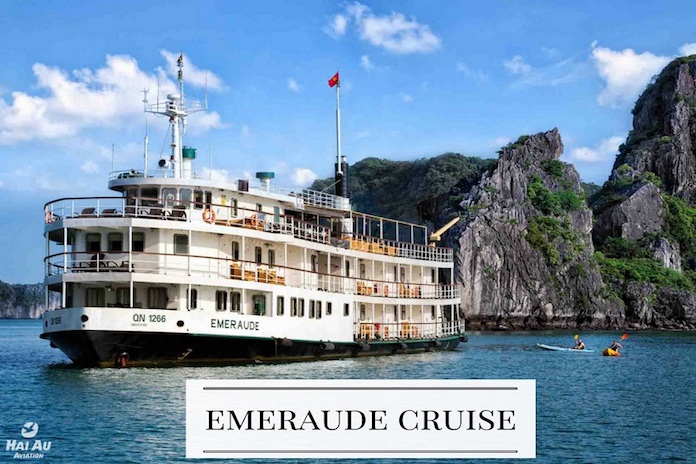 Once again, Hai Au Aviation comes through with their most sophisticated cruise, perfect for more mature-minded travelers. In addition to the seaplane flight over the islands of Halong Bay, you will be cruising aboard the 4-star Emeraude line.
This ship specializes in the influence of glamour, including the memorable moments from the Bhaya overnight and adding a crepe station and canapés. You will notice a touch of European fusion as you follow your canapés with Vietnamese fresh spring rolls cooking class or watch "Indochine" starring French legend Catherine Deneuve.
Take a cocktail to the deck and see the sights of so many movies filmed in the area due to its stunning and sultry scenery.  In the summertime, you can enjoy swimming and kayaking at Dau Trau islet or in the wintertime a bamboo boat ride to Luon Cave. From seaplanes to splendor, this tour leaves its grand mark of maturity and sophistication.
BEST YOUTHFUL TRAVELER CRUISE – OASIS BAY PARTY CRUISE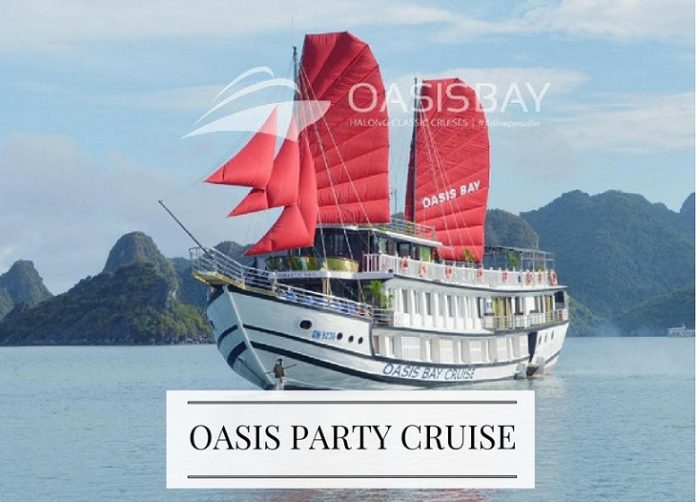 For the vivacious and energetic at heart, the Oasis Bay Halong Party Cruise is right up your alley. From one to three-night options, this tour embraces fun and adventure, nightlife and socializing. A bus ride from Hanoi will bring you to your party junk boat, ready to take you around the Halong Bay landmarks while infusing a lot of spirit into the day.
You can go swimming, kayaking, snorkeling or spelunking in the day, passing by Swan Isle, Duck Islet, seeing Freedom Island and Lan Ha Bay lagoon. After a day full of activity, make sure you put on your dancing shoes as from 8pm on, it's time to party. If you aren't up for a night or two of partying hard, however, this cruise won't be a hit so much as a miss.
FEATURED
The best part about this cruise is that it is economically affordable for many younger travelers or backpackers and perfect for getting into the swing of things and meeting some new fellow globetrotters. 
BEST DAY CRUISE – HALONG BAY SEAPLANE FLIGHT & L'AZALEE DAY CRUISE 2017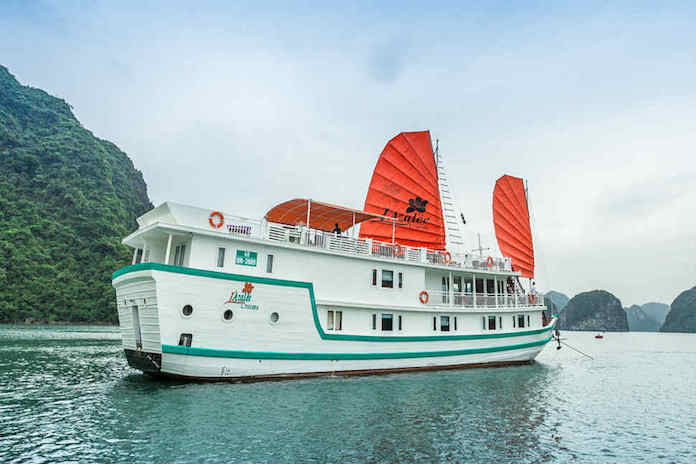 Many travelers to Southeast Asia are hoping to fit in as much of the beautiful countryside as humanly possible. Even those with the luxury of staying for a few weeks or months may have a variety of activities planned and only a limited time in Halong Bay.
Therefore, one of the most sought after excursions is a day cruise to Hanoi and back. One of the best choices on the market these days is the Hai Au Aviation package which combines a seaplane flight with a one day trip. Hai Au Aviation is the only seaplane company in the Halong Bay area, offering a one-of-a-kind transportation experience flying above the clouds to or from Hanoi and Halong.
FEATURED
Aside from the stunning sights that you will see as you are gliding through the air, the other main benefit of this type of commute is how much faster it compares to ground travel. After a quick 45-minute flight, you will get Vietnamese lunch offshore before sailing around the bay care of L'Azalée Cruise.  
The tour will include the typical Halong sights such as Ba Hang Floating village and Thien Cung Cave. While this tour is a bit more pricey than some other day tours due to the momentous seaplane experience, it cuts travel time in half. You can choose to explore the skies either to or from Hanoi and utilize a private car for the opposite journey, completing the perfect day in Halong Bay.
BEST UNIQUE ROUTE CRUISE – DRAGON LEGEND CRUISE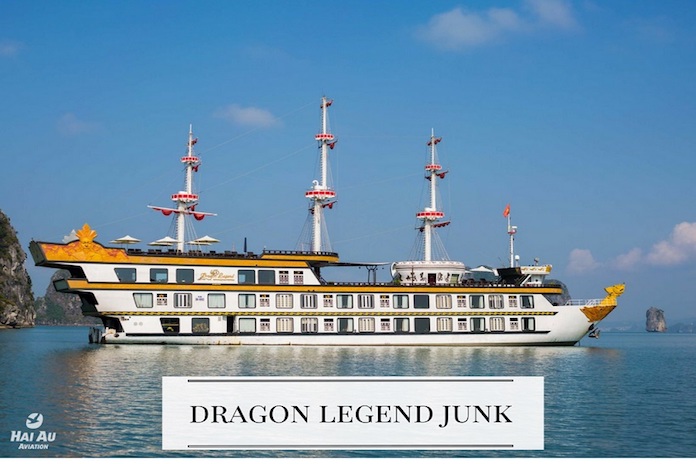 For a lovely overview of Halong Bay and its surroundings, the Dragon Legend Cruise hits the mark for travelers interested in expanding their horizons around Halong Bay and on a limited time schedule to boot.
This cruise will take you by luxury bus to the bay, where you will step onto a traditional junk and head toward Halong and Bai Tu Long Bays. You will get to experience all of the usual Halong activities such as swimming and sunbathing with the added bonus of seeing some of the sights a little further out toward the Cap La and Cong Do areas.
FEATURED
The itinerary is an unique, less touristy experience. You will kayak through the Cong Dam geological park and have a BBQ lunch on the beach before exploring Thien Canh Son cave. For travelers who may have cruised around Halong Bay before, this tour will bring you to one or two new sights off the beaten path.  
BEST VALUE CRUISE – ORIENTAL SAILS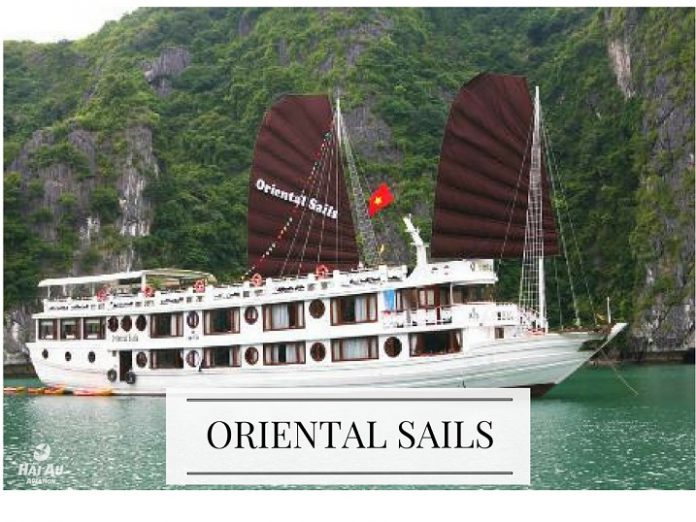 While Halong Bay are having different cruise lines, Oriental Sails offers one of the best deals around. Their one-night cruise covers a similar path to the Dragon Legend cruise, centering around the Bai Tu Long Bay, but a little more straightforward and to the point.
You will have the opportunity to swim and kayak at Ban Chan Beach and have the option of visiting Vung Vieng fishing village, one of the best ways to see the day-to-day life of the local Vietnamese. You will be back by noon the following day, having had good food, clean accommodation, and lasting memories.
There may not be quite as much frill and fanfare on this overnight, but it will give you the best bang for your buck when choosing a cruise through Halong Bay.
BEST LUXURY CRUISE – ORCHID CRUISE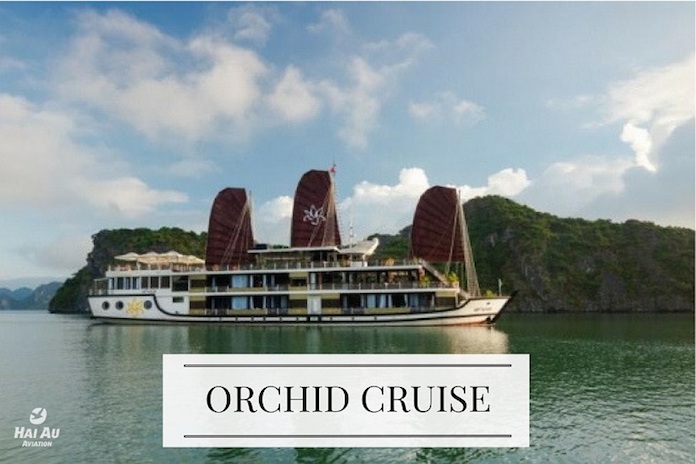 Travelers in search of more luxurious surroundings to accompany them around Halong Bay will be entranced by the richness and decor of Orchid Cruises.
FEATURED
From start to finish, guests will be treated like VIPs, as they discover Vietnamese and International cuisine in the luxury restaurant on board and indulge in the spacious cabins. Request a balcony suite and envelope yourself in the magical views from your very own room. From cooking classes to squid fishing to the glories of the seascape, this tour will not disappoint.  
You will gaze overboard onto the Da Chong, Con Vit, and Gia Luan islets. You can try your hand at the local rowing boat to explore a fishing village in summer or cycle to a local ancient house in winter.
For those wishing for more hands-on, daring activities, this may not be the best option. But those desirous of a relaxing glimpse into the heart of Halong, there's nothing better.
BEST GROUP JUNK CRUISE – INDOCHINA DRAGON PEARL JUNK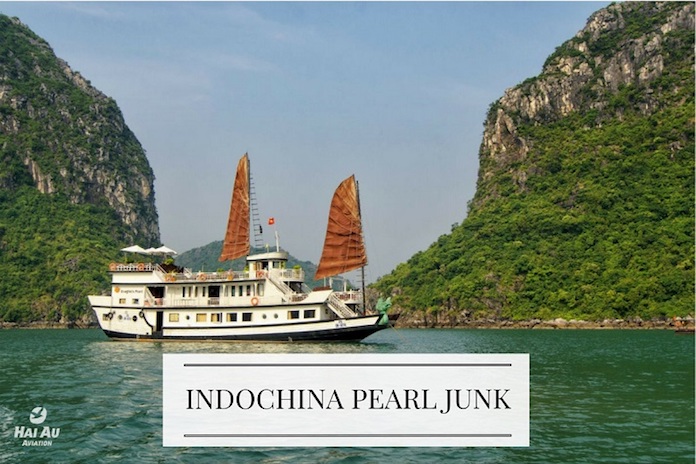 Similar to the Dragon Legend Cruise, the Dragon Pearl takes place on a traditional junk boat care of Indochina Junk boats, highlighting the local culture and history of Halong Bay.
This tour lasts for three days and two nights, adding an extra day onto the Legend Tour while still keeping the most important aspects of the itinerary. You will get to row to local fishing villages and see the fish farms, explore the Thien Canh Son cave, and have BBQ on the beach after kayaking or swimming.
FEATURED
In addition to the traditional junk aspect and unique itinerary, the best attribute is the fact that this boat is specifically accommodating to larger groups of travelers. With two sundecks and spacious cabins, parties up to 20 people can book this journey and comfortably glide over the seas of Halong Bay in style.  
BEST FAMILY CRUISE – APHRODITE CRUISE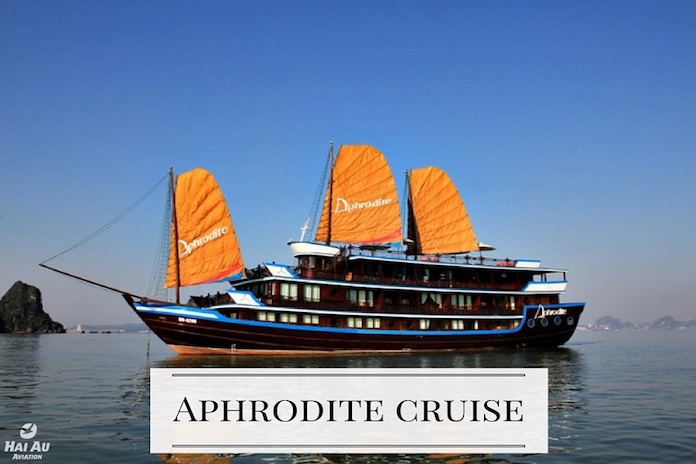 While many solo travelers, business people, and romantic couples fly to Halong Bay, so do families wishing to experience and new or native landscape. Aphrodite cruises is a wonderful balance of comfort, efficiency, and economic value for the whole family, and it has been listed one of top 10 recommended cruises in 2016.
There are family cabins available along with family or terrace suites so no one will feel uncomfortable on these intimate ships. The overnight cruise is a great opportunity to introduce your family to the stalactites and stalagmites of the limestone caves.
Enjoy some local Vietnamese food and start learning how to prepare it back at home. Take a relaxing break from the family fussing with an early morning Tai chi or perhaps a bit of native squid fishing, all at a reasonable rate for you and your family. By the time you've made it back to Hanoi, you won't be able to wait until your next trip to Vietnam.
BEST HONEYMOON CRUISE – SIGNATURE CRUISE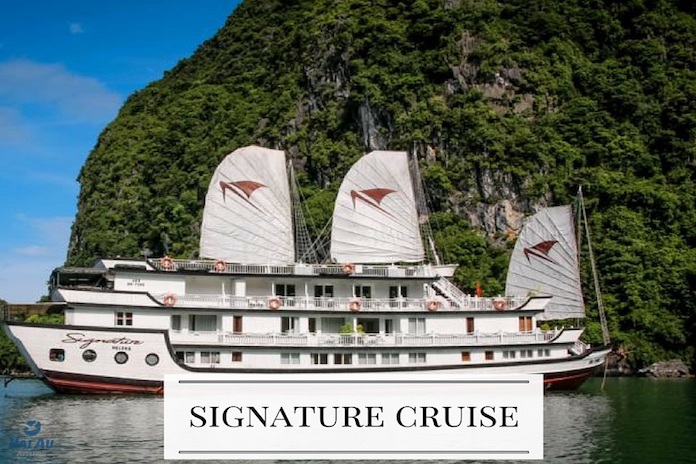 Lovebirds all around the world dream of a romantic spot to run away to once the wedding day has passed.
Halong Bay is certainly one of the most seductive and exotic locations around the globe, full of glamour, adventure, and romantic seascapes.
Signature cruise offers reasonable rates for two or three-night trips, depending on your time frame and availability. Cabins are paved in hardwood floors with creamy white fabric dominating the decor. Each room has a private jacuzzi, perfect for newlyweds enjoying their days and nights together.
Whether you want to venture out to the caves and grottos, swim in the magical sea or cozy up to the bar in the evening, this cruise will accentuate the positives of any passionate pair.
CRUISING IN HALONG BAY!
Halong Bay, Vietnam is an aquatic paradise of adventure with opportunities for all manner of traveler. No visit would be complete without a cruise highlighting all the wondrous things that the bay offers. Take a shuttle bus or seaplane from Hanoi to Halong for one day or more and experience Halong Bay in all its glory.
Water sports like swimming, snorkeling, and kayaking are never better than when diving from a cruise ship. Limestone caves, grottos, and fishing villages are best explored as up close and personal as possible.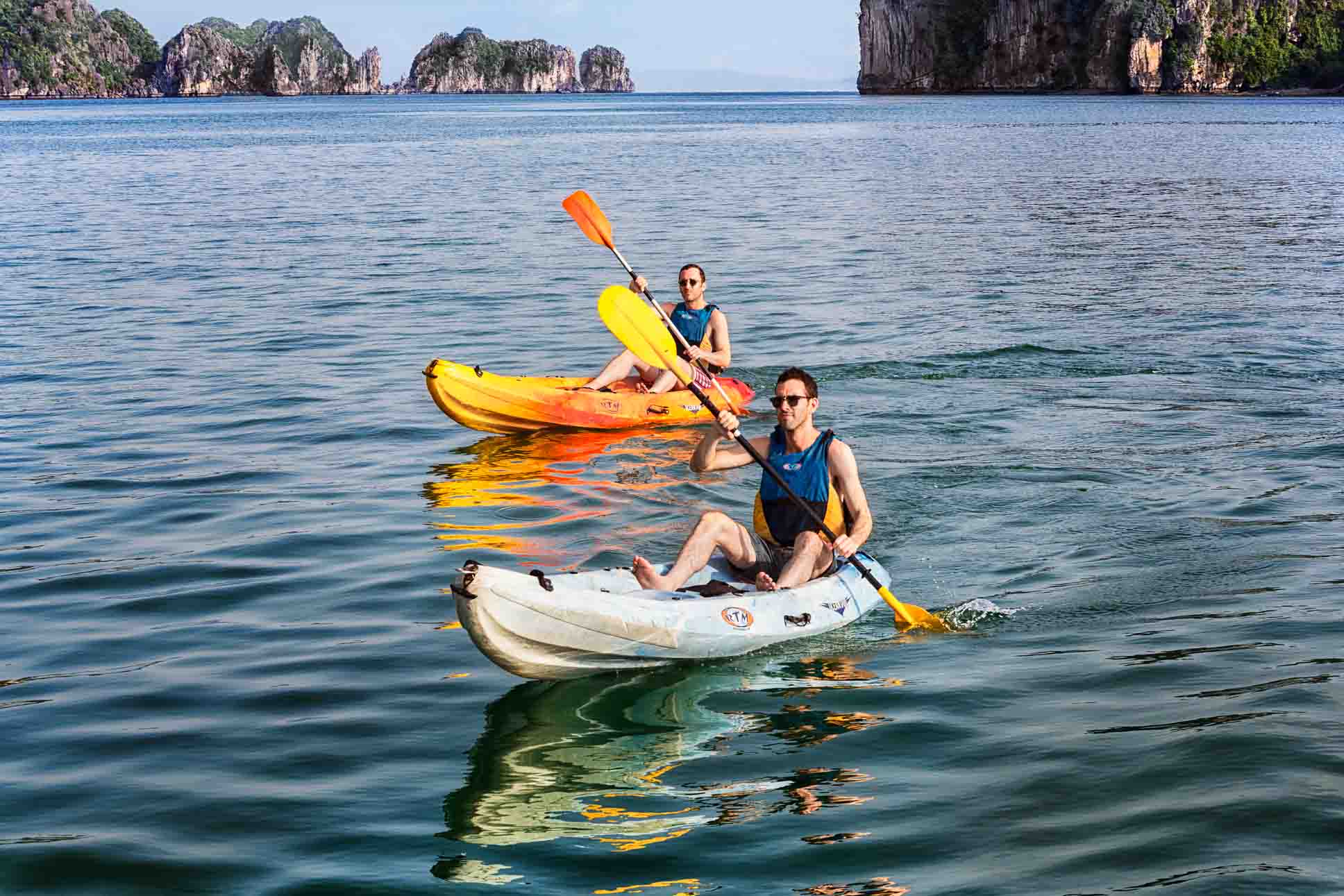 When sitting down to choose your upcoming trip to Vietnam, one of the first things you should consider is an excursion to Halong Bay. As a UNESCO World Heritage sight, Halong Bay stands out as a necessary attraction. You can book all the cruise through their website or visit our website for some good choice.
TRAVEL WITH US
Whether you are a solo traveler looking for new mates, a family looking to spend time together or a romantic couple looking to make new memories, Halong Bay cruises are a spellbinding opportunity not to be missed.